Abstract
By coupling the low-fidelity (LF) model with the high-fidelity (HF) samples, the variable-fidelity model (VFM) offers an efficient way to overcome the expensive computing challenge in multidisciplinary design optimization (MDO). In this paper, a cooperative radial basis function (Co-RBF) method for the VFM is proposed by modifying the basis function of RBF. The RBF method is constructed on the HF samples, while the Co-RBF method incorporates the entire information of the LF model with the HF samples. In Co-RBF, the LF model is regard as a basis function of Co-RBF and the HF samples are utilized to compute the Co-RBF model coefficients. Two numerical functions and three engineering problems are adopted to verify the proposed Co-RBF method. The predictive results of Co-RBF are compared with those of RBF and Co-Kriging, which show that the Co-RBF method improves the efficiency, accuracy and robustness of the existing VFMs.
Access options
Buy single article
Instant access to the full article PDF.
US$ 39.95
Tax calculation will be finalised during checkout.
Subscribe to journal
Immediate online access to all issues from 2019. Subscription will auto renew annually.
US$ 119
Tax calculation will be finalised during checkout.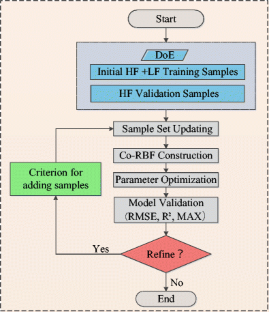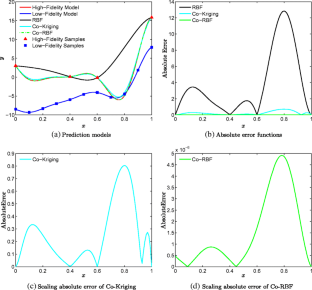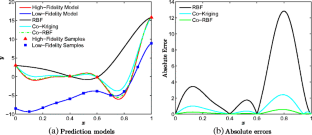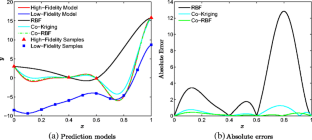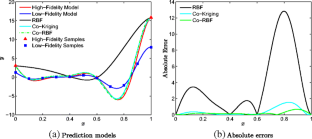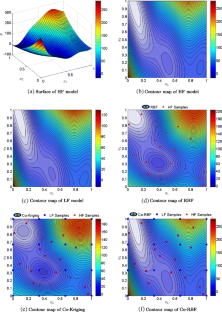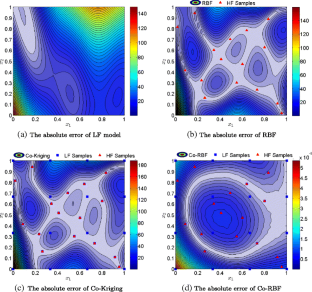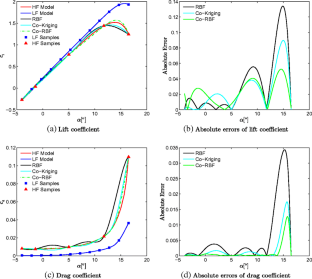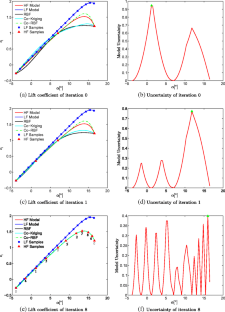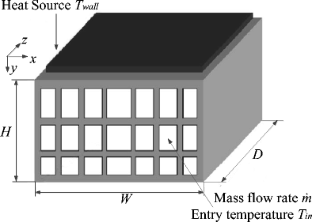 References
Bischl B, Wessing S, Bauer N, Friedrichs K, Weihs C (2014) MOI-MBO: multiobjective infill for parallel model-based optimization. Springer International Publishing

Booker A J, Dennis J E, Frank P D, Serafini D B, Torczon V, Trosset M W (1998) A rigorous framework for optimization of expensive functions by surrogates. Struct Multidiscip Optim 17(1):1–13

Boopathy K, Rumpfkeil M P (2015) A multivariate interpolation and regression enhanced kriging surrogate model. In: AIAA computational fluid dynamics conference

Breitkopf P, Coelho R F (2010) Multidisciplinary design optimization in computational mechanics. Iste Ltd, London

Courrier N, Boucard P A, Soulier B (2016) Variable-fidelity modeling of structural analysis of assemblies. J Glob Optim 64(3):577–613

Eldred M, Giunta A, Collis S (2004) Second-order corrections for surrogate-based optimization with model hierarchies. In: Proceedings of the 11th AIAA/ISSMO multidsciplinary analysis & optimization conference

Fasshauer G E, Zhang J G (2007) On choosing optimal shape parameters for rbf approximation. Numer Algor 45(1–4):345–368

Forrester A I J, Keane A J (2007) Multi-fidelity optimization via surrogate modelling. Proc R Soc A Math Phys Eng Sci 463(2088):3251–3269

Forrester D A I J, Sobester D A, Keane A J (2008) Engineering design via surrogate modelling: a practical guide. Wiley, West Sussex

Gano S, Renaud J, Sanders B (2005) Hybrid variable fidelity optimization by using a kriging-based scaling function. AIAA J 43(11):2422–2433

Gano S E, Renaud J E, Martin J D, Simpson T W (2006) Update strategies for kriging models used in variable fidelity optimization. Struct Multidiscip Optim 32(4):287–298

Gorissen D, Couckuyt I, Demeester P, Dhaene T, Crombecq K (2010) A surrogate modeling and adaptive sampling toolbox for computer based design. J Mach Learn Res 11(1):2051–2055

Gutmann H M (2000) A radial basis function method for global optimization. J Glob Optim 19(3):201–227

Haftka R T (1991) Combining global and local approximations. AIAA J 29(9):1523–1525

Haftka R T, Villanueva D, Chaudhuri A (2016) Parallel surrogate-assisted global optimization with expensive functions c a survey. Struct Multidiscip Optim 54(1):3–13

Han Z H, Zimmermann R, Gortz S (2012) Alternative cokriging model for variable-fidelity surrogate modeling. Aiaa J 50(5):1205–1210

Han Z H, Gortz S, Zimmermann R (2013) Improving variable-fidelity surrogate modeling via gradient-enhanced kriging and a generalized hybrid bridge function. Aerosp Sci Technol 25(1):177– 189

Hastie T, Tibshirani R, Friedman J (2000) The elements of statistical learning

Kaare AJ, Brandt P, Michael, Syskind P (2012) The matrix cookbook. http://matrixcookbook.com

Keane A J, Nair P B (2005) Computational approaches for aerospace design: the pursuit of excellence. Can Med Assoc J 37(6):351–360

Kennedy M C, O'Hagan A (2000) Predicting the output from a complex computer code when fast approximations are available. Biometrika 87(1):1–13

Kuya Y, Takeda K, Zhang X, Forrester A I J (2011) Multifidelity surrogate modeling of experimental and computational aerodynamic data sets. AIAA J 49(2):289–298

Laurenceau J, Sagaut P (2015) Building efficient response surfaces of aerodynamic functions with kriging and cokriging. Aiaa J 46(2):498–507

Leary S J, Bhaskar A, Keane A J (2003) A knowledge-based approach to response surface modelling in multifidelity optimization. J Glob Optim 26(3):297–319

Leifsson L, Koziel S (2015) Aerodynamic shape optimization by variable-fidelity computational fluid dynamics models: a review of recent progress. J Comput Sci 10:45–54

Lewis R M, Nash S G (2005) Model problems for the multigrid optimization of systems governed by differential equations. Siam J Sci Comput 26(6):1811–1837

Liem R P, Mader C A, Martins J R R A (2015) Surrogate models and mixtures of experts in aerodynamic performance prediction for aircraft mission analysis. Aerosp Sci Technol 43(8):121–151

Marduel X, Tribes C, Trpanier J Y (2006) Variable-fidelity optimization: efficiency and robustness. Optim Eng 7(4):479–500

Qian Z, Seepersad C C, Joseph V R, Allen J K, Wu CF J (2006) Building surrogate models based on detailed and approximate simulations. J Mech Des 128(4):668–677. ASME 2004 Design Engineering Technical Conference, Salt Lake City, UT, 2004

Rodrguez J F, Prez V M, Padmanabhan D, Renaud J E (2001) Sequential approximate optimization using variable fidelity response surface approximations. Struct Multidiscip Optim 22(1):24–34

Simpson T W, Booker A J, Ghosh D, Giunta A A, Koch P N, Yang R J (2004) Approximation methods in multidisciplinary analysis and optimization: a panel discussion. Struct Multidiscip Optim 27(5):302–313

Sobieszczanski-Sobieski J, Haftka R T (1997) Multidisciplinary aerospace design optimization: survey of recent developments. Struct Optim 14(1):1–23

Tetko I V, Livingstone D J, Luik A I (1995) Neural network studies. 1. comparison of overfitting and overtraining. J Chem Inf Comput Sci 35(5):826–833

Zahir M K, Gao Z (2012) Variable fidelity surrogate assisted optimization using a suite of low fidelity solvers. Open J Optim 1(1):8–14

Zheng J, Qiu H, Zhang X (2012) Variable-fidelity multidisciplinary design optimization based on analytical target cascading framework. Adv Mater Res 544:49–54

Zheng J, Shao X, Gao L, Jiang P (2013) A hybrid variable-fidelity global approximation modelling method combining tuned radial basis function base and kriging correction. J Eng Des 24:604–622
Acknowledgements
The authors gratefully appreciate the support by Fundamental Research Funds for the Central Universities (Grant No. G2016KY0302), National Natural Science Foundation of China (Grant No. 51505385, No. 11572134), and also thank Dr. Hua Su and Dr. Chunna Li for the helpful discussion about the Co-RBF method. Moreover, thanks Dr. Zhao Jing and the anonymous reviewers for their efforts and constructive advice to improve the study.
About this article
Cite this article
Li, X., Gao, W., Gu, L. et al. A cooperative radial basis function method for variable-fidelity surrogate modeling. Struct Multidisc Optim 56, 1077–1092 (2017). https://doi.org/10.1007/s00158-017-1704-6
Received:

Revised:

Accepted:

Published:

Issue Date:
Keywords
VFM

Surrogate model

RBF

Co-RBF

Co-Kriging