Abstract
For tailoring the non-uniform axial compression, each sub-panel of stiffened shells should be designed separately to achieve a high load-carrying efficiency. Motivated by the challenge caused by numerous variables and high computational cost, a fast procedure for the minimum weight design of non-uniform stiffened shells under buckling constraint is proposed, which decomposes a hyper multi-dimensional problem into a hierarchical optimization with two levels. To facilitate the post-buckling optimization, an efficient equivalent analysis model of stiffened shells is developed based on the Numerical Implementation of Asymptotic Homogenization Method. In particular, the effects of non-uniform load, internal pressure and geometric imperfections are taken into account during the optimization. Finally, a typical fuel tank of launch vehicle is utilized to demonstrate the effectiveness of the proposed procedure, and detailed comparison with other optimization methodologies is made.
Access options
Buy single article
Instant access to the full article PDF.
US$ 39.95
Tax calculation will be finalised during checkout.
Subscribe to journal
Immediate online access to all issues from 2019. Subscription will auto renew annually.
US$ 119
Tax calculation will be finalised during checkout.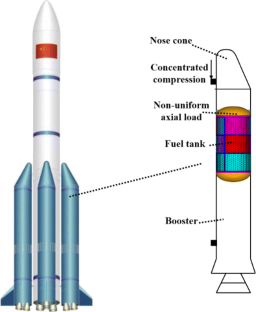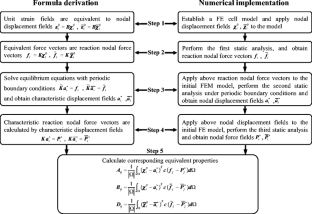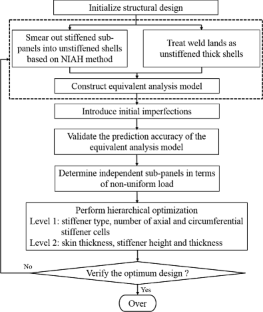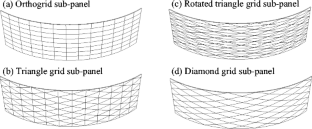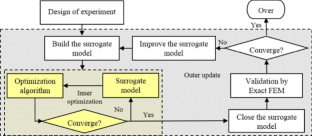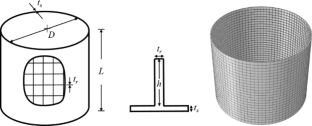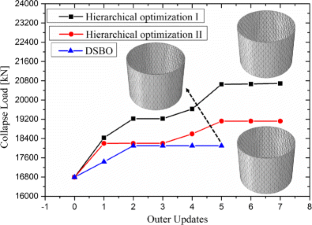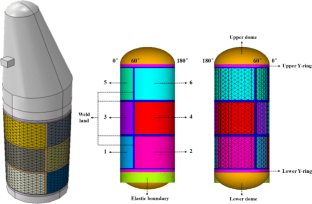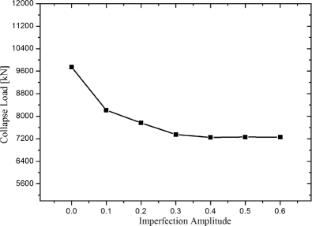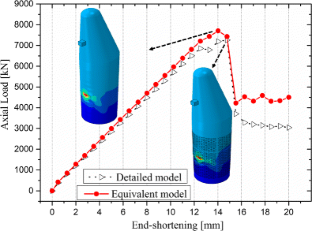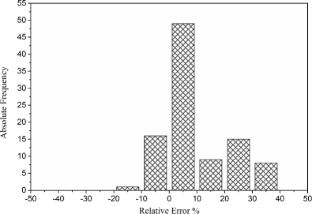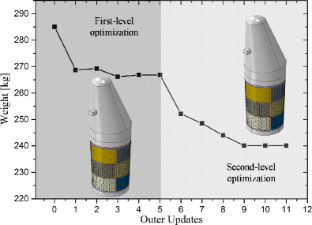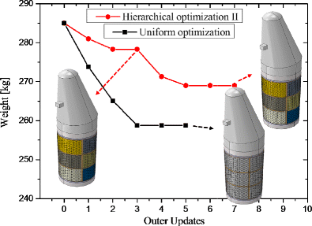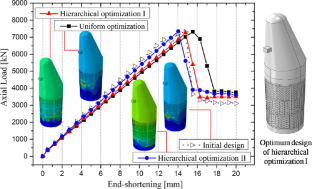 References
Azarboni HR, Darvizeh M, Darvizeh A, Ansari R (2015) Nonlinear dynamic buckling of imperfect rectangular plates with different boundary conditions subjected to various pulse functions using the Galerkin method. Thin-Walled Struct 94:577–584

Bushnell D, Bushnell WD (1994) Minimum-weight design of a stiffened panel via PANDA2 and evaluation of the optimized panel via STAGS. Comput Struct 50(4):569–602

Cai YW, Xu L, Cheng GD (2014) Novel numerical implementation of asymptotic homogenization method for periodic plate structures. Int J Solids Struct 51(1):284–292

Carrera E, Mannella L, Augello G, Gualtieri N (2003) A two-level optimization feature for the design of aerospace structures. Proc IME G J Aero Eng 217(4):189–206

Castro SGP, Zimmermann R, Arbelo MA, Khakimova R, Hilburger MW, Degenhardt R (2014) Geometric imperfections and lower-bound methods used to calculate knock-down factors for axially compressed composite cylindrical shells. Thin-Walled Struct 74:118–132

Cheng GD, Cai YW, Xu L (2013) Novel implementation of homogenization method to predict effective properties of periodic materials. Acta Mech Sinica 29(4):550–556

Degenhardt R, Kling A, Rohwer K, Orifici AC, Thomsonc RS (2008) Design and analysis of stiffened composite panels including post-buckling and collapse. Comput Struct 86(9):919–929

Degenhardt R, Castro SGP, Arbelo MA, Zimmermann R, Khakimova R, Kling A (2014) Future structural stability design for composite space and airframe structures. Thin-Walled Struct 81:29–38

Elishakoff I, Kriegesmann B, Rolfes R, Hühne C, Kling A (2012) Optimization and antioptimization of buckling load for composite cylindrical shells under uncertainties. AIAA J 50(7):1513–1524

Foryś P (2015) Optimization of cylindrical shells stiffened by rings under external pressure including their post-buckling behaviour. Thin-Walled Struct 95:231–243

Friedrich L, Loosen S, Liang K, Ruess M, Bisagni C, Schröder K (2015) Stacking sequence influence on imperfection sensitivity of cylindrical composite shells under axial compression. Compos Struct 134:750–761

Fukunaga H, Vanderplaats GN (1991) Stiffness optimization of othrotropic laminated composites using lamination parameters. AIAA J 29(4):641–646

Godoy LA, Jaca RC, Sosa EM, Flores FG (2015) A penalty approach to obtain lower bound buckling loads for imperfection-sensitive shells. Thin-Walled Struct 95:183–195

Greenberg JB, Stavsky Y (1995) Buckling of composite orthotropic cylindrical shells under non-uniform axial loads. Compos Struct 30(4):399–406

Haftka RT, Watson LT (2006) Decomposition theory for multidisciplinary design optimization problems with mixed integer quasiseparable subsystems. Optim Eng 7(2):135–149

Hao P, Wang B, Li G (2012) Surrogate-based optimum design for stiffened shells with adaptive sampling. AIAA J 50(11):2389–2407

Hao P, Wang B, Li G, Tian K, Du KF, Wang XJ, Tang XH (2013) Surrogate-based optimization of stiffened shells including load-carrying capacity and imperfection sensitivity. Thin-Walled Struct 72(15):164–174

Hao P, Wang B, Li G, Meng Z, Tian K, Tang XH (2014) Hybrid optimization of hierarchical stiffened shells based on smeared stiffener method and finite element method. Thin-Walled Struct 82(9):46–54

Hao P, Wang B, Tian K, Du KF, Zhang X (2015a) Influence of imperfection distributions for cylindrical stiffened shells with weld lands. Thin-Walled Struct 93(8):177–187

Hao P, Wang B, Li G, Meng Z, Wang LP (2015b) Hybrid framework for reliability-based design optimization of imperfect stiffened shells. AIAA J 53(10):2878–2889

Hao P, Wang B, Tian K, Li G, Du KF, Niu F (2016a) Efficient optimization of cylindrical stiffened shells with reinforced cutouts by curvilinear stiffeners. AIAA J 54(4):1350–1363

Hao P, Wang B, Tian K, Li G (2016b) Integrated optimization of hybrid-stiffness stiffened shells based on sub-panel elements. Thin-Walled Struct 103:171–182

Hao P, Wang B, Tian K, Li G, Zhang X (2016c) Optimization of curvilinearly stiffened panels with single cutout concerning the collapse load. Int J Struct Stab Dy 16: 1550036-1-1550036-21

Hao P, Wang B, Du KF, Li G, Tian K, Sun Y, Ma YL (2016d) Imperfection-insensitive design of stiffened conical shells based on perturbation load approach. Compos Struct 136:405–413

Henrichsen SR, Lindgaard E, Lund E (2015) Robust buckling optimization of laminated composite structures using discrete material optimization considering "worst" shape imperfections. Thin-Walled Struct 94:624–635

Hilburger MW, Nemeth MP, Starnes JH Jr (2006) Shell buckling design criteria based on manufacturing imperfection signatures. AIAA J 44(3):654–663

Kalamkarov AL, Andrianov IV, Danishevsâ VV (2009) Asymptotic homogenization of composite materials and structures. Appl Mech Rev 62(3): 030802-1-030802-20

Lamberti L, Venkataraman S, Haftka RT, Johnson TF (2003) Preliminary design optimization of stiffened panels using approximate analysis models. Int J Numer Methods Eng 57(10):1351–1380

Liang K, Zhang YJ, Sun Q, Ruess M (2015) A new robust design for imperfection sensitive stiffened cylinders used in aerospace engineering. Sci China 58(5):796–802

Loughlan J (1994) The buckling performance of composite stiffened panel structures subjected to combined in-plane compression and shear loading. Compos Struct 29(2):197–212

Meziane MAA, Abdelaziz HH, Tounsi A (2014) An efficient and simple refined theory for buckling and free vibration of exponentially graded sandwich plates under various boundary conditions. J Sandw Struct Mater 16(3):293–318

Ovesy HR, Fazilati J (2014) Parametric instability analysis of laminated composite curved shells subjected to non-uniform in-plane load. Compos Struct 108:449–455

Paulo RMF, Teixeira-Dias F, Valente RAF (2013) Numerical simulation of aluminium stiffened panels subjected to axial compression: Sensitivity analyses to initial geometrical imperfections and material properties. Thin-Walled Struct 62:65–74

Peeters DMJ, Hesse S, Abdalla MM (2015) Stacking sequence optimisation of variable stiffness laminates with manufacturing constraints. Compos Struct 125:596–604

Queipo NV, Haftka RT, Shyy W, Goel T, Vaidyanathan R, Tucker PK (2005) Surrogate-based analysis and optimization. Prog Aerosp Sci 41(1):1–28

Ragon SA, Haftka RT, Tzong TJ (1997) Global/local Structural Wing Design using Response Surface Techniques, 38th AIAA/ASME/ASCE/AHS/ASC Structures, Structural Dynamics and Materials Conf. AIAA-1997-1051, Kissimmee, FL, April 1997

Schutte JF, Haftka RT (2010) Global structural optimization of a stepped cantilever beam using quasi-separable decomposition. Eng Optim 42(4):347–367

Soni G, Singh R, Mitra M (2013) Buckling behavior of composite laminates (with and without cutouts) subjected to nonuniform in-plane loads. Int J Struct Stab Dyn 13(08):1350044

Starnes JH Jr, Haftka RT (1979) Preliminary design of composite wings for buckling, strength, and displacement constraints. AIAA J 16(8):564–570

Teng JG, Song CY (2001) Numerical models for nonlinear analysis of elastic shells with eigenmode-affine imperfections. Int J Solids Struct 38(18):3263–3280

Vescovini R, Bisagni C (2013) Two-step procedure for fast post-buckling analysis of composite stiffened panels. Comput Struct 128:38–47

Vitali R, Haftka RT, Sankar BV (2002) Multi-fidelity design of stiffened composite panel with a crack. Struct Multidiscip Optim 23(5):347–356

Wang D, Abdalla MM (2015) Global and local buckling analysis of grid-stiffened composite panels. Compos Struct 119:767–776

Wang H, Croll JGA (2015) Plateau lower-bounds to the imperfection sensitive buckling of composite shells. Compos Struct 133:979–985

Wang B, Hao P, Li G, Wang XJ, Tang XH, Luan Y (2014) Generatrix shape optimization of stiffened shells for low imperfection sensitivity. Sci China 57(10):2012–2019

Wang B, Tian K, Hao P, Cai YW, Li YW, Sun Y (2015) Hybrid analysis and optimization of hierarchical stiffened plates based on asymptotic homogenization method. Compos Struct 132(11):136–147
Acknowledgments
This work was supported by the National Basic Research Program of China (2014CB049000 and 2014CB046596), the National Natural Science Foundation of China (11402049 and 11372062), the Project funded by China Postdoctoral Science Foundation (2014M551070 and 2015T80246).
About this article
Cite this article
Hao, P., Wang, B., Tian, K. et al. Fast procedure for Non-uniform optimum design of stiffened shells under buckling constraint. Struct Multidisc Optim 55, 1503–1516 (2017). https://doi.org/10.1007/s00158-016-1590-3
Received:

Revised:

Accepted:

Published:

Issue Date:
Keyword
Non-uniform stiffened shell

Buckling

Equivalent model

Fast procedure

Hierarchical optimization