Abstract
Economically disadvantaged children are more likely than other children to experience worse cognitive, health, and behavioral outcomes. The mechanisms for these associations are not fully understood, hindering policy initiatives aimed at closing the gaps. One hypothesis is that children experiencing financial hardship allocate their time differently. In this study, we use seven waves of time use diary data from a large sample of Australian children to explore how children's time use changes when their family experiences financial hardship or deprivation. Focusing on four key child health and development time inputs––screen time, physical activity, sleep, and reading––we find that financial hardship is associated with significantly more screen time, particularly passive screen time, and screen time at excessive levels. We explore potential mechanisms for these associations.
Access options
Buy single article
Instant access to the full article PDF.
USD 39.95
Price includes VAT (USA)
Tax calculation will be finalised during checkout.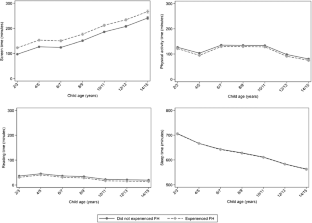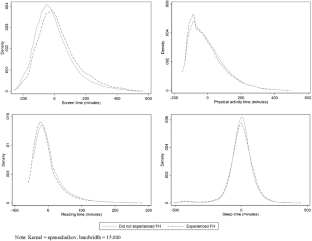 Notes
1.

Recent evidence suggests that income poverty is an important but insufficient measure of financial hardship for children (Schenck-Fontaine and Panico 2019).

2.

This literature typically finds that children of more highly educated parents or of higher household income engage in more physical activity, read more, study more, and watch TV less than children from lower socioeconomic backgrounds. Other studies (usually of small samples) indicate that children from more disadvantaged families tend to sleep less and have more sleep disturbances (Bøe et al. 2012; Buckhalt et al. 2007; Jarrin et al. 2014).

3.

Other commonly used child TUDs include the Child Development Supplement from the Panel Study of Income Dynamics which follows children every 5 years for three waves, the American Time Use Survey which collects a TUD from children aged 15 and older, and the Millennium Cohort Study which includes a TUD in the age-14 sweep.

4.

Proportions of families experiencing financial hardship were 17.91%, 8.60%, 4.18%, and 2.4% for one, two, three, and four plus periods, respectively.

5.

These values are consistent with previous research that shows experiences of poverty (measured by household income below a poverty threshold) are largely transient (Stevens 1994).

6.

Information on expenses (unforeseen or otherwise) is unavailable in the LSAC.

7.

Although income is closely related to financial hardship, we find in our data that only 50% of families experiencing hardship also experience a reduction in household income. Less than 5% experience employment loss, separation, or a decline in physical or mental health.

8.

Examples of the diaries are available in Nguyen et al. (2020) Appendix Figure C1 and C3.

9.

This means that the total time engaged in all activities could amount to more than 24 h. While one could force the total time to be 24 h by making assumptions about which activity is considered the "primary activity," this would likely result in a loss of information on our key activities for children under 10 years of age. Note that for the child-completed diaries, we include only primary and secondary activities.

10.

Note that our total number of observations includes up to two TUDs per child in the first three waves of data collection.

11.

The main parent is the child's primary caregiver or the parent who knows the child best and who answers the LSAC general survey items. The main parent in most cases (over 90%) is the child's biological mother. Note that due to the fixed-effect model, the main parent's sex, background and education is likely to be constant across time and drop out of the model, however we have left these variables in the model to capture occasional changes in who is the main parent (for example, through separation).

12.

See Table 10 in the Appendix for sample means for all control variables and Appendix 3 for detailed descriptions of how the neighborhood, health, employment, and income variables are constructed.

13.

Exact age-specific cutoffs based on sample deciles for screen time and sleep are available upon request.

14.

For example, zero physical activity per day over a prolonged period is likely to have a harmful impact on a child's health and well-being.

15.

The marginal effects of screen time, sleep time, physical activity time and reading time do not add to zero as these time use categories account for on average two-thirds of the child's daily time-use.

16.

While this is not large, if this one hour was instead spent on educational activities with parents, estimates from Fiorini and Keane (2014), Tables 9 and 10) suggest it could translate to improvements in the child's cognitive skills (by about 0.018 standard deviations) and language skills (by about 0.022 standard deviations).

17.

Social screen time is only captured by the time use diaries for children 10 years old or older (see Appendix 2 for details).

18.

Parents were asked to complete the TUD for one weekday and one weekend day, while children were asked to complete one TUD for the day before their interview. This resulted in more weekday observations (24,396) than weekend observations (17,053).

19.

We calculate the top decile separately based on weekend and weekday screen time (cut-offs available upon request). Cut offs for extreme screen time are higher on weekends compared to weekdays.

20.

We utilize survey responses from the LSAC general survey for this section of analysis, and do not restrict the sample to only children with a time use diary. Our specification for these models follows Eq. 1 but does not include variables directly related to a time use diary (e.g., day of the week).

21.

This item is asked of cohort K when children were 6–15 years and of cohort B when children were aged 2–13 years. We use survey responses instead of TUDs for this analysis as we are unable to accurately capture parent's active time with the study child from the TUDs. In parent-completed diaries, parent-child time is recorded if they were in the same room or nearby the child if outside. Because young children are often monitored by a main parent, we find that a large amount of the child's time is spent with a parent, even, for example, when the child is sleeping or watching TV.
References
Adelantado-Renau M, Moliner-Urdiales D, Cavero-Redondo I, Beltran-Valls MR, Martínez-Vizcaíno V, Álvarez-Bueno C (2019) Association between screen media use and academic performance among children and adolescents: a systematic review and meta-analysis. JAMA Pediatr 173:1058–1067. https://doi.org/10.1001/jamapediatrics.2019.3176

Australian Government Department of Health (2019) Australia's physical activity and sedentary behaviour guidelines. https://www1.health.gov.au/internet/main/publishing.nsf/content/health-pubhlth-strateg-phys-act-guidelines

Bianchi SM, Robinson J (1997) What did you do today? Children's use of time, family composition, and the acquisition of social capital. J Marriage Fam 59:332–344. https://doi.org/10.2307/353474

Bøe T, Hysing M, Stormark KM, Lundervold AJ, Sivertsen B (2012) Sleep problems as a mediator of the association between parental education levels, perceived family economy and poor mental health in children. J Psychosom Res 73:430–436. https://doi.org/10.1016/j.jpsychores.2012.09.008

Borga LG (2019) Children's own time use and its effect on skill formation. J Dev Stud 55:876–893. https://doi.org/10.1080/00220388.2018.1499893

Borgen NT (2016) Fixed effects in unconditional quantile regression. Stata J 16:403–415. https://doi.org/10.1177/1536867X1601600208

Bourova E, Ramsay I, Ali P (2019) The experience of financial hardship in Australia: causes, impacts and coping strategies. J Consum Policy 42:189–221. https://doi.org/10.1007/s10603-018-9392-1

Buckhalt JA, El-Sheikh M, Keller P (2007) Children's sleep and cognitive functioning: race and socioeconomic status as moderators of effects. Child Dev 78:213–231. https://doi.org/10.1111/j.1467-8624.2007.00993.x

Butterworth P, Crosier T (2006) Deriving a measure of financial hardship from the HILDA survey. Australian Social Policy 2005:1–12. https://www.dss.gov.au/about-the-department/publications-articles/research-publications/australian-social-policy-journal/australian-social-policy-2005-contents

Caetano G, Kinsler J, Teng H (2019) Towards causal estimates of children's time allocation on skill development. J Appl Econ 34:588–605. https://doi.org/10.1002/jae.2700

Cappuccio FP, Taggart FM, Kandala N-B, Currie A, Peile E, Stranges S, Miller MA (2008) Meta-analysis of short sleep duration and obesity in children and adults. Sleep 31:619–626. https://doi.org/10.1093/sleep/31.5.619

Cawley J, Liu F (2012) Maternal employment and childhood obesity: a search for mechanisms in time use data. Econ Hum Biol 10:352–364. https://doi.org/10.1016/j.ehb.2012.04.009

Clark AE, D'Ambrosio C, Barazzetta M (2021) Childhood circumstances and young adulthood outcomes: the role of mothers' financial problems. Health Econ 30:342–357. https://doi.org/10.1002/hec.4194

Cobb-Clark DA, Salamanca N, Zhu A (2019) Parenting style as an investment in human development. J Popul Econ 32:1315–1352. https://doi.org/10.1007/s00148-018-0703-2

Conger RD, Conger KJ, Martin MJ (2010) Socioeconomic status, family processes, and individual development. J Marriage Fam 72:685–704. https://doi.org/10.1111/j.1741-3737.2010.00725.x

Del Boca D, Monfardini C, Nicoletti C (2017) Parental and child time investments and the cognitive development of adolescents. J Labor Econ 35:565–608. https://doi.org/10.1086/689479

Dumuid D, Stanford TE, Martin-Fernández J-A, Pedišić Ž, Maher CA, Lewis LK, Hron K, Katzmarzyk PT, Chaput J-P, Fogelholm M, Hu G, Lambert EV, Maia J, Sarmiento OL, Standage M, Barreira TV, Broyles ST, Tudor-Locke C, Tremblay MS, Olds T (2018) Compositional data analysis for physical activity, sedentary time and sleep research. Stat Methods Med Res 27:3726–3738. https://doi.org/10.1177/0962280217710835

Duncan GJ, Magnuson K, Kalil A, Ziol-Guest K (2012) The importance of early childhood poverty. Soc Indic Res 108:87–98. https://doi.org/10.1007/s11205-011-9867-9

Fertig A, Glomm G, Tchernis R (2009) The connection between maternal employment and childhood obesity: inspecting the mechanisms. Rev Econ Househ 7:227–255. https://doi.org/10.1007/s11150-009-9052-y

Fiorini M, Keane MP (2014) How the allocation of children's time affects cognitive and noncognitive development. J Labor Econ 32:787–836. https://doi.org/10.1086/677232

Firpo S, Fortin NM, Lemieux T (2009) Unconditional quantile regressions. Econometrica 77:953–973. https://doi.org/10.3982/ecta6822

Fox L, Han W-J, Ruhm C, Waldfogel J (2013) Time for children: trends in the employment patterns of parents, 1967–2009. Demography 50:25–49. https://doi.org/10.1007/s13524-012-0138-4

Gershoff ET, Aber JL, Raver CC, Lennon MC (2007) Income is not enough: Incorporating material hardship into models of income associations with parenting and child development. Child Dev 78:70–95

Guryan J, Hurst E, Kearney M (2008) Parental education and parental time with children. J Econ Perspect 22:23–46. https://doi.org/10.1257/jep.22.3.23

Haveman R, Wolfe B (1995) The determinants of children's attainments: a review of methods and findings. J Econ Lit 33:1829–1878 https://www.jstor.org/stable/2729315

Heckman JJ, Masterov DV (2007) The productivity argument for investing in young children. Appl Econ Perspect Policy 29:446–493. https://doi.org/10.1111/j.1467-9353.2007.00359.x

Heflin CH (2016) Family instability and material hardship: results from the 2008 survey of income and program participation. J Fam Econ Iss 37:359–372. https://doi.org/10.1007/s10834-016-9503-6

Heflin CH, Butler JS (2013) Why do women enter and exit from material hardship? J Fam Issues 34:631–660. https://doi.org/10.1177/0192513x12442822

Heflin CH, Sandberg J, Rafail P (2009) The structure of material hardship in US households: an examination of the coherence behind common measures of well-being. Soc Probl 56:746–764. https://doi.org/10.1525/sp.2009.56.4.746

Hofferth SL (2006) Response bias in a popular indicator of reading to children. Sociol Methodol 36:301–315. https://doi.org/10.1111/j.1467-9531.2006.00182.x

Hsin A, Felfe C (2014) When does time matter? Maternal employment, children's time with parents, and child development. Demography 51:1867–1894. https://doi.org/10.1007/s13524-014-0334-5

Hutton JS, Dudley J, Horowitz-Kraus T, DeWitt T, Holland SK (2019) Associations between screen-based media use and brain white matter integrity in preschool-aged children. JAMA Pediatr 174:e193869. https://doi.org/10.1001/jamapediatrics.2019.3869

Iceland J, Bauman KJ (2007) Income poverty and material hardship: how strong is the association? J Socio-Econ 36:376–396. https://doi.org/10.1016/j.socec.2006.12.003

Jarrin DC, McGrath JJ, Quon EC (2014) Objective and subjective socioeconomic gradients exist for sleep in children and adolescents. Health Psychol 33:301–305. https://doi.org/10.1037/a0032924

Kalb G, van Ours JC (2014) Reading to young children: a head-start in life? Econ Educ Rev 40:1–24. https://doi.org/10.1016/j.econedurev.2014.01.002

Kalil A, Ryan R, Corey M (2012) Diverging destinies: maternal education and the developmental gradient in time with children. Demography 49:1361–1383. https://doi.org/10.1007/s13524-012-0129-5

Kessler RC, Andrews G, Colpe LJ, Hiripi E, Mroczek DK, Normand SLT, Walters EE, Zaslavsky AM (2002) Short screening scales to monitor population prevalences and trends in non-specific psychological distress. Psychol Med 32:959–976. https://doi.org/10.1017/S0033291702006074

Kim S, Favotto L, Halladay J, Wang L, Boyle MH, Georgiades K (2020) Differential associations between passive and active forms of screen time and adolescent mood and anxiety disorders. Soc Psychiatry Psychiatr Epidemiol 55:1469–1478. https://doi.org/10.1007/s00127-020-01833-9

LeBlanc AG, Katzmarzyk PT, Barreira TV, Broyles ST, Chaput J-P, Church TS, Fogelholm M, Harrington DM, Hu G, Kuriyan R, Kurpad A, Lambert EV, Maher C, Maia J, Matsudo V, Olds T, Onywera V, Sarmiento OL, Standage M, Tudor-Locke C, Zhao P, Tremblay MS, Group IR (2015) Correlates of total sedentary time and screen time in 9–11 year-old children around the world: the International Study of Childhood Obesity, Lifestyle and the Environment. PLoS One 10:1–20. https://doi.org/10.1371/journal.pone.0129622

Loewen OK, Maximova K, Ekwaru JP, Faught EL, Asbridge M, Ohinmaa A, Veugelers PJ (2019) Lifestyle behavior and mental health in early adolescence. Pediatrics 143:e20183307. https://doi.org/10.1542/peds.2018-3307

Mani A, Mullainathan S, Shafir E, Zhao J (2013) Poverty impedes cognitive function. Science 341:976–980. https://doi.org/10.1126/science.1238041

McCulloch A, Joshi HE (2002) Child development and family resources: evidence from the second generation of the 1958 British birth cohort. J Popul Econ 15:283–304. https://doi.org/10.1007/s001480100067

Mol SE, Bus AG (2011) To read or not to read: a meta-analysis of print exposure from infancy to early adulthood. Psychol Bull 137:267–296. https://doi.org/10.1037/a0021890

Mullainathan S, Shafir E (2013) Scarcity: why having too little means so much. New York: Henry Holt and Company

Nguyen HT, Connelly LB, Le HT, Mitrou F, Taylor CL, Zubrick SR (2020) Ethnicity differentials in academic achievements: the role of time investments. J Popul Econ 33:1381–1418. https://doi.org/10.1007/s00148-020-00774-6

Price J, Kalil A (2019) The effect of mother–child reading time on children's reading skills: evidence from natural within-family variation. Child Dev 90:e688–e702. https://doi.org/10.1111/cdev.13137

Raley S (2014) Time use, inequality, and child well-being. In: Ben-Arieh A, Casas F, Frønes I, Korbin JE (eds) Handbook of child well-being: theories, methods and policies in global perspective. Springer Netherlands, Dordrecht, pp 999–1031

Rokicki S, McGovern ME (2020) Heterogeneity in early life investments: a longitudinal analysis of children's time use. Rev Income Wealth 66:647–676. https://doi.org/10.1111/roiw.12440

Sanders T, Parker PD, del Pozo-Cruz B, Noetel M, Lonsdale C (2019) Type of screen time moderates effects on outcomes in 4013 children: evidence from the Longitudinal Study of Australian Children. Int J Behav Nutr Phys Act 16:117. https://doi.org/10.1186/s12966-019-0881-7

Schenck-Fontaine A, Panico L (2019) Many kinds of poverty: three dimensions of economic hardship, their combinations, and children's behavior problems. Demography 56:2279–2305. https://doi.org/10.1007/s13524-019-00833-y

Shah AK, Mullainathan S, Shafir E (2012) Some consequences of having too little. Science 338:682–685. https://doi.org/10.1126/science.1222426

Short KS (2005) Material and financial hardship and income-based poverty measures in the USA. Journal of Social Policy 34:21–38. https://doi.org/10.1017/S0047279404008244

Stevens AH (1994) The dynamics of poverty spells: updating Bane and Ellwood. Am Econ Rev 84:34–37 http://www.jstor.org/stable/2117797

Subrahmanyam K, Kraut RE, Greenfield PM, Gross EF (2000) The impact of home computer use on children's activities and development. Futur Child 10:123–144. https://doi.org/10.2307/1602692

Sullivan JX, Turner L, Danziger S (2008) The relationship between income and material hardship. Journal of Policy Analysis and Management 27:63–81. https://doi.org/10.1002/pam.20307

Suziedelyte A (2015) Media and human capital development: can video game playing make you smarter? Econ Inq 53:1140–1155. https://doi.org/10.1111/ecin.12197

Walsh JJ, Barnes JD, Cameron JD, Goldfield GS, Chaput JP, Gunnell KE, Ledoux AA, Zemek RL, Tremblay MS (2018) Associations between 24 hour movement behaviours and global cognition in us children: a cross-sectional observational study. Lancet Child Adolesc Health 2:783–791. https://doi.org/10.1016/s2352-4642(18)30278-5

World Health Organization (2019) Guidelines on physical activity, sedentary behaviour and sleep for children under 5 years of age. World Health Organization, Geneva

Yoshikawa H, Aber JL, Beardslee WR (2012) The effects of poverty on the mental, emotional, and behavioral health of children and youth: implications for prevention. Am Psychol 67:272–284. https://doi.org/10.1037/a0028015

Zilanawala A, Pilkauskas NV (2012) Material hardship and child socioemotional behaviors: differences by types of hardship, timing, and duration. Child Youth Serv Rev 34:814–825. https://doi.org/10.1016/j.childyouth.2012.01.008
Acknowledgements
The authors would like to thank the anonymous referees for helpful comments and suggestions.
Availability of data and material
This paper uses unit record data from Growing Up in Australia, the Longitudinal Study of Australian Children (LSAC). DOI:https://doi.org/10.26193/F2YRL5.
Funding
Jessica Arnup is supported through an Australian Government Research Training Program (RTP) Scholarship. Nicole Black is supported by an Australian Research Council fellowship (DE180100438).
Ethics declarations
Conflict of interest
The authors declare no competing interests.
Disclaimer
This paper uses unit record data from Growing Up in Australia: the Longitudinal Study of Australian Children (LSAC). The LSAC is conducted by the Australian Government Department of Social Services(DSS). The findings and views reported in this paper, however, are those of the authors and should not be attributed to the Australian Government, DSS, or any of DSS' contractors or partners.
Additional information
Publisher's note
Springer Nature remains neutral with regard to jurisdictional claims in published maps and institutional affiliations.
Responsible editor: Terra McKinnish
Appendices
Appendix 1
Supplementary tables
Appendix 2.
Items contributing to time use categories
 
Parent completed diary
Child completed diary
Category
Items
0-1B
2-3B
4-5B
4-5K
6-7K
8-9K
10-11B
10-11K
12-13B
12-13K
14-15K
Physical Activity
Crawl, climb, swing arms or legs
x
-
-
-
-
-
-
-
-
-
-
Active free play (e.g running, climbing, ball game)
-
x
x
-
x
x
-
-
-
-
-
Walking (for travel or fun)
-
x
x
x
x
x
-
-
-
-
-
Ride bicycle, trike etc. (for travel or fun)
-
x
x
x
x
x
-
-
-
-
-
Other exercise - swim / dance/ run about
-
-
-
x
-
-
-
-
-
-
-
Organised sport/physical activity (e.g., swim, dance, Auskick)
-
-
-
-
x
x
-
-
-
-
-
Active activities
-
-
-
-
-
-
-
x
-
-
-
Organised team sports and training
-
-
-
-
-
-
x
x
x
x
x
Organised individual sport i.e. swimming
-
-
-
-
-
-
x
x
x
x
x
Ball games, riding a bike, scooter, skateboard
-
-
-
-
-
-
-
x
-
-
-
Taking pet for a walk
-
-
-
-
-
-
-
x
-
-
-
Walking pets / playing with pets
-
-
-
-
-
-
x
-
x
x
x
Unstructured active play
-
-
-
-
-
-
x
-
x
x
x
Active club activities
-
-
-
-
-
-
x
-
x
x
x
(Travel) By foot
-
-
-
-
-
-
x
x
x
x
x
(Travel) By bike, scooter, skateboard etc.
-
-
-
-
-
-
x
x
x
x
x
Sleep
Sleeping, napping
x
x
x
x
x
x
-
-
-
-
-
Napping (not night-time sleep)
-
-
-
-
-
-
x
x
x
x
x
Difference between reported bed time and wake up time
-
-
-
-
-
-
-
x
-
-
-
Difference between reported sleep time and wake up time
-
-
-
-
-
-
x
-
x
x
x
Reading
Read a story, talked/sung to, sing/talk
x
x
x
x
x
-
-
-
-
-
-
Being read or told a story
-
-
-
-
-
x
-
-
-
-
-
Reading or looking at book by self
-
-
-
-
x
x
-
-
-
-
-
Reading or being read to for leisure
-
-
-
-
-
-
x
x
x
x
x
Screen Time (not including homework
Watching TV, a video, or a DVD (P)
x
x
x
x
x
x
x
x
x
x
x
Using computer/computer game (A)
-
x
x
x
x
x
-
-
-
-
-
Electronic media, games, computer use (A)
-
-
-
-
-
-
-
x
-
-
-
Playing Games (electronic device) (A)
-
-
-
-
-
-
x
-
x
x
x
Computer games - internet (A)
-
-
-
-
-
-
-
x
-
-
-
Computer game - not internet (A)
-
-
-
-
-
-
-
x
-
-
-
Xbox, PlayStation, Nintendo, Wii (A)
-
-
-
-
-
-
-
x
-
-
-
Downloading/posting media (S)
-
-
-
-
-
-
x
-
x
x
x
Internet shopping (S)
-
-
-
-
-
-
x
-
x
x
x
General Internet Browsing (S)
-
-
-
-
-
-
x
-
x
x
x
Creating/maintaining websites (S)
-
-
-
-
-
-
x
-
x
x
x
General application use (e.g., Microsoft Office) (A)
-
-
-
-
-
-
x
-
x
x
x
Spending time on social networking sites (S)
-
-
-
-
-
-
x
-
x
x
x
Texting, email, social networking such as Facebook or Twitter (S)
-
-
-
-
-
-
-
x
-
-
-
Skype or Webcam (S)
-
-
-
-
-
-
x
x
x
x
x
Texting/email (S)
-
-
-
-
-
-
x
-
x
x
x
Online chatting/instant messaging (S)
-
-
-
-
-
-
x
-
x
x
x
Other Internet/electronic device use (S)
-
-
-
-
-
-
x
x
x
x
x
Appendix 3.
Description of regression covariates
Included in our health controls is parent's mental and physical health. Mental health of both parents is measured using the Kessler-6 (K6) scale (Kessler et al. 2002), a six-item scale measuring psychological distress. This scale consists of six items related to distress including whether the parent felt nervous, hopeless, restless or fidgety, worthless, and so depressed that nothing could cheer them up and/or that everything was an effort, in the last 4 weeks. Total scores range from 6 to 30 with higher scores reflecting a greater level of psychological distress.
We create an indicator for poor physical health, if the parents respond to the item "In general, would you say your own health is…?" with poor or fair.
Using self-reported employment status, we include a dummy variable for whether the child's mother and father are employed.
We create a household income variable by combining self-reported imputed gross weekly income of both parents (where applicable). Income was inflated to 2017–2018 Australian dollar values using consumer price index (CPI) data from the Australian Bureau of Statistics (ABS) and divided by 10,000.
Our measure of neighborhood disadvantage uses the Socio-Economic Index for Areas (SEIFA) Index of Relative Socio-Economic Disadvantage score of the child's local area, provided by the Australian Bureau of Statistics Census of Population and Housing data 2006 and 2011. We standardize and reverse this scale for ease of interpretation, such that higher scores indicate more disadvantaged neighborhoods.
About this article
Cite this article
Arnup, J.L., Black, N. & Johnston, D.W. Changes in children's time use during periods of financial hardship. J Popul Econ (2021). https://doi.org/10.1007/s00148-021-00864-z
Received:

Accepted:

Published:
Keywords
Time use

Screen time

Financial hardship

Material deprivation

Poverty
JEL classification