Abstract
In China's regulated housing markets, a married couple may choose strategically to divorce in order to purchase more houses and/or purchase with more favorable financial conditions. Our study examines the propensity for strategic divorce induced by housing market regulations in China. To overcome the difficulty of using conventional divorce data to distinguish between a "true" divorce and a strategic (or a "fake") divorce, we design an identification strategy using data on internet searches for divorce- and marriage-related keywords in 32 Chinese major cities from 2009 through 2016. Our difference-in-differences estimates provide robust evidence that housing market regulations significantly increase the propensity for strategic divorce. Our results also show that the increase in the propensity for strategic divorce is weaker in cities with higher male–female ratios and with stronger Confucian ideologies. These findings point to the role that housing market regulations play in distorting a family's choices, as well as to the importance for policymakers to consider unintended impacts of regulations.
Access options
Buy single article
Instant access to the full article PDF.
USD 39.95
Price excludes VAT (USA)
Tax calculation will be finalised during checkout.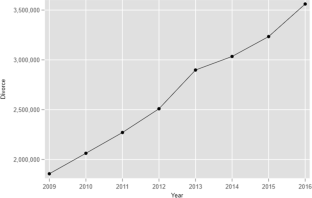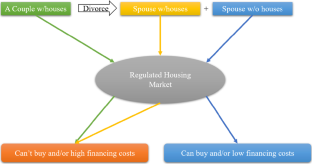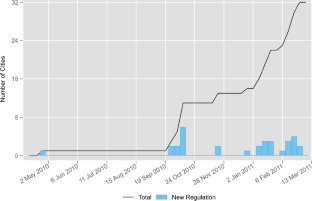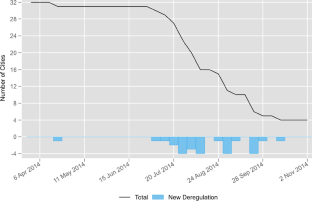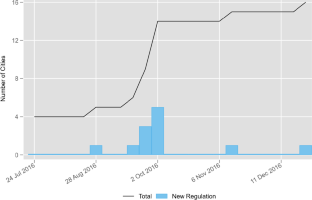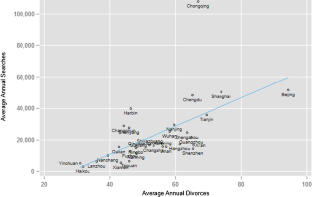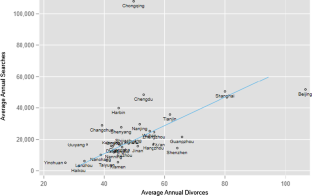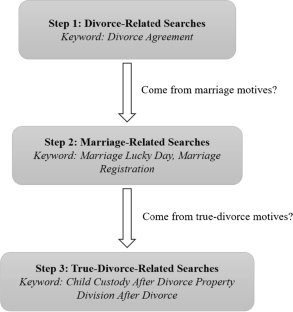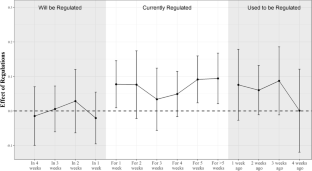 Notes
Throughout this study, we use the term "true divorce" to refer to getting divorced due to unhappy matches, and we use "strategic divorce" or "fake divorce" to refer to divorces whose goal is to attain some economic benefits.

Li and Wu (2014) have shown that high housing prices discourage entrepreneurship, as the extremely high returns make talented people forgo innovative activities and dive in the housing market speculation.

This TV series created a historic audience rating, and its ending episode received a rating of 8 percent. It was also popular in Taiwan and Japan at that time. Due to the sensitivity of its story, censorship authorities banned its broadcast. A staff member of Beijing TV station claimed that the ban was due to real estate businesses' lobbying. All in all, these suggest serious social grievances resulting from high housing prices. (See Ang (2020) pp. 147; Wikipedia https://en.wikipedia.org/wiki/Dwelling_Narrowness (in Chinese), retrieved on January 24, 2021, also available as supplemental materials upon request).

Whether suppressing demand is the best way to cool down the housing market is beyond the scope of this paper. We take these regulations as given, and we evaluate their impacts on divorce propensity.

This expectation is more likely given that strategic divorces enable households to get around regulations.

There are four directly controlled municipalities: Beijing, Shanghai, Tianjin, and Chongqing.

There are five self-planning cities: Dalian, Ningbo, Qingdao, Xiamen, and Shenzhen. They are economically prosperous or politically important, and they are given greater autonomy in drafting economic policies independent of provinces they locate in.

Note that data from both the Baidu Index and Google Trends are not equal to actual search volumes, but are transformed from actual search volumes through some algorithms. We do not know the statistical procedures behind the Baidu Index, but, as argued by Qin and Zhu (2018), Baidu Index data are approximately proportional (or linear) to actual search volumes. Therefore, the transformation should not lead to any significant distortions of the Baidu Index in representing people's online behavior.

To the best of our knowledge, there are no particular criteria for the correlation coefficient to determine a good proxy. But compared to existing literature, we deem that it is not too risky to assert a good proxy based on a correlation coefficient of 0.7 (e.g., Stephens-Davidowitz 2014, where the author got correlation coefficients about 0.6–0.66 between Google Trends data and commonly used measurements).

Chen et al. (2020) provide a comprehensive discussion about the possible connections between the strength of Confucian ideologies and their historical origin. See also Kung and Ma (2014).

Step 2 essentially examines the possibility that housing market regulations may be correlated with some factors increasing marriages and so may lead to more divorce-related searches (given the precautionary search story). It is not very likely that housing market regulations per se would increase marriages.

Qin and Zhu (2018) and Zhang and Mu (2018) implement the Poisson regression models with internet searches as the outcome variable. Here we implement PPML estimations, which is more robust to specification errors than the Poisson maximum likelihood estimation (Gourieroux et al. 1984). PPML estimates can be roughly interpreted as those in a log-level linear regression.

This magnitude is based on the calculation that 0.824 × 0. 029/0.123 = 0.194.

Confucianism emphasizes the harmony of interpersonal relationships, where family stability is an important content. Hence, destroying a family would be regarded as an ideological betrayal. Also, Confucianism opposes any pursuit of wealth at the expense of harmony. As Confucius said, "It is void for me to seize wealth in an unjust way.".

Note that 3.22e − 5 × 547 = 0.0176.

For example, see the Tencent News report on November 14, 2017.

(https://news.house.qq.com/a/20171114/003890.htm, retrieved January 24, 2021, also available as supplemental materials upon request). As reported there, a couple got divorced for better loan conditions. After the divorce, the husband put one old house under his wife's name, and purchased a second house together in his name together with his wife. They re-married after that. However, the couple now intends to divorce owing to family struggles, and the husband is on the verge of losing his property rights for the old house because it is under his wife's name and it cannot not be divided by a divorce.

According to Xinhua News (http://sh.xinhuanet.com/2021-01/22/c_139688366.htm, retrieved January 24, 2021, also available as supplemental materials upon request), starting from January 21, 2021, a divorced couple in Shanghai is subject to housing market regulations that consider two spouses still married in the first three years of a divorce, a provision that invalidates playing the strategic divorce game.
References
Alm J, Whittington LA (1999) For love or money? the impact of income taxes on marriage. Economica 66(263):297–316, http://www.jstor.org/stable/2555086.

Alm J, Whittington LA (2003) Shacking up or shelling out: income taxes, marriage, and cohabitation. Rev Econ Household 1(3):169–186

Ang YY (2020) China's gilded age: the paradox of economic boom and vast corruption. Cambridge University Press, New York

Cameron AC, Gelbach JB, Miller DL (2008) Bootstrap-based improvements for inference with clustered errors. Rev Econ Stat 90(3):414–427

Chen T, Kung JKs, Ma C (2020) Long live keju! the persistent effects of China's civil examination system. Econ J 130(631):2030–2064

Cáceres-Delpiano J, Giolito E (2012) The impact of unilateral divorce on crime. J Labor Econ 30(1):215–248, https://doi.org/10.1086/662137, http://www.jstor.org/stable/10101086/662137.

Dommaraju P, Jones G (2011) Divorce trends in asia. Asian J Soc Sci 39:725–750

Du Z, Zhang L (2015) Home-purchase restriction, property tax and housing price in China: a counterfactual analysis. J Econom 188(2):558–568

Enke B (2019) Kinship, cooperation, and the evolution of moral systems. Q J Econ 134(2):953–1019

Fang H, Gu Q, Xiong W, Zhou LA (2016) Demystifying the chinese housing boom. NBER Macroecon Annu 30(1):105–166

Farnham M, Schmidt L, Sevak P (2011) House prices and marital stability. Am Econ Rev 101(3):615–619

Gourieroux C, Monfort A, Trognon A (1984) Pseudo maximum likelihood methods: applications to poisson models. Econometrica 52(3):701–720. https://doi.org/10.2307/1913472

Gruber J (2004) Is making divorce easier bad for children? the long-run implications of unilateral divorce. J Law Econ 22(4):799–833. https://doi.org/10.1086/423155

Guiso L, Sapienza P, Zingales L (2006) Does culture affect economic outcomes? J Econ Perspect 20(2):23–48

Hamid A, Heiden M (2015) Forecasting volatility with empirical similarity and google trends. J Econ Behav Organ 117:62–81. https://doi.org/10.1016/j.jebo.2015.06.005

Hellerstein JK, Morrill MS, Zou B (2013) Business cycles and divorce: evidence from microdata. Econ Lett 118(1):68–70

Kearney MS, Levine PB (2015) Media influences on social outcomes: the impact of MTV's 16 and pregnant on teen childbearing. Am Eco Rev 105(12):3597–3632

Kung JKs, Ma C (2014) Can cultural norms reduce conflicts? Confucianism and peasant rebellions in Qing China. J Dev Econ 111:132–149

Li L, Wu X (2014) Housing price and entrepreneurship in China. J Comp Econ 42(2):436–449

Li VJ, Cheng AWW, Cheong TS (2017) Home purchase restriction and housing price: a distribution dynamics analysis. Reg Sci Urban Econ 67:1–10

Platte E (1988) Divorce trends and patterns in China: past and present. Pacific Affairs 61(3):428–445. https://doi.org/10.2307/2760459

Qin Y, Zhu H (2018) Run away? Air pollution and emigration interests in China. J Popul Econ 31(1):235–266. https://doi.org/10.1007/s00148-017-0653-0

Rainer H, Smith I (2010) Staying together for the sake of the home? House price shocks and partnership dissolution in the UK. J R Stat Soc Ser A 173:557–574

Stephens-Davidowitz S (2014) The cost of racial animus on a black candidate: evidence using google search data. J Public Econ 118:26–40

Sun W, Zheng S, Geltner DM, Wang R (2016) The housing market effects of local home purchase restrictions: evidence from Beijing. J. Real Estate Financ Econ 55(3):288–312. https://doi.org/10.1007/s11146-016-9586-8

Wei SJ, Zhang X (2011) The competitive saving motive: evidence from rising sex ratios and savings rates in China. J Polit Econ 119(3):511–564

Whittington LA, Alm J (1997) 'til death or taxes do us part: the effect of income taxation on divorce. J Hum Resour 32(2):388–412

Wrenn DH, Yi J, Zhang B (2019) House prices and marriage entry in China. Reg Sci Urban Econ 74:118–130

Wu Y, Li Y (2018) Impact of government intervention in the housing market: evidence from the housing purchase restriction policy in China. Appl Econ 50(6):691–705

Yang Z, Fan Y, Zhao L (2018) A reexamination of housing price and household consumption in China: the dual role of housing consumption and housing investment. J Real Estate Financ Econ 56(3):472–499. https://doi.org/10.1007/s11146-017-9648-6

Zhang C (2020) Clans, entrepreneurship, and development of the private sector in China. J Comp Econ 48(1):100–123

Zhang J, Mu Q (2018) Air pollution and defensive expenditures: evidence from particulate-filtering facemasks. J Environ Econ Manag 92:517–536

Zhang JS (2017) The evolution of China's one-child policy and its effects on family outcomes. J Econ Perspect 31(1):141–160. https://doi.org/10.1257/jep.31.1.141
Acknowledgements
The authors thank editor Shuaizhang Feng and two anonymous reviewers for helpful comments.
Funding
This research is supported by the Natural Science Foundation of China (No. 71602149) and National Social Science Foundation of China (20&ZD168).
Ethics declarations
Conflict of interest
The authors declare no competing interests.
Additional information
Responsible editor: Shuaizhang Feng
Publisher's note
Springer Nature remains neutral with regard to jurisdictional claims in published maps and institutional affiliations.
Appendix
Appendix
I.

Timetable of regulatory policies
Cities are listed in the chronological order of initial regulations.
II.

Housing market regulations and online searching

Fig. 10

Housing market regulations and online searching. Data source: Baidu Index. Note: Three lines sketch time series of search indices on keywords Housing Purchase Quota, Divorce Agreement, and Divorce Process. Shaded areas denote periods when cities listed in Table 6 in Appendix I initiated a regulation, with city names listed above
III.

Baidu Index keywords

Table 7 Baidu Index keywords
About this article
Cite this article
Alm, J., Lai, W. & Li, X. Housing market regulations and strategic divorce propensity in China. J Popul Econ 35, 1103–1131 (2022). https://doi.org/10.1007/s00148-021-00853-2
Received:

Accepted:

Published:

Issue Date:

DOI: https://doi.org/10.1007/s00148-021-00853-2
Keywords
Housing market regulations

Strategic divorce

Baidu Index
JEL codes