Abstract
The common European labor market enhances allocative efficiency, but certain institutional features may also trigger inefficient migration. As a job in a high-income country entails generous welfare and social insurance entitlements, migrants' reservation wages may lie below their opportunity cost of labor. We show that this gives rise to an externality when employers and migrant workers can pass some of their remuneration costs onto taxpayers. Once welfare benefit entitlement is secured, the reservation wage of the migrant rises, giving the firm an incentive to replace the worker with a similar migrant willing to accept lower pay. This leads to excess churn—a reallocation of labor within firms that simultaneously involves a flow of employees to unemployment benefits and the hiring of similar workers. Based on Norwegian data, we present evidence of high excess churn rates in firms with many workers from the new EU member states.
Access options
Buy single article
Instant access to the full article PDF.
USD 39.95
Price excludes VAT (USA)
Tax calculation will be finalised during checkout.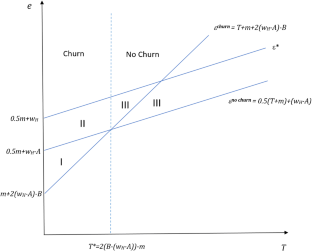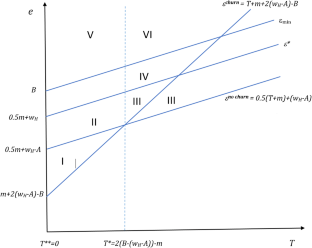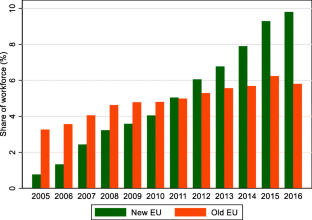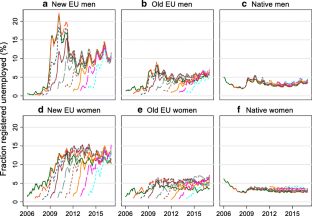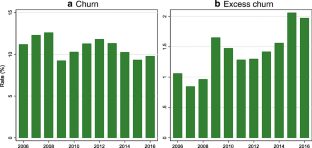 Notes
For simplicity, we assume that there are no such transfers/services in the origin country, but the important assumption is that transfers are larger in the host country.

With commitment, a contract with a common wage of both periods equal to w1 = w2 = wH − A + 0.5m would be optimal.

Note that region IV is empty if ω = B = wH + 0.5m.

The threshold is 1.5 times the base amount of the social security system (about €15,000) and corresponds to approximately 25% of average full-time/full-year earnings in Norway.

In 2015, this regulation was modified, allowing Norwegian employers to hire workers on a temporary contract for up to one year. However, it is not allowed to replace the worker with a new temporary hire when the contract expires.

The same logic applies to industry-level data, as these will include churn due to expansion in some and contraction in other firms.

As noted by Lazear and Spletzer (2012), churn can also be defined at the skill (or job) level.

We limit the analysis to units with at least 10 employees.

Fully 32 percent of the firms in our data set experienced change in ownership cluster at some point during the 11-year data window.

Had firms been matched randomly, this number would have been 19 percent.

Ideally, we would like to distinguish skills that are particularly relevant for migrants like (Norwegian) language skills, but such information is not available at the firm level.

The working paper version of this article presents results from analyses at the firm level (Bratsberg et al. 2019).

To circumvent missing education data for many migrant workers, we classify 4-digit occupations by whether the mode educational attainment of native workers involves some college.

In auxiliary analyses, we added to the regression an indicator for whether the OC consists of more than one firm as well as interactions between this variable and the initial fractions of old and new EU employees. The regression results presented in Appendix Table 7 show that multi-firm OCs have both higher overall churn rates and higher excess churn rates than single-firm OCs.

These analyses draw on the 2012 Norwegian Worker and Employer Survey ("2012 ABU"), which gives information about whether new employees undertake training and whether it takes at least 3 months to train the main occupational group of the firm. In the prediction model, we regress the firm's survey response on its share of high-skilled workers and its 2-digit industry classification in order to predict training costs for the full set of firms.

In the working paper version of this article, we show that the association between the migrant share and ordinary churn flips sign when we account for ownership fixed effects (Bratsberg et al. 2019). The intuition is that migrants are more likely to find employment in segments of the labor market with high rates of ordinary churn, but, once employed (and as Table 3 showed), are less likely to churn than native workers as they face fewer attractive outside options.
References
Basso G, D'Amuri F, Peri G (2019) Immigrants, labor market dynamics and adjustment to shocks in the Euro area. IMF Economic Review 67:528–572

Barth E, Bratsberg B, Raaum O (2012) Immigrant wage profiles within and between establishments. Labour Econ 19(4):541–566

Bernaciak M (ed) (2015) Market expansion and social dumping in Europe. Routledge, London and New York

Borjas GJ (1999) Immigration and welfare magnets. J Labor Econ 17(4):607–637

Borjas GJ (2001) Does immigration grease the wheels of the labor market? Brook Pap Econ Act 2001(1):69–133

Bratsberg B, Holden MB (2015) Effekter av allmenngjøring i byggebransjen. Samfunnsøkonomen 129(2):68–80

Bratsberg B, Raaum O, Røed K (2014) Immigrants, labour market performance and social insurance. Econ J 124(November):F644–F683

Bratsberg, B., Raaum, O., and Røed, K. (2019) Excess churn in integrated labor markets, IZA Discussion Paper No. 12697

Clemens MA (2011) Economics and emigration: trillion-dollar bills on the sidewalk? J Econ Perspect 25(3):83–106

Dapi, B. (2016) Do minimum wages crowd out temporary migrants? Evidence from the Norwegian cleaning industry. Chapter 3 in Essays on wage cyclicality and regulation. PhD Dissertation, Department of Economics, University of Oslo

Devillanova C, Fasani F, Frattini T (2018) Employment of undocumented immigrants and the prospects of legal status: evidence from an amnesty program. Ind Labor Relat Rev 71(4):853–881

De Giorgi G, Pellizzari M (2009) Welfare migration in Europe. Labour Econ 16(4):353–363

Dustmann C, Schønberg U, Stuhler J (2016) The impact of immigration: why do studies reach such different results? J Econ Perspect 30(4):31–56

Foged M, Peri G (2016) Immigrants' effect on native workers: new analysis on longitudinal data. Am Econ J Appl Econ 8(2):1–34

Giulietti, C. (2014) The welfare magnet hypothesis and the welfare take-up of migrants, IZA World of Labor 2014: 37; doi: https://doi.org/10.15185/izawol.37

Giulietti C, Guzi M, Kahanec M, Zimmermann KF (2013) Unemployment benefits and immigration: evidence from the EU. Int J Manpow 34(1):24–38

Giulietti, C., and Wahba, J. (2013) Welfare migration. Chapter 26 in constant, A. F., and Zimmermann, K.F. (Eds.): International handbook on the economics of migration. Edward Elgar Publishing, Cheltenham (UK) and Northampton, MA (USA), pp. 489-504

Guzi M, Kahanec M, Mýtna Kureková L (2018) How immigration grease is affected by economic, institutional and policy contexts: evidence from EU labor markets. Kyklos 71(2):213–243

Kahanec, M. (2013) Labor mobility in an enlarged European Union. Chapter 7 in Constant, A.F., and Zimmermann, K.F. (Eds.), International handbook on the economics of migration, Edward Elgar Publishing, Cheltenham (UK) and Northampton, MA (USA), pp. 137-152

Kennan J (2012) Open borders. Rev Econ Dyn 16(2):L1–L13

Lazear EP, Spletzer JR (2012) Hiring, churn, and the business cycle. Am Econ Rev 102(3):575–579

Lundborg P (2006) EU enlargement, migration and labour market institutions. Z Arbeitsmarktforsch 39(1):24–34

McKinnon RI (1963) Optimal currency areas. Am Econ Rev 53(4):717–725

Mundell RA (1961) A theory of optimum currency areas. Am Econ Rev 51(4):657–665

Pedersen PJ, Pytlikova M, Smith N (2008) Selection and network effects: migration flows into OECD countries 1990-2000. Eur Econ Rev 52(7):1160–1186

Razin A, Wahba J (2014) Welfare magnet hypothesis, fiscal burden and immigration skill selectivity. Scand J Econ 117(2):369–402

Røed M, Schøne P (2015) Displacement and immigrant Workers' responsiveness to regional labour market opportunities: evidence from Norway. Reg Stud 49(6):1056–1073
Acknowledgments
We thank the editors and an anonymous referee, as well as seminar participants at University College London, University of Bergen, University of Oslo, and the 2017 meetings of the Western Economics Association, for useful comments and suggestions.
Funding
This study was funded by Norface (grant # 42-14-082) and the Norwegian Ministry of Labour and Social affairs (project "Effects of Labor Migration") and the Norwegian Research Council ("European Strains" grant # 227072). Data on loan from Statistics Norway have been essential for this research.
Ethics declarations
Conflict of interest
The authors declare that they have no conflict of interest.
Additional information
Responsible editor: Klaus F. Zimmermann
Publisher's note
Springer Nature remains neutral with regard to jurisdictional claims in published maps and institutional affiliations.
About this article
Cite this article
Bratsberg, B., Raaum, O. & Røed, K. Excess churn in integrated labor markets. J Popul Econ 34, 865–892 (2021). https://doi.org/10.1007/s00148-020-00795-1
Received:

Accepted:

Published:

Issue Date:

DOI: https://doi.org/10.1007/s00148-020-00795-1
Keywords
JEL codes