Abstract
This research sheds light on the link between social norms and economic development. It explores the determinants of inheriting the mother's surname in China and its implications for children's health status and education outcomes. It establishes that children whose mothers are younger, more educated, and from regions with a lower sex ratio are more likely to be named after their mother. Moreover, these children have superior health and education outcomes, reflecting predominantly the impact of women's higher bargaining power on children's human capital accumulation.
Access options
Buy single article
Instant access to the full article PDF.
US$ 39.95
Tax calculation will be finalised during checkout.
Subscribe to journal
Immediate online access to all issues from 2019. Subscription will auto renew annually.
US$ 79
Tax calculation will be finalised during checkout.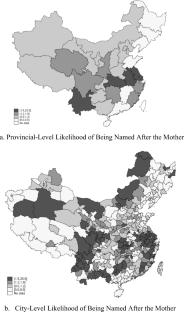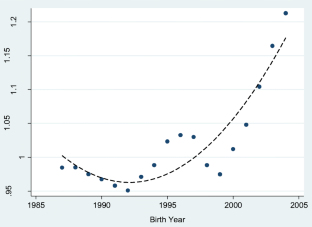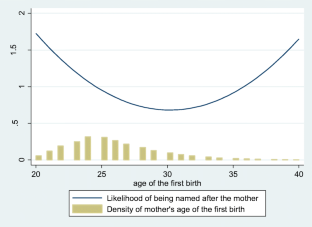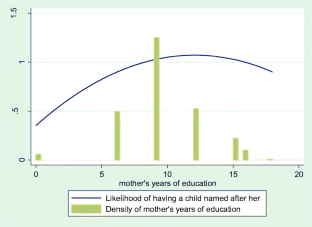 Notes
1.

Again, such tendency should be stronger for a mother born in a family with a higher socioeconomic status.

2.

Data is from the Annual Statistical Report of Social Service Development by the Ministry of Civil Affairs.

3.

The Census dataset does not contain information about family members who do not live together, which is very frequent among adult children. Thus, the examination of the human capital outcomes of adult children would suffer from severe sample selection problem, and this is another major reason why we focus on children younger than 18. Nonetheless, we present results on adult children in the appendix (Table 11) and they are consistent with our main finings

4.

The observation numbers before each of these steps are 327,329, 171,458, 76,620, 70,980, and 68,804.

5.

Unfortunately, the dataset does not provide information to infer whether the mother has any sibling.

6.

Data is from the National Bureau of Statistics.

7.

Sex ratio for cohort 1975–1989 is calculated using data from the 2000 Population Census. Sex ratio for cohort 1990–1999 is calculated using data from the 2000 Population Census. Sex ratio for cohort 2000–2004 is calculated using data from the 2005 Inter-Census Population Survey.

8.

Johnson and Scheuble (2002) study a US sample of 600 married women and find that women with unconventional marital surnames were more likely to include their birth surname in their child's name. Their study also suggests that the relative frequency of father's and mother's surnames could be a potential impact factor for the children's surname.

9.

Our results are robust to the using of alternative models, including the logit model, the rare events logit model (King and Zeng 2001; "relogit" in STATA), and the penalized maximum likelihood logit model (Firth 1993; "firthlogit" in STATA). In fact, according to Allison (2012), our sample size is large enough and the rarity of un-healthy and not-enrolled-in-school cases should not pose a problem in estimation.

10.

We also conduct additional weak identification tests and weak-instrument-robust inference test. For the whole sample, the Cragg-Donald Wald F statistic (equals 387.24) is larger than the critical value of Stock-Yogo weak ID test (which is 16.38).

11.

12.

Due to privacy protection reasons, we are not able to get information on the exact surname of each survey respondent and thus cannot conduct the IV estimation. All results using CFPS are obtained with OLS.

13.

WAZ is defined as (a person's weight minus the median weight of a reference population of the same age and gender)/standard deviation of weight of a reference population of the same age and gender. HAZ is defined as (a person's height minus the median height of a reference population of the same age and gender)/standard deviation of height of a reference population of the same age and gender. The reference data is from the magazine of China Journal of Pediatrics (Issue 7, 2009) and provided by the Department of Growth and Development, Capital Institute of Pediatrics. Because the reference group of height for age and weight for age is only available for children aged between 0 and 15, we restrict the sample to children aged younger than 15 years.

14.

The kid's rank in class is constructed based on the survey question "What is your rank (%) in your class in the recent midterm or final exam?" The rank variable takes a value from 1 to 5, corresponding to the answer of "bottom 24%," "bottom 25–49%," "top 26–50%," "top 11–25%," and "top 10%." The degree of excellence is a self-reported outcome and takes a value from 1 to 5, where 1 indicates the lowest and 5 indicates the highest.

15.

Lower Yangzi Region includes the following cities: Shanghai, Suzhou, Wuxi, Changzhou, Nanjing, Jiaxing, Hangzhou, Huzhou, Shaoxing, and Ningbo.
References
Allison P (2012) Logistic regression for rare events. Available at http://statisticalhorizons.com/logistic-regression-for-rare-events

Anderson S (2003) Why dowry payments declined with modernization in Europe but are rising in India. J Polit Econ 111(2):269–310

Bobonis G (2009) Is the allocation of resources within the household efficient? New evidence from a randomized experiment. J Polit Econ 117(3):453–503

Brown P (2009) Dowry and intrahousehold bargaining: evidence from China. J Hum Resour 44(1):25–46

Bulte E, Tu Q, List J (2015) Battle of the sexes: how sex ratios affect female bargaining power. Econ Dev Cult Chang 64(1):143–161

Chau T, Li H, Liu P, Zhang J (2007) Testing the collective model of household labor supply: evidence from China. China Econ Rev 18(4):389–402

Chen J (2006) Migration and imperfect monitoring: implications for intra-household allocation. Am Econ Rev Pap Proc 96(2):227–231

Chiappori P, Fortin B, Lacroix G (2002) Marriage market, divorce legislation, and household labor supply. J Polit Econ 110(1):37–72

Clark G, Cummins N, Hao Y, Dan DV (2015) Surnames: a new source for the history of social mobility. Explor Econ Hist 55(1):3–24

Duflo E (2003) Grandmothers and granddaughters: old-age pensions and intra-household allocation in South Africa. World Bank Econ Rev 1:1–25

Ebenstein A (2010) The "missing girls" of China and the unintended consequences of the one child policy. J Hum Resour 45(1):87–115

Einav L, Yariv L (2006) What's in a surname? The effects of surname initials on academic success. J Econ Perspect 20(1):175–188

Fafchamps M, Quisumbing A (2005) Assets at marriage in rural Ethiopia. J Dev Econ 77(1):1–25

Firth D (1993) Bias reduction of maximum likelihood estimates. Biometrika 80:27–38

Folbre N (1984) Market opportunities, genetic endowments, and intrafamily resource distribution: comment. Am Econ Rev 74(3):518–520

Fryer R, Levitt S (2004) The causes and consequences of distinctively black names. Q J Econ 119(3):767–805

Galor O, Weil D (1996) The gender gap, fertility and growth. Am Econ Rev 86(3):374–387

Gitter S, Barham B (2008) Women's power, conditional cash transfers, and schooling in Nicaragua. World Bank Econ Rev 22(2):271–290

Guell M, Rodriguez-Mora J, Telmer C (2015) The informational content of surnames, the evolution of intergenerational mobility, and assortative mating. Rev Econ Stud 82(2):693–735

Han L, Shi X (2016) Who bequeaths, who rules: how the right to bequeath affects intrahousehold bargaining. Working paper, Tsinghua University

Han L, Li T, Zhao Y (2015) How status inheritance rules affect marital sorting: theory and evidence from urban China. Econ J 125(589):1850–1887

Hao Y (2020) Surname, place of origin and social mobility in China: 1645-2012. China Economic Quarterly (in Chinese), forthcoming

Hoddinott J, Haddad L (1995) Does female income share influence household expenditure? Oxf Bull Econ Stat 57:77–97

Huang W (2014) Do ABCs get more citations than XYZs? Econ Inq 53(1):773–789

Johnson D, Scheuble L (2002) What should we call our kids? Choosing children's surnames when parents' last names differ. Soc Sci J 39:419–429

King G, Zeng L (2001) Logistic regression in rare events data. Polit Anal 9:137–163

Li L, Wu X (2011) Gender of children, bargaining power, and intrahousehold resource allocation in China. J Hum Resour 46(2):295–315

Li H, Yi J, Zhang J (2011) Estimating the effect of the one-child policy on the sex ratio imbalance in China: identification based on the difference-in-differences. Demography 48:1535–1557

Luke N, Munshi K (2011) Women as agents of change: female income and mobility in India. J Dev Econ 94(1):1–17

Lundberg S, Pollak R, Wales T (1997) Do husbands and wives pool their resources? Evidence from the United Kingdom child benefit. J Hum Resour 32(3):463–480

Majlesi K (2016) Labor market opportunities and women's decision making power within households. J Dev Econ 119:34–47

Manser M, Brown M (1980) Marriage and household decision-making: a bargaining analysis. Int Econ Rev 21(2):31–44

McElroy M, Horney MJ (1981) Nash-bargained household decision: toward a generalization of the theory of demand. Int Econ Rev 22(2):333–349

Nugent C (2010) Children's surnames, moral dilemmas: accounting for the predominance of fathers' surnames for children. Gend Soc 24(4):499–525

Pan Ying (2011) Born with the right surname? Lineage networks and political and economic opportunities in rural China, Department of Economic Working Paper 2011–15, Louisiana State University

Ponczek V (2011) Income and bargaining effects on education and health in Brazil. J Dev Econ 94(2):242–253

Qi X (2018) Neo-traditional child surnaming in contemporary China: women's rights as veiled patriarchy. Sociology 52(5):1001–1016

Qian N (2008) Missing women and the price of tea in China: the effect of sex-specific earnings on sex imbalance. Q J Econ 123(3):1251–1285

Quisumbing A, Maluccio J (2003) Resources at marriage and intrahousehold allocation: evidence from Bangladesh, Ethiopia, Indonesia, and South Africa. Oxf Bull Econ Stat 65(3):283–228

Rosenzweig M, Zhang J (2009) Do population control policies induce more human capital investment? Twins, birthweight, and China's "one child" policy. Rev Econ Stud 76(3):1149–1174

Schultz P (1990) Testing the neoclassical model of family labor supply and fertility. J Hum Resour 25(4):599–634

Sen A (1992) Missing women. Br Med J 304(6827):587–588

Sun A, Zhao Y (2016) Divorce, abortion, and the child sex ratio: the impact of divorce reform in China. J Dev Econ 120:53–69

Thomas D (1990) Intra-household resource allocation: an inferential approach. J Hum Resour 25(4):635–664

Thomas D (1994) Like father, like son or like mother, like daughter: parental education and child health. J Hum Resour 29(4):950–989

Van Praag M, Van Praag B (2008) The benefits of being economics professor a (rather than Z). Economica 75(300):782–796

Wang S (2014) Property rights and intra-household bargaining. J Dev Econ 107:192–201

Wei S, Zhang X (2011) The competitive saving motive: evidence from rising sex ratios and savings rates in China. J Polit Econ 119(3):511–564

Westoff C (2010) Desired number of children: 2000-2008. DHS Comparative Report 25

Zhang J, Chan W (1999) Dowry and wife's welfare: a theoretical and empirical analysis. J Polit Econ 107(4):786–808
Acknowledgments
The authors would like to thank the anonymous referees for helpful comments and suggestions.
Funding
We thank financial support from the National Natural Science Foundation of China (No. 71673314) and the Humanities and Social Science Fund of Ministry of Education of China for Youth Scholars (No. 19YJC840064).
Ethics declarations
Conflict of interest
The authors declare that they have no conflict of interest.
Additional information
Publisher's note
Springer Nature remains neutral with regard to jurisdictional claims in published maps and institutional affiliations.
Responsible editor: Oded Galor
Appendix
Appendix
About this article
Cite this article
Li, L., Wu, X. & Zhou, Y. Intra-household bargaining power, surname inheritance, and human capital accumulation. J Popul Econ 34, 35–61 (2021). https://doi.org/10.1007/s00148-020-00788-0
Received:

Accepted:

Published:

Issue Date:
Keywords
Surname inheritance

Intra-household bargaining

Human capital
JEL classification