Abstract
We study whether the forced removal of undocumented immigrants from the USA increases violent crime in Mexican municipalities. Using municipal panel data on homicide rates matched with annual deportation flows from the USA to Mexico, we assess whether municipalities with repatriation points experience higher violent crime when deportation flows surge. We consistently find that municipalities with greater geographic exposure to deportation flows have higher violent crime. The effects are mostly driven by increases in homicide rates of young males and minors.
Access options
Buy single article
Instant access to the full article PDF.
US$ 39.95
Tax calculation will be finalised during checkout.
Subscribe to journal
Immediate online access to all issues from 2019. Subscription will auto renew annually.
US$ 79
Tax calculation will be finalised during checkout.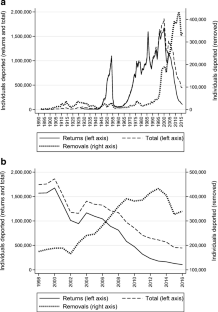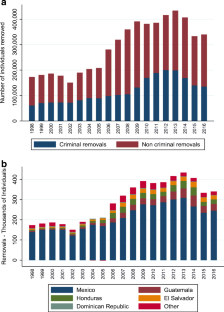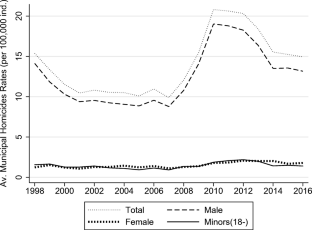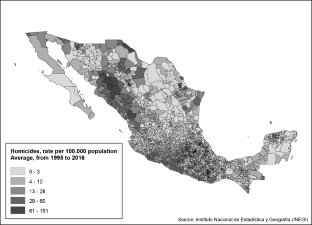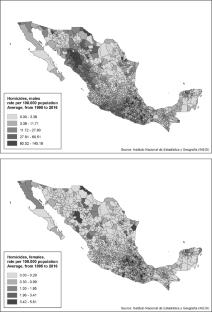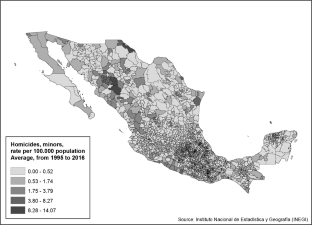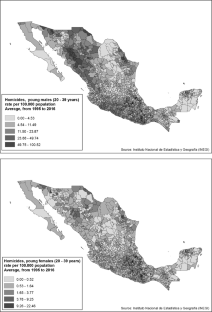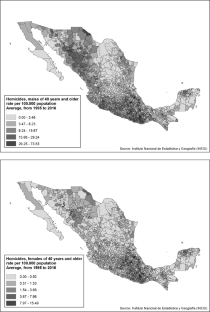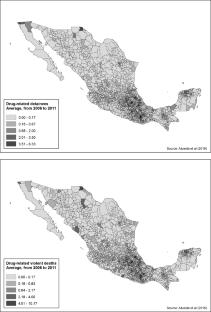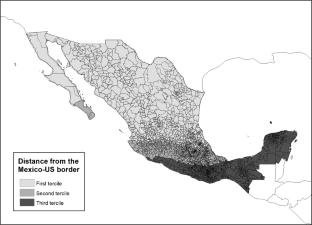 Notes
1.

Official statistics are not yet available.

2.

According to the 2013 Global Study on Homicide, between 1995 and 2012, homicide rates in Central America increased by 51.4%, from 17.5 to 26.5 victims per 100,000 population; positioning the 8 countries of this region as the most violent in the world (UNODC 2014).

3.

The alternative to formal removal is voluntary return, whereby those apprehended simply agree to leave the country. The consequences of voluntary return are much less severe, as formal removal comes with a ban on reentry for a fixed period of time and renders subsequent attempts to enter the USA illegally a felony punishable by federal prison sentences.

4.

It is important to emphasize that the increase in criminal deportations since 1996 does not necessarily imply more criminal activity among the undocumented and legal permanent resident populations. As we have already noted, IIRIRA expanded the definition of a deportable offense and made the definition retroactive. In addition, the increased propensity to use formal removal proceedings rather than voluntary returns renders all who reenter a felon under federal law. The increase in the use of formal removals is likely behind the rapid growth of federal inmates serving time for immigration violations since 2000. Finally, Miles and Cox (2014) show that many of the immigrants taken into federal custody under the Secure Communities are classified as low risk by ICE and that the program has had no measurable effect on crime in US counties (see Blake 2014 and Dingeman and Rumbaut2010).

5.

Including the Consejo Nacional de Población, Instituto Nacional de Migración Secretaría de Trabajo y Previsión Social, El Colegio de la Frontera Norte, Secretaría de Relaciones Exteriores and Secretaría de Salud.

6.

Municipal population comes from the population censuses and was collected by the Instituto Nacional de Estadística y Geografía (INEGI), the Mexican statistics agency. It is projected with information from the censuses collected every 5 years beginning in 1995. The last population census was collected in 2010.

7.

The results of this exercise are available upon request. We did not include them in the tables to save space.

8.

The estimates are available upon request. Cartel presence is available from 1995 to 2010.

9.

In another exercise, we randomly assign repatriation points to any municipality in Mexico and find that there are no significant effects of deportation exposure on homicide rates.
References
Alonso-Borrego C, Garoupa N, Vázquez P (2012) Does immigration cause crime? Evidence from Spain. Am Law Econ Rev. American Law and Economics Review 14(1):165–191

Argueta C N (2016) Border security: immigration enforcement between ports of entry. Congressional Research Service. Report 7–5700

Bain B, Logan S, Kairies K (2006) Deportation feeds a cycle of violence in Central America

Baker SR (2014) Effects of immigrant legalization on crime: the 1986 immigration reform and control act. Stanford Law and Economics Olin Working Paper

Bell B, Fasani F, Machin S (2013) Crime and immigration: evidence from large immigrant waves. Rev Econ Stat 21(3):1278–1290

Blake G O (2014) America's deadly export: evidence from cross-country panel data of deportation and homicide rates. Int Rev Law Econ 37:156–168

Boggs C. (2014) Advocacy for Human Rights in the Americas. What happens to migrants after they are deported? WOLA, May, 13.

Brownell P (2005) The declining enforcement of employer sanctions. Migr Inf Source 1:391–436

Butcher K F, Piehl A M (1998) Cross-city evidence on the relationship between immigration and crime. J Policy Anal Manag 17(3):457–493

Castillo JC, Mejía D, Restrepo P (2020) Scarcity without leviathan: the violent effects of cocaine supply shortages in the mexican drug war.,. Rev Econ Stat 102(2):269–286

Chalfin A, McCrary J (2017) Criminal deterrence: a review of the literature. J Econ Lit 55(1):5–48

Committee on Homeland Security (2011) Does administration amnesty harm our efforts to gain and maintain operational control of the border? Technical report, Hearing before the Subcommitte on Border and Maritime Security of the Homeland Security Hosue of Representatives

Cornwell C, Trumbull WN (1994) Estimating the economic model of crime with panel data. Rev Econ Stat 360–366

Coscia M, Rios V (2012) Knowing where and how criminal organizations operate using Web content. In: Proceedings of the 21st ACM international conference on Information and knowledge management

De León J (2013) The efficacy and impact of the Alien Transfer Exit Programme: migrant perspectives from Nogales, Sonora, Mexico. Int Migr 51(2):10–23

Dell M (2015) Trafficking networks and the Mexican drug war. Am Econ Rev 105(6):1738–79

DHS (2014) 2013 yearbook of immigration statistics. Technical report, U.S. Department of Homeland Security

Di Tella R, Edwards S, Schargrodsky E (2010) The economics of crime: lessons for and from Latin America. University of Chicago Press, Chicago

Dingeman MK, Rumbaut RG (2010) The immigration-crime nexus and post-deportation experiences: encountering stereotypes in Southern California and El Salvador. Univ La Verne Law Rev 31(2):363–402

Fisher S (2016) Join a gang or die: deported Central American teens face harrowing choice

Freeman RB (1996) Why do so many young American men commit crimes and what might we do about it? J Econ Perspect 10(1):25–42

Freedman M, Owens E, Bohn S (2018) Immigration, employment opportunities, and criminal behavior. Am Econ J: Econ Policy 10 (2):117–151

Jakubowski JR (2010) Do criminal deportations affect homicide rates in Central America. Master's thesis Graduate School of Arts & Sciences at Georgetown University, Washington, D.C.

Los Angeles Times (2011) Mexico: does U.S. deportation program put migrants in harm's way?

Madjd-Sadjadi Z, Alleyne D (2007) The potential Jamaican impact of criminal deportees from the U.S. J Ethn Crim Justice 5(2–3):29–53

Markon J, Partlow J (2015) Unaccompanied children crossing southern border in greater numbers again, raising fears of new migrant crisis

Mastrobuoni G, Pinotti P (2015) Legal status and the criminal activity of immigrants. Am Econ J: Appl Econ 7(2):175–206

Meissner D, Kerwin DM, Chishti M, Bergeron C (2013) Immigration enforcement in the United States: the rise of a formidable machinery. Technical report. Migration Policy Institute, Washington, DC

Meyer P J, Seelke C R, Taft-Morales M, Margesson R (2014) Unaccompanied children from Central America: foreign policy considerations. Curr Politics Econ South Central Am 7(3):463

Miles TJ, Cox AB (2014) Does immigration enforcement reduce crime? Evidence from Secure Communities. J Law Econ 57(4):937–973

Moehling C, Piehl AM (2009) Immigration, crime, and incarceration in early twentieth-century America. Demography 46(4):739–763

Nakamura D (2014) Influx of minors across Texas border driven by belief that they will be allowed to stay in United States

Pinotti P (2017) Clicking on heaven's door: the effect of immigrant legalization on crime. Am Econ Rev 107(1):138–68

Reid LW, Weiss HE, Adelman RM, Jaret C (2005) The immigration–crime relationship: evidence across U.S. metropolitan areas. Soc Sci Res 34 (4):757–780

Robles G, Calderón G, Magaloni B (2013) The economic consequences of drug trafficking violence in Mexico. Poverty and Governance Series Working Paper, Stanford University

Seelke C (2014) Gangs in Central America. Congressional Research Service, Washington, DC

Slack J (2016) Captive bodies: migrant kidnapping and deportation in Mexico. Area48(3). Area. 48(3):271–277

Stowell JI, Messner SF, Barton MS, Raffalovich LE (2013) Addition by subtraction? A longitudinal analysis of the impact of deportation efforts on violent crime. Law Soc Rev 47(4):909–942

Sviatschi M (2018) Making a gangster: exporting U.S. Criminal Capital. Unpublished

The New York Times (2017) Immigration agents discover new freedom to deport under Trump

The Washington Post (2010) Survivor: drug gang massacred 72 migrants in northern Mexico

The Washington Post (2017) ICE immigration arrests of noncriminals double under Trump

UNODC (2014) Global study on homicide. Technical report, United Nations of Drugs and Crime

Wadsworth T (2010) Is immigration responsible for the crime drop? An assessment of the influence of immigration on changes in violent crime between 1990 and 2000. Soc Sci Q 91(2):531–553
Acknowledgments
The authors would like to thank the anonymous referees for helpful comments and suggestions. We are grateful to Álvaro Morales for his excellent work as research assistant. We are grateful to Andrea Velásquez and to the participants of the GSE Summer Forum migration workshop and LACEA for useful suggestions.
Additional information
Publisher's note
Springer Nature remains neutral with regard to jurisdictional claims in published maps and institutional affiliations.
Responsible editor: Klaus F. Zimmermann
About this article
Cite this article
Rozo, S.V., Anders, T. & Raphael, S. Deportation, crime, and victimization. J Popul Econ 34, 141–166 (2021). https://doi.org/10.1007/s00148-020-00785-3
Received:

Accepted:

Published:

Issue Date:
Keywords
Crime

Migration

Latin America
JEL Classification