Abstract
We develop a method for comparing levels and trends in inequality in mortality in the United States and France between 1990 and 2010 in a similar framework. The comparison shows that while income inequality has increased in both the United States and France, inequality in mortality in France remained remarkably low and stable. In the United States, inequality in mortality increased for older groups (especially women) while it decreased for children and young adults. These patterns highlight the fact that despite the strong cross-sectional relationship between income and health, there is no necessary connection between changes in income inequality and changes in health inequality.
This is a preview of subscription content, log in to check access.
Access options
Buy single article
Instant access to the full article PDF.
US$ 39.95
Price includes VAT for USA
Subscribe to journal
Immediate online access to all issues from 2019. Subscription will auto renew annually.
US$ 99
This is the net price. Taxes to be calculated in checkout.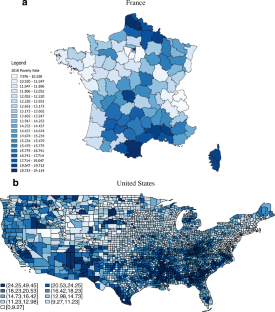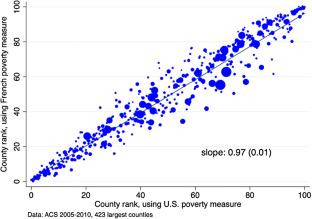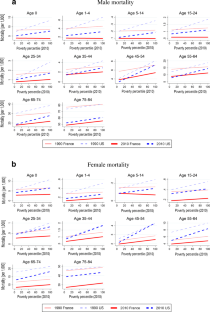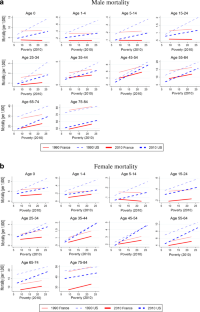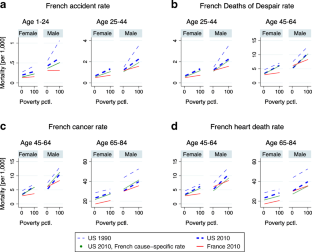 Notes
1.

Between 1990 and 1999, a funding reform for public hospitals introduced global budgeting, and Act #91-748 aimed to balance health-care delivery across French regions and to introduce strategic planning for hospitals. The 1996 reform aimed to create "universal health insurance" giving the right to social security to anyone over the age of 18 regularly residing in French territory. Many changes occurred after 2000 as well, including the reorganization of the health insurance governance system starting in 2004.
References
Aizer A, Currie J (2014) The intergenerational transmission of inequality: maternal disadvantage and health at birth. Science 23 344(6186):856–861

Anderson RN, Miniño AM, Hoyert DL, Rosenberg HM (2001) Comparability of cause of death between ICD-9 and ICD-10: preliminary estimates. Natl Vital Stat Rep 18;49(2):1–32

Barbieri M (2014) La mortalité départementale en France. Population.17 68(3):433–479

Baron E (2016) Liberté, égalité, fraternité … santé. Lancet 387(10034):2179–2181

Bosworth B, Burke K (2014) Differential mortality and retirement benefits in the health and retirement study. The Brookings Institution, Washington D.C.

Bound J, Geronimus A, Rodriguez J, Waidman T (2014) The implications of differential trends in mortality for social security policy. University of Michigan Retirement Research Center (MRRC) working paper, WP 2014-314. Ann Arbor, MI

Brown D, Kowalski A, Lurie I (2015) Medicaid as an investment in children: what is the long-term impact on tax receipts? National Bureau of Economic Research

Cambois E (2004) Careers and mortality in France: evidence on how far occupational mobility predicts differentiated risks. Soc Sci Med 58(12):2545–2558

Case A, Deaton A (2015) Rising morbidity and mortality in midlife among white non-Hispanic Americans in the 21st century. Proc Natl Acad Sci 112(49):15078–15083

Case A, Deaton A (2017) Mortality and morbidity in the 21st century. Brook Pap Econ Act 48(1):397–476

Chetty R, Stepner M, Abraham S, Lin S, Scuderi B, Turner N, Bergeron A, Cutler D (2016) The association between income and life expectancy in the United States, 2001-2014. JAMA 315(16):1750–1766

Cohodes S, Grossman D, Kleiner S, Lovenheim M (2014) The effect of child health insurance access on schooling: evidence from public insurance expansions. J Hum Resour 51(3):727–759

Currie J, Gruber J (1996a) Saving babies: the efficacy and cost of recent expansions of Medicaid eligibility for pregnant women. J Polit Econ 104:1263–1296

Currie J, Gruber J (1996b) Health insurance eligibility, utilization of medical care, and child health. Quarterly J of Econ 111(2):431–466

Currie J, Schwandt H (2016a) Inequality in mortality decreased among the young while increasing for older adults, 1990–2010. Science 352(6286):708–712

Currie J, Schwandt H (2016b) Mortality inequality: the good news from a county-level approach. J Econ Perspect 30(2):29–52

Currie J, Decker S, Lin W (2008) Has public health insurance for older children reduced disparities in access to care and health outcomes? J Health Econ 27(6):1407–1652

Cutler DM, Lange F, Meara E, Richards-Shubik S, Ruhm CJ (2011) Rising educational gradients in mortality: the role of behavioral risk factors. J Health Econ 30(6):1174–1187

Deaton A (2002) Policy implications of the gradient of health and wealth. Health Aff (Millwood) 21(2):13–30

Desplanques G (1984) L'inégalité sociale devant la mort. Econ Stat 162(1):29–50

Dowd JB, Hamoudi A (2014) Is life expectancy really falling for groups of low socio-economic status? Lagged selection bias and artefactual trends in mortality. Int J Epidemiol 43(4):983–988

Elo IT, Preston SH (1996) Educational differentials in mortality: United States, 1979–1985. Social science & medicine 42(1):47–57

Ezzati M, Friedman AB, Kulkarni SC, Murray CJ (2008) The reversal of fortunes: trends in county mortality and cross-county mortality disparities in the United States. PLoS Med 5(4):e66

Garbinti G, Goupille-Lebret J, Piketty T (2017) Income inequality in France 1900–2014: evidence from distributional accounts WID.World Working Paper 04

Goldring T, Lange F, Richards-Shubik S (2015) Testing for changes in the SES-mortality gradient when the distribution of education changes too. J Health Econ 46:120–130

Hendi AS (2015) Trends in U.S. life expectancy gradients: the role of changing educational composition. Int J Epidemiol 44(3):946–955

Heritage Z (2009) Inequalities, social ties and health in France. Public Health 123(1):e29–e34

Hill C (1998) Trends in tobacco smoking and consequences on health in France. Prev Med 27(4):514–519

Hollande F (2016) Towards a global agenda on health security. Lancet 387(10034):2173–2174

Jusot F, Or Z, Sirven N (2012) Variations in preventive care utilisation in Europe. Eur J Ageing 9(1):15–25

Kulkarni SC, Levin-Rector a EM, Murray CJL (2011) Falling behind: life expectancy in U.S. counties from 2000 to 2007 in an international context. Popul Health Metrics 9(1):16

Leclerc A, Chastang JF, Menvielle G, Luce D (2006) Socioeconomic inequalities in premature mortality in France: have they widened in recent decades? Soc Sci Med 62(8):2035–2045

Leigh A, Jencks C (2007) Inequality and mortality: long-run evidence from a panel of countries. J Health Econ 26(1):1–24

Lynch J, Pridemore W (2011) Crime in international perspective. In: Wilson WJ, Petersillia J (eds) Crime and public policy. Oxford University Press, Oxford

Mackenbach JP, Stirbu I, Roskam AJR, Schaap MM, Menvielle G, Leinsalu M, Kunst AE, European Union Working Group on Socioeconomic Inequalities in Health (2008) Socioeconomic inequalities in health in 22 European countries. N Engl J Med 358(23):2468–2481

Mackenbach JP, Kulhánová I, Artnik B, Bopp M, Borrell C, Clemens T et al (2016) Changes in mortality inequalities over two decades: register based study of European countries. BMJ 353:i1732

Meara ER, Richards S, Cutler DM (2008) The gap gets bigger: changes in mortality and life expectancy, by education, 1981-2000. Health Aff 27(2):350–360

Menvielle G, Chastang J-F, Luce D, Leclerc A (2007) Évolution temporelle des inégalités sociales de mortalité en France entre 1968 et 1996. Étude en fonction du niveau d'études par cause de décès. Rev DÉpidémiologie Santé Publique 55(2):97–105

Menvielle G, Leclerc A, Chastang JF, Luce D (2008) Inégalités sociales de mortalité par cancer en France: état des lieux et évolution temporelle. InVS BEH 33:289–292

Miller SM, Wherry LR (2014) The long-term health effects of early life Medicaid coverage. J Hum Resour 53(2)

Montez JK, Berkman LF (2014) Trends in the educational gradient of mortality among U.S. adults aged 45 to 84 years: bringing regional context into the explanation. Am J Public Health 104(1):e82–e90

Montez JK, Zajacova A (2013) Explaining the widening education gap in mortality among U.S. White women. J Health Soc Behav 54(2):166–182

Murray CJL, Kulkarni SC, Michaud C, Tomijima N, Bulzacchelli TJI, Ezzati M (2006) Eight Americas: instigating mortality disparities across races, counties, and race-counties in the United States. PLoS Med 3(9):e260

National Academies of Sciences, Engineering, and Medicine (NAS) (2015) The growing gap in life expectancy by income: implications for federal programs and policy responses. Committee on the Long-Run Macroeconomic Effects of the Aging U.S. Population—Phase II; Committee on Population, Division of Behavioral and Social Sciences and Education; Board on Mathematical Sciences and Their Applications, Division on Engineering and Physical Sciences. The National Academies Press, Washington, DC

Nay O, Béjean S, Benamouzig D, Bergeron H, Castel P, Ventelou B (2016) Achieving universal health coverage in France: policy reforms and the challenge of inequalities. Lancet 387(10034):2236–2249

Novosad, Paul and Andrew Rafkin,2018 "Mortality change among less educated Americans," Dept. of Economics at Dartmouth, working paper

NRC (2015) The growing gap in life expectancy by income: implications for federal programs and policy responses National Research Council, Committee on the Long-Run Macroeconomics Effects of the Aging U.S. Population

Olshansky JS, Antonucci T, Berkman L, Binstock RH, Boersch-Supan A, Cacioppo JT et al (2012) Differences in life expectancy due to race and ecuational differences are widening, and many may not catch up. Health Aff 31(8):1803–1813

Pappas G, Queen S, Hadden W, Fisher G (1993) The increasing disparity in mortality between socioeconomic groups in the United States, 1960 and 1986. N Engl J Med 329(2):103–109

Pijoan-Mas J, Ríos-Rull JV (2014) Heterogeneity in expected longevities. Demography 51(6):2075–2102

Piketty T (2014) Capital in the 21st century. Harvard University Press, Cambridge MA

Piketty T, Saez E (2003) Income inequality in the United States, 1913-1998. Quarterly J of Econ 118(1):1–39

Piketty T, Postel-Vinay G, Rosenthal JL (2006) Wealth concentration in a developing economy: Paris and France, 1807–1994. Am Econ Rev 96(1):236–256

Piketty T, Saez E, Zucman G (2018) Distributional national accounts: methods and estimates for the United States, 1913–2013 Quarterly J of Econ. Forthcoming

Preston SH, Elo IT (1995) Are educational differentials in adult mortality increasing in the United States? J Aging Health 7(4):476–496

Preston SH, Wang H (2006) Sex mortality differences in the United States: the role of cohort smoking patterns. Demography 43(4):631–646

Saurel-Cubizolles MJ, Chastang JF, Menvielle G, Leclerc A, Luce D, for the EDISC group (2009) Social inequalities in mortality by cause among men and women in France. J Epidemiol Community Health 63(3):197–202

Shiels MS, Chernyavskiy P, Anderson WF, Best AF, Haozous EA, Hartge P, Rosenberg PS, Thomas D, Freedman ND, de Gonzalez AB (2017) Trends in premature mortality in the USA by sex, race, and ethnicity from 1999 to 2014: an analysis of death certificate data. Lancet 389(10073):1043–1054

Singh GK, Siahpush M (2006) Widening socioeconomic inequalities in U.S. life expectancy, 1980–2000. Int J Epidemiol 35(4):969–979

Smith JP (1999) Healthy bodies and thick wallets: the dual relation between health and economic status. J Econ Perspect 3(2):145–166

Smith JP (2005) Consequences and predictors of new health events. NBER Chapters, in: Analyses in the economics of aging, pages 213–240 National Bureau of Economic Research, Inc.

Smith JP (2007) The impact of socioeconomic status on health over the life-course. J Hum Resour 42(4):739–764

Strand BH, Grøholt EK, Steingrímsdóttir ÓA, Blakely T, Graff-Iversen S, Næss Ø (2010) Educational inequalities in mortality over four decades in Norway: prospective study of middle aged men and women followed for cause specific mortality, 1960-2000. BMJ 23(340):c654

Touraine M (2014) Health inequalities and France's national health strategy. Lancet 383(9923):1101–1102

Waldron H (2007) Trends in mortality differentials and life expectancy for male Social Security-covered workers, by socioeconomic status. Soc Secur Bull 67(3)

Waldron H (2013) Mortality differentials by lifetime earnings decile: implications for evaluations of proposed Social Security law changes. Soc Secur Bull 73(1)

Wang H, Schumacher AE, Levitz CE, Mokdad AH, Murray CJL (2013) Left behind widening disparities for males and females in U.S. county life expectancy, 1985-2010. Popul Health Metrics 11(1):8

Wherry LR, Meyer BD (2015) Saving teens: using a policy discontinuity to estimate the effects of Medicaid eligibility. J Hum Resour 51(3):556–588

Wherry LR, Miller S, Kaestner R, Meyer BD (2015) Childhood Medicaid coverage and later life health care utilization. Rev Econ Stat

Wilmoth CBJ, Barbieri M (2011) Geographic differences in life expectancy at age 50 in the United States compared with other high-income countries. In: Crimmins EM, Preston SH, Cohen B (eds) International differences in mortality at older ages: dimensions and sources. National Academies Press, Washington, D.C., pp 337–372

Wood AM, Pasupathy D, Pell JP, Fleming M, Smith GCS (2012) Trends in socioeconomic inequalities in risk of sudden infant death syndrome, other causes of infant mortality, and stillbirth in Scotland: population based study. BMJ 16(344):e1552

World Health Organization (2000) The world health report 2000: health systems: improving performance. World Health Organization
Acknowledgments
We thank the Center for Health and Wellbeing at Princeton University for supporting this research and CépiDc for providing the data used in the analysis. Josselin Thuilliez benefited from a research fellowship at Princeton University and a Fulbright fellowship (2016–2017). We are also thankful to Magali Barbieri, Pierre-Yves Geoffard, Jean-Paul Moatti, and two anonymous referees for useful comments.
Ethics declarations
Conflict of interest
The authors have no conflicts of interest to report.
Additional information
Publisher's note
Springer Nature remains neutral with regard to jurisdictional claims in published maps and institutional affiliations.
Responsible editor: Junsen Zhang
Appendix
Appendix
About this article
Cite this article
Currie, J., Schwandt, H. & Thuilliez, J. Pauvreté, Egalité, Mortalité: mortality (in)equality in France and the United States. J Popul Econ 33, 197–231 (2020). https://doi.org/10.1007/s00148-019-00736-7
Received:

Accepted:

Published:

Issue Date:
Keywords
France

Income

Inequality

Mortality

Health inequality
JEL classification