Abstract
We estimate whether migration can be an equilibrating force in the labour market by comparing pre- and post-crisis migration movements at the regional level in both Europe and the United States, and their association with asymmetric labour market shocks. Based on fixed-effects regressions using regional panel data, we find that Europe's migratory response to unemployment shocks was almost identical to that recorded in the United States after the crisis. Our estimates suggest that, if all measured population changes in Europe were due to migration for employment purposes—i.e. an upper-bound estimate—up to about a quarter of the asymmetric labour market shock would be absorbed by migration within a year. However, in Europe and especially in the Eurozone, the reaction to a very large extent stems from migration of recent EU accession country citizens as well as of third-country nationals.
Access options
Buy single article
Instant access to the full article PDF.
USD 39.95
Price includes VAT (USA)
Tax calculation will be finalised during checkout.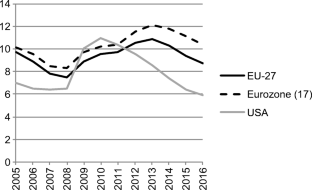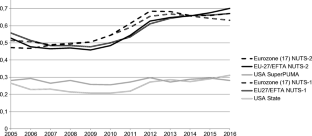 Notes
1.

The countries which joined in 2004 were Cyprus, the Czech Republic, Estonia, Hungary, Latvia, Lithuania, Malta, Poland, Slovakia and Slovenia. Bulgaria and Romania joined in 2007.

2.

Beine and Coulombe (2018) estimate different effects of temporary versus permanent immigrants on the labour market in Canada.

3.

Note, however, that the data for Europe reported by Molloy et al. (2011) only cover the pre-crisis period up to 2007.

4.

Croatia is excluded, because it only joined the EU in 2013.

5.

While the minimum age of labour force entry in most European countries is 15, in a few countries and the United States it is 16.

6.

7.

8.

According to the ILO definition, the unemployed comprise all persons who, during the week prior to the survey interview, were without work while both being available for work and seeking work.

9.

By using relative measures, we assume that the decision to migrate or not is affected by the labour market situation in a given region relative to that elsewhere in the free-mobility area.

10.

By relating a flow (migration proxied by population change) to a stock (the lagged unemployment or non-employment rate), we build on the matching function literature, which is based on an analogy to the production function where the flow of new hires is "produced" by the stock of unemployed workers and vacancies (see Petrongolo and Pissarides 2001 for a survey of this literature).

11.

We also ran separate regressions for the youth population aged 15/16–24 (available upon request). The results indicate, not surprisingly, that this group tends to be more responsive to changes in the relative regional labour market conditions than the overall working-age population.

12.

These estimates refer to the period 1985 to 1996. For Western Germany, Puhani (2001) reported an estimated offset of up to 30%; however, this period covered German reunification which was associated with large-scale movements from East to West Germany.

13.

However, it is possible that part of the measured effect arises from naturalisations, i.e. immigrants with a non-EU-27/EFTA nationality taking up citizenship of their respective host countries—and this is a group that is particularly mobile.

14.

Cadena and Kovak (2013) still demonstrate that Mexican migrants played a significant role in the absorption of labour market shocks in the United States during the crisis.
References
Arpaia A, Kiss A, Palvolgyi B, Turrini A (2016) Labour mobility and labour market adjustment in the EU. IZA Journal of Migration 5:21

Basile R, Girardi A, Mantuano M (2012) Migration and regional unemployment in Italy. Open Urban Stud J 5:1–13

Beine M, Bourgeon P, Bricongne J-C (2018) Aggregate fluctuations and international migration. forthcoming in: Scandinavian Journal of Economics

Beine M, Coulombe S (2018) Immigration and internal mobility in Canada. J Popul Econ 31:69–106

Bentivogli C, Pagano P (1999) Regional disparities and labour mobility: the Euro-11 versus the USA. Labour 13:737–760

Bertoli S, Brücker H, Fernández-Huertas Moraga, J (2013) The European crisis and migration to Germany, Expectations and the diversion of migration flows. IZA Discussion Paper No. 7170, Bonn

Beyer RCM, Smets F (2015) Labour market adjustments and migration in Europe and the United States: how different? Econ Policy 2015:643–682

Blanchard OJ, Katz LF (1992) Regional evolutions. Brook Pap Econ Act 1992(1):1–75

Bornhorst F, Commander S (2006) Regional unemployment and its persistence in transition countries. Econ Transit 14:269–288

Bräuninger D, Majowski C (2011) Labour mobility in the euro area. Deutsche Bank Research, Reports on European integration EU Monitor 85

Cadena BC, Kovak BK (2013) Immigrants equilibrate local labor markets: Evidence from the great recession. NBER Working Paper No. 19727, Cambridge, MA

Coen-Pirani D (2010) Understanding gross worker flows across U.S. states. J Monet Econ 57:769–784

Dao M, Furceri D, Loungani P (2014) Regional labour market adjustments in the US and Europe. IMF Working Paper No WP/14/26

Decressin J, Fatás A (1995) Regional labor market dynamics in Europe. Eur Econ Rev 39:1627–1655

Elsner B, Zimmermann KF (2016) Migration 10 years after: EU enlargement, closed borders, and migration to Germany. In: Kahanec M, Zimmermann KF (eds) Labor migration, EU enlargement, and the Great Recession. Springer, Berlin

Epifani P, Gancia GA (2005) Trade, migration and regional unemployment. Reg Sci Urban Econ 35:625–644

Fidrmuc J (2004) Migration and regional adjustment to asymmetric shocks in transition economies. J Comp Econ 32:230–247

Francis J (2009) Agglomeration, job flows and unemployment. Ann Reg Sci 43:181–198

Gallin JH (2004) Net migration and state labor market dynamics. J Labor Econ 22:1–21

Harris JR, Todaro MP (1970) Migration, unemployment and development: a two-sector analysis. Am Econ Rev 60:126–142

Huber P (2007) Regional labour market developments in transition: a survey of the empirical literature. Eur J Comp Econ 4:263–298

Jauer J, Liebig Th, Martin JP, Puhani PA (2014) Migration as an adjustment mechanism in the crisis? A comparison of Europe and the United States. IZA Discussion Paper No. 7921, Bonn

Kahanec M (2013) Labor mobility in an enlarged European Union. In: Constant AF, Zimmermann KF (eds) International handbook on the economics of migration. Edward Elgar, Cheltenham, UK, and Northampton

Kahanec M, Guzi, M (2017) How immigrants helped EU labor markets to adjust during the Great Recession. Int J Manpower 38:996–1015

Kahanec M, Pytliková, M (2017) The economic impact of east–west migration on the European Union. Empirica 44:407–434

Kahanec M, Zimmermann KF (2016) EU post-enlargement migration and the Great Recession: lessons and policy implications. In: Kahanec M, Zimmermann KF (eds) Labor migration, EU enlargement, and the Great Recession. Springer, Berlin

Kaplan G, Schulhofer-Wohl S (2017) Understanding the long-run decline in interstate migration. Int Econ Rev 58:57–94

Kennan J, Walker JR (2011) The effect of expected income on individual migration decisions. Econometrica 79:211–251

Krause A, Rinne U, Zimmermann KF (2017) European labor market integration: what the experts think. Int J Manpow 38:954–974

Molloy R, Smith CL, Wozniak AK (2011) Internal migration in the United States. J Econ Perspect 25:173–196

Moretti E (2004) Estimation of the social return to higher education: evidence from longitudinal and repeated cross-sectional data. J Econ 121:175–212

Moretti E (2013) The new geography of jobs. Mariner Books, Boston

Mundell RA (1961) A theory of optimum currency areas. Am Econ Rev 51:657–665

Niebuhr A, Granato N, Haas A, Hamann S (2012) Does labour mobility reduce disparities between regional labour markets in Germany? Reg Stud 46:841–858

OECD (2012) Free movement of workers and labour market adjustment - recent experiences from OECD countries and the European Union. OECD Publishing, Paris

OECD (2017) International migration outlook. OECD Publishing, Paris

OECD (2018) International migration outlook. OECD Publishing, Paris

Pastore F (2012) Primum vivere … industrial change, job destruction and the geographical distribution of unemployment. IZA Journal of European Labor Studies 1:7

Petrongolo B, Pissarides CA (2001) Looking into the black box: a survey of the matching function. J Econ Lit 39:390–431

Puhani PA (2001) Labour mobility, an adjustment mechanism in Euroland? Empirical evidence for Western Germany, France and Italy. Ger Econ Rev 2:127–140

Treyz GI, Rickman DS, Hunt GL, Greenwood MJ (1993) The dynamics of U.S. internal migration. Rev Econ Stat 75:209–214

Von Weizsäcker J (2008) Divisions of labour: rethinking Europe's migration policy. Bruegel Blueprint Series, No. 6, Brussels

Zaiceva A, Zimmermann KF (2016) Returning home at times of trouble? Return migration of EU enlargement migrants during the crisis. In: Kahanec M, Zimmermann KF (eds) Labor migration, EU enlargement, and the Great Recession. Springer, Berlin
Acknowledgements
We are very grateful to the referees and the editor for their helpful comments on an earlier draft which have greatly improved it. We also thank Franziska Braschke for helpful research assistance. The views expressed are our own and cannot be held to represent those of the institutions with which we are associated.
Funding
This study was not funded by external sources.
Ethics declarations
Conflict of interest
The authors declare that they have no conflict of interest.
Additional information
Responsible editor: Klaus F. Zimmermann
Appendix. Simulations
Appendix. Simulations
About this article
Cite this article
Jauer, J., Liebig, T., Martin, J.P. et al. Migration as an adjustment mechanism in the crisis? A comparison of Europe and the United States 2006–2016. J Popul Econ 32, 1–22 (2019). https://doi.org/10.1007/s00148-018-0716-x
Received:

Accepted:

Published:

Issue Date:
Keywords
Free mobility

Migration

Economic crisis

Labour market adjustment

Eurozone

Europe

United States
JEL classification