Abstract
This study is the first to comprehensively examine the effect of state anti-bullying laws (ABLs) on school safety and youth violence. Using existing data from the Youth Risk Behavior Surveys and the Uniform Crime Reports, and newly-collected data on school shootings, we find little evidence that the typical state ABL is effective in improving school safety and student well-being. However, this null finding masks substantial policy heterogeneity. State mandates that require school districts to implement strong, comprehensive anti-bullying policies are associated with a 7 to 13 % reduction in school violence and an 8 to 12 % reduction in bullying. In addition, our results show that strong anti-bullying policy mandates are associated with a reduction in minor teen school shooting deaths and violent crime arrests, suggesting potentially important spillover effects.
Access options
Buy single article
Instant access to the full article PDF.
USD 39.95
Price excludes VAT (USA)
Tax calculation will be finalised during checkout.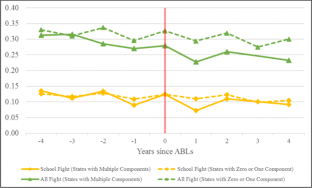 Notes
To take one example, thousands of school employees in the state of New Jersey attended training sessions on the state's new anti-bullying law (Hu 2011); over 200 districts purchased anti-bullying policy manuals, DVD materials, and held staff training sessions. To take another example, schools in Broward County, Florida require the school principal (or appropriate administrator) to provide information on the process for reporting incidents at the beginning of each school year. In addition, principals provide information on the investigatory and appellate processes via the Student Code of Conduct, Employee Handbooks, assembly meetings, and the school website (Broward County Public Schools. Anti-Bullying Policy 5.9 & Procedural 2010). Finally, in several districts in Washington state, school staff receive annual training on anti-bullying policies and procedures, including staff roles and responsibilities; anti-bullying strategies and expectations are incorporated into the counseling and guidance curriculum (Washington Clover Park School District 2016).

To take another example, Bully Police USA, a high-profile private watchdog group, advocates for the adoption of strict state and local anti-bullying legislation.

To take three examples from Klein (2012), (1) on February 12, 2007 in E.O. Green Junior High School in Oxnard California, Brandon McInerney (age 14) shot and killed classmate Larry King because King was gay and McInerney was "disgusted" by King's "flamboyant behavior"; (2) on March 21, 2005, Jeff Weise (age 16) shot five students and one adult staff member, and committed suicide, in part, "because he was teased because he was heavy and wore 'Goth' clothing"; and (3) on February 2, 1996, Barry Loukatis (age 14) shot and killed two students (including the student who reportedly bullied him) because he was a repeated victim of sexual orientation–based taunting and teasing.

Due et al. (2005) conduct cross-national comparisons of anti-bullying laws.

Estimates from the state YRBS are designed to be representative at the state level, but recent research with these data has utilized Census population estimates to introduce weights that will make these data representative at the national level as well (Anderson and Elsea 2015; Sabia and Anderson 2016; Sabia et al. 2016).

The questionnaire item in the YRBS about total physical fights was, "During the past 12 months, how many times were you in a physical fight?"

Information on effective dates from these 32 states were collected from summaries provided by the U.S. Department of Education's Office of Planning, Evaluation and Policy Development (U.S. Department of Education 2011, Exhibit 11) and our own investigation of each state's anti-bullying statute.

Specifically, the DOE examined the extent to which each state legislation addressed four specific areas: (1) Definitions of Terms, (2) District Policy Development and Review, (3) School District Policy Components (Written Records and Anonymous Student Reporting Policies, Bullying Definitions, Investigation Policies, Consequences/Sanctions Policies, and Post-Bullying Mental Health Services), and (4) Additional District Policy Components (Parental Communications/Staff Training/Transparency, and Legal Remedies).

According to the DOE:

Expansiveness was interpreted differently across components; however, components in law that were rated as more expansive are generally: a) more inclusive (e.g., defined prohibited behavior broadly without any limiting conditions, or extended school jurisdiction to cover off-campus conduct); b) are more prescriptive (e.g., used concrete directives to convey policy expectations); c) use less discretionary language (e.g., used the term "shall" instead of "may"); or d) establish stronger measures of accountability." (DOE 2011)

For example, among eight states with high intensity Written Records & Reporting mandates, half have ABLs with three additional high intensity district policy mandates, three states have two additional high intensity components, and only one has no other high intensity component. We find that approximately half of the identifying variation available in each high intensity component is eliminated by the inclusion of controls for the others.

The lower bound of the 95 % confidence interval is calculated as the ratio of the point estimates subtracting the product of 1.96 and the standard error to the mean of the relevant dependent variable.

Using a 1-year lag of ABLs produces a similar pattern of results, available upon request

To get a sense of the magnitudes of our estimated ABL effects, we compare them to the estimated effects of other policies that have been found to improve school safety. Anderson and Sabia (2016) find that state child access prevention gun control laws, which impose criminal liability on adult gun owners who allow minors unsupervised access to firearms, are associated with a 15 to 20 % reduction in weapons-related threats, and Markowitz (2001) finds that a 1 % increase in beer taxes is associated with a 5 % reduction in physical fighting by students. Finally, the Boston Gun Project, a program designed to reduce youth violence, particularly gang violence, is associated with an approximately 50 % decline in youth gun assaults (Piehl et al. 2000).

An examination of the intensive margin of these outcomes (e.g., frequency of behaviors among those reporting them) suggests that the effects if ABLs are largely driven along the extensive margin.

We also explore whether there were heterogeneous effects of ABLs on bullying on school safety by gender, age (under 16 and over 16), and region of the country (South versus non-Southern states). The results, available upon request, show that written records and reporting components have larger effects for male students as compared to female students, but there is no gender difference across strong versus weaker ABLs. Estimated ABL effects do not differ by student age, but the impacts of ABLs also appear concentrated in non-southern states.

Given that there are only 3 years of data available for this outcome, the inclusion of state-specific time trends eliminates much of the identifying variation. An auxiliary regression of state ABLs on controls shows that the inclusion of state-specific linear time trends increases our estimate of R 2 from 80 to 94 %.

These models are estimated via linear probability model. Estimates using Poisson models that capture the count of school shooting fatality events generate a qualitatively similar pattern of results.

The results for crime and safety persist when we expand the age group examined for the falsification tests to those ages 19–29, matching the school shooting age group.

In unreported falsification tests, we draw data from the General Social Survey from 1993 to 2010 to examine the effect of ABLs on (1) fear of walking around in one's neighborhood and (2) presence of shotguns in one's home or garage, for 20–24-year-olds. Our findings suggest little evidence that strong school district policies or multiple strong district policy components are associated with changes in young adult neighborhood safety or shotgun ownership. In addition, we also experiment with an additional falsification test on minor high school students' helmet use and find no evidence that state ABLs are associated with this outcome.
References
American Psychological Association (2014) Bullying. Retrieved on 11 Aug 2014

Anderson DM, David E (2015) "The Meth Project and Teen Meth Use: New Estimates from the National and State Youth Risk Behavior Surveys." Health Economics

Anderson DM, Sabia JJ (2016) "Child Access Prevention Laws, Youth Gun Carrying, and School Shootings." IZA Discussion Paper No. 9830.

Anderson DM, Hansen B, Rees DI (2013) Medical marijuana laws, traffic fatalities, and alcohol consumption. J Law Econ 56(2):333–69

Anderson DM, Hansen B, Rees DI (2015) Medical marijuana laws and teen marijuana use. Am L & Econ Rev 24(12):1644–50

Arseneault L, Walsh E, Trzesniewski K (2006) Bullying victimization uniquely contributes to adjustment problems in young children: a nationally representative cohort study. Pediatrics 118(1):130–8

Becker G (1968) Crime and punishment: an economic approach. J Polit Econ 76:169–217

Bender D, Friedrich L (2011) Bullying at school as a predictor of delinquency, violence and other anti-social behaviour in adulthood. Crim Behav Ment Health 21(2):99–106

Bertrand M, Duflo E, Mullainathan S (2004) How much should we trust difference and difference estimates. Q J Econ 119(1):249–75

Blake JJ, Kim ES, Lund EM, and Zhou Q (2014) Predictors of bully victimization in students with disabilities a longitudinal examination using a national data set. J Disabil Policy Stu. DOI: 0.1177/1044207314539012.

Bond L, Carlin JB, Thomas L, Rubink K, Patton G (2001) Does bullying cause emotional problems? A prospective study of young teenagers. Br Med J 323(7311):480–4

Broward County Public Schools. Anti-Bullying Policy 5.9, Procedural Manual 2010–2011. Retrieved 30 Jul 2012 from http://www.broward.k12.fl.us/sbbcpolicies/docs/P5.9A.pdf

Bushaw W, Lopez S (2012) "Public Education in the United States: A Nation Divided." 2012 Gallop Poll Full Report. Retrieved on 11 Aug. 2014.

California Education Code (2003) Section 48900-48927. Suspension or expulsion., Available at: http://www.leginfo.ca.gov/cgi-bin/displaycode?section=edc&group=48001-49000&file=48900-48927

Cappadocia MC, Weiss JA, Pepler D (2012) Bullying experiences among children and youth with autism spectrum disorders. J Autism Dev Disord 42(2):266–77

Carlyle KE, Steinman KJ (2007) Demographic differences in the prevalence, co-occurrence, and correlates of adolescent bullying at school. J Sch Health 77(9):623–9

Carney JV (2000) Bullied to death perceptions of peer abuse and suicidal behaviour during adolescence. Sch Psychol Int 21(2):213–23

Cohen, MA (2000) "Measuring the costs and benefits of crime and justice", in volume 4: measurement and analysis of crime and justice. 4:263–316. Criminal Justice 2000. Available at: https://www.ncjrs.gov/criminal_justice2000/vol_4/04f.pdf

Columbine-angels.com (2015) "School Violence Around the World." Available at: http://www.columbine-angels.com/School_Violence.htm

Connecticut General Statutes (2010) Section 10-222d. Policy on bullying behavior. Available at: http://www.cga.ct.gov/coc/PDFs/bullying/bullying_statutes_11-10.pdf

Craig WM (1998) The relationship among bullying, victimization, depression, anxiety, and aggression in elementary school children. Personal Individ Differ 24(1):123–30

Daley A, Solomon S, Newman PA (2008) Traversing the margins: intersectionalities in the bullying of lesbian, gay, bisexual and transgender youth. J Gay Lesbian Soc Serv 19(3–4):9–29

Doll J. Forthcoming. Ending school shootings: a guide to prevention and action

Due P, Holstein BE, Lynch J (2005) Bullying and symptoms among school-aged children: international comparative cross sectional study in 28 countries. Eur J Public Health 15(2):128–32

Duncan N (1999) Sexual bullying: gender conflict and pupil culture in secondary schools. Routledge, London

Eisenberg ME, Neumark-Sztainer D, Perry CL (2003) Peer harassment, school connectedness, and academic achievement. J Sch Health 73(8):311–6

Eriksen, Tine Louise M, Helena Skyt N, Marianne S (2014) Bullying in elementary school. J Hum Resour 49(4):839–71

Everytown.org (2015a) "Analysis of School Shootings." Available at: http://everytown.org/documents/2014/10/analysis-of-school-shootings.pdf

Faris R, Felmlee D (2011) Status struggles network centrality and gender segregation in same- and cross-gender aggression. Am Sociol Rev 76(1):48–73

Fekkes M, Frans IM P, Pauline Verloove-Vanhorick S (2006) Effects of antibullying school program on bullying and health complaints. Arch Pediatr Adolesc Med 160(6):638–44

Finland Ministry of Education and Culture (2014) "KiVa International." Retrieved from: http://www.kivaprogram.net. 30 June 2016.

Fox S, Stallworth LE (2005) Racial/ethnic bullying: exploring links between bullying and racism in the US workplace. J Vocat Behav 66(3):438–56

Friedman MS, Koeske AJ, Silvestre AJ, Korr WS (2006) The impact of gender-role nonconforming behavior, bullying, and social support on suicidality among gay male youth. J Adolesc Health 38(5):621–3

Gini G, Pozzoli T (2009) Association between bullying and psychosomatic problems: a meta-analysis. Pediatrics 123(3):1059–65

Gladstone GL, Parker GB, Malhi GS (2006) Do bullied children become anxious and depressed adults?: a cross-sectional investigation of the correlates of bullying and anxious depression. J Nerv Ment Dis 194(3):201–8

Glew GM, Ming-Yu F, Wayne K, Frederick P, Rivara FP, Kernic MA (2005) Bullying, psychosocial adjustment, and academic performance in elementary school. Arch Pediatr Adolesc Med 159(11):1026–31

Green JC, Estlund A, Nishant J, Milan P (2014) "Bullying Prevention Policies and Child Behavior: Evidence Using State Laws." 142nd APHA Annual Meeting and Exposition (November 15-November 19,2014).APHA.

Hansen, Benjamin and Michael Lang (2014) "Bullying and Youth Suicide". Working Paper, University of Oregon

Hansen B, Daniel IR, and Sabia JJ (2016) "Have cigarette taxes lost their bite? New estimates of the relationship between cigarette taxes and youth smoking." Forthcoming in American Journal of Health Economics

Hatzenbuehler ML, Schwab-Reese L, Ranapurwala SI, Hertz MF, Ramirez MR (2015) Associations between antibullying policies and bullying in 25 states. JAMA Pediatrics 169(10):e152411

Hepburn L, Azrael D, Molnar B, Miller M (2012) Bullying and suicidal behaviors among urban high school youth. J Adolesc Health 51(1):93–5

Hu W (2011) "Bullying Law Puts New Jersey Schools on Spot." The New York Times 30 August 2011: A1. The New York Times

Jeong S, Lee BH (2013) A multilevel examination of peer victimization and bullying preventions in schools. J Crim 2013:1. doi:10.1155/2013/735397

Juvonen J, Graham S, Schuster M (2003) Bullying among young adolescents: the strong, weak, and troubled. Pediatrics 112:1231–7

Juvonen J, Wang Y, Espinoza G (2010) Bullying experiences and compromised academic performance across middle school grades. J Early Adolesc 31(1):152–73

Kaltiala-Heino R, Rimpelä M, Marttunen M, Rimpelä A, Rantanen P (1999) Bullying, depression, and suicidal ideation in Finnish adolescents: school survey. BMJ 319(7206):348–51

Kim Young S, Yun-Joo K, Bennett L (2005) School bullying and suicidal risk in Korean middle school students. Pediatrics 115(2):357–63

Klein J (2012) The Bully Society: school shootings and the crisis of bullying in America's schools. NYU Press, New York

Konishi C, Hymel S, Zumbo BD, Li Z (2010) Do school bullying and student–teacher relationships matter for academic achievement? A multilevel analysis. Can J Sch Psychol 25(1):19–39

Kosciw JG, Greytak EA, Diaz EM (2009) Who, what, where, when, and why: demographic and ecological factors contributing to hostile school climate for lesbian, gay, bisexual, and transgender youth. J Youth Adolesc 38(7):976–88

Kumpulainen K, Eila R, Irmeli H (1999) Children involved in bullying: psychological disturbance and the persistence of the involvement. Child Abuse Negl 23(12):1253–62

Langdon SW, Preble W (2007) The relationship between levels of perceived respect and bullying in 5th through 12th graders. Adolescence 43(171):485–503

Lieberman J (2008) School shootings: what every parent and educator needs to know to protect our children. Kensington Publishing Corp, New York City

Markowitz S (2001) The role of alcohol and drug consumption in determining physical fights and weapon carrying by teenagers. East Econ J 27(4):409–32

Massachusetts Advocates for Children Legislation (2010) Section 37O. School bullying prohibited; bullying prevention plans. Available at: https://malegislature.gov/Laws/GeneralLaws/PartI/TitleXII/Chapter71/Section37O/Print

Miller T, Cohen M, Wiersema B (1996) Victim costs and consequences: a new look., Final Summary Report to the National Institute of Justice

Minnesota Management and Budget (2013) "Safe & Supportive Schools Act Explanation of the Bill." Available at: http://www.mn.gov/mmb/images/2013%2520SF783.pdf

Nansel TR, Overpeck M, Pilla RS, June Ruan W, Simons-Morton B, Scheidt P (2001) Relationships between bullying and violence among US youth. Arch Pediatr Adolesc Med 157(4):348–53

Nansel TR, Craig W, Overpeck MD, Saluja G, June Ruan W (2004) Cross-national consistency in the relationship between bullying behaviors and psychosocial adjustment. Arch Pediatr Adolesc Med 158(8):730–6

National Center for Education Statistics (2012) "Indicators of School Crime and Safety." Available at: http://nces.ed.gov/pubs2013/2013036.pdf

National School Safety and Security Services (2010) "School Associated Violent Deaths and School Shootings." Available at: http://www.schoolsecurity.org/trends/violent-deaths-and-school-shootings/

Ng Josephine WY, Sandra KM T (2008) School bullying and the mental health of junior secondary school students in Hong Kong. J Sch Violence 7(2):3–20

O'Brennan LM, Bradshaw CP, Sawyer AL (2009) Examining developmental differences in the social-emotional problems among frequent bullies, victims, and bully/victims. Psychol Sch 46(2):100–15

Oregon Revised Statutes (2009) Section 339. Harassment, Intimidation and Bullying. Available at: http://www.oregonlaws.org/ors/chapter/339

PACER's National Bullying Prevention Center (2014) About us. Available at: http://www.pacer.org/bullying/about/

Peters, K (2013) "National Survey Reveals Parents' Deep Concern About Protecting Kids from Violence." Center for American Progress. Retrieved on 11 Aug. 2014

Piehl AM, Kennedy DM, Braga AA (2000) Problem solving and youth violence: an evaluation of the Boston Gun Project. Am L & Econ Rev 2(1):58–106

Radliff KM, Wheaton JE, Robinson K, Morris J (2012) Illuminating the relationship between bullying and substance use among middle and high school youth. Addict Behav 37(4):569–72

Rothon C, Head J, Klineberg E, Stansfeld S (2011) Can social support protect bullied adolescents from adverse outcomes? A prospective study on the effects of bullying on the educational achievement and mental health of adolescents at secondary schools in East London. J Adolesc 34(3):579–88

Sabia J, Anderson DM (2016) Parental involvement laws, birth control, and mental health: new evidence from the YRBS., Forthcoming in Journal of Health Economics

Sabia JJ, Pitts MM, Argys L (2016) Do minimum wages really increase youth drinking and drunk driving? Working Paper, University of Colorado Denver

Salmivalli C, Antti K, Elisa P (2011) Counteracting bullying in Finland: the KiVa program and its effects on different forms of being bullied. Int J Behav Dev 35(5):405–11

Saluja G, Iachan R, Scheidt PC, Overpeck MD, Sun W, Giedd JN (2004) Prevalence of and risk factors for depressive symptoms among young adolescents. Arch Pediatr Adolesc Med 158(8):760–5

Seals D, Young J (2003) Bullying and victimization: prevalence and relationship to gender, grade level, ethnicity, self-esteem, and depression. Adolescence 38(152):735–47

Stevens V, De Bourdeaudhuij I, Van Oost P (2000) Bullying in Flemish schools: an evaluation of anti-bullying intervention in primary and secondary schools. B J Ed Psychol 70:195–210

Stoptheshootings.org (2013) "List of School Shootings." Available at: http://www.stoptheshootings.org

Strøm IF, Thoresen S, Wentzel-Larsen T, Dyb G (2013) Violence, bullying and academic achievement: a study of 15-year-old adolescents and their school environment. Child Abuse Negl 37(4):243–51

Sweden Ministry of Education and Research (2016) "Education in Sweden." Retrieved from https://sweden.se/society/education-in-sweden 30 June 2016

Taylor-Tharp et al (2009) Victimization from mental and physical bullying and substance use in early adolescence. Addict Behav 34:561–7

Turner HA, Vanderminden J, Finkelhor D, Hamby S, Shattuck A (2011) Disability and victimization in a national sample of children and youth. Child Maltreat 16(4):275–86

U. K. Department for Education (2013) "Preventing and tackling bullying." Retrieved from: https://www.gov.uk/government/uploads/system/uploads/attachment_data/file/444862/Preventing_and_tackling_bullying_advice.pdf. 30 June 2016

U.S. Department of Education (2011) Analysis of State Bullying Laws and Policies. Retrieved from http://www2.ed.gov/rschstat/eval/bullying/state-bullying-laws/state-bullying-laws.pdf

U.S. Department of Health and Human Services (2014a) What Is Bullying? Retrieved on 11 Aug 2014

U.S. Department of Health and Human Services (2014b) About us. Retrieved on 11 Aug 2014

Undheim AM, Sund AM (2010) Prevalence of bullying and aggressive behavior and their relationship to mental health problems among 12- to 15-year-old Norwegian adolescents. Eur Child Adolesc Psychiatry 19(11):803–11

Van Fleet DD, Van Fleet EW (2010) The violence volcano: reducing the threat of workplace violence. Information Age Publishing, Inc, Charlotte

Washington Clover Park School District (2016) "Prohibition of Harassment, Intimidation and Bullying (HIB)". http://www.cloverpark.k12.wa.us/General/AntiBullyPolicy.aspx. Retrieved 30 June 2016

West K (2014) Public health approach in the evaluation of two states' anti-bullying laws and local school district policies. Working Paper, George Washington University

Wilkins‐Shurmer A, Mj O'C, Najman JM, William B, Williams GM, Anderson MJ (2003) Association of bullying with adolescent health-related quality of life. J Pediatr Child Health 39(6):436–41

Wolke D, Copeland WE, Angold A, Jane Costello E (2013) Impact of bullying in childhood on adult health, wealth, crime, and social outcomes. Psychol Sci 24(10):1958–70
Acknowledgments
The authors thank Sara Markowitz, Mark Duggan, and Rosa Minhyo Cho for useful comments and suggestions on this paper. We thank Thanh Tam Nguyen for excellent research assistance. Special thanks are owed to D. Mark Anderson, who graciously made school shooting data available to these authors. We also thank conference participants at the Southern Economic Association (SEA) and the Association of Public Policy Analysis and Management (APPAM) as well as seminar participants at San Diego State University for useful comments and suggestions on an earlier draft of this paper. The authors declare that we have no relevant or material financial interests that relate to the research described in this paper.
Ethics declarations
Conflict of interest
During the three years prior to the acceptance of this article, Dr. Sabia has been awarded grants from the Charles Koch Foundation (CKF) and the Employment Policies Institute (EPI) totaling over $10,000. Travel support has also been received from EPI to participate in a minimum wage panel in Washington, DC. Dr. Sabia's research effort on the current project was not funded by these foundations.
Funding
This study did not receive grant funding.
Additional information
Responsible editor: Erdal Tekin
Appendix
Appendix
About this article
Cite this article
Sabia, J.J., Bass, B. Do anti-bullying laws work? New evidence on school safety and youth violence. J Popul Econ 30, 473–502 (2017). https://doi.org/10.1007/s00148-016-0622-z
Received:

Accepted:

Published:

Issue Date:

DOI: https://doi.org/10.1007/s00148-016-0622-z
Keywords
Bullying

Youth violence

Anti-bullying laws

School shootings
JEL Classification