Abstract
A lack of cultural integration is often blamed for hindering immigrant families' economic progression. This paper explores whether there are in fact long-term consequences by investigating intergenerational effects of parental ethnic identity on the next generation's human capital accumulation. Results based on longitudinal data from the German Socio-Economic Panel (SOEP) indicate a positive role of both parental majority as well as minority identity. I find differential parental roles with impacts of majority identity working through mothers and minority identity effects being specific to fathers. While the positive effect of maternal majority identity appears to be closely related to language skills, the beneficial effect of paternal minority identity is consistent throughout various robustness checks and likely to be related to higher levels of children's feelings of self-esteem. Overall, the results point at integrated, rather than separated or assimilated family environments to be most conductive for educational success of the second generation.
Access options
Buy single article
Instant access to the full article PDF.
USD 39.95
Price excludes VAT (USA)
Tax calculation will be finalised during checkout.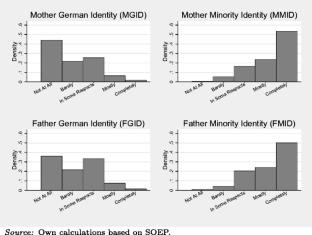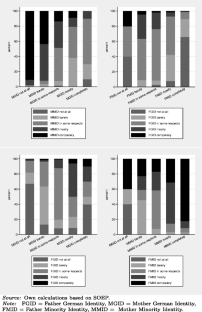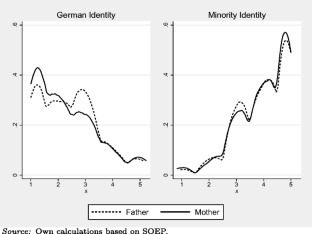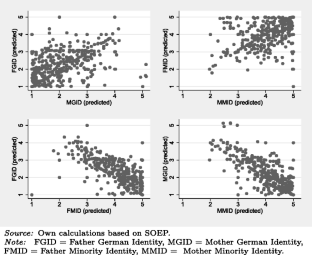 Notes
Following Phinney and Ong (2007), ethnic identity is defined as a part of social identity, which in turn is defined by Tajfel (1981) as "that part of an individual's self-concept which derives from [his] knowledge of [his] membership of a social group (or groups) together with the value and emotional significance attached to that membership" (p.255). Unlike ethnicity, ethnic identity is thus chosen by individuals themselves. Ethnicity, on the other hand, is assigned to an individual either by birth or by others on the basis of ethnic background or phenotype (Phinney and Ong 2007).

Special issues of the Journal of Population Economics (Volume 20, Issue 3, 2007), Research in Labor Economics (Volume 29, 2009) and The Economic Journal (Volume 120, Issue 542, 2010) document this increasing research interest.

After an extended debate on how to define a German leading culture that immigrants would need to assimilate to, the discussion on how to deal with Germany's immigrant population was again accelerated in 2010 with the publication of the controversial book 'Deutschland schafft sich ab' ('Germany Does Away With Itself') by Thilo Sarrazin promoting anti-immigrant attitudes.

These are mainly the children of 'guestworker' immigrants who arrived during the 1960s and 1970s from Turkey, the former Yugoslavia, and other southern European countries, including Greece, Italy and Spain, and more recently immigrants from Eastern Europe.

The design of the German school system places pupils into different secondary schooling tracks at around the age of 10 years. Immigrant children in Germany are generally over-represented in the lowest secondary schooling track and relatively few are found in the academically oriented school type (Riphahn 2005).

The previous literature concerned with how measures of ethnic identity are related to economic outcomes has acknowledged the difficulty to address the potential inherent endogeneity issues in the absence of appropriate instruments for an individual's self-chosen identity. Casey and Dustmann (2010), Nekby and Rödin (2010) and Pendakur and Pendakur (2005), for example, argue that although their findings cannot be interpreted as causal, plausible assumptions about the direction of bias can be made. This allows for an interpretation of results as lower and upper bounds.

Concerning the naturalization of the children themselves, the evidence of a positive naturalization-effect is unclear. While Riphahn (2005) finds the association between citizenship and second-generation outcomes disappear after controlling for socioeconomic background, Gang and Zimmermann (2000) reported a significant and positive effect.

Earlier versions of this study employ probit models, which lead to very similar results (Schüller 2011).

Exceptions are the East German federal states of Berlin and Brandenburg, where primary school generally covers six grades. Also, in a few West German federal states, such as Hesse, Bremen and Lower-Saxony, some schools exist in which tracking is postponed for two years.

Besides these three traditional secondary schooling types, there exists an alternative more recent school type, called Gesamtschule or comprehensive school, which combines all three tiers. Numerically, however, this type is not significant.

Exceptions are currently Brandenburg, Saxony and Thuringia, in the east, and Baden-Württemberg (until 2012), Bavaria and North Rhine-Westphalia (2007–2011) in the west.

Changing tracks after the initial school placement is in principle possible but rare in practice (Autorengruppe Bildungsberichterstattung 2008).

Pupils attending nonstandard schools such as Gesamtschulen (integrated schools) are excluded from the sample.

One single observation for the federal state Bremen is dropped throughout the analysis due to collinearity.

Note that children with mixed foreign backgrounds, e.g. one native and one immigrant parent, as well as single parents are thus excluded from the sample. This results in the loss of 46 observations of mixed native-immigrant background and six single-parent observations. In the 11 cases where parents stem from different immigrant backgrounds children are assigned to the ethnic group of the household head.

Since questions on ethnic self-identification are not available for every survey year, I include observations of the respective previous year, which correspond to the parental identity when the child was 8 years old.

The main results remain, however, robust when employing binary variables indicating above- or below-median parental identity instead of quasi-metric measures.

Adjusted monthly net household income deflated by 2008 CPI.

Based on the previous empirical literature (e.g. Constant and Zimmermann 2009), one might expect parents' ethnic identification to be associated with their labor force participation, which is why I choose not to include these variables in my preferred specifications. However, the inclusion of parental labor force status does not alter the empirical results. Household income is included since it contains pensions, unemployment benefits, welfare subsidies etc. and is thus rather seen as a measure of the families' financial resources than parental labor market success.

The sample is restricted to ethnic groups from the major guestworker countries Greece, Italy, Spain, Turkey and the former Yugoslavia.

Note also that interaction terms between mothers' and fathers' identity as well as between parental minority and majority identity turn out to be not significant (results can be obtained from the author upon request).

These main findings are somewhat contradictory to Casey and Dustmann (2010), who study the transmission of ethnic identities across generations. Although they are not looking at child education, their results indicate that mothers transmit the minority identity more strongly and that fathers play a more important role with respect to the transmission of the German identity, whilst I find maternal majority and paternal minority identity do matter for a child's educational attainment. One possible reason for these seemingly different results might be that, as discussed more extensively in Sections 1 and 2, the impact of parental ethnic identity on child education is not solely due to intergenerational transmission of feelings of belonging, particularly not early in the child's life. Parental ethnic identity at this stage might rather directly affect the ability and the way parents invest in their children's educational development.

Literature on the migrant-native gap in education outcomes in Germany attributes the Greek academic success to the availability of alternative Greek-language schools in Germany (e.g. Alba et al. 1994).

Neither do parental years since migration appear to matter significantly when included separately for mothers and fathers (results not shown here but available upon request).

Unobserved characteristics that are common to siblings also include contextual factors of the neighborhood such as school quality. The baseline specification controls for federal state fixed effects. Additional analysis employing fixed effects at more disaggregate geographical levels suggests that, if at all, contextual factors seem to introduce a negative bias (results are available from the author upon request).

Note that the predicted measures of parental identity represent time-averaged fixed measures, hence the family fixed effects approach cannot be employed here due to insufficient variation in parental identity among siblings.

The findings of this exercise are very similar when including all immigrant groups (results are available upon request).
References
Adda J, Björklund A, Holmlund H (2011) The role of mothers and fathers in providing skills: evidence from parental deaths, IZA Discussion Paper 5425

Akerlof GA, Kranton RE (2000) Economics and identity. Q J Econ 115 (3):715–753

Alba R, Handl J, Müller W (1994) Ethnische Ungleichheit im Deutschen Bildungssystem. Kölner Zeitschrift für Soziologie und Sozialpsychologie 46(2):209–237

Algan Y, Dustmann C, Glitz A, Manning A (2010) The economic situation of first and second-generation immigrants in France, Germany and the United Kingdom. Econ J 120(542):4–30

Autorengruppe Bildungsberichterstattung (2008) Bildung in Deutschland 2008: Ein indikatorengestützter Bericht mit einer Analyse zu Übergängen im Anschluss an den Sekundarbereich I. W. Bertelsmann Verlag, Bielefeld

Baker DP, Stevenson DL (1986) Mothers' strategies for children's school achievement: managing the transition to high school. Sociol Educ 59(3):156–166

Battu H, Zenou Y (2010) Oppositional identities and employment for ethnic minorities: Evidence from England. Econ J 120(542):52–71

Becker GS (1981) A treatise on the family. Harvard University Press, Cambridge

Becker GS, Tomes N (1976) Child endowments and the quantity and quality of children. J Polit Econ 84(4):143–162

Becker GS, Tomes N (1986) Human capital and the rise and fall of families. J Labor Econ 4(3 Pt. 2):1–39

Belzil C, Poinas F (2010) Education and early career outcomes of second-generation immigrants in France. Labour Econ 17(1):101–110

Berry JW (1997) Immigration, acculturation, and adaptation. Appl Psychology 46(1):5–34

Black SE, Devereux PJ, Salvanes KG (2005) The more the merrier? The effect of family size and birth order on children's education. Q J Econ 120(2):669–700

Bleakley H, Chin A (2008) What holds back the second generation? The intergenerational transmission of language human capital among immigrants. J Hum Resources 43(2):267–298

Borjas GJ (1992) Ethnic capital and intergenerational mobility. Q J Econ 107 (1):123–150

Casey T, Dustmann C (2008) Intergenerational transmission of language capital and economic outcomes. J Hum Resources 43(3):660–687

Casey T, Dustmann C (2010) Immigrants' identity, economic outcomes and the transmission of identity across generations. Econ J 120(542):31–51

Chiswick BR (1988) Differences in education and earnings across racial and ethnic groups: tastes, discrimination, and investments in child quality. Q J Econ 103 (3):571–597

Chiswick CU (2009) The economic ceterminants of ethnic assimilation. J Popul Econ 22(4):859–880

Cobb-Clark DA, Nguyen TH (2012) Educational attainment across generations: the role of immigration background. Econ Rec 88(283):554–575

Colding B (2006) A dynamic analysis of educational progression of children of immigrants. Labour Econ 13(4):479–492

Constant AF, Roberts R, Zimmermann KF (2009) Ethnic identity and immigrant homeownership. Urban Stud 46(9):1879–1898

Constant AF, Zimmermann KF (2008) Measuring ethnic identity and its impact on economic behavior. J Eur Econ Assoc 6(2-3):424–433

Constant AF, Zimmermann KF (2009) Work and money: payoffs by ethnic identity and gender. In: Constant A F, Tatsiramos K, Zimmermann K F (eds) Ethnicity and Labor Market Outcomes (Research in Labor Economics, Volume 29). Emerald Group Publishing Limited, pp 3–30

Cunha F, Heckman JJ (2008) Formulating, identifying and estimating the technology of cognitive and noncognitive skill formation. J Hum Resources 43 (4):738–782

Djajić S (2003) Assimilation of immigrants: implications for human capital accumulation of the second generation. J Popul Econ 16(4):831–845

Dustmann C (2004) Parental background, secondary school track choice, and wages. Oxf Econ Papers 56(2):209–230

Filippin A, Paccagnella M (2012) Family background, self-confidence and economic outcomes. Econ Educ Rev 31(5):824–834

Frick JR, Wagner GG (2001) Economic and social perspectives of immigrant children in Germany. In: Currle E, Wunderlich T (eds) Deutschland – ein Einwanderungsland? Rückblick, Bilanz und neue Fragen, Stuttgart

Furtado D (2006) Cross-nativity marriages and human capital levels of children. In: Constant A F, Tatsiramos K, Zimmermann K F (eds) Ethnicity and labor market outcomes (Research in labor economics, volume 29). Emerald Group Publishing Limited, pp 273–296

Gang IN, Zimmermann KF (2000) Is child like parent? Educational attainment and ethnic origin. J Hum Resources 35(3):550–569

Gong L (2007) Ethnic identity and identification with the majority group: relations with national identity and self-esteem. Int J Intercult Relat 31(4):503–523

Haisken-DeNew JP, Büchel F, Wagner GG (1997) Assimilation and other determinants of school attainment in Germany: do immigrant children perform as well as Germans? Q J Econ Res 66(1):169–179

Kao G, Tienda M (1995) Optimism and achievement: the educational performance of immigrant youth. Soc Sci Q 76(1):1–19

Krause A, Rinne U, Schüller. S (2014) Kick it like Özil? Decomposing the native-migrant education gap. Int Mig Rev. doi:10.1111/imre.12107

Liebkind K (1996) Acculturation and stress: vietnamese refugees in Finland. J Cross-Cult Psychol 27(2):161–180

Luthra RR (2010) Assimilation in a new context: educational attainment of the immigrant second generation in Germany. ISER Working Paper, p 21

Nekby L, Rödin M (2007) Acculturation identity and labor market outcomes. IZA Discussion Paper, p 2826

Nekby L, Rödin M (2010) Acculturation identity and employment among second and middle generation immigrants. J Econ Psychol 31(1):35–50

Nekby L, Rödin M, Özcan G (2009) Acculturation identity and higher education: is there a trade-off between ethnic identity and education? Int Mig Rev 43(4):938–973

Nesdale D, Rooney R, Smith L (1996) Migrant ethnic identity and psychological distress. J Cross-Cult Psychol 28(5):569–588

Nielsen HS, Rosholm M, Smith N, Husted L (2003) The school-to-work transition of 2nd generation immigrants in Denmark. J Popul Econ 16(4):755–786

Olneck MR (1995) Immigrants and education. In: Banks J A, Banks C A M (eds) Handbook of research on multicultural education. Macmillan, New York, pp 310–327

Pendakur K, Pendakur R (2005) Ethnic identity and the labour market. Mimeo, Simon Fraser University

Phinney JS, Horenczyk G, Liebkind K, Vedder P (2001) Ethnic identity, immigration, and well-being: an interactional perspective. J Soc Issues 57(3):493–510

Phinney JS, Ong AD (2007) Conceptualization and measurement of ethnic identity: current status and future directions. J Couns Psychol 54(3):271–281

Portes A, Rumbaut RG (1990) Immigrant America: a portrait. University of California Press, Berkeley and Los Angeles

Riphahn RT (2003) Cohort effects in the educational attainment of second generation immigrants in Germany: an analysis of census data. J Popul Econ 16 (4):711–737

Riphahn RT (2005) Are there diverging time trends in the educational attainment of nationals and second generation immigrants? J Econ Stat 225:325–346

Schüller S (2011) Parental ethnic identity and educational attainment of second-generation immigrants, IZA Discussion Paper:6155

Spieß CK, Büchel F, Wagner GG (2003) Children's school placement in Germany: does kindergarten attendance matter Early Child Res Q 18(2):255–270

Statistisches Bundesamt (2009) Bevölkerung und Erwerbstätigkeit: Bevölkerung mit Migrationshintergrund - Ergebnisse des Mikrozensus 2007, Fachserie 1 Reihe 22

Tajfel H (1981) Human groups and social categories: studies in social psychology. Cambridge University Press, Cambridge

van Ours JC, Veenman J (2003) The educational attainment of second-generation immigrants in The Netherlands. J Popul Econ 16(4):739–753

van Ours JC, Veenman J (2010) How interethnic marriages affect the educational attainment of children: evidence from a natural experiment. Labour Econ 17(1):111–117

Wagner GG, Frick JR, Schupp J (2007) The German Socio-Economic Panel Study (SOEP); scope, evolution and enhancements. Schmollers Jahrb 127(1):139–169

Zimmermann L, Gataullina L, Constant AF, Zimmermann KF (2008) Human capital and ethnic self-identification of immigrants. Econ Lett 98(3):235–239
Acknowledgements
The survey data used in this paper were made available by the Socio-Economic Panel Study (SOEP) at the German Institute for Economic Research (DIW Berlin). Financial support from the German Research Foundation (DFG) for the project "Ethnic Diversity and Labor Market Success" in the DFG-Priority Program "Flexibility in Heterogeneous Labor Markets" is gratefully acknowledged. I thank the three anonymous referees for their help and guidance. This paper has further benefited from insightful comments and helpful suggestions by Costanza Biavaschi, Tanika Chakraborty, Alexander Danzer, Martin Fischer, Gianna C. Giannelli, Corrado Giulietti, Julia Lang, Michele Pellizzari, Enrico Rettore, Ulf Rinne, Ingrid Tucci and Klaus F. Zimmermann. I thank participants of the 2nd OECD Immigration Workshop, AIEL 2012, SIE 2012, EALE 2012, the 8th IZA Annual Migration Meeting (AM 2), the 8th Young Scholar SOEP Symposium, ESPE 2011, IWAEE 2011, the Norface Migration Conference 2011, the FBK-IRVAPP Brownbag Seminar, the FamIne Brownbag Seminar and the BeNa Seminar. All remaining errors are my own.
Additional information
Responsible editor: Erdal Tekin
About this article
Cite this article
Schüller, S. Parental ethnic identity and educational attainment of second-generation immigrants. J Popul Econ 28, 965–1004 (2015). https://doi.org/10.1007/s00148-015-0559-7
Received:

Accepted:

Published:

Issue Date:

DOI: https://doi.org/10.1007/s00148-015-0559-7
Keywords
Ethnic identity

Second-generation immigrants

Education

Sibling fixed-effects
JEL Classification