Abstract
The unprecedented large-scale rural-to-urban migration in China has left many rural children living apart from their parents. In this study, we examine the impact of parental migration on the nutritional status of young children in rural areas. We use the interaction terms between wage growth, by gender, in provincial capital cities and initial village migrant networks as instrumental variables to account for migration selection. Our results show that parental migration has no significant effect on the height of children, but it improves their weight. We provide suggestive evidence that the improvement in weight may be achieved through increased access to tap water in migrant households.
Access options
Buy single article
Instant access to the full article PDF.
USD 39.95
Price excludes VAT (USA)
Tax calculation will be finalised during checkout.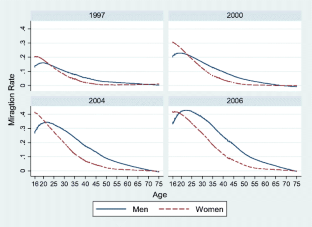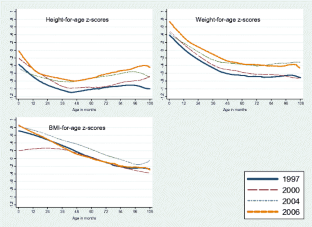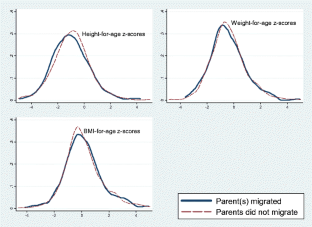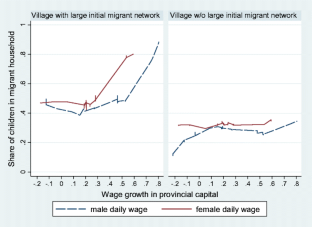 Notes
A focus on children's nutrition is important because poor nutrition outcomes early in life have long-term consequences for children (Grantham-McGregor et al. 2007; Glewwe and Miguel 2008). For example, multiple studies demonstrate that children's health and nutritional status have a sizable and statistically significant positive impact on later educational outcomes in many developing countries, including Ghana (Glewwe and Jacoby 1995), Guatemala (Maluccio et al. 2009), Kenya (Miguel and Kremer 2004), and Pakistan (Alderman et al. 2011). Benefits are not limited to educational outcomes: Longitudinal studies in developing countries also show evidence of improved cognitive measures later in life (Grantham-McGregor et al. 2007). Furthermore, stunting before the age of 5 can lead to less formal employment or lower wages later in life (Walker et al. 2011; Maluccio et al. 2009; Carba et al. 2009).

They also find that children who accompany migrants are healthier using broader measures of health status. Further, in a separate study, Stillman et al. (2012) find migration increases obesity among 3- to 5-year-olds, and the impacts are likely to be driven by dietary change.

BMI stands for body mass index, calculated by dividing a person's body weight in kilograms by her or his height in meters squared [weight (kg)/height (m)2]. BMI z-scores are used like weight-for-height z-scores but also control explicitly for age.

Gibson et al. (2011) use a lottery to credibly identify Tonga–New Zealand migration.

Chen (2006) uses earlier rounds of the CHNS to show that child health among older children is not affected by father absence in the past month. She also finds that caloric intakes increase when fathers are away. We do not study caloric intakes in this paper partly because adequate caloric intake is not likely to affect child height, which requires both a hygienic environment and adequate. We are also concerned that the variable of the change in caloric intake over 2–4 years suffers from systematic measurement error.

China's labor market experienced dramatic changes during the 1990s as the number of rural residents moving to urban areas for employment grew rapidly. Estimates using the 1 % sample from the 1990 and 2000 rounds of the Population Census and the 1995 1 % population survey suggest that the intercounty migrant population grew from just over 20 million in 1990 to 45 million in 1995 and to 79 million by 2000 (Liang and Ma 2004). These figures likely underreport the true scale of migration because they do not account for seasonal or shorter term migration (Cai et al. 2008).

There may be differences in outcomes related to the gender of the parent who leaves. If the mother specifically leaves, as she is the primary care giver the father may not act as a perfect substitute. We do not differentiate by gender of the migrant parent in part because migration by mother alone is relatively rare and because we lack statistical power to differentiate migration by gender.

The nine provinces are Henan, Hubei, Heilongjiang, Liaoning, Shandong, Guizhou, Jiangsu, and Guangxi, Hunan.

Unfortunately, the CHNS lacks information on remittances back to households from migrants. Therefore, we measure the net effect of migration, meaning the variable is the net effect of all effects of migration on the household (including any remittances received).

Children with an HAZ below −2 are considered stunted.

We include the self-reported values of the following types of assets in the calculation of total asset values: productive assets (transportation means, farm machinery, draft animals, commercial equipment), household electrical appliances (radio, tape recorder, VCR, black/white television, color television, washing machine, refrigerator, air conditioner, sewing machine, electric fan, computer, camera, microwave oven, electric rice cooker, pressure cooker, telephone, VCD, or DVD). Only 4.6 % of households reported no assets. When we take the logarithm of the asset value, we assign a value of 1 to those households.

Although we would prefer to build up the network from an earlier round, such as the 1993 round, the reasons for absence were recorded only from the 1997 round onward, so we cannot use earlier waves to construct the instrumental variables. For villages in Liaoning province, which were added to the survey in 2000, the 2000 migration rates are used to measure the migrant network.

In the sample, each village on average has about 48 women and 49 men in this age group.

The influence of controlling for household wealth and demographic changes on the relationship between migration and nutritional status is ambiguous. On the one hand, parental emigration is likely to correlate positively with the number senior household members because small children are more likely to live with a grandparent in migrant than nonmigrant households (de Brauw and Mu 2011). As the number of senior female household members appears positively correlated with children's nutritional outcomes (Table 2), the estimated migration effect would be larger without household demographic variables. Households may increase out-migration in response to negative wealth shocks (Giles and Yoo 2007), constituting a negative correlation between migration and household assets. Whereas household wealth is positively associated with child nutrition, without asset variable the estimated effect of emigration would be smaller.

Results are not reported, but available from the authors upon request.

Limited by the sample size, we are not able to precisely estimate heterogeneous impacts along the gender or poverty dimension.

The results estimated from the restricted sample show that the coefficient on the change in parent migration status for the change in weight-for-age z-scores is 0.201, significant at 10 % level. The coefficients are 0.034 and −0.033 for the regressions of the change in HAZ scores and BMIZ, respectively, and they are not statistically significant.

Another potential measure of household investment in hygiene is whether there are excreta around the house, as observed and reported by the survey numerators. We also used this variable as a dependent variable and do not find a statistically significant coefficient on migration.
References
Alderman H, Behrman J, Lavy V, Menon R (2011) Child health and school enrollment. J Hum Resour 36:185–205

Azzarri C, Zezza A (2011) International migration and nutritional outcomes in Tajikistan. Food Policy 36:54–70

Beine M, Docquier F, Rapoport H (2008) Brain drain and human capital formation in developing countries: winners and losers. Econ J 118:631–652

Bouis H (1994) The effect of income on demand for food in poor countries: are our databases giving us reliable estimates? J Dev Econ 44:199–226

Cai F, Park A, Zhao Y (2008) The Chinese labor market in the reform era. In: Brandt L, Rawski T (eds) China's economic transition: origins, mechanisms, and consequences. Cambridge University Press, Cambridge

Carba D, Tan VL, Adair LS (2009) Early childhood length-for-age is associate with the work status of Filipino young adults. Econ Hum Biol 7:7–17

Carletto C, Covarrubias K, Maluccio JA (2011) Migration and child growth in rural Guatemala. Food Policy 36:16–27

Chen C (2000) Fat intake and nutritional status of children in China. Am J Clin Nutr 72:1368S–1372S

Chen JJ (2006) Migration and imperfect monitoring: implications for intra-household allocation. Am Econ Rev 96:227–231

Chen X, Huang Q, Rozelle S, Shi Y, Zhang L (2009) Effect of migration on children's educational performance in rural China. Comp Econ Stud 51:323–343

Clemens MA (2011) Economics and emigration: trillion-dollar bills on the sidewalk? J Econ Perspect 25:83–106

Davin D (1999) Internal migration in contemporary China. St. Martin's Press, New York

de Brauw A (2011) Migration and child development during the food price crisis in El Salvador. Food Policy 36(1):28–40

de Brauw A, Giles J (2008) Migrant labor and the welfare of rural households in the developing world: evidence from China. World Bank Policy Research, working paper 4585

de Brauw A, Mu R (2011) Migration and the overweight and underweight status of children in rural China. Food Policy 88–100

de Brauw A, Li Q, Liu C, Rozelle S, Zhang L (2008) Is feminization of agriculture occurring in China? Debunking the myth and measuring the consequence of women's participation in agriculture. China Q 194:327–348

de Onis M, Onyango AW, Borghi E, Siyam A, Nishida C, Siekmann J (2007) Development of a WHO reference for school-aged children and adolescents. Bull World Health Organ 85:660–667

Démurger S, Shi L (2013) Migration, remittances, and rural employment patterns: evidence from China. Res Labor Econ 37:31–63

Du S, Mroz TA, Zhai F, Popkin BM (2004) Rapid income growth adversely affects diet quality in China—particularly for the poor! Soc Sci Med 59:1505–1515

Du Y, Park A, Wang S (2005) Migration and rural poverty in China. J Comp Econ 33:688–709

Duflo E (2003) Grandmothers and granddaughters: old-age pensions and intrahousehold allocation in South Africa. World Bank Econ Rev 17:1–25

Fan CC (2008) China on the move: migration, the state, and the households. Routledge, London & New York

Fei JCH, Ranis G (1964) Development of the labor surplus economy: theory and policies. R. D. Irwin, Homewood

Finlay K, Magnusson LM (2009) Implementing weak instrument robust tests for a general class of instrumental variables models. Stata J 9:398–421

Fogel R (2004) Health, nutrition, and economic growth. Econ Dev Cult Chang 52:643–658

Gibson J, Mckenzie D, Stillman S (2011) What happens to diet and child health when migration splits households? Evidence from a migration lottery program. Food Policy 36:7–15

Giles J (2006) Is life more risky in the open? Household risk-coping and the opening of China's labor markets. J Dev Econ 81:25–60

Giles J, Yoo K (2007) Precautionary behavior, migrant networks and household consumption decisions: an empirical analysis using household panel data from rural China. Rev Econ Stat 89(3):534–551

Giles J, Wang D, and Zhao C (2011) Can China's rural elderly count on support from adult children? Implications of rural-to-urban migration. World Bank, Policy Research Working Paper

Giulietti C, Wahba J, Zimmermann K (2013) Entrepreneurship to the left-behind. Res Labor Econ 37:65–92

Glewwe P, Jacoby H (1995) An economic analysis of delayed primary enrollment in a low income country: the role of early childhood nutrition. Rev Econ Stat 77:156–169

Glewwe P, Miguel E (2008) The impact of child health and nutrition on education in less developed countries. In: Shultz TP, Strauss J (eds) Handbook of development economics, vol. 4. North Holland, Amsterdam

Grantham-McGregor S, Cheung YB, Cueto S, Glewwe P, Richter L, Strupp B, International Child Development Steering Group (2007) Developmental potential in the first 5 years for children in developing countries. Lancet 369:60–70

Guo L (2009) Living arrangements of migrants' left-behind children in China. Paper Presented at the Population Association of America

Lewis WA (1954) Economic development with unlimited supplies of labor. Manchester School 28:139–191

Liang Z, Ma Z (2004) China's floating population: new evidence from the 2000 census. Popul Dev Rev 30:467–488

Luo R, Shi Y, Zhang L, Liu C, Rozelle S, Sharbono B, Yue A, Zhao Q, Martorell R (2012) Nutrition and educational performance in rural China's elementary schools: results of a randomized control trial in Shaanxi province. Econ. Dev. Cult. Change 60:735–772

Macours K, Vakis R (2010) Seasonal migration and early childhood development. World Dev 38–6:857–869

Mallee H (1995) China's household registration system under reform. Dev Chang 26:1–29

Maluccio J, Hoddinott J, Behrman JR, Martorell R, Quisumbing AR, Stein AD (2009) The impact of improving nutrition during early childhood on education among Guatemalan adults. Econ J 119:734–763

Mangyo E (2008) The effect of water accessibility on child health in China. J Health Econ 27:1343–1356

Mansuri G (2006) Migration, sex bias, and child growth in rural Pakistan. World Bank Policy Research Working Paper Series 3946

Miguel E, Kremer M (2004) Worms: identifying impacts on education and health in the presence of treatment externalities. Econometrica 72:159–217

Monda KL, Popkin BM (2005) Cluster analysis methods help to clarify the activity–BMI relationship of Chinese youth. Obes Res 13:1042–1051

Moreira M (2003) A conditional likelihood ratio test for structural models. Econometrica 71(4):1027–1048

Mu R, van de Walle D (2011) Left behind to farm? Women's labor reallocation in rural China. Labor Econ 18:S83–S97

Munshi K (2003) Networks in the modern economy: Mexican migrants in the US labor market. Q J Econ 118:549–597

Nguyen MC, Winters P (2011) The impact of migration on food consumption patterns: the case of Vietnam. Food Policy 36:71–87

Nobles J (2007) Parental migration and child health in Mexico. Working paper, University of California, Los Angeles

Osberg L, Shao J, Xu K (2009) The growth of poor children in China 1991–2000: why food subsidies may matter. Health Econ 18:S89–S108

Özaltin E, Hill K, Subramanian SV (2010) Association of maternal stature with offspring mortality, underweight, and stunting in low-to-middle income countries. JAMA 303(15):1507–1516

Rozelle S, Guo L, Shen M, Hughart A, Giles J (1999) Leaving China's farms: survey results of new paths and remaining hurdles to rural migration. China Q 158:367–393

Schroeder DG, Martorell R, Rivera JA, Ruel MT, Habicht JP (1995) Age differences in the impact of nutritional supplement on growth. J Nutr 125:1051S–1059S

Shen T, Habicht JP, Chang Y (1996) Effect of economic reforms on child growth in urban and rural areas of China. N Engl J Med 335:400–406

Stark O, Bloom D (1985) The new economics of labor migration. Am Econ Rev 75:173–178

Stillman S, Gibson J, Mckenzie D (2012) The impact of immigration on child health: experimental evidence from a migration lottery program. Econ Inq 50(1):62–81

Stock J, Yogo M (2005) Testing for weak instruments in linear IV regression. In: Andrews DWK (ed) Identifications and inference for econometric models. Cambridge University Press, New York

Subramanian S, Deaton A (1996) The demand for food and calories. J Polit Econ 104:133–162

Svedberg P (2006) Declining child malnutrition: a reassessment. Int J Epidemiol 35:1336–1346

Taylor JE, Rozelle S, de Brauw A (2003) Migration and income in source communities: a new economics of migration perspective. Econ Dev Cult Chang 52(1):75–101

Thomas D (1990) Intra-household resource allocation: an inferential approach. J Hum Resour 25:635–664

UNICEF (2008) The state of Asia-Pacific's children. Child Survival""

Wagstaff A, Yip W, Lindelow M, Hsiao W (2009) China's health system reform: a review of recent studies. Health Econ 18:S7–S23

Walker SP, Wachs TD, Grantham-McGregor S, Black MM, Nelson CA, Huffman SL, Baker-Henningham H, Chang SM, Hamadani JD, Lozoff B, Meeks Gardner JM, Powell CA, Rahman A, Richter L (2011) Inequality in early childhood: risk and protective factors for early child development. Lancet 378:1325–1338

Woodruff C, Zenteno R (2007) Migration networks and microenterprises in Mexico. J Dev Econ 82:509–528

Wooldridge J (2010) Econometric analysis of cross section and panel data. MIT Press, Cambridge

World Bank (2009) From poor areas to poor people: China's evolving poverty reduction agenda. Washington, DC

World Health Organization WHO (1983) Measuring change in nutritional status. WHO, Geneva

World Health Organization WHO (2006) Child growth standards: methods and development—length/height-for-age, weight-for-age, weight-for-length, weight-for-height and body mass index-for-age. WHO, Geneva

Yang D (2008) International migration, remittances, and household investment: evidence from Philippine migrants' exchange rate shocks. Econ J 118:591–630

Zhang J (Forthcoming) The impact of water quality on health: evidence from the drinking water infrastructure program in rural China. J Health Econ

Zhao Y (1999) Leaving the countryside: rural-to-urban migration in China. Am Econ Rev 89:281–286

Zhao Y (2002) Causes and consequences of return migration: recent evidence from China. J Comp Econ 30:376–394
Acknowledgments
We are grateful to Nicole Garcia and Feng Huang for great research assistance. For very useful comments, we thank three anonymous referees, Joyce Chen, Kalena Cortes, Ranjita Misra, Hiroshi Ono, and seminar participants at the 2012 Allied Social Science Associations Annual Conference in Chicago, the Asian Studies Forum at Texas A&M University, and the 2013 Population Association of America Conference in New Orleans.
Additional information
Responsible editor: Klaus F. Zimmermann
Appendix
Appendix
Table 8
About this article
Cite this article
Mu, R., de Brauw, A. Migration and young child nutrition: evidence from rural China. J Popul Econ 28, 631–657 (2015). https://doi.org/10.1007/s00148-015-0550-3
Received:

Accepted:

Published:

Issue Date:

DOI: https://doi.org/10.1007/s00148-015-0550-3
Keywords
Migration

Children

Nutrition

Rural China
JEL codes