Abstract
We study labor-market discrimination of individuals with "specific" characteristics in Italy. We conduct a field experiment in two Italian cities: Rome and Milan, by sending "fake" CVs to real ads. We find that there is a strong penalty for homosexuals, i.e., about 30 % less chance to be called back compared to a heterosexual male and even more so if they are highly skilled. On the other hand, we find no penalty for homosexual females. We also find a beauty premium for females only but this premium is much lower when the "pretty" woman is skilled.
This is a preview of subscription content, log in to check access.
Access options
Buy single article
Instant access to the full article PDF.
US$ 39.95
Price includes VAT for USA
Subscribe to journal
Immediate online access to all issues from 2019. Subscription will auto renew annually.
US$ 99
This is the net price. Taxes to be calculated in checkout.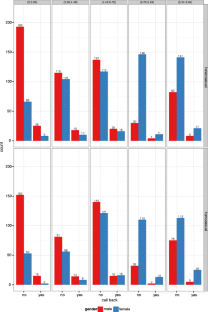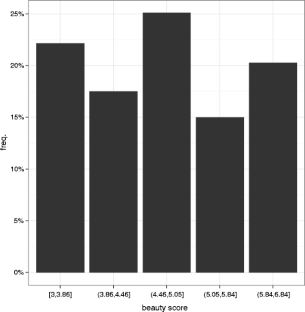 Notes
1.

Indeed, economists have accumulated a large body of evidence on the existence of both gender and ethnic/racial discrimination using various empirical approaches ranging from traditional empirical data analysis (Kahn 1991; Knowles et al. 2001; Altonji and Pierret 2001) to field experiments (see Riach and Rich 2002 for an exhaustive survey of field experiments discrimination). Two main procedures of field experiments have been used to carry out tests for the extent of discrimination. A first procedure consists in matching two testers who attend job interviews or buy products, one from the majority group and the other from the minority. These experiments have provided strong evidence of discrimination in different contexts, including housing market (Galster 1990), sports car market (List 2004), car sales (Ayres and Siegelman 1995), or television shows (Levitt 2004). Another field approach to measure the extent of discrimination at the hiring stage consists in sending matched CVs that vary in only one variable (for example the name) to employers in response to job advertisements (see for instance, Neumark 1996; Bertrand and Mullainathan 2004).

2.

3.

4.

See also Ahmed and Hammarstedt (2010b).

5.

6.

There is also a literature on the adverse-labor market outcomes of obese people that we do not review here since we focus in our experiment on attractive versus nonattractive persons.

7.

In order to avoid generating false hope, candidates were notified by mail that the job vacancy they were applying for had already been filled.

8.

These call back rates are in line with those of other fields experiments that consist in sending matched CVs to employers. For instance, in their experiment, Bertrand and Mullainathan (2004) obtain a total call back rate of 8.05 %.

9.

Cameron and Miller (2014) consider explicitly the case of a small number of clusters and present Monte Carlo evidence showing that at least 10–15 clusters are needed in order to obtain tests with rejection rates close to the nominal ones.

10.

Although we only report results for the linear probability model, the findings in this section are qualitatively and quantitatively similar when using a saturated model in which age and beauty score are discretized.

11.

Ahmed et al. (2010a) also discuss the effects of adding positive information to applications in a field experiment.

12.

One could argue that what is relevant from an economic point of view is not whether gays are called back at lower rate, but whether they are hired with lower probability. This is a common shortcoming of fake CVs studies as they can—by design—only provide answers to the question whether certain groups are discriminated in call backs and not whether they are then actually discriminated in the hiring decision. Yet, we believe that discrimination in the call back decision is still discrimination as it limits opportunity. This is especially relevant here as the magnitude of the penalties we found are very large.
References
Adam B (1981) Stigma and employability: discrimination by sex and sexual orientation in the Ontario legal profession. Can Rev Sociol Antropology 18:216–222

Ahmed AM, Andersson L, Hammarstedt M (2010a) Can discrimination in the housing market be reduced by increasing the information about the applicants? Land Econ 86:79–90

Ahmed AM, Hammarstedt M (2010b) Sexual orientation and earnings: a register data-based approach to identify homosexuals. J Popul Econ 23:835–849

Ahmed AM, Andersson L, Hammarstedt M (2011) Inter- and intra-household earnings differentials among homosexual and heterosexual couples. Br J Ind Relat 49:258–278

Ahmed A, Andersson L, Hammarstedt M (2013) Are gay men and lesbians discriminated against in the hiring situation? South Econ J 79:565–585

Ahmed AM, Hammarstedt M (2009) Detecting discrimination against homosexuals: evidence from a field experiment on the internet. Economica 76:588–597

Aigner DJ, Cain G (1977) Statistical theories of discrimination in labor markets. Ind Labor Relat Rev 30:749–76

Allasino E, Reyneri E, Venturini A, Zincone G (2004) Labour market discrimination against migrant workers in Italy. International Migrations Paper 67. International Labour Office, Geneva

Altonji JG, Blank RM (1999) Race and gender in the labor market. In: Ashenfelter O, Card D (eds) Handbook of labor economics, vol 3. Amsterdam, North Holland, pp 3143–3259

Altonji JG, Pierret CR (2001) Employer learning and statistical discrimination. Q J Econ 116:313–50

Arrow KJ (1973) The theory of discrimination. In: Ashenfelter O, Rees A (eds) Discrimination in labor markets. Princeton University Press, Princeton, pp 3–33

Ayres I, Siegelman P (1995) Race and gender discrimination in bargaining for a new car. Amer Econ Rev 85:304–321

Badgett MV (2001) Money, myths, and change: the economic lives of lesbians and gay men. University of Chicago Press, Chicago

Becker G (1957) The economics of discrimination. University of Chicago Press, Chicago

Becker G (1981) Treatise on the family. Harvard University Press, Cambridge

Bertrand M, Mullainathan S (2004) Are Emily and Greg more employable than Lakisha and Jamal? A field experiment on labor discrimination. Amer Econ Rev 94:991–1014

Biddle J, Hamermesh D (1994) Beauty and the labor market. Amer Econ Rev 84:174–194

Black DA, Sanders S, Taylor L (2007) The economics of lesbian and gay families. J Econ Perspect 21:53–70

Boeri T, van Ours J (2013) The economics of imperfect labor markets. Princeton University Press, Princeton

Cameron AC, Miller DL (2014) A practitioner's guide to cluster-robust inference. J Human Resour. forthcoming

Capozzi P, Lingiardi V (2003) Happy Italy? The Mediterranean experience of homosexuality, psychoanalysis, and the mental health professions. J Gay Lesbian Psychother 7:93–116

Coate S, Loury GC (1993) Will affirmative-action policies eliminate negative stereotypes Amer Econ Rev 83:1220–1240

Cornell B, Welch I (1996) Culture, information and screening discrimination. J Polit Econ 104:542–571

Drydakis N (2009) Sexual orientation discrimination in the labour market. Labour Econ 16:364–372

Drydakis N (2011) Women's sexual orientation and labor market outcomes in Greece. Fem Econ 17:89–117

Elmslie B, Tebaldi E (2007) Sexual orientation and labor market discrimination. J Labor Res 28:436–453

Fletcher J (2009) Beauty vs. brains: early labor market outcomes of high school graduates. Econ Lett 105:321–25

Fink B, Neave N, Seydel H (2007) Male facial appearance signals physical strength to women. Am J Human Biol 19:82–87

Galster GC (1990) Neighborhood racial change, segregationist sentiments, and affirmative marketing policies. J Urban Econ 27:344–361

Gerhards J (2010) Non-discrimination towards homosexuality: the European Union's policy and citizens' attitudes towards homosexuality in 27 European countries. Int Sociol 25:5–28

Hamermesh D (2011) Beauty pays. Why attractive people are more successful? Princeton University Press, Princeton

Harper B (2000) Beauty, stature, and the labour market: a British cohort study. Oxford Bull Econ Stat 62:771–800

Hebl M, Foster JM, Mannix LM, Dovidio JF (2002) Formal and interpersonal discrimination: a field study bias toward homosexual applicants. Personal Social Psychol Bull 28:815–825

Heilman ME, Saruwatari LR (1979) When beauty is beastly: the effects of appearance and sex on evaluations of job applicants for managerial and non-managerial jobs. Organ Behav Human Perform 23:360–372

Herek GM (2000) Sexual prejudice and gender: do heterosexuals' attitudes toward lesbian and gay men differ? J Soc Issues 56:251–266

Herek GM, Capitanio JP (1996) Some of my best friends: intergroup contact, concealable stigma and heterosexuals' attitudes toward gay men and lesbians. Personal Social Psychol Bull 22:412–24

Kahn LM (1991) Discrimination in professional sports: a survey of the literature. Ind Labor Relat Rev 44:395–418

Kite ME, Whitley BE (1996) Sex differences in attitudes toward homosexual persons, behaviors, and civil rights: a meta-analysis. Personal Soc Psychol Bull 22:336–353

Knowles J, Persico N, Todd P (2001) Racial bias in motor vehicle searches: theory and evidence. J Polit Econ 109:203–229

Kofi Charles K, Guryan J (2011) Studying discrimination: fundamental challenges and recent progress. Ann Rev Econ 3:479–511

Kuran T, McCaffery EJ (2004) Expanding discrimination research: beyond ethnicity and to the web. Soc Sci Q 85:713–730

Lang K, Lehmann J-YK (2012) Racial discrimination in the labor market: theory and empirics. J Econ Lit 50:959–1006

Levitt SD (2004) Testing theories of discrimination: evidence from the weakest link. J Law Econ 47:431–452

Lingiardi V, Capozzi P (2004) Psychoanalytic attitudes toward homosexuality: an empirical research. Int J Psychoanal 85:137–158

Lingiardi V, Drescher J (2003) Mental health professions and homosexuality: international perspectives. Haworth Press, New York

Lingiardi V, Falanga S, DAugelli AR (2005) The evaluation of homophobia in an Italian sample. Arch Sexual Behav 34:81–93

List JA (2004) The nature and extent of discrimination in the marketplace: evidence from the field. Q J Econ 119:49–89

López Bóo F, Rossi MA, Urzúa S (2013) The labor market return to an attractive face: evidence from a field experiment. Economics Letters 118:170–172

Lundberg SJ, Startz R (1983) Private discrimination and social intervention in competitive labor markets. Am Econ Rev 73:340–347

Mobius M, Rosenblat T (2006) Why beauty matters. Am Econ Rev 96:222–235

Neumark D (1996) Sex discrimination in hiring in the restaurant industry: an audit study. Q J Econ 111:915–42

Peplau LA, Fingerhut A (2004) The paradox of the lesbian worker. J Soc Issues 60:719–735

Phelps E (1972) The statistical theory of racism and sexism. Am Econ Rev 62:659–661

Riach P, Rich J (2002) Field experiments of discrimination in the market place. Econ J 112:480–518

Ruffle BJ, Shtudiner Z (2010) Are good-looking people more employable? Ben-Gurion University of the Negev. Discussion Paper No:10–06

Weichselbaumer D (2003) Sexual orientation discrimination and hiring. Labour Econ 10:629–642

Weichselbaumer D (2013) Testing for discrimination against lesbians of different marital status: a field experiment, Working Paper No 1308. Department of Economics, Johannes Kepler University of Linz

Yang A (1997) Trends: attitudes toward homosexuality. Publ Opin Q 61:477–507
Acknowledgments
We thank the editor, Erdal Tekin, two anonymous referees as well as Tito Boeri, Alan Manning, and Jan van Ours for the very helpful comments. We are also grateful to Barbara Biasi, Paola Monti, and Rachele Poggi for excellent research assistance. We thank the Fondazione Rodolfo DeBenedetti for financial support.
Additional information
Responsible editor: Erdal Tekin
About this article
Cite this article
Patacchini, E., Ragusa, G. & Zenou, Y. Unexplored dimensions of discrimination in Europe: homosexuality and physical appearance. J Popul Econ 28, 1045–1073 (2015). https://doi.org/10.1007/s00148-014-0533-9
Received:

Accepted:

Published:

Issue Date:
Keywords
Discrimination

Gays

Lesbians

Field experiment
JEL Classifications