Abstract
Immigration has been popularised in the economics literature as a tool that could be used to balance troubled PAYG pension systems. Pivotal research by Razin and Sadka shows that unskilled immigration can overcome the pension problem and, further, boost the general welfare in the host economy. However, a large strand of current economics research is engaged in identifying mechanisms through which unskilled immigration, while solving the pension problem, is causing undesired shifts in general welfare. This work shows that recurring unskilled immigration will not only reduce the general welfare but may also be challenging the pension system by reducing the pension benefits themselves. Further interpreting the actual data, it is suggested that immigration policies are designed either based on public finances only or in a political environment of gerontocracy.
Access options
Buy single article
Instant access to the full article PDF.
US$ 39.95
Tax calculation will be finalised during checkout.
Subscribe to journal
Immediate online access to all issues from 2019. Subscription will auto renew annually.
US$ 79
Tax calculation will be finalised during checkout.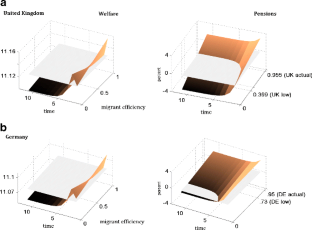 Notes
1.

Certainly, the assumed perfect substitutability of skilled and unskilled workers causes obvious limitations in the model. However, there are two main reasons for this assumption: First, the current assumption makes the comparison of the results with the main body of the literature straightforward (as the assumption is the most common), and second, the empirical literature on the topic has not yet identified the exact relationship (e.g. Okkerse 2008).

2.

The Bismarckian factor (Cremer and Pestieau 1998) is a measure of the actuarial fairness of a pension systems. It takes values between 0 and 1, with 0 characterising a purely redistributive (demogrant, Beveridgean) pension system and 1—a strictly actuarially fair (earnings related, Bismarckian) pension system. In the present stylised model, the Bismarckian factor can be presented as τ er/(τ er + τ d).

3.

This result could be used to explain the extra mobility restrictions that the UK employs for immigrants from the new EU member states—Bulgaria, Croatia and Romania.

4.

The result is surely bounded by many modelling assumptions, such as the absence of altruism towards future population or the absence of the possibility for the future population to reverse the results (such as the repetitive voting considered in Razin et al. (2011)).
References
Algan Y, Dustmann C, Glitz A, Manning A (2010) The economic situation of first and second-generation immigrants in France, Germany and the United Kingdom. Econ J 120:F4–F30

Blake D, Mayhew L (2006) On the sustainability of the UK state pension system in the light of population ageing and declining fertility. Econ J 116:F286–F305

Casarico A, Devillanova C (2003) Social security and migration with endogenous skill upgrading. J Public Econ 87:773–797

Chojnicki X, Docquier F, Ragot L (2011) Should the US have locked heaven's door? Reassessing the benefits of postwar immigration. J Popul E 24:317–359

Cigno A (2010) How to avoid a pension crisis: a question of intelligent system design. CESifo Econ Stud 56:21–37

Cigno A (2006) A constitutional theory of the family. J Popul Econ 19:259–283

Cipriani GP (2014) Population aging and PAYG pensions in the OLG model. J Popul Econ 27:251–256

Cremer H, Gahvari F, Pestieau P (2011) Fertility, human capital accumulation, and the pension system. J Pub Econ 95:1272–1279

Cremer H, Pestieau P (1998) Social insurance, majority voting and labor mobility. J Pub Econ 68:397–420

Eichhorst W, Gerard M, Kendzia M J, Mayrhuber C, Ruestler G, Url T (2011) Pension systems in the EU—contingent liabilities and assets in the public and private sector. IZA Research Rept No42

Fanti L, Gori L (2013) Fertility-related pensions and cyclical instability. J Popul E 26:1209–1232

Fanti L, Gori L (2012) Fertility and PAYG pensions in the overlapping generations model. J Popul Econ 25:955–961

Fanti L, Gori L (2010) Increasing PAYG pension benefits and reducing contribution rates. Econ Lett 107:81–84

Hainmueller J, Hiscox M J (2010) Attitudes toward highly skilled and low-skilled immigration: evidence from a survey experiment. Am Polit Sci Rev 104:61–84

Jinno M (2011) Assimilation, immigration, and the welfare state. FinanzArchiv 67:46–63

Kemnitz A (2008) Can immigrant employment alleviate the demographic burden? The role of union centralization. Econ Lett 99:123–126

Kemnitz A (2003) Immigration, unemployment and pensions. Scand J Econ 105:31–47

Krieger T, Traub S (2013) The Bismarckian factor: a measure of intra-generational redistribution in international pension systems. CESifo DICE Report 1(2013)

Krieger T (2004) Fertility rates and skill distribution in Razin and Sadka's migration-pension model: a note. J Popul Econ 17:177–182

Lacomba J A, Lagos F (2010) Immigration and pension benefits in the host country. Econ 77:283–295

Lee R, Miller T (2000) Immigration, social security, and broader fiscal impacts. Am Econ Rev 90:350–354

Muysken J, Cörvers F, Ziesemer T (2011) Immigration can alleviate the ageing problem. Netspar Discuss Pap DP07/2011-058

Okkerse L (2008) How to measure labour market effects of immigration: a review. J Econ Surv 22:1–30

Razin A, Sadka E (2000) Unskilled migration: a burden or a boon for the welfare state? Scand J Econ 102:463–479

Razin A, Sadka E (1999) Migration and pension with international capital mobility. J Public Econ 74:141–150

Razin A, Sadka E, Suwankiri B (2011) Migration and the welfare state, MIT Press, Cambridge

Schou P (2006) Immigration, integration and fiscal sustainability. J Popul Econ 19:671–689

Serrano F, Ferreiro J (2011) Public pensions' sustainability and population ageing: is immigration the solution? Int Labour Rev 150:63–79

Song Z, Storesletten K, Zilibotti F (2012) Rotten parents and disciplined children: a politico-economic theory of public expenditure and debt. Econom 80:2785–2803

Storesletten K (2000) Sustaining fiscal policy through immigration. J Polit Econ 108:300–323

Übelmesser S (2004) Unfunded pension system: ageing and migration. Elsevier, Amsterdam
Acknowledgements
This paper has benefited from comments by Byeongju Jeong, Randall K. Filer, Sergey Slobodyan, Jan Kmenta and Andrea Downing as well as the editor—Alessandro Cigno—and two anonymous referees. Any error remaining is the sole responsibility of the author.
Additional information
Responsible editor: Alessandro Cigno
About this article
Cite this article
Aslanyan, G. The migration challenge for PAYG. J Popul Econ 27, 1023–1038 (2014). https://doi.org/10.1007/s00148-014-0516-x
Received:

Accepted:

Published:

Issue Date:
Keywords
Public pensions

PAYG

Unskilled migration

Capital dilution
AMS 2000 Subject Classification