Abstract
The timing and sequencing of fertility transitions and early-life mortality declines in historical Western societies indicate that reductions in sibship (number of siblings) may have contributed to improvements in infant health. Surprisingly, however, this demographic relationship has received little attention in empirical research. We outline the difficulties associated with establishing the effect of sibship on infant mortality and discuss the inherent bias associated with conventional empirical approaches. We offer a solution that permits an empirical test of this relationship while accounting for reverse causality and potential omitted variable bias. Our approach is illustrated by evaluating the causal impact of family size on infant mortality using genealogical data from 13 German parishes spanning the sixteenth, seventeenth, eighteenth, and nineteenth centuries. Overall, our findings do not support the hypothesis that declining fertility led to increased infant survival probabilities in historical populations.
Access options
Buy single article
Instant access to the full article PDF.
US$ 39.95
Tax calculation will be finalised during checkout.
Subscribe to journal
Immediate online access to all issues from 2019. Subscription will auto renew annually.
US$ 79
Tax calculation will be finalised during checkout.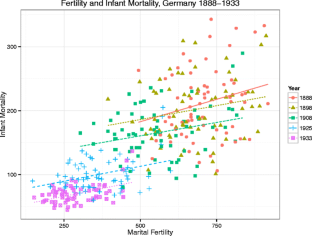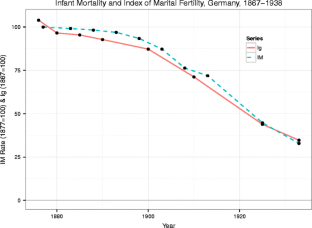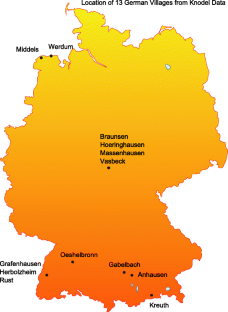 Notes
1.

All statistics quoted here can be found in Knodel (1974).

2.

For an account of changes in German economic conditions and living standards, see Baten (2003).

3.

This measure indicates the ratio of fertility compared to that of Hutterite women (the population with the highest fertility levels on record), adjusted for age distribution within childbearing ages (Knodel 2002).

4.

Our results are robust to using the probit model.

5.

Once again, we obtain almost identical results when using a Probit IV estimator in the spirit of Rivers and Vuong (1988). We have also considered generalized additive models (Wood 2000) which allow for nonlinear effects of sibship, including in the presence of endogeneity (Marra and Radice 2011). We reach the same conclusions as for the linear effect models.

6.

We thank a referee for this valuable suggestion.

7.

We have also performed an equivalent analysis with the elapsed time between the first and second births. This variable fails the instrument validity test.
References
Agüero JM, Marks MS (2011) Motherhood and female labor supply in the developing world. J Hum Resour 46(4):800–826

Baten J (2003) Anthropometrics, consumption, and leisure: the standard of living. In: Ogilvie S, Overy R (eds) Germany: a new social and economic history, Vol III: 1800–1989. Edward Arnold, London, pp 383–422

Becker GS, Lewis HG (1973) On the interaction between the quantity and quality of children. J Polit Econ 81(2):279–288

Bengtsson T (1999) The vulnerable child. economic insecurity and child mortality in pre-industrial Sweden: a case study of Västanfors, 1757–1850. Eur J Popul 15(2):117–151

Black SE, Devereux PJ, Salvanes KG (2005) The more the merrier? The effect of family size and birth order on children'SEducation. Q J Econ 120(2):669–700

Booth AL, Kee HJ (2009) Birth order matters: the effect of family size and birth order on educational attainment. J Popul Econ 22(2):367–397

Brown JC, Guinnane TW (2001) The fertility transition in Bavaria. Yale University Economic Growth Center discussion paper no 821

Buck G, Sever L, Batt R, Mendola P (1997) Life-style factors and female infertility. Epidemiology 435–441

Cutler D, Miller G (2005) The role of public health improvements in health advances: the twentieth-century United States. Demography 42(1):1–22

Delaney L, McGovern ME, Smith JP (2011) From Angela's ashes to the celtic tiger: early life conditions and adult health in Ireland. J Health Econ 30(1):1–10

Doepke M (2005) Child mortality and fertility decline: does the Barro-Becker model fit the facts? J Popul Econ 18(2):337–366

Fernihough A, McGovern ME (2013) Do fertility transitions influence infant mortality declines? Evidence from early modern Germany. Program on the Global Demography of Aging, working paper no. 10513

Floud R, Fogel RW, Harris B, Hong SC (2011) The changing body: health, nutrition, and human development in the Western World since 1700. Cambridge University Press, Cambridge

Frijters P, Hatton TJ, Martin RM, Shields MA (2010) Childhood economic conditions and length of life: evidence from the UK Boyd-Orr cohort, 1937–2005. J Health Econ 29(1):39–47

Galloway PR, Lee RD, Hammel EA (1998) Infant mortality and the fertility transition: macro evidence from Europe and new findings from Prussia. In: Cohen B, Montgomery M R (eds) From death to birth: mortality decline and reproductive change. National Academy, Washington

Joffe M, Barnes I (2000) Do parental factors affect male and female fertility? Epidemiology 11(6):700–705

Klemp M, Weisdorf J (2012) Fecundity, fertility and family reconstitution data: the child quantity-quality trade-off revisited, Centre for Economic Policy Research discussion paper no. 9121

Knodel J (1974) The decline of fertility in Germany, 1871–1939. Princeton University Press, Princeton

Knodel J (2002) Demographic behavior in the past. Cambridge University Press, Cambridge

Knodel J, Hermalin AI (1984) Effects of birth rank, maternal age, birth interval, and sibship size on infant and child mortality: evidence from 18th and 19th century reproductive histories. Am J Public Health 74(10):1098

Marra G, Radice R (2011) A flexible instrumental variable approach. Stat Mod 11(6):581–603

Modin B (2002) Birth order and mortality: ALife-long follow-up of 14,200 boys and girls born in early 20th century Sweden. Soc Sci Med 54(7):1051–1064

Mokyr J (2000) Why "more work for mother?" Knowledge and household behavior, 1870–1945. J Econ Hist 60(1):1–41

Rivers D, Vuong Q H (1988) Limited information estimators and exogeneity tests for simultaneous probit models. J Econometrics 39(3):347–366

Strulik H, Vollmer S (2014) The fertility transition around the world. J Popul Econ. doi:10.1007/s00148-013-0496-2

Wood SN (2000) Modelling and smoothing parameter estimation with multiple quadratic penalties. J R Stat Sco B Met 62(2):413–428

Woods R (2000) The demography of Victorian England and Wales, vol 35. Cambridge University Press, Cambridge
Acknowledgments
Mark McGovern acknowledges funding from the Program on the Global Demography of Aging, which receives funding from the National Institute on Aging, grant no. 1 P30 AG024409-09. Alan Fernihough's research is funded by the European Research Council under the European Union's Seventh Framework Programme (FP7/2007-2013)/ERC grant agreement no. 249546. We are grateful to Dan Anderberg, Kevin Denny, Paul Devereux, Cormac Ó Gráda, George Alter, Tommy Bengtsson, two anonymous referees, and seminar participants at Harvard and the 2013 Edinburgh FRESH meeting for helpful comments and advice.
Additional information
Responsible editor: Junsen Zhang
About this article
Cite this article
Fernihough, A., McGovern, M.E. Do fertility transitions influence infant mortality declines? Evidence from early modern Germany. J Popul Econ 27, 1145–1163 (2014). https://doi.org/10.1007/s00148-014-0506-z
Received:

Accepted:

Published:

Issue Date:
Keywords
Demographic transition

Family size

Early life conditions

Infant mortality
JEL Classifications