Abstract
A sizable literature claims that female labor force participation (FLFP) follows a U-shaped trend as countries develop due to structural change, education, and fertility dynamics. We show that empirical support for this secular trend is feeble and depends on the data sources used, especially GDP estimates. The U also vanishes under dynamic panel estimations. Moreover, cross-country differences in levels of FLFP related to historical contingencies are more important than the muted U patterns found in some specifications. Given the large error margins in international GDP estimates and the sensitivity of the U relationship, we propose a more direct approach to explore the effect of structural change on FLFP using sector-specific growth rates. The results suggest that structural change affects FLFP consistent with a U pattern, but the effects are small. We conclude that the feminization U hypothesis as an overarching secular trend driving FLFP in the development process has little empirical support.
This is a preview of subscription content, log in to check access.
Access options
Buy single article
Instant access to the full article PDF.
US$ 39.95
Price includes VAT for USA
Subscribe to journal
Immediate online access to all issues from 2019. Subscription will auto renew annually.
US$ 99
This is the net price. Taxes to be calculated in checkout.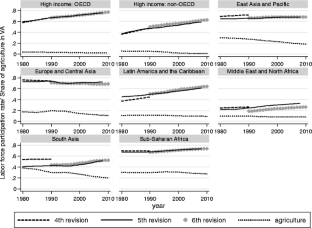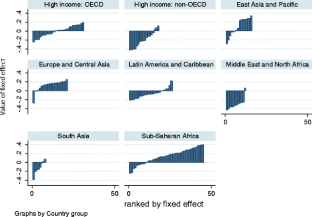 Notes
1.

See Klasen and Lamanna (2009) for a more detailed discussion of the unemployment issues (and its empirical relevance for cross-country differences in labor force participation).

2.

The literature on household production also considers availability and prices of household technologies as a potential driver of female labor force participation rates. As these technologies improve over the development process, one would presume that they increase the ability of women to participate in market work. See Ramey (2009) for a discussion in the context of the USA.

3.

At the very early stages of industrialization, young unmarried women (and children) may play a significant role in the nascent industrial sectors, as they did in Britain in the late eighteenth century. But as industrialization proceeded, women's employment in these sectors became increasingly rare, replaced by male workers who often were able to get better employment conditions and wages. For a discussion, see Marglin (1974) and Humphries (1991).

4.

Of course, agriculture also includes heavy manual labor. But if men and women share agricultural tasks, this may be no barrier to female participation if men then do the heavy manual labor (e.g., land clearing, plowing with heavy implements, etc.). Outside of the home, such sharing of tasks is generally not feasible.

5.

These results point to an inverted U, rather than a U-shaped relationship. Since both parameters are significant, the feminization U hypothesis could be rejected at a conventional significance level.

6.

Both EAPEP datasets also contain labor force projections. For the fourth revision, these extend from 1995 to 2010, and for the fifth revision, from 2009 to 2020. However, the analyses in this paper are based on the labor force estimates only, disregarding the projections.

7.

In the case of Nepal, the fourth revision reports a minor decline in female labor force participation between 1980 and 1990 (from 59 to 58 %), while the fifth revision shows an increase by around ten percentage points, albeit from a much lower level (from 45 to 55 %).

8.

That recovery is more pronounced under the fifth than under the sixth revision of the EAPEP. It seems likely that labor force estimates for the 2000s under the sixth revision are influenced by the financial crisis (through interpolations by the ILO, the 2008 recession could be reflected in earlier participation rates).

9.

As noted by Deaton (2010), there is an inherent tension in international price comparisons between surveying goods that are representative for consumption patterns in each country and specifying goods that are strictly comparable between countries. In contrast to previous ICP rounds, the 2005 round erred on the side of inter-country comparability by surveying precisely specified goods, at the expense of a potential lack of intra-country representativity.

10.

The alternative procedure, used by the World Bank, to base the entire assessment of economic performance on the latest PPP round, is also problematic as PPPs that are valid in 2005 are unlikely to have been valid 20 years earlier when products, demands, and prices differed considerably. This can also lead to substantial uncertainty about GDP trends.

11.

Interestingly, the ILO also notes that there is no significant U-shape relationship between GDP and labor force participation for men and women aged between 20 and 55 years (ILO 2011b). This is motivated by a series of graphs, which, however, only show cross-sectional patterns (despite the fact that the estimated regressions seem to be based on over-time variation only).

12.

We do not include further control variables as we are, in the spirit of this literature, interested in the reduced form of relationship between development and female participation and because some of the most likely candidates for control variables (education, fertility) are also potential transmission channels of the U.

13.

14.

The fourth revision data include years that are not included in the fifth revision (1950–1970). The ILO cut them out as they were deemed unreliable, but one might argue that they come from a time where the patterns of the U were more visible. We test using the overall sample whether these earlier years drive the results (by progressively cutting out the earlier observations) and find that this does not qualitatively change the results. Moreover, we think we have enough variation in economic conditions and stages of development when using the fifth revision and beyond so that a U-shaped process should be identifiable in the data. We also experimented on using IV regressions to purge our regression of possible (classical) measurement error of the GDP variables which could bias our coefficients towards zero. Specifically, we used PWT 6.3 to predict PWT 7.1 GDP. This did not change the results materially.

15.

The fixed effects regressions were estimated using Stata's xtreg, fe command, which constrains the system so that the reported intercept is the average value of fixed effects. The full list of estimated fixed effects based on the fifth revision of the EAPEP and PWT 7.1 is included in the ESM (Table A.3). The fixed effects using other combinations of data sources are available on request.

16.

When estimating the dynamic model with data from the fourth revision, we always encountered second-order autocorrelation, which renders the moment conditions of the GMM estimator invalid. This is why this section presents the dynamic estimates only for the fifth and sixth revision data.

17.

The sample is split in such a way that one quarter of countries are expected to transition through the declining portion of the U and thus experience a fall in female labor force participation with rising per capita income, while the remaining three quarters are assumed to experience an increase in female labor force participation with rising per capita income. This corresponds approximately to the J-shaped patterns found in Section 4, with fewer observations to the left of the turning point.

18.

Of course there are also indirect effects, such as growth in overall family incomes due to structural transformation and associated income effects. Those are not directly captured by the above framework.

19.

This is because we look at relative (in percent) changes, rather than absolute (percentage point) changes. Please note that the intial female employment intensity of the growing sector does matter for the percentage change in the female labor force participation rate. Growth of sectors where the female employment intensity is high will have a larger impact on the growth of aggregate female employment rate. However, we do not have data on sector-specific female employment intensities and cannot isolate this element empirically.

20.

If there were cross-country data on male and female employment by disaggregated sector, we could also directly decompose the change in female employment into various sectoral contributions. However, here we use a regression approach to relate data on the sectoral allocation of total employment, which are not disaggregated by sex, to female labor force participation estimates from the EAPEP database.

21.

The classification is based on the ISIC 3.1 industry classification, but some of the one-digit sectors are combined in the dataset. Of course, one may argue that seven sectors are still too broad to uncover specific subsector dynamics (e.g., differential trends in female labor force participation in different types of agriculture, or manufacturing subsectors). While we are mindful of these limitations, the data do not allow estimating separate effects for different subsectors in agriculture or manufacturing.

22.

However, we have to drop West Germany and Taiwan during the analysis stage because these two countries do not have a corresponding entry in the ILO database.

23.

It is somewhat surprising that all coefficients in Table 8 are below unity. This would suggest that female labor force participation increases less than proportionately with employment growth in any sector (an across-the-board defeminization). We suspect that this weak correlation is driven by the fact that we use employment data from two different sources, which both suffer from measurement error. Another reason might be changes in female unemployment (which is included in the labor force participation rate).

24.

It should be noted that the model in Eq. 9 includes an intercept and time dummies, which capture much of the country-invariant increase in female labor force participation between 1980 and 2005. When we simulate the effect of structural change on female economic activity, we disregard those effects by basing the simulations only on sectoral growth rates.

25.

We perform the following robustness checks. First, instead of 5-year intervals, we use 4- and 3-year periods, but then most of the estimated coefficients lose significance. We also reestimate the models in Eq. 9 to 11 on data from the sixth revision of the EAPEP but again obtain much weaker correlations. Our key explanation for this finding is that the sixth revision cover a shorter time span (mostly 1990 to 2010) and that the changes in value added and employment observed during the 2008 financial crisis (and which, due to interpolations, even affect labor force participation estimates before the onset of the crisis) are different from the long-run process of structural change. Yet another potential explanation is that the effect of structural change on female labor force participation is getting even weaker over time.
References
Ackland R, Dowrick S, Freyens B (2012) Measuring global poverty: why PPP methods matter. Rev Econ Stat. doi:10.1162/REST_a_00294

Agüero JM, Marks MS (2011) Motherhood and female labor supply in the developing world. J Hum Resour 46(4):800–826. doi:10.1353/jhr.2011.0002

Alesina A, Giuliano P, Nunn N (2011) Fertility and the plough. Am Econ Rev (Papers and Proceedings) 101(3):499–503

Alesina A, Giuliano P, Nunn N (2013) On the origins of gender roles: women and the plough. Q J Econ. doi:10.1093/qje/qjt005

Angrist JD, Evans WN (1998) Children and their parents' labor supply: evidence from exogenous variation in family size. Am Econ Rev 88(3):450–477

Anker R, Anker M (1989) Measuring the female labour force in Egypt. Int Lab Rev 128(4):511–520

Arellano M, Bond S (1991) Some tests of specification for panel data: Monte Carlo evidence and an application to employment equations. Rev Econ Stat 58:277–297

Arellano M, Bover O (1995) Another look at the instrumental variable estimation of error-components models. J Econ 68:29–51

Assaad R (2005) Informalization and defeminization. Explaining the unusual pattern in Egypt. In: Kudva N, Benería L (eds) Rethinking informalization: poverty, precarious jobs and social protection. Cornell University Open Access Repository, Ithaca, pp 86–102

Atkinson A, Brandolini A (2001) Promise and pitfalls in the use of 'secondary' data-sets: income inequality in OECD countries as a case study. J Econ Lit 39(3):771–799

Bardhan K, Klasen S (1998) Women in emerging Asia: welfare, employment and human development. Asian Dev Rev 16:72–125

Bardhan K, Klasen S (1999) UNDP's gender-related indices: a critical review. World Dev 27(6):985–1010

Benería L (2003) Paid and unpaid labor: meanings and debates. In: Benería L (ed) Gender, development and globalization: economics as if all people mattered. Routledge, London, pp 131–160

Blecker RA, Seguino S (2002) Macroeconomic effects of reducing gender wage inequality in an export-oriented, semi-industrialized economy. Rev Dev Econ 6(1):103–119

Bloom DE, Canning D, Fink G, Finlay JE (2009) Fertility, female labor force participation, and the demographic dividend. J Econ Growth 14(2):79–101

Blundell R, Bond S (1998) Initial conditions and moment restrictions in dynamic panel data models. J Econ 87:115–143

Blundell R, MaCurdy T (1999) Labor supply: a review of alternative approaches. In: Ashenfelter O, Card D (eds) Handbook of labor economics, vol 3, 1st edn. Elsevier, Amsterdam, pp 1559–1695

Bond S (2002) Dynamic panel data models: a guide to micro data methods and practice. Port Econ J 1:141–162

Boserup E (1970) Woman's role in economic development. St. Martin, New York

Bruno M, Ravallion M, Squire L (1998) Equity and growth in developing countries. Old and new perspectives on the policy issues. In: Tanzi V, Chu K (eds) Income distribution and high-quality growth. MIT press, Cambridge, pp 117–146

Caǧatay N, Özler S (1995) Feminization of the labor force: the effects of long-term development and structural adjustment. World Dev 23(11):1883–1894

Cavalcanti T, Tavares J (2007) The output cost of gender discrimination: a model-based macroeconomic estimate. Discussion Paper 6477. Centre for Economic Policy Research, London

Chen S, Datt G, Ravallion M (1994) Is poverty increasing in the developing world. Rev Income Wealth 40(4):359–376

Christiaensen L, Demery L, Kuhl J (2011) The (evolving) role of agriculture in poverty reduction—an empirical perspective. J Dev Econ 96(2):239–254

Ciccone A, Jarociński M (2010) Determinants of economic growth: will data tell. Am Econ J Macroecon 2(4):222–246

Clark RL, York A, Anker R (2003) Cross-national analysis of women in the labour market. In: Garcia B, Anker R, Pinelli A (eds) Women in the labour market in changing economies: demographic issues. Oxford University Press, Oxford, pp 13–34

Cooray A, Gaddis I, Wacker KM (2012) Globalization and female labor force participation in developing countries: an empirical (re-)assessment. CRC-PEG Discussion Paper 129. University of Göttingen, Göttingen

Cruces G, Galiani S (2007) Fertility and female labor supply in Latin America: new causal evidence. Lab Econ 14(3):565–573

Deaton A (2010) Price indexes, inequality, and the measurement of world poverty. Am Econ Rev 100(1):5–34

Deaton A, Heston A (2010) Understanding PPPs and PPP-based national accounts. Am Econ J Macroecon 2(4):1–35

Deininger K, Squire L (1998) New ways of looking at old issues: inequality and growth. J Dev Econ 57:259–287

Durand JD (1975) The labor force in economic development: a comparison of international census data 1946–1966. Princeton University Press, Princeton

Esteve-Volart B (2004) Gender discrimination and growth: theory and evidence from India. DEDPS Discussion Paper 42. London School of Economics and Political Science, London

Feldmann H (2007) Protestantism, labor force participation, and employment across countries. Am J Econ Sociol 66(4):795–816

Fernández R (2007) Women, work and culture. J Eur Econ Assoc 5(2–3):305–332

Fernández R, Fogli A (2009) Culture: an empirical investigation of beliefs, work, and fertility. Am Econ J Macroecon 1(1):146–177

Fernández R, Fogli A, Olivetti C (2004) Mothers and sons: preference formation and female labor force dynamics. Q J Econ 119(4):1249–1299

Fortin NM (2005) Gender role attitudes and the labour-market outcomes of women across OECD countries. Oxf Rev Econ Pol 21(3):416–438

Gaddis I, Pieters J (2012) Trade Liberalization and female labor force participation: evidence from Brazil. IZA Discussion Paper 6809. Institute for the Study of Labor, Bonn

GGDC (2011) 10-Sector Database. Groningen Growth and Development Centre, University of Groningen, Groningen. http://www.rug.nl/feb/onderzoek/onderzoekscentra/ggdc/data/10sector. Accessed Sept 2011

Ghosh J (2002) Globalization, export-oriented employment for women and social policy: a case study of India. Soc Sci 30(11/12):17–60

Goldin C (1990) Understanding the gender gap: an economic history of American women. Oxford University Press, New York

Goldin C (1991) The role of World War II in the rise of women's employment. Am Econ Rev 81(4):741–756

Goldin C (1995) The U-shaped female labor force function in economic development and economic history. In: Schultz TP (ed) Investment in women's human capital. University of Chicago Press, Chicago, pp 61–90

Grün C, Klasen S (2003) Growth, inequality and well-being: intertemporal and global comparisons. CESifo Econ Stud 49(4):617–659

Guiso L, Sapienza P, Zingales L (2003) People's opium? Religion and economic attitudes. J Monetary Econ 50:225–282

Gustafsson SS (1992) Separate taxation and married women's labor supply: a comparison of West Germany and Sweden. J Popul Econ 5:61–85

Gustafsson SS, Wetzels CMMP, Vlasblom JD, Dex S (1996) Women's labor force transitions in connection with childbirth: a panel data comparison between Germany, Sweden and Great Britain. J Popul Econ 9:223–246

Gutiérrez M (2003) Macro-economics: making gender matter–concepts policies and institutional change in developing countries. GTZ and Zed Books, London

Heston A, Summers R, Aten B (2009) Penn world table version 6.3. center for international comparisons of production. Income and prices. University of Pennsylvania, Philadelphia

Heston A, Summers R, Aten B (2012) Penn world table version 7.1. center for international comparisons of production. Income and prices. University of Pennsylvania, Philadelphia

Humphries J (1991) Bread and a pennyworth of treacle: excess female mortality in England in the 1840s. Camb J Econ 15(4):451–473

ILO (1996) ILO estimates and projections of the economically active population: 1950–2010, 4th edn., International Labour Organization, Geneva

ILO (2009a) ILO estimates and projections of the economically active population: 1980–2020, 5th edn., International Labour Organization, Geneva http://laborsta.ilo.org/. Accessed Jan 2010

ILO (2009b) ILO estimates and projections of the economically active population: 1980–2020, 5th edn., methodological description. International Labour Organization, Geneva. http://laborsta.ilo.org/applv8/data/EAPEP/v6/ILO_EAPEP_methodology_2009.pdf. Accessed Jun 2013

ILO (2011a) ILO estimates and projections of the economically active population: 1990–2020, 6th edn., International Labour Organization, Geneva. http://laborsta.ilo.org/. Accessed Jan 2012

ILO (2011b) ILO estimates and projections of the economically active population: 1990–2020 6th edn., methodological description. International Labour Organization. http://laborsta.ilo.org/applv8/data/EAPEP/v6/ILO_EAPEP_methodology_2011.pdf. Accessed Jan 2012

Jaeger U (2010) Working or stay-at-home mum? the influence of family benefits and religiosity. Ifo Working Paper 84. Ifo Institute for Economic Research at the University of Munich, Munich

Jensen R (2012) Do labor market opportunities affect young women's work and family decisions? Experimental evidence from India. Q J Econ 127(2):753–792

Johnson S, Larson W, Papageorgiou C, Subramanian A (2013) Is newer better? Penn world table revisions and their impact on growth estimates. J Monetary Econ 60(2):255–274

Killingsworth MR, Heckman JJ (1986) Female labor supply: a survey. In: Ashenfelter O, Layard R (eds) Handbook of labor economics, Chapter 2, vol 1, 1st edn. Elsevier, Amsterdam, pp 103–204

Klasen S (1994) Human development and women's lives in a restructured Eastern Bloc: lessons from the developing world. In: Schipke A, Taylor AM (eds) The economics of transformation: theory and practice in the new market economies. Springer, Berlin, pp 253–294

Klasen S (2002) Low schooling for girls, slower growth for all? Cross-country evidence on the effect of gender inequality in education on economic development. World Bank Econ Rev 16(3):345–373

Klasen S (2006) Pro-poor growth and gender inequality. In: Menkhoff L (ed) Pro-poor growth: policy and evidence. Duncker and Humblot, Berlin, pp 151–179

Klasen S, Lamanna F (2009) The impact of gender inequality in education and employment on economic growth: new evidence for a panel of countries. Fem Econ 15(3):91–132

Klasen S, Pieters J (2012) Push or pull? Drivers of female labor force participation during India's economic boom. IZA Discussion Paper 6395, Institute for the Study of Labor, Bonn

Kornai J (1992) The socialist system: the political economy of communism. Princeton University Press, Princeton

Kuha J, Temple J (2003) Covariate measurement error in quadratic regression. Int Stat Rev 71(1):131–150

Kuznets S (1955) Economic growth and income inequality. Am Econ Rev 45(1):1–28

Lincove JA (2008) Growth, girls' education, and female labor: a longitudinal analysis. J Dev Areas 41(2):45–68

Lind JT, Mehlum H (2010) With or without U? The appropriate test for a U-shaped relationship. Oxf Bull Econ Stat 72(1):109–118

Lindert PH, Williamson JG (1985) Growth, equality, and history. Explor Econ Hist 22:341–377

Loayza NV, Raddatz C (2010) The composition of growth matters for poverty alleviation. J Dev Econ 93(1):137–151

Luci A (2009) Female labour market participation and economic growth. Int J Innovat Sustain Dev 4(2/3):97–108

Maddison A, Wu HX (2008) Measuring China's economic performance. World Econ 9(2):13–44

Mammen K, Paxson C (2000) Women's work and economic development. J Econ Perspect 14(4):141–164

Marglin SA (1974) What do bosses do? The origins and functions of hierarchy in capitalist production. Rev Rad Pol Ec 6(2):60–112

McMillan M, Rodrik D (2011) Globalization, structural change and productivity growth. In: Bacchetta M, Jansen M (eds) Making globalization socially sustainable, international labour organization and world trade organization Geneva, pp 49–84

Norris P (2010) Perhaps petroleum perpetuates patriarchy? A response and critique to Ross. Harvard Kennedy School, Cambridge, MA. http://www.hks.harvard.edu/fs/pnorris/Acrobat/Culture,%20Islam%20and%20Oil.pdf. Accessed Feb 2012

OECD (1995) Household production in OECD countries: data sources and measurement methods. Organisation for Economic Co-operation and Development, Paris

Pampel FC, Tanaka K (1986) Economic development and female labor force participation: a reconsideration. Soc Forces 64(3):599–619

Priebe J (2010) Child costs and the causal effect of fertility on female labor supply: an investigation for Indonesia 1993–2008. CRC-PEG Discussion Paper 45, University of Göttingen, Göttingen

Psacharopoulos G, Tzannatos Z (1989) Female labor force participation: an international perspective. World Bank Res Obs 4(2):187–201

PWT (2012) Description of PWT 7.0 and 7.1 July 2012. http://pwt.econ.upenn.edu/Downloads/pwt71/PWT%207.1%20Web.doc. Accessed February 2013

Ramey VA (2009) Time spent in home production in the twentieth-century United States: new estimates from old data. J Econ Hist 69(1):1–47

Ramey VA, Francis N (2009) A century of work and leisure. Am Econ J Macroecon 1(2):189–224

Ravallion M (1995) Growth and poverty: evidence for developing countries in the 1980s. Econ Lett 48:411–417

Ravallion M (2010) Understanding PPPs and PPP-based national accounts: comment. Am Econ J Macroecon 2(4):46–52

Ravallion M (2012) Price levels and economic growth: making sense of revisions to data on real incomes. Rev Income Wealth forthcoming. doi:10.1111/j.1475-4991.2012.00510.x

Ravallion M, Datt G (1996) How important to India's poor is the sectoral composition of economic growth. World Bank Econ Rev 10(1):1–25

Ravallion M, Chen S, Sangraula P (2009) Dollar a day revisited. World Bank Econ Rev 23(2):163–184

Ray D (1998) Development economics. Princeton University Press, Princeton

Rees R, Riezman RG (2012) Globalization, gender and growth. Rev Income Wealth 58(1):107–117

Roodman D (2009) How to do xtabond2: an introduction to difference and system GMM in Stata. Stata J 9(1):86–136

Ross ML (2008) Oil, Islam and women. Am Polit Sci Rev 102(1):107–123

Seguino S (2000a) Accounting for gender in Asian economic growth. Fem Econ 6(3):27–58

Seguino S (2000b) Gender inequality and economic growth: a cross-country analysis. World Dev 28(7):1211–1230

Sinha JN (1967) Dynamics of female participation in economic activity in a developing economy. In: United Nations department of economic and social affairs. Proceedings of the world population conference, Belgrade 1965, vol. IV. UN Publications, New York, pp 336–337

Tam H (2011) U-shaped female labor participation with economic development: some panel data evidence. Econ Lett 110(2):140–142

Timmer MP, de Vries GJ (2007) A cross-country database for sectoral employment and productivity in Asia and Latin America, 1950–2005. Research Memorandum GD-98, University of Groningen, Groningen

UNDP (1995) Human development report. United Nations Development Programme (UNDP), New York

UNSTATS (2011) National accounts main aggregates database. United Nations Statistics Division, New York, NY. http://unstats.un.org/unsd/snaama/Introduction.asp. Accessed Mar 2012

Waring M (1988) If women counted: a new feminist economics. Harper and Row, San Francisco

Weber M (1905) The Protestant ethic and the spirit of capitalism. English Translation 1930. Unwin Hyman, London

Windmeijer F (2005) A finite sample correction for the variance of linear efficient two-step GMM estimators. J Econometrics 126: 25–51

World Bank (2006) World development indicators 2006. World Bank, Washington D.C. http://data.worldbank.org/products/data-books/WDI-2006. Accessed Jun 2013

World Bank (2008a) Comparison of new 2005 PPPs with previous estimates: appendix G (Revised): global purchasing power parities and real expenditures. International Comparison Program and World Bank, Washington DC

World Bank (2008b) Global purchasing power parities and real expenditures: 2005 international comparison program. International Comparison Program and World Bank, Washington DC

World Bank (2011) World development report 2012: gender equality and development. World Bank, Washington DC
Acknowledgments
We thank R. Emre Aytimur, Friederike Greb, Tim Krieger, Inmaculada Martínez-Zarzoso, Chris Muris, Janneke Pieters, Sebastian Vollmer, two anonymous referees, the editors of this journal, and seminar participants in Göttingen and Cologne for valuable comments and advice. We are grateful to Dani Rodrik and Margaret McMillan for sharing with us the extension of the GGDC 10-Sector database. We also thank Valentina Stoevska of the ILO for sending us an earlier edition of the EAPEP data. Of course, all errors are our own.
Additional information
Responsible editor: Alessandro Cigno
Electronic supplementary material
Below is the link to the electronic supplementary material.
About this article
Cite this article
Gaddis, I., Klasen, S. Economic development, structural change, and women's labor force participation:. J Popul Econ 27, 639–681 (2014). https://doi.org/10.1007/s00148-013-0488-2
Received:

Accepted:

Published:

Issue Date:
Keywords
Female labor force participation

Economic development

Structural change

Panel

GMM
JEL Classifications