Abstract
We study the effect of the second Intifada—a violent conflict between Israel and its Palestinian neighbors which erupted in September 2000—and the ensuing demonstrations of Arab citizens of Israel on labor market outcomes of Arabs relative to those of Jewish Israelis. The analysis relies on a large matched employer–employee dataset, focusing on firms that in the pre-Intifada period hired both Arabs and Jews. We find that until September 2000 Arab workers had a lower rate of job separation than their Jewish peers and that this differential was significantly reduced after the outbreak of the Intifada.
Access options
Buy single article
Instant access to the full article PDF.
US$ 39.95
Tax calculation will be finalised during checkout.
Subscribe to journal
Immediate online access to all issues from 2019. Subscription will auto renew annually.
US$ 79
Tax calculation will be finalised during checkout.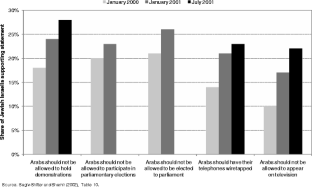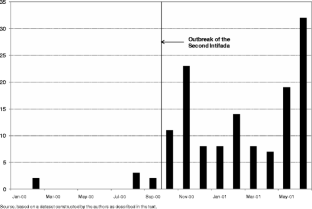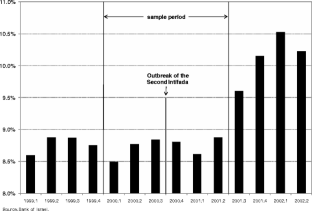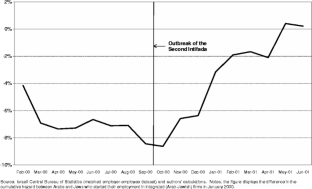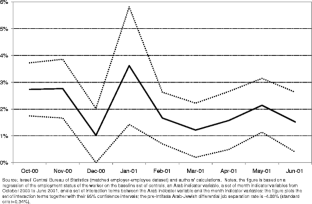 Notes
1.

2.

Excluding the ground transportation sub-sector which has a large proportion of Arab employees.

3.

A firm is considered integrated if it employs at least one Arab and one Jewish employee.

4.

See Romanov et al. (2011) for details.

5.

See Allison (1995). We note that the results are robust to using logit and probit.

6.

Simultaneous jobs of the same employee are treated as separate jobs. We exclude from the analysis workers who died during the period under investigation.

7.

The "October events" towns are: Acre, Araaba, Deir al-Asad, Ein Mahel, Jisr az-Zarqa, Kafar Kanna, Kfar Manda, Kfar Yasif, Majd al-Krum, Nazareth, Reineh, Sakhnin, Shefa-'Amr, Tamra, Turaan, Umm al-Fahm, and Yafi'a. The (natural) areas these towns are located in are the Acre area, the Alexander Mountain area (Wadi Ara area, northern Triangle), the Carmel coast area, the Carmiel area, the Hadera area (southern Triangle), the Nazareth mountains—Turaan area, and the Shefa-'Amr area.

8.

The integrated towns are: Acre, Haifa, Lod, Maalot-Tarshiha, Ramle, Tel Aviv-Jaffa, and Upper Nazareth. Note that Jerusalem, the city with the largest overall Arab population, is a special case since its Arab inhabitants (concentrated in the eastern part of the city) became permanent residents of Israel only after the 1967 war. The Arabs of East Jerusalem keep strong ties with the Palestinian population of the West Bank. We therefore excluded Jerusalem from the analysis of integrated towns.

9.

Cases of bankruptcy are defined as those in which the number of employees in the firm falls down to zero.

10.

In their analysis of German matched employer–employee data, Pfeifer and Schneck (2011) use a similar approach to draw a line between voluntary and involuntary separations.

11.

With respect to the voluntary separations, we note that at least some of them could also be plausibly linked to the outbreak of the Intifada and the "October Events." For example, rising ethnic tensions following these events may have negatively affected Arab employees' willingness to work for Jewish employers, interact with fellow Jewish employees, or serve Jewish customers, leading them to quit their jobs.

12.

There are no readily available data that identify the ethnicities of owners and managers of integrated firms. However, consultations with relevant Israeli non-governmental organizations strongly suggest that almost all integrated firms in the country operate under Jewish ownership and management.

13.
References
Allison PD (1995) Survival analysis using the SAS system. SAS Institute, Cary, NC

Altonji JG, Blank RM (1999) Race and Gender in the Labor Market. In: Ashenfelter O, Card D (eds) Handbook of labor economics, vol 3. North-Holland, Amsterdam. pp 3143–3259

Arian A, Atmor N, Hadar Y (2006) The 2006 Israeli democracy index. The Israeli Democracy Institute, Jerusalem (in Hebrew)

Arrow K (1973) The theory of discrimination. In: Ashenfelter O, Rees A (eds) Discrimination in labor markets. Princeton University Press, Princeton, NJ. pp 3–33

Asali M (2006) Why do Arabs earn less than Jews in Israel? Maurice Falk Institute for Economic Research in Israel DP 06.03

Aslund O, Rooth DO (2005) Shifts in attitudes and labor market discrimination: Swedish experiences after 9–11. J Popul Econ 18(4):603–629

Becker GS (1957) The economics of discrimination. University of Chicago Press, Chicago

Braakmann N (2009) The impact of september 11th, 2001 on the employment prospects of Arabs and Muslims in the German labor market. J Econ and Stat 229(1):2–21

Braakmann N (2010) Islamistic terror and the job prospects of Arab Men in Britain: does a Country's direct involvement matter? Scott J Polit Econ 57(4):430–454

Charles KK, Guryan J (2008) Prejudice and the economics of discrimination. J Polit Econ 116(5):1173–1809

Charles KK, Guryan J (2011) Studying discrimination: fundamental challenges and recent progress. Annu Rev Econ 3:479–511

Davila A, Mora MT (2005) Changes in the earnings of Arab Men in the US between 2000 and 2002. J Popul Econ 18(4):587-601

Haberfeld Y, Cohen Y (1996) Earnings gaps between Israel's native-born men: Western Jews, Eastern Jews, and Arabs, 1987–1993. Golda Meir Institute for Social and Labor Research DP 85

Heckman JJ (1998) Detecting discrimination. J Econ Perspect 12(2):101–116

Kaushal N, Kaestner R, Reimers C (2007) Labor market effects of september 11th on Arab and Muslim residents of the US. J Hum Resour 42(2):275–308

Pfeifer C, Schneck S (2011) Relative wage positions and quit behavior: evidence from linked employer–employee data. Industrial and Labor Relations Review (in press)

Phelps ES (1972) The statistical theory of racism and sexism. Am Econ Rev 62(4):659–661

Romanov D, Zussman A, Zussman D (2011) Does terrorism demoralize? Evidence from Israel. Economica (in press)

Sagiv-Shifter T, Shamir M (2002) Israel as a laboratory for the research of political tolerance. The B.I. and Lucille Cohen Institute for Public Opinion Research at Tel-Aviv University, Tel Aviv (in Hebrew)

Smooha S (2004) Arab–Jewish relations in Israel: a deeply divided society. In: Shapira A (ed) Israeli identity in transition. Praeger, Westport, CT. pp 31–67

Sprinzak E (2003) The Israeli Arabs: from conflict resolution to conflict management. Interdisciplinary Center, Herzliya (in Hebrew)
Acknowledgments
We are indebted to the editor, Klaus Zimmermann, two anonymous referees, John Abowd, David Genesove, Luigi Guiso, Victor Lavy, Ramon Marimon, Daniele Paserman, Robert Sauer, Eytan Sheshinski, Françoise Vermeylen, Amos Zehavi, and participants of presentations at the Bank of Israel, Ben Gurion University, the European Economic Association Meeting, the European University Institute, the Israeli Economic Association Meeting, the Israeli National Economic Council, Haifa University, Hebrew University (economics department and law school), the London School of Economics, and Tel Aviv University for useful comments and suggestions. The paper is based on data analysis conducted at the facilities of the Israeli Central Bureau of Statistics using files prepared by Orly Furman of the Bureau's Chief Scientist Department.
Additional information
Responsible editor: Klaus F. Zimmermann
About this article
Cite this article
Miaari, S., Zussman, A. & Zussman, N. Ethnic conflict and job separations. J Popul Econ 25, 419–437 (2012). https://doi.org/10.1007/s00148-011-0383-7
Received:

Accepted:

Published:

Issue Date:
Keywords
Ethnic conflict

Job separation

Israel
JEL Classification