Abstract
This paper uses data from the Household, Income and Labour Dynamics in Australia (HILDA) Survey to investigate the association between neighbourhood effects and life satisfaction. We find that neighbourhood measures of social support and interaction and the absence of socio-economic deprivation are positively and significantly correlated with individual life satisfaction. Neighbourhood fixed effects, however, explain only an additional 1.5 to 2.5% of the variance in life satisfaction over the 14% explained by individual characteristics.
Access options
Buy single article
Instant access to the full article PDF.
USD 39.95
Price includes VAT (USA)
Tax calculation will be finalised during checkout.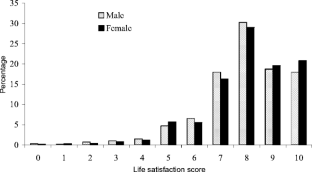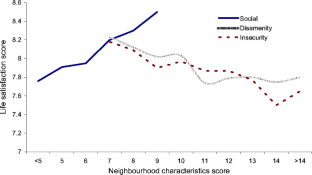 Notes
1.

These rules stipulated that where a dwelling contained three or fewer households, all such households should be sampled. Where there were four or more households occupying one dwelling, all households had to be enumerated and a random sample of three households obtained (based on a predetermined pattern).

2.

We drop 18 individuals for whom no life satisfaction measure is available and a further 48 cases where the other required information is incomplete. We are, thus, able to use over 99.5% of the original sample.

3.

For example, is a community defined by residence in a street, group of streets, suburb or town? Further, does it even make sense to restrict membership of a community to the residents of that community? What about people who work or participate in other activities within that locality? The question of how to geographically demarcate a local community remains, and we are unable to explore alternative definitions with the available data.

4.

There are two further bands—very remote Australia and migratory areas—which none of the CDs selected in the HILDA sample fall into.

5.

The incidence of 'don't know' responses ranged from 1% (for rubbish and litter lying around) to 11% (for neighbours helping each other out) of the sample. Such cases were excluded in the construction of neighbourhood averages. The neighbourhood measures are calculated using the pooled sample of males and females.

6.

As with many studies in the life satisfaction literature (e.g. Di Tella et al. 2003), we have also estimated the models using a linear fixed effects model on the assumption that the life satisfaction can be treated as continuous and cardinal. In practice, this assumption makes little difference to the estimates of the determinants of life satisfaction (see, for example, Ferrer-i-Carbonel and Frijters 2004). These results, all of which are available from the corresponding author, confirm this for our data, and crucially, the estimated importance of neighbourhood effects remains of the same magnitude.

7.

One potential method to tackle this issue is the approach adopted by Dustmann and Preston (2001) who used broad region of residence dummies as instruments for local area ethnic density in equations explaining feelings of racial hostility in the UK. Their argument was that individuals (given their taste for living in close proximity to ethnic minorities) can self-select into and out of areas that have different ethnic minority densities. However, while whites might decide not to reside in high ethnic minority density areas, they are unlikely to move out of the broader region of residence (i.e. they simply might locate to a neighbourhood a few miles away, but still live in the same broad region). In our context, the use of regional dummies (i.e., states and territory dummies) to instrument neighbourhood characteristics in life satisfaction equations is less appropriate given that there are state-level differences in Australia that are likely to directly impact on life satisfaction (as suggested by our estimates). On a practical level, we also would require a number of instruments as we find that neighbourhood characteristics are multi-dimensional in their association with life satisfaction. Clearly, forming one aggregate neighbourhood index would lose valuable information. Consequently, we would need to find at least three exogenous instruments with enough statistical power to determine the differential effects of the various 'groups' of neighbourhood characteristics, which simply are not available in our data.
References
Aneshensel CS, Sucoff CA (1996) The neighborhood context of adolescent mental health. J Health Soc Behav 37(4):293–310

Australian Bureau of Statistics (ABS) (2001) ABS views on remoteness: information paper (ABS cat. no. 1244.0). ABS, Canberra

Belle D (1990) Poverty and women's mental health. Am Psychol 45(3):385–389

Clark A (2003) Unemployment as a social norm: psychological evidence from panel data. J Labor Econ 21(2):323–351

Clark A, Oswald A (1994) Unhappiness and unemployment. Econ J 104(424):648–659

Clark A, Oswald A (1996) Satisfaction and comparison income. J Public Econ 61(3):359–381

Clark A, Georgellis Y, Sanfey P (2001) Scarring: the psychological impact of past unemployment. Economica 68(270):221–241

Clark A, Frijters P, Shields M (2006) Income and happiness: evidence, explanations and economic implications. PSE working paper no. 2006-24. Paris–Jourdan Sciences Economiques, Paris

Cox E (1995) A truly civil society. ABC Books, Sydney

Di Tella R, MacCulloch RJ, Oswald AJ (2003) The macroeconomics of happiness. Rev Econ Stat 85(4):809–827

Diener E, Lucas RE (1999) Personality and subjective well-being. In: Kahneman D, Diener E, Schwarz N (eds) Well-being: the foundations of hedonic psychology. Russell Sage, New York, pp 213–229

DiPasquale D, Glaeser EL (1999) Incentives and social capital: are homeowners better citizens? J Urban Econ 45(2):354–384

Dustmann C, Preston I (2001) Attitudes to ethnic minorities, ethnic context and location decisions. Econ J 111(470):353–373

Evans MDR, Kelley J (2002) Family and community influences on life satisfaction (report to the Department of Family and Community Services). Melbourne Institute of Applied Economic and Social Research, University of Melbourne, Melbourne

Ferrer-i-Carbonel A, Frijters P (2004) The effect of methodology on the determinants of happiness. Econ J 114(497):641–659

Frey B, Stutzer A (2000) Happiness, economy and institutions. Econ J 110(466):918–938

Frey B, Stutzer A (2002) What can economists learn from happiness research? J Econ Lit 40(2):402–435

Frijters P, Haisken-DeNew J, Shields M (2004a) Investigating the patterns and determinants of life satisfaction in Germany following reunification. J Hum Resour 39(3):624–648

Frijters P, Haisken-DeNew J, Shields M (2004b) Money does matter! Evidence from increasing real incomes and life satisfaction in East Germany following reunification. Am Econ Rev 95(3):730–740

Frijters P, Geishecker I, Haisken-DeNew J, Shields M (2006) Can the large swings in Russian life satisfaction be explained by ups and downs in real incomes? Scand J Econ 108(3):433–458

Gauntlett E, Hugman R, Kenyon P, Logan L (2000) A meta-analysis of the impact of community-based prevention and early intervention action. Department of Family and Community Services, policy research paper no. 11. Department of Family and Community Services, Canberra

Ginther D, Haveman R, Wolfe B (2000) Neighborhood attributes as determinants of children's outcomes: how robust are the relationships? J Hum Resour 35(4):603–642

Greene W (2004) The behaviour of the maximum likelihood estimator of limited dependent variable models in the presence of fixed effects. Econ J 7(1):98–119

Headey B, Johnson D, Janssen C, Jensen B (2002) Communities, social capital and public policy: literature review (report for the Department of Family and Community Services). Melbourne Institute of Applied Economic and Social Research, University of Melbourne, Melbourne

Helliwell JF (2002) How's life? Combining individual and national variables to explain subjective well-being. National Bureau of Economic Research working paper 9065. NBER, Cambridge, MA

Jensen B, Seltzer A (2000) Neighbourhood and family effects in educational progress. Aust Econ Rev 33(1):17–31

Kahneman D, Diener E, Schwarz N (1999) Well-being: the foundations of hedonic psychology. Russell Sage, New York

Klebanov P, Brooks-Gunn J, Duncan GJ (1994) Does neighborhood and family poverty affect mothers' parenting, mental health, and social support? J Marriage Fam 56(2):441–445

Lancaster T (2000) The incidental parameter problem since 1948. J Econom 95(2):391–413

Luttmer E (2005) Neighbors as negatives: relative earnings and well-being. Q J Econ 120(3):963–1002

Lykken D, Tellegen A (1996) Happiness is a stochastic phenomenon. Psychol Sci 7(3):186–189

Manski CF (1993) Identification of endogenous social effects: the reflection problem. Rev Econ Stud 60(3):531–542

Manski CF (1995) Identification problems in the social sciences. Harvard University Press, Cambridge, MA

Michalos AC (1985) Multiple discrepancy theories (MDT). Soc Indic Res 16(4):347–413

Oreopoulos P (2003) The long-run consequences of living in a poor neighborhood. Q J Econ 118(4):1533–1575

Oswald AJ (1997) Happiness and economic performance. Econ J 107(445):1815–1831

Propper C, Jones K, Bolster A, Burgess S, Johnston R, Sarker R (2005) Local neighbourhood and mental health: evidence from the UK. Soc Sci Med 61(1):2065–2083

Ross CE, Reynolds JR, Geis KJ (2000) The contingent meaning of neighborhood stability for residents' psychological well-being. Am Sociol Rev 65(4):581–597

Schulz A, Williams D, Israel B, Becker A, Parker E, James SA, Jackson J (2000) Unfair treatment, neighbourhood effects, and mental health in the Detroit metropolitan area. J Health Soc Behav 41(3):314–332

Shields M, Wheatley Price S (2005) Exploring the economic and social determinants of psychological well-being and perceived social support. J R Stat Soc Ser A 168(3):513–537

Social Exclusion Unit (2001) Preventing social exclusion. Office of the Deputy Prime Minister, London

van der Klaauw B, van Ours JC (2003) From welfare to work: does the neighborhood matter? J Public Econ 87(5–6):957–985

van Praag B, Frijters P (1999) The measurement of welfare and wellbeing: the Leyden approach. In: Kahneman D, Diener E, Schwarz N (eds) Well-being: the foundations of hedonic psychology. Russell Sage, New York, pp 413–433

Watson N, Wooden M (2002) The household, income and labour dynamics in Australia (HILDA) Survey: wave 1 survey methodology. HILDA project technical paper series no. 1/02. Melbourne Institute of Applied Economic and Social Research, University of Melbourne, Melbourne

Watson N, Wooden M (2004) The HILDA survey four years on. Aust Econ Rev 37(3):343–349

Wilson W (1967) Correlates of avowed happiness. Psychol Bull 67(4):294–306

Winkelmann L, Winkelmann R (1998) Why are the unemployed so unhappy? Evidence from panel data. Economica 65(257):1–15
Acknowledgements
The paper uses the data in the confidentialized unit record file from the Household, Income and Labour Dynamics in Australia Survey. We would like to thank the Australian Government Department of Family and Community Services and the Australian Research Council for financially supporting this research. The Faculty of Economics and Commerce at the University of Melbourne provided additional financial support. The authors would also like to thank Simon Freidin, participants at the fourth Quality of Life Conference, seminar participants at the Melbourne Institute of Applied Economic and Social Research and the University of New South Wales, and three anonymous referees for constructive comments. The usual disclaimer applies.
Additional information
Responsible editor: Deborah Cobb-Clark
Appendix
Appendix
About this article
Cite this article
Shields, M.A., Wheatley Price, S. & Wooden, M. Life satisfaction and the economic and social characteristics of neighbourhoods. J Popul Econ 22, 421–443 (2009). https://doi.org/10.1007/s00148-007-0146-7
Received:

Accepted:

Published:

Issue Date:
Keywords
Life satisfaction

Neighbourhood effects

HILDA Survey
JEL Classification