Abstract
Irish traditional music (ITM) is a complex system of interconnections and relationships. For example, the same tune title can refer to many different tunes, and the same tune can have many different titles. Developing a system whereby a tune can be presented with all its variants and relations, along with its source recordings, has been the work of many scholars in the field. It is only with the advent of Linked Data technologies that a solution to this issue can be truly envisaged. One element of this solution is the creation of authority files presented as SKOS thesauri, such as the ITMA (Irish Traditional Music Archive) Subject Thesaurus (IST). Best-practice in thesauri creation was followed to create the IST. Existing literature on the subject was surveyed for terms and phrases that could be included. The terms were organised within 21 facets, each facet being a discrete unit describing some element of the tradition. This research builds on ITMA's existing Linked Data offerings. It provides a road-map for the creation of other thesauri and is a foundation stone for ITMA on which future developments in Linked Data can be built.
Access options
Buy single article
Instant access to the full article PDF.
USD 39.95
Price excludes VAT (USA)
Tax calculation will be finalised during checkout.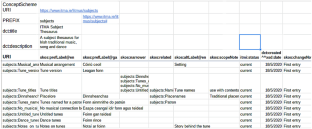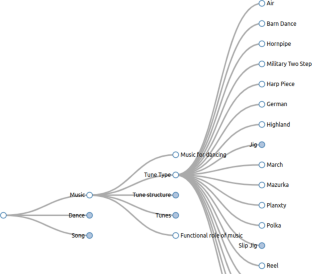 Availability of data and materials
References
Aitchison J, Dextre Clarke S (2004) The thesaurus: a historical viewpoint, with a look to the future. Cat Classif Q 37:3–21. https://doi.org/10.1300/J104v37n03_02

Berman S, Gross T (2017) Expand, humanize, simplify: an interview with Sandy Berman. Cat Classif Q 55(6):347–360. https://doi.org/10.1080/01639374.2017.1327468

Braun V, Clarke V (2006) Using thematic analysis in psychology. Qual Res Psychol 3(2):77–101. https://doi.org/10.1191/1478088706qp063oa

Breathnach B (1971) Folk music and dances of Ireland. Talbot Press, Dublin

Broughton V (2011) Essential library of congress subject headings. Facet, London. https://doi.org/10.29085/9781783300365

Carolan N (2010) A collection of the most celebrated Irish tunes proper for the violin, German flute or hautboy. Irish Traditional Music Archive in association with the Folk Music Society of Ireland, Dublin

Chan L, Salaba A (2017) Cataloging and classification: an introduction, 4th edn. The Scarecrow Press, Lanham

Dabney D (2007) The universe of thinkable thoughts: literary warrant and west's key number system. Law Libr J 99(2):229–247

Duggan B, O'Shea B (2011) Tunepal: searching a digital library of traditional music scores. OCLC Syst Serv Int Digit Libr Perspect 27(4):284–297. https://doi.org/10.1108/10650751111182597

Gazan R (2006) Controlled vocabulary and thesaurus design: trainee's manual. Association for Library Collections & Technical Services Program for Cooperative Cataloging. https://www.loc.gov/catworkshop/courses/thesaurus/pdf/Cont-vocab-thes-trnee-manual.pdf

Hjørland B (2013) Facet analysis: the logical approach to knowledge organization. Inf Process Manag 49(2):545–557. https://doi.org/10.1016/.ipm.2012.10.001

Irish Traditional Music Archive: Strategy 2019–2023 (2019) Dublin: Irish Traditional Music Archive. https://s3-eu-west-1.amazonaws.com/downloads.itma.ie/ITMA_Strategy_ENGLISH_WEB.pdf

Julien C, Guastavino C, Bouthillier F (2012) Capitalizing on information organization and information visualization for a new-generation catalogue. Libr Trends 61(1):149–161. https://doi.org/10.1353/lib.2012.0022

Kundal S, Mondal P (2019) Rejuvenating the grammar of subject headings with special reference to the 20th edition of Sears List of Subject Headings. Library Philosophy and Practice (e-journal) 2569. https://digitalcommons.unl.edu/libphilprac/2569/

Lancaster FW (2003) Indexing and abstracting in theory and practice, 3rd edn. Facet, London

Library of Congress Subject Headings. (2019, July 31). http://id.loc.gov/authorities/subjects.html

LITMUS Ontology (2019) https://www.itma.ie/litmus/ontology

Lu C, Park J, Hu X (2010) User tags versus expert-assigned subject terms: a comparison of LibraryThing tags and library of congress subject headings. J Inf Sci 36(6):763–779. https://doi.org/10.1177/0165551510386173

Lyon L, Mattern E, Jeng W, He D (2016) Investigating perceptions and support for transparency and openness in research: using card sorting in a pilot study with academic librarians. Proc Assoc Info Sci Technol 53(1):1–5. https://doi.org/10.1002/Pra2.2016.14505301114

Mai J (2010) Classification in a social world: Bias and trust. J Doc 66(5):627–642. https://doi.org/10.1108/00220411011066763

Martínez-González MM, Alvite-Díez M-L (2014) On the evaluation of thesaurus tools compatible with the Semantic Web. J Inf Sci 40(6):711–722. https://doi.org/10.1177/0165551514545603

Olson H (2001) Sameness and difference: a cultural foundation of classification. LRTS 45(3):115–122. https://doi.org/10.5860/lrts.45n3.115

Park J, Tosaka Y (2010) Metadata creation practices in digital repositories and collections: Schemata, selection criteria, and interoperability. Inf Technol Libr 29(3):104–116. https://doi.org/10.6017/ital.v29i3.3136

Ryan C (2014) Report on the MoTif project: thesaurus guidelines and pilot thesaurus of Irish folklore. Royal Irish Academy and National Library of Ireland, Dublin

Shirky C (2005) Ontology is overrated: categories, links, and tags. Clay Shirky's Writings about the Internet. Economics & Culture, Media & Community. http://www.shirky.com/writings/ontology_overrated.html

Stone AT (2000) The LCSH century: a brief history of the Library of Congress subject headings, and introduction to the centennial essays. Cat Classif Q 29(1–2):1–15. https://doi.org/10.1300/J104v29n01_01

Svenonius E (2000) LCSH: semantics, syntax and specificity. Cat Classif Q 29(1–2):17–30. https://doi.org/10.1300/J104v29n01_02

Tuttle J (2012) The aphasia of modern subject access. Cat Classif Q 50(4):263–275. https://doi.org/10.1080/01639374.2011.641199

Vallely F (2011) The companion to Irish traditional music. Cork University Press, Cork

Walsh J (2011) The use of library of congress subject headings in digital collections. Libr Rev 60(4):328–343. https://doi.org/10.1108/00242531111127875

Young J, Mandelstam Y (2013) It takes a village: developing Library of Congress genre/form terms. Cat Classif Q. https://doi.org/10.1080/01639374.2012.715117

Zeng ML, Zeng ML, Mayr P, Mayr P (2019) Knowledge organization systems (KOS) in the semantic web: a multi-dimensional review. Int J Dig Libr 20(3):209–230. https://doi.org/10.1007/s00799-018-0241-2
Funding
The post-graduate research (MLIS) was funded by the Irish Traditional Music Archive.
Ethics declarations
Conflict of interest
Not applicable.
Additional information
Publisher's Note
Springer Nature remains neutral with regard to jurisdictional claims in published maps and institutional affiliations.
About this article
Cite this article
Harkin, T. Creating a Linked Data thesaurus for Irish traditional music. AI & Soc 37, 967–974 (2022). https://doi.org/10.1007/s00146-021-01366-y
Received:

Accepted:

Published:

Issue Date:

DOI: https://doi.org/10.1007/s00146-021-01366-y
Keywords
Linked data

Irish traditional music

Subject headings

Thesaurus

ITMA