Abstract
Our social relations are changing, we are now not just talking to each other, but we are now also talking to artificial intelligence (AI) assistants. We claim AI assistants present a new form of digital connectivity risk and a key aspect of this risk phenomenon is related to user risk awareness (or lack of) regarding AI assistant functionality. AI assistants present a significant societal risk phenomenon amplified by the global scale of the products and the increasing use in healthcare, education, business, and service industry. However, there appears to be little research concerning the need to not only understand the changing risks of AI assistant technologies but also how to frame and communicate the risks to users. How can users assess the risks without fully understanding the complexity of the technology? This is a challenging and unwelcome scenario. AI assistant technologies consist of a complex ecosystem and demand explicit and precise communication in terms of communicating and contextualising the new digital risk phenomenon. The paper then argues for the need to examine how to best to explain and support both domestic and commercial user risk awareness regarding AI assistants. To this end, we propose the method of creating a risk narrative which is focused on temporal points of changing societal connectivity and contextualised in terms of risk. We claim the connectivity risk narrative provides an effective medium in capturing, communicating, and contextualising the risks of AI assistants in a medium that can support explainability as a risk mitigation mechanism.
Access options
Buy single article
Instant access to the full article PDF.
US$ 39.95
Tax calculation will be finalised during checkout.
Subscribe to journal
Immediate online access to all issues from 2019. Subscription will auto renew annually.
US$ 79
Tax calculation will be finalised during checkout.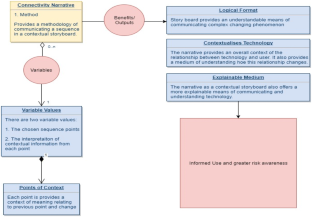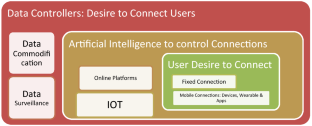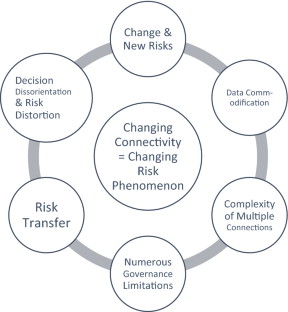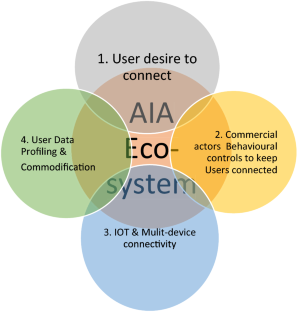 Notes
1.

By ad hoc here it means the creation or design of as a solution for a specific context or problem.

2.
References
Albrecht JP (2016) How the GDPR will change the world. Eur Data Prot L Rev 2:287

Alzahrani H (2016) Artificial intelligence: uses and misuses. Glob J Comput Sci Technol 16(1)

Amazon Press Release (2017) http://phx.corporate-ir.net/phoenix.zhtml?c=176060&p=irol-newsArticle&ID=2324045. Accessed June 2018

Amazon.com Help: Alexa Terms of Use (2019) https://www.amazon.com/gp/help/customer/display.html?nodeId=201809740. Accessed July 2019

Andrejevic M, Gates K (2014) Big data surveillance: introduction. Surveill Soc 12(2):185–196

Awad N, Krishnan M (2006) The personalization privacy paradox: an empirical evaluation of information transparency and the willingness to be profiled online for personalization. MIS Q 30(1):13–28. https://doi.org/10.2307/25148715

Bellet T, Cunneen M, Mullins M, Murphy F, Pütz F, Spickermann F, Braendle C, Baumann MF (2019) From semi to fully autonomous vehicles: new emerging risks and ethico-legal challenges for human-machine interactions. Transp Res Part F Traffic Psychol Behav 63:153–164

Barth S, De Jong MD (2017) The privacy paradox–investigating discrepancies between expressed privacy concerns and actual online behavior—a systematic literature review. Telemat Inform 34(7):1038–1058

Barth A, Datta A, Mitchell JC, Nissenbaum H (2006) Privacy and contextual integrity: framework and applications. In: 2006 IEEE symposium on security and privacy (S&P'06). IEEE, p 15

Bates DW, Saria S, Ohno-Machado L, Shah A, Escobar GJ (2014) Big data in health care: using analytics to identify and manage high-risk and high-cost patients. Health Aff 33(7):1123–1131

Berson IR, Ferron JM, Berson MJ (2002) Emerging risks of violence in the digital age. J Sch Violence 1(2):51–71

Bologa R, Bologa R, Florea A (2013) Big data and specific analysis methods for insurance fraud detection. Database Syst J 4(4):30–39

Bottis MC, Bouchagiar G (2018) Personal data v. Big data: challenges of commodification of personal data. Open J Philos 8(3):206–215

Canbek NG, Mutlu ME (2016) On the track of artificial intelligence: learning with intelligent personal assistants. J New Results Sci 13(1):592–601

Cate FH (2014) The big data debate. Science 346(6211):818

Chung H, Park J, Lee S (2017) Digital forensic approaches for Amazon Alexa ecosystem. Digital investigation, vol 22. https://sciencedirect.com/science/article/pii/s1742287617301974. Retrieved 22 Aug 2019

Crandall J, Song P (2013) A pointillism approach for natural language processing of social media. arXiv (Information Retrieval)

Cunneen M, Mullins M, Murphy F, Shannon D, Furxhi I, Ryan C (2019) Autonomous vehicles and avoiding the trolley (dilemma): vehicle perception, classification, and the challenges of framing decision ethics. Cybern Syst 1–22

Dale R (2015) The limits of intelligent personal assistants. Nat Lang Eng 21(2):325–329

Dale R (2017) The pros and cons of listening devices. Nat Lang Eng 23(6):969–973

de Wit JB, Das E, Vet R (2008) What works best: objective statistics or a personal testimonial? An assessment of the persuasive effects of different types of message evidence on risk perception. Health Psychol 27(1):110–115

Dhar V (2016) Equity, safety, and privacy in the autonomous vehicle era. IEEE Comput 49(11):80–83

Downs JS (2014) Prescriptive scientific narratives for communicating usable science. Proc Natl Acad Sci USA 111:13627–13633

Doyle T (2011) Helen Nissenbaum, privacy in context: technology, policy, and the integrity of social life. J Value Inq 45(1):97–102

Floridi L (2019) Translating principles into practices of digital ethics: five risks of being unethical. Philos Technol 1–9

Fumero A, Marrero RJ, Voltes D, Penate W (2018) Personal and social factors involved in internet addiction among adolescents: a meta-analysis. Comput Human Behav 86:387–400

Golding D, Krimsky S, Plough A (1992) Evaluating risk communication: narrative vs. Technical presentations of information about radon. Risk Anal 12(1):27–35

Gray S (2016) Always on: privacy implications of microphone-enabled devices. In: Future of privacy forum

Gunkel D (2014) Social contract 2.0: terms of service agreements and political theory. J Media Crit 1:145–168

Guzman A (2017) Making AI safe for humans: a conversation with Siri. Routledge, London, pp 69–85

Hasebrink U, Goerzig A, Haddon L, Kalmus V, Livingstone S (2011) Patterns of risk and safety online: in-depth analyses from the EU Kids Online survey. https://core.ac.uk/download/pdf/221597.pdf. Accessed Apr 2019

Helbing D, Frey BS, Gigerenzer G, Hafen E, Hagner M, Hofstetter Y, Zwitter A (2019) Will democracy survive big data and artificial intelligence? Towards digital enlightenment. Springer, Cham, pp 73–98

Henwood K, Pidgeon N, Parkhill K, Simmons P (2011) Researching risk: Narrative, biography, subjectivity. Hist Soc Res/Historische Sozialforschung 36(4):251–272

Heyvaert M, Maes B, Onghena P (2013) Mixed methods research synthesis: definition, framework, and potential. Qual Quant 47(2):659–676

Hildebrandt M (2013) Slaves to big data. Or are we? Rev Internet Derecho Política 17:7–44

Hildebrandt M (2015) Smart technologies and the end (s) of law: novel entanglements of law and technology. Edward Elgar Publishing, London

Hildebrandt M, O'Hara K, Waidner M (2013) The value of personal data. Digital enlightenment yearbook 2013. IOS Press, Amsterdam

Janeček V (2018) Ownership of personal data in the internet of things (December 1, 2017). Comput Law Secur Rev 34(5):1039–1052. https://doi.org/10.2139/ssrn.3111047

Kshetri N, Voas J (2018) Cyberthreats under the Bed. Computer 51(5):92–95

Lopatovska I, Rink K, Knight I, Raines K, Cosenza K, Williams H, Sorsche P, Hirsch D, Li Q, Martinez A (2018) Talk to me: exploring user interactions with the Amazon Alexa. J Librariansh Inf Sci 96100061875941

Lupton D (2016) Digital risk society. In: Burgess A, Alemanno A, Zinn J (eds) The Routledge hand-book of risk studies. Routledge, London, pp 301–309

Mairal G (2008) Narratives of risk. J Risk Res 11(1):41–54

Marchant GE, Allenby BR, Herkert JR (2011) The growing gap between emerging technologies and legal-ethical oversight: the pacing problem. In: The international library of ethics, law and technology

Martin A (2008) Digital literacy and the digital society. Digit Literacies Concepts Policies Pract 30:151–176

Matzner T (2014) Why privacy is not enough privacy in the context of "ubiquitous computing" and "big data". J Inf Commun Ethics Soc 12(2):93–106

McLean G, Osei-Frimpong K (2019) Hey Alexa… examine the variables influencing the use of artificial intelligent in-home voice assistants. Comput Hum Behav 99:28–37

Middleton CA (2007) Illusions of balance and control in an always-on environment: a case study of BlackBerry users. Continuum 21(2):165–178

Mitchell MC, Egudo M (2003) A review of narrative methodology (no. DSTO-GD-0385). Def Sci Technol Organ Edinb (Australia) Land Oper Div

Mote K (2012) Natural language processing - a survey. Computation and language. arXiv:1209.6238

Nadkarni PM, Ohno-Machado L, Chapman WW (2011) Natural language processing: an introduction. J Am Med Inform Assoc 18(5):544–551

Nissenbaum H (2004) Privacy as contextual integrity. Wash Law Rev 79(1):119–157

Nissenbaum H (2017) Deregulating collection: must privacy give way to use regulation? Soc Sci Res Netw

Otway H, Thomas K (1982) Reflections on risk perception and policy 1,2. Risk Anal 2(2):69–82

Paefgen J, Staake T, Thiesse F (2013) Evaluation and aggregation of pay-as-you-drive insurance rate factors. Decis Support Syst 56:192–201

Papacharissi Z (2010) Privacy as a luxury commodity. First Monday 15(8):2

Parthasarathy S (2004) Regulating risk: defining genetic privacy in the United States and Britain. Sci Technol Hum Values 29(3):332–352

Pierson J, Heyman R (2011) Social media and cookies: challenges for online privacy. Info 13(6):30–42

Preece A (2018) Asking 'Why' in AI: explainability of intelligent systems—perspectives and challenges. Intell Syst Account Financ Manag 25:63–72. https://doi.org/10.1002/isaf.1422

Rosen J (2012) The right to be forgotten. Stanford Law Review. Available from http://www.stanfordlawreview.org/online/privacy-paradox/right-to-be-forgotten. Accessed 14 Nov 2018

Sciutti A, Mara A, Tagliasco V, Sandini G (2018) Humanizing human–robot interaction: on the importance of mutual understanding. IEEE Technol Soc Mag 37(1):22–29

Turkle S (2006) Always-on/Always-on-you: the tethered self. Handbook of mobile communication studies, 121

Turkle S (2010) In good company? On the threshold of robotic companions. Close engagements with artificial companions: key. John Benjamins, Amsterdam

Turkle S (2011) The tethered self: technology reinvents intimacy and solitude. Contin High Educ Rev 75:29

Van Loon J (2003) Risk and technological culture: towards a sociology of virulence

Venkatadri G, Andreou A, Liu Y, Mislove A, Gummadi KP, Loiseau P, Goga O (2018) Privacy risks with facebook's PII-based targeting: auditing a data broker's advertising interface. In: 2018 IEEE symposium on security and privacy (SP). IEEE, pp 89–107

Weizenbaum J (1966) ELIZA—a computer program for the study of natural language communication between man and machine. Commun ACM 9(1):36–45

Zuboff S (1988) Dilemmas of transformation in the age of the smart machine. PUB TYPE 81

Zuboff S (1996) The emperor's new information economy. In: Information technology and changes in organizational work. Springer, Boston, MA, pp 13–17

Zuboff S (2019) Surveillance capitalism and the challenge of collective action. In: New labor forum, vol 28, No. 1. SAGE Publications, Sage, Los Angeles, CA, pp 10–29
Additional information
Publisher's Note
Springer Nature remains neutral with regard to jurisdictional claims in published maps and institutional affiliations.
About this article
Cite this article
Cunneen, M., Mullins, M. & Murphy, F. Artificial intelligence assistants and risk: framing a connectivity risk narrative. AI & Soc 35, 625–634 (2020). https://doi.org/10.1007/s00146-019-00916-9
Received:

Accepted:

Published:

Issue Date:
Keywords
Artificial intelligence assistants

Risk

Connectivity

Narratology

Risk communication

Risk perception

Explainability

Informed consent

Data commodification

Data monetisation