Abstract
This paper discusses the correlation balance of transport as a dynamic system and the economic growth of specific regions and countries expressed in gross domestic product (GDP). The contemporary transformation processes of the input resources to the desired outcomes need new intelligent approaches based on new information system techniques. These research determinations are specifically focused on achieving the objective of providing with the analyses concerned with giving a more estimated answer to some of the complex questions related to the economic dynamics, new information technologies, sustainable development, and transport. The assumption is that transport can be considered as one of the most influential and vibrant systems of the economy. Taking into consideration that transport system is a dynamic system which is continually changing in time and space, to maintain functioning and competing level, it should be enabled and followed by the high communication and operation technology. From this assumption, a research an interesting question has arisen: do transport contribution to the GDP increases, of the same is decreasing over time? To answer this answer, a research encompassed the mix research methodology combined with qualitative and quantitative research features. The qualitative research conclusions represent the identified and defined factors which determine the relationship between transport and the economy. The quantitative research is oriented in generating information and knowledge based on statistical data which provide with the evidence about the more realistic relationship between transport and the economy. The main goal of this research paper is to provide decision makers, planners, and academic spectrum with a demanding clarification of the applied relationship between the transport system and the economic development of a country or a region in terms of economic growth expressed in GDP, and to make them aware with regard to the implementation of new technology, new information systems, and smart or intelligence approaches within the field.
Access options
Buy single article
Instant access to the full article PDF.
USD 39.95
Price excludes VAT (USA)
Tax calculation will be finalised during checkout.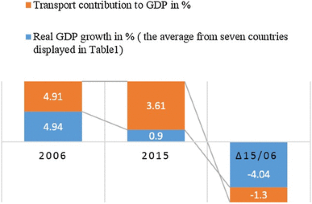 References
Banister D, Berechman Y (2000) The economic development effects of transport investments. UCL Press, London

Banister D, Berechman Y (2001) Transport investment and the promotion of economic growth. J Transp Geogr 9(3):209–218

Banister D, Berechman J (2003). Transport investment and economic development. UCL Press, London

Benitez D, Estache A, SSreide T (2012). Infrastructure policy and governance failures. SSRN Electr J

Berechman J, Ozmen D, Ozbay K (2006) Empirical analysis of transportation investment and economic development at state,county and municipality levels. Transportation 33:pp 537–551

Bock K, Trück S (2011) Assessing uncertainty and risk in public sector investment projects. Technology Investment 02(02):105–123

Casey J, Lippe Norwood J (2002) Key transportation indicators, 1st edn. DC National Academy Press, Washington

Chatman D, Noland R (2011) Do public transport improvements increase agglomeration economies? A review of literature and an agenda for research. Transp Rev 31(6):725–742

Crafts N (2009) Transport infrastructure investment: implications for growth and productivity. Oxf Rev Econ Policy 25(3):327–343

DFT (2011) Transport analysis guidance (TAG. Cost Benefit Analysis. TAG Unit 3.5.4 [online]. http://www.dft.gov.uk/webtag/documents/expert/pdf/unit3.5.4.pdf

EC (2011) EU transport in figures. Statistical pocketbook. Publications Office of the European Union, Luxemburg

EC (2015) EU transport in figures. Statistical pocketbook 2015. Publication Office of the European Union, Luxemburg

Ecola L, Wachs M (2012) Exploring the relationship between travel demand and economic growth. http://www.fhwa.dot.gov/policy/otps/pubs/vmt_gdp/ (Online)

Goodwin P, Dargay J, Hanly M (2004) Elasticities of road traffic and fuel consumption with respect to price and income:a review. Transp Rev 24(3):275–292. http://www.tandfonline.com/doi/full/10.1080/0144164042000181725?scroll=top&needAccess=true (Online)

Greene D et.al (1997) The full costs and benefits of transportation. Springer, Berlin

Gurgul H, Lach Ł (2012) Two deficits and economic growth: case of CEE countries in transition. Manag Econ 12:79

Herrendorf B, Schmitz J Jr, Teixeira A (2012) The role of transportation in US economic development: 1840–1860. Int Econ Rev 53(3):693–716

IMF (2013) IMF Multi-country report. International Monetary Fund [Online]. https://www.imf.org/~/media/external/pubs/ft/scr/2013/cr13263.ashx

International Transport Forum (2013) Understanding the value of transport infrastructure. Guidelines for macro-level measurement of spending and assets. http://www.itf-oecd.org/sites/default/files/docs/13value.pdf (Online)

ITF (2010) Cost-benefit analysis in transport—a UK perspective.Institute for Transport Studies, University of Leeds. Discussion paper no. 2010-16.Prepared for the OECD/ITF Round Table. OECD, Mexico

ITF (2011) Cart or horse: transport and economic growth. Discussion paper no. 2011-4. International Transport Forum/OECD, Paris

Jawad D, Ozbay K (2006) The discount rate in life cycle-cost analysis of transportation projects. In: 85th annual meeting of the transportation research board, National Academy of Science

Kernohan D, Rognlien L (2011) Wider economic impacts of transport investments in New Zealand. New Zealand Transport Agency. http://www.nzta.govt.nz/resources/research/reports/448/docs/448.pdf (Online)

Kosova Government (2015) Sectorial strategy and multimodal transport 2015–2025 and the action plan for 5 years. Ministry of Infrastructure. http://www.kryeministri-ks.net/repository/docs/SECTORIAL_STRATEGY_AND_MULTIMODAL_TRANSPORT_2015-2025_AND_ACTION_PLAN_FOR_5_YEARS.pdf (Online)

Limani Y (2016) Applied relationship between transport and economy. IFAC 49(29):123–128

Limani Y, Beqaj B (2013) Improving transport planning policy in developing countries of Balkan region using inclusive integration methodology: exploration and comparative development. IFAC Proc Vol 46(8):95–100

Mackie P, Worsley T (2013) International comparisons of transport appraisal practice. University of Leeds. https://workspace.imperial.ac.uk/ref/Public/UoA%2014%20-%20Civil%20and%20Construction%20Engineering/Wider%20economic%20Impacts/K%20Worsley%20report.pdf

Ministry of Internal Affairs and Communication (2011) Statistics bureau. Director-General for Policy Planning and Statistical Research and Training Institute,Japan. http://www.stat.go.jp/english/data/roudou/lngindex.htm (Online)

Ministry of Transport (2015) Freight and the transport industry: transport and gross domestic product (GDP) [online]. http://www.transport.govt.nz/ourwork/tmif/freighttransportindustry/ft003/

Norwood J, Casey J (2002) Key transportation indicators: summary of a workshop. National Academy Press, Washington, DC

OECD (2006) Decoupling the environmental impacts of transport from economic growth. OECD Publishing, Paris

OECD (2014) Highlights of the international transport forum 2013: funding transport: session summaries. OECD Publishing, Paris

OECD (2017) Transport infrastructure investment, maintenance spending and infrastructure capital value. https://stats.oecd.org/Index.aspx?DataSetCode=ITF_INV-MTN_DATA (Online)

Rodrigue JP (2013) The geography of transport systems. Routledge, New York

Sousa C, Roseta-Palma C, Martins L (2015) Economic growth and transport: on the road to sustainability. Nat Res Forum 39(1):3–14

Statistics Canada (2015) Recent developments in the Canadian economy: Fall 2015. http://www.statcan.gc.ca/pub/11-626-x/11-626-x2015053-eng.pdf

Statistics New Zealand (2016) Gross domestic product—information releases. http://www.stats.govt.nz/browse_for_stats/economic_indicators/GDP/info-releases.aspx (Online)

Trading Economics (2016a) Canada GDP from transport. http://www.tradingeconomics.com/canada/gdp-from-transport (Online)

Trading Economics (2016b) China GDP from transport. http://www.tradingeconomics.com/china/gdp-from-transport (Online)

Trading Economics (2016c) Japan GDP from transport. http://www.tradingeconomics.com/japan/gdp-from-transport (Online)

Trading Economics (2016d). New Zealand GDP from transport. http://www.tradingeconomics.com/new-zealand/gdp-from-transport (Online)

Trading Economics (2016e). Russia GDP from transport. http://www.tradingeconomics.com/russia/gdp-from-transport (Online)

Trading Economics (2017). GDP from transport-countries-list. https://tradingeconomics.com/country-list/gdp-from-transport (Online)

US DOT (2011) Research and innovative technology administration bureau of transportation statistics. National Transportation Statistics, Washington

World Bank (2014) Kosovo—public finance review: fiscal policies for a young nation. Public expenditure review (PER). World Bank Group, Washington, DC. http://documents.worldbank.org/curated/en/654811468270617376/Kosovo-Public-finance-review-fiscal-policies-for-a-young-nation (Online)

World Bank (2016) Global economic prospects June 2016 divergences and risks. http://pubdocs.worldbank.org/pubdocs/publicdoc/2016/5/842861463605615468/Global-Economic-Prospects-June-2016-Divergences-and-risks.pdf (Online)

World Bank (2017) GDP per capita (current US$)|data. http://data.worldbank.org/indicator/NY.GDP.PCAP.CD (Online)
About this article
Cite this article
Limani, Y. System-thinking approach to the applied interaction between transport and economy. AI & Soc 33, 275–289 (2018). https://doi.org/10.1007/s00146-018-0817-9
Received:

Accepted:

Published:

Issue Date:

DOI: https://doi.org/10.1007/s00146-018-0817-9
Keywords