Abstract
With increasing technological improvements, production processes are becoming more and more automated. Nevertheless, full automation is improbable in the medium term since human abilities cannot yet be completely replaced. Therefore, it is likely that so-called hybrid human–robot teams will assume the future production. This raises questions regarding the shaping of future production and the effects it will have on the employees, workstations, and the companies as a whole. The project "Work in the Industry of the Future" (ARIZ) addresses the entirely new cooperative relationship between man and technology in the Industry 4.0 and its impact on opportunities for the work force. To derive the requirements and effects of hybrid workplaces, an initial work analysis of existing workplaces with varying levels of technological enhancement (manual workplaces, workplaces with co-existing robots and fully automated workplaces) will be conducted. Multiple standardized work analysis instruments that vary in method, duration, level of analysis, and recorded characteristics already exist. This paper gives an overview of an assortment of these methods that can be used in production.
This is a preview of subscription content, log in to check access.
Access options
Buy single article
Instant access to the full article PDF.
US$ 39.95
Price includes VAT for USA
Subscribe to journal
Immediate online access to all issues from 2019. Subscription will auto renew annually.
US$ 99
This is the net price. Taxes to be calculated in checkout.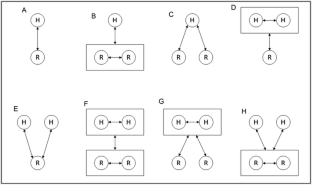 References
Bundesministerium für Bildung und Forschung (2013) Zukunftsbild "Industrie 4.0", Bonn

Escher OP (1997) Unternehmen arbeitspsychologisch bewerten: ein Mehr-Ebenen-Ansatz unter besonderer Berücksichtigung von Mensch, Technik und Organisation, vol 10. vdf Hochschulverlag AG

Fink RD, Weyer J (2011) Autonome Technik als Herausforderung der soziologischen Handlungstheorie. Zeitschrift für Soziologie 40(2):91–111

Fong T, Nourbakhsh I (2005) Interaction challenges in human-robot space exploration. Interactions 12(2):42–45

Freedy A, DeVisser E, Weltman G, Coeyman N (2007) Measurement of trust in human-robot collaboration. In: 2007 international symposium on collaborative technologies and systems. IEEE, pp 106–114

Frieling E, Facaoaru C, Benedix I, Pfaus H, Sonntag K (1999) Tätigkeitsanalyseinventar (TAI). In: Dunckel, Heiner (eds) Handbuch psychologischer Arbeitsanalyseverfahren. vdf Hochschulverlag AG

Gebhardt H, Müller BH, Peters H (2003) Instrumente des Arbeits- und Gesundheitsschutzes: Das Belastungs-Dokumentations-System (BDS) und die Beurteilung arbeitsbedingter Belastungen (BAB). REFA-Nachrichten

Green SA, Billinghurst M, Chen X, Chase JG (2008) Human-robot collaboration: a literature review and augmented reality approach in design. Int J Adv Rob Syst 5(1):1. doi:10.5772/5664

Grote G, Weik S, Wäfler T, Zölch U, Ryser C (1999) KOMPASS: Komplementäre Analyse und Gestaltung von Produktionsaufgaben in soziotechnischen Systemen. In: Dunckel, Heiner (eds) Handbuch psychologischer Arbeitsanalyseverfahren. vdf Hochschulverlag AG, pp 255–284

Hacker W (1984) Psychologische Bewertung von Arbeitsgestaltungsmaßnahmen: Ziele und Bewertungsmaßstäbe, Zweite, veränderte und ergänzte Auflage. Spezielle Arbeits- und Ingenieurpsychologie in Einzeldarstellungen, vol 1. Springer Berlin Heidelberg, Berlin, Heidelberg

Hacker W (1986) Arbeitspsychologie: Psychische Regulation von Arbeitstätigkeiten. Schriften zur Arbeitspsychologie, Nr. 41. Huber, Bern

Hackman JR, Oldham GR (1975) Development of the job diagnostic survey. J Appl Psychol 60(2):159–170

Heyer C (2010) Human-robot interaction and future industrial robotics applications. In: IEEE/RSJ international conference on intelligent robots and systems (IROS), 2010: 18–22 Oct. 2010, Taipei, Taiwan. IEEE, Piscataway, NJ, pp 4749–4754

Hormel R (1993) Arbeitspsychologische Unterstützung betrieblicher Planungs-und Problemlöseprozesse: Entwicklung und Einsatz arbeitsanalytischer Methoden des Planungskonzepts Technik-Arbeit-Innovation (P-TAI). Hampp

Hoyos CG, Ruppert F (1995) Safety diagnosis in industrial work settings: the safety diagnosis questionnaire. J Saf Res 26(2):107–117

Jahoda M (1981) Work, employment, and unemployment: values, theories, and approaches in social research. Am Psychol 36(2):184–191. doi:10.1037/0003-066X.36.2.184

Kagermann H, Wahlster W, Helbig J (2013) Umsetzungsempfehlungen für das Zukunftsprojekt Industrie 4.0: Abschlussbericht des Arbeitskreises Industrie 4.0. acatech

Kannheiser W (1983) Theorie der Tätigkeit als Grundlage eines Modells von Arbeitsstress: Psychologie und Praxis. Zeitschrift für Arbeits- und Organisationspsychologie Ausgabe: 102–110

Kannheiser W (1984) Erfassung potentiell beanspruchungsrelevanter organisatorisch-technischer Bedingungsstrukturen von Arbeitstätigkeiten, Uni Kassel

Latour B (2014) Eine neue Soziologie für eine neue Gesellschaft: Einführung in die Akteur-Netzwerk-Theorie, 3. Aufl. Suhrkamp-Taschenbuch Wissenschaft, vol 1967. Suhrkamp, Berlin

McCormick EJ, Jeanneret PR, Mecham RC (1969) The development and background of the Position Analysis Questionnaire (PAQ), Lafayette, Indiana

Miller GA, Galanter E, Pribram KH (2013) Plans and the structure of behavior. Martino fine books, United States

Oesterreich R (1981) Handlungsregulation und Kontrolle. U & S Psychologie. Forschung. Urban u, Schwarzenberg

Oesterreich R, Leitner K, Resch M (2000) Analyse psychischer Anforderungen und Belastungen in der Produktionsarbeit: das Verfahren RHIA-VERA-Produktion. Manual und Antwortblätter. Hogrefe, Verlag für Psychologie, Göttingen

Onnasch L, Maier X, Jürgensohn T (2016) Mensch-Roboter-Interaktion-Eine Taxonomie für alle Anwendungsfälle, 1st edn. Bundesanstalt für Arbeitsschutz und Arbeitsmedizin (BAuA), Dortmund

Plath H-E, Richter P (1984) Ermüdung-Monotonie-Sättigung-Streß: Verfahren zur skalierten Erfassung erlebter Beanspruchungsfolgen. Hogrefe, Göttingen

Pohlandt A, Hacker W, Richter P (1999) Tätigkeitsbewertungssystem (TBS). In: Dunckel, Heiner (eds) Handbuch psychologischer Arbeitsanalyseverfahren. vdf Hochschulverlag AG

Prümper J (2010) KFZA—Kurz-Fragebogen zur Arbeitsanalyse. In: Sarges W, Wottawa H, Ross C (eds) Handbuch Wirtschaftspsychologischer Testverfahren: Band II: Organisationspsychologische Instrumente. Pabst-Verlag, Lengerich

Rohmert W, Landau K (1979) Das arbeitswissenschaftliche Erhebungsverfahren zur Tätigkeitsanalyse:(AET). Huber, Handbuch

Rohmert W, Rutenfranz J (1975) Arbeitswissenschaftliche Beurteilung der Belastung und Beanspruchung an unterschiedlichen industriellen Arbeitsplätzen. Der Bundesminister für Arbeit und Sozialordnung

Schmidtke H (1976) Ergonomische Bewertung von Arbeitssystemen: Entwurf e. Verfahrens, 1. Aufl. Texte zur Arbeitswissenschaft. Hanser, München, Wien

Schmidtler J, Knott V, Hölzel C, Bengler K, Schlick CM, Bützler J (2015) Human centered assistance applications for the working environment of the future. OER 12(3):83–95. doi:10.3233/OER-150226

Semmer N, Zapf D, Dunckel H (1995) Assessing stress at work: a framework and an instrument. In: Work and health: scientific basis of progress in the working environment, pp 105–113

Tielsch R, Hofmann A, Häcker H (1993) FEMA: Fragebogen zur Erfassung Mentaler Arbeitsbelastungen. Erste Ergebnisse einer Validierungsstudie im industriellen Bereich. Zeitschrift für Arbeits-und Organisationspsychologie 37(2):86–93

Wachter H, Modrow-Thiel B, Rossmann G (1993) Work design and computer controlled systems: job analysis under automation-ATAA. Int Manuf Syst 4(2):20–28

Yanco HA, Drury J (2004) Classifying human-robot interaction: An updated taxonomy. In: systems, man and cybernetics, 2004 IEEE International Conference on, vol 3, pp 2841–2846
Acknowledgements
This research and development project is funded by the German Federal Ministry of Education and Research (BMBF) within the "Innovations for Tomorrow's Production, Services, and Work" Program (funding number 02L14Z000) and managed by the Project Management Agency Karlsruhe (PTKA). The author is responsible for the content of this publication.
About this article
Cite this article
Müller, S.L., Shehadeh, M.A., Schröder, S. et al. An overview of work analysis instruments for hybrid production workplaces. AI & Soc 33, 425–432 (2018). https://doi.org/10.1007/s00146-017-0757-9
Received:

Accepted:

Published:

Issue Date:
Keywords
Work analysis

Hybrid workplaces

Industry 4.0

Future production