Abstract
Nowadays, social media analysis systems are feeding on user contributed data, either for beneficial purposes, such as emergency management, or for user profiling and mass surveillance. Here, we carry out a discussion about the power and pitfalls of public accessibility to social media-based systems, with specific regards to the emergency management application EARS (Earthquake Alert and Report System). We investigate whether opening such systems to the population at large would further strengthen the link between communities of volunteer citizens, intelligent systems, and decision makers, thus going in the direction of developing more sustainable and resilient societies. Our analysis highlights fundamental challenges and provides interesting insights into a number of research directions with the aim of developing human-centered social media-based systems.
This is a preview of subscription content, log in to check access.
Access options
Buy single article
Instant access to the full article PDF.
US$ 39.95
Tax calculation will be finalised during checkout.
Subscribe to journal
Immediate online access to all issues from 2019. Subscription will auto renew annually.
US$ 99
Tax calculation will be finalised during checkout.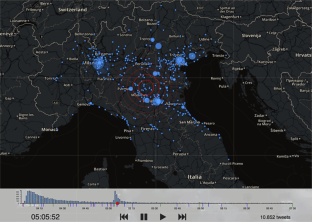 References
Avvenuti M, Cimino MGCA, Cresci S, Marchetti A, Tesconi M (2016) A framework for detecting unfolding emergencies using humans as sensors. SpringerPlus 5(1):43

Avvenuti M, Cresci S, Del Vigna F, Tesconi M (2016) Impromptu crisis mapping to prioritize emergency response. Computer 49(5):28–37

Avvenuti M, Cresci S, La Polla M, Marchetti A, Tesconi M (2014) Earthquake emergency management by social sensing. In: Pervasive computing and communications workshops (PERCOM workshops), 2014 IEEE international conference on, pp 587–592

Avvenuti M, Cresci S, Marchetti A, Meletti C, Tesconi M (2014) EARS (Earthquake Alert and Report System): A real time decision support system for earthquake crisis management. In: Proceedings of the 20th ACM SIGKDD international conference on knowledge discovery and data mining, pp 1749–1758

Avvenuti M, Cresci S, Marchetti A, Meletti C, Tesconi M (2016) Predictability or early warning: using social media in modern emergency response. IEEE Internet Comput 20(6):4–6

Avvenuti M, Del Vigna F, Cresci S, Marchetti A, Tesconi M (2015) Pulling information from social media in the aftermath of unpredictable disasters. In: Information and communication technologies for disaster manage-ment (ICT-DM), 2015 IEEE 2nd international conference, pp 258–264

Bagrow JP, Wang D, Barabasi AL (2011) Collective response of human populations to large-scale emergencies.  PloS one 6(3):e17680

Ball K, Webster F (2003) The intensification of surveillance: crime, terrorism and warfare in the information age. Pluto Press, London

Castillo C, Mendoza M, Poblete B (2011) Information credibility on twitter. In: Proceedings of the 20th ACM international conference on World Wide Web, pp 675–684

Coleman S, Blumler JG (2009) The internet and democratic citizenship: theory, practice and policy 1. Cambridge University Press, Cambridge

Cresci S, Cimino A, Dell'Orletta F, Tesconi M (2015) Crisis mapping during natural disasters via text analysis of social media messages. In: Proceedings of the International Conference on Web Information Systems Engineering—WISE 2015, pp 250–258

Cresci S, Di Pietro R, Petrocchi M, Spognardi A, Tesconi M (2015) Fame for sale: efficient detection of fake Twitter followers. Decis Support Syst 80:56–71

Cresci S, Di Pietro R, Petrocchi M, Spognardi A, Tesconi M (2016) DNA-inspired online behavioral modeling and its application to spambot detection. IEEE Intell Syst 31(5):58–64

Cresci S, Tesconi M, Cimino A, Dell'Orletta F (2015) A linguistically driven approach to cross-event damage assessment of natural disasters from social media messages. In: Proceedings of the 24th international conference companion on World Wide Web, pp 1195–1200

Del Vigna F, Avvenuti M, Bacciu C, Deluca P, Petrocchi M, Marchetti A, Tesconi M (2016) Spotting the diffusion of new psychoactive substances over the internet. In: International symposium on intelligent data analysis, pp 86–97

Del Vigna F, Petrocchi M, Tommasi A, Zavattari C, Tesconi M (2016) Semi-supervised knowledge extraction for detection of drugs and their effects. In: International conference on social informatics, pp 494–509

Earle PS, Bowden DC, Guy M (2012) Twitter earthquake detection: earthquake monitoring in a social world. Ann Geophys 54(6):708–715

Gill KS (2013) Citizens and netizens: a contemplation on ubiquitous technology. AI Soc 28(2):131–132

Hughes AL, Palen L (2009) Twitter adoption and use in mass convergence and emergency events. Int J Emerg Manag 6(3–4):248–260

Imran M, Castillo C, Lucas J, Meier P, Vieweg S (2014) AIDR: Artificial intelligence for disaster response. In: Proceedings of the companion publication of the 23rd ACM international conference on World Wide Web companion, pp 159–162

Kavanaugh A, Ahuja A, Pérez-Quiñones M, Tedesco J, Madondo K (2013) Encouraging civic participation through local news aggregation. In: Proceedings of the 14th annual international conference on digital government research, pp 172–179

Kavanaugh AL, Fox EA, Sheetz SD, Yang S, Li LT, Shoemaker DJ, Xie L (2012) Social media use by government: from the routine to the critical. Gov Inf Q 29(4):480–491

Middleton SE, Middleton L, Modafferi S (2014) Real-time crisis mapping of natural disasters using social media. IEEE Intell Syst 29(2):9–17

Roche S, Propeck-Zimmermann E, Mericskay B (2013) Geoweb and crisis management: Issues and perspectives of volunteered geographic information. Geo J 78(1):21–40

Russell SJ, Norvig P, Canny JF, Malik JM, Edwards DD (2003) Artificial intelligence: a modern approach. Prentice Hall, Upper Saddle River

Sakaki T, Okazaki M, Matsuo Y (2013) Tweet analysis for real-time event detection and earthquake reporting system development. IEEE Trans Knowl Data Eng TKDE 25(4):919–931

Sheth AP (2009) Citizen sensing, social signals, and enriching human experience. IEEE Internet Comput 13(4):87

Vieweg S, Hodges A (2014) Rethinking context: leveraging human and machine computation in disaster response. Computer 47(4):22–27

Vieweg S, Palen L, Liu SB, Hughes AL, Sutton J (2008) Collective intelligence in disaster: an examination of the phenomenon in the aftermath of the 2007 virginia tech shootings. In: Proceedings of the information systems for crisis response and management conference (ISCRAM)

Yin J, Lampert A, Cameron M, Robinson B, Power R (2012) Using social media to enhance emergency situation awareness. IEEE Intell Syst 27(6):52–59
About this article
Cite this article
Avvenuti, M., Cresci, S., Vigna, F.D. et al. On the need of opening up crowdsourced emergency management systems. AI & Soc 33, 55–60 (2018). https://doi.org/10.1007/s00146-017-0709-4
Received:

Accepted:

Published:

Issue Date:
Keywords
Social sensing

Social media mining

Collective intelligence

Emergency management

Crisis informatics