Abstract
The design process in Kashmiri carpet weaving is a distributed process encompassing a number of actors and artifacts. These include a designer called naqash who creates the design on graphs, and a coder called talim-guru who encodes that design in a specific notation called talim which is deciphered and interpreted by the weavers to weave the design. The technological interventions over the years have influenced these artifacts considerably and triggered major changes in the practice, from heralding profound cognitive accomplishments in manually driven design process causing major alterations in the overall structure of the practice. The recent intervention is by the digital technology: on the one hand, it has brought precision and speedy processing in the design process, and on the other, it has eliminated some of the crucial actors from the practice. This paper, which forms part of a larger study on the situated and distributed cognitive process in Kashmiri carpet-weaving practice, describes the technological makeover of the design artifacts involved in this practice over the years and their resultant cognitive impact on the design process as well as on the practice.
Access options
Buy single article
Instant access to the full article PDF.
USD 39.95
Price includes VAT (USA)
Tax calculation will be finalised during checkout.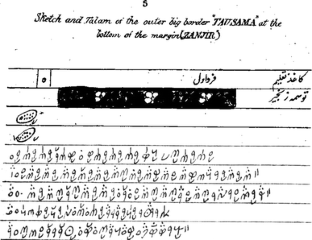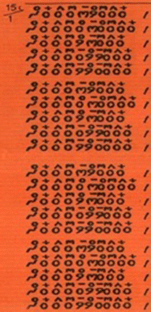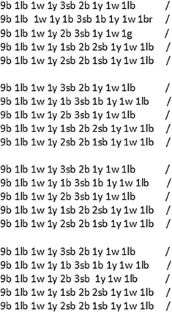 Notes
1.

2.

3.

There is no consensus on the term for 'talim-copyist' in local jargon as community knows them as copyist or copier only. A few elderly respondents recall these actors being referred as nakkaal or nakal-karanvol in olden times.

4.

Warp threads are vertically fixed on the loom and weft-threads are those with which knots are tied on these threads. As such, weft-threads run horizontally, left to right and vice versa, on the loom. One knot is a cross-tie of vertical and horizontal threads, and consequently, can be represented in a grid-like structure.

5.

In shawl-weaving, the loom is positioned horizontally as if going from the lap of the weaver to beyond, because of which the graph can be placed beneath the warp threads, while in carpet-weaving, the loom is vertically positioned and warp threads are fixed like drapes.

6.

A clear difference between Leitner's description of design process vis-à-vis traditional version can be discerned: while tarah-guru is skipped, the role and arrangement of other actors is altered. The coding is done by the 'head of the manufactory' instead of a talim-writer, who recites the instructions by 'estimating' them from the plan directly laid beneath the warp threads, which talim-nawis listens and writes down.

7.

The IICT Report (2009: 30) shows a talim numeral-table up to 100 which uses a novel style of representing numbers beyond 20. Instead of using number of dots to represent multiples of 10, the number-code of that numeral is used inside the tilted-circle instead of dots. For instance, Leitner would use, three dots and the unit-numeral to represent 32 (or as per "outside notation" (p.15) form), this report uses code of three for three dots and unit-numeral outside the tilted-circle like this for 32. Evidently, this is cognitively more efficient system, yet, this is not used in actual talim-writing which requires distribution of knots in 20–24 knots per columnar-row only. One exception: the same report shows for 9 which resembles Leitner's version. In digital setting, nowadays, is used; hence I used this symbol in my numeral-table. In manual setting, a talim-writer may also use for 9 depending on her choice.

8.
References
Artman H, Garbis C (1998) Situation awareness as distributed cognition. In: Proceedings of the European conference on cognitive ergonomics—9, Limerick

Ball LJ, Ormerod TC (2000) Putting ethnography to work: the case for a cognitive ethnography of design. Int J Hum Comput Stud 53:147–168

Badke-Schaub P, Frankenberger E (2004) Design representations in critical situations of product development. In: Goldschmidt G and Porter WL (eds) Design representation. Springer-Verlag, London, 105–126

Bertelsen OW (2000) Design artefacts: towards a design oriented epistemology. Scand J Inf Syst 12:15–27

Brown P (2009) CAD: do computers aid the design process after all? Intersect 2(1):1–15

Bucciarelli LL (1988) An ethnographic perspective to engineering design. Des Stud 9(3):159–168

Cross N (1998) Natural intelligence in design. Des Stud 20:25–39

Dennett D (1987) Cognitive wheels: the frame problem of AI. In: Pylyshyn Z (ed) The robot's dilemma: the frame problem in artificial intelligence. Ablex Publishing, New York, pp 41–64

Dewan P (2013) Amazing Kashmir: almost everything about travel, trekking, religion, culture, wildlife. Manas Publications, New Delhi

Dorst K, Dijkhuis J (1995) Comparing paradigms for describing design activity. Des Stud 16(2):261–274

Dubbels B (2011) Cognitive ethnography: a methodology for measure and analysis of learning for game studies. Int J Gaming Comput Mediat Simul 3(1):68–78

Eastman CM (1969) Cognitive processes and ill-defined problems: a case study from design. In: Proceedings of the 1st international joint conference on artificial intelligence (IJCAI'69), pp 669–690

Eckert CM, Blackwell AF, Stacey MK, Earl CF (2004) Sketching across design domains. In: Gero JS, Tversky B, Knight T (eds) Visual and spatial reasoning in design-iii. University of Sydney, Camperdown, pp 79–101

Eistentraut R (1997) Styles of problem solving and their influence on the design process. Des Stud 20(5):431–437

Eriksen MA (2009) Engaging design materials, formats and framings in specific, situated co-designing: a micro-material perspective. In: Proceedings of the Nordic design research conference, Oslo, Norway

Ford PRJ (1981) Oriental carpet design: a guide to traditional motifs, patterns and symbols. Thames and Hudson, UK

Gans-Reudin E (1984) Indian carpets: with 280 illustrations, 120 in colour. Thames and Hudson, Britain

Goldschmidt G, Porter WL (eds) (2004) Design representation. Springer, New York

Goodwin C (1997) The blackness of black: color categories as situated practice. In: Resnick LB, Saljo R, Pontecorvo C, Burge B (eds) Discourse, tools, and reasoning: essays in situated cognition. Springer, Berlin, pp 111–140

Goswami KK (2009) Developments in handmade carpets: an introduction. In: Goswami KK (ed) Advances in carpet manufacture. Woodhead Publishing, Oxford, pp 138–181

Gravis P (1954) This is Kashmir: Kashmir revisited (history and culture). Jay kay Books, Srinagar (Reprinted in 2007)

Harris P (1991) The Kashmir shawl: lessons in history and studies in technology. Ars Textrina 16:105–127

Harris P (1997) Reading between the lines-catalogue of shawl talim. http://tapadesi.com/published-articles/

Harris P (2000) Decoding the talim. Hali 110:82–83

Harris P (2001) Kashmiri shawl survival. Textile Forum, 13. https://tapadesi.files.wordpress.com/2011/10/kashmir-shawl-survival.doc

Harris P (2003) Digital images in Kashmir shawl weaving. Complex Weav J 71:45. https://tapadesi.files.wordpress.com/2011/10/digital-images-in-kashmir-shawl-weaving.doc

Harris P (2007) An eighteenth century digital technology. Cahiers Métiers D'art Craft J 1(1). https://tapadesi.files.wordpress.com/2011/10/an-18th-century-digital-technology.doc

Heath C, Luff P (2000) Technology in action. Cambridge University Press, Cambridge

Heersmink R (2013) A taxonomy of cognitive artefacts: function, information and categories. Rev Philos Psychol 4(3):465–481

Heidegger M (1962) Being and time. Macquarrie J, Robinson E (trans). Blackwell Publishers, Oxford

Hughes J, King V, Rodden T, Andersen H (1994) Moving out of the control room: ethnography in systems design. In: Proceedings of the ACM on CSCW, ACM, New York, pp 429–439

Hutchins E, Palen L (1995) Cognition in the wild. MIT Press, Cambridge

Hutchins and Palen (1997) Constructing meaning from space, gesture, and speech. In: Resnick LB, Saljo R, Pontecorvo C, Burge B (eds) Discourse, tools, and reasoning: essays in situated cognition. Springer, Berlin, pp 23–42

Keller C, Keller JD (1993) Thinking and acting with iron. In: Chaiklin S, Lave J (eds) Understanding practice: perspectives on activity and context. Cambridge University Press, New York

Khan F (1993) Cognitive analysis of work organization: a study of carpet-weavers in Kashmir. Q Newsl Lab Comp Hum Cogn 15(2):48–52

Kirsh D (1995) The intelligent use of space. Artif Intell 73(1–2):31–68

Kirsh D (2005) Metacognition, distributed cognition and visual design. In: Gardenfors P, Johansson P (eds) Cognition, education and communication technology. Lawrence Erlbaum, Oxford, pp 147–149

Kirsh D (2009) Problem solving and situated cognition. In: Robbins P, Aydede M (eds) The Cambridge handbook of situated cognition. Cambridge University Press, Cambridge, pp 264–306

Kirshner D, Whitson JA (eds) (1997) Situated cognition: social, semiotic, and psychological perspectives. Lawrence Erlbaum, London

Lave J (1988) Cognition in practice: mind, mathematics and culture in everyday life. Cambridge University Press, Cambridge

Lawrence W (1895) The valley of Kashmir. Oxford University Press, Oxford

Leitner GW (1882) Linguistic fragments discovered in 1870, 1872 and 1879 relating to the dialect of the magadds, and other wandering tribes, the argots of thieves, the secret of trade-dialects and systems of native cryptography in kabul, kashmir and the punjab followed by an account of shawl-weaving…. Punjab Govt. Civil Secretariat Press, Lahore

Mathur AR (2004) Indian carpets: a hand-knotted heritage. Rupa & Co, New Delhi

Merleau-Ponty M (1962) The phenomenology of perception. Smith C (trans). Routledge, London

Moorcroft W, Trebeck G (1841) Travels in the Himalayan provinces of Hindustan and the Punjab, Ladakh and Kashmir; in Peshawar, Kabul, Kunduz and Bokhara: from 1819 to 1825, vol 2. John Murray, London

Murphy KM (2004) Imagination as joint activity: the case of architectural interaction. Mind Cult Act 11(4):267–278

Norman D (1991) Cognitive artifacts. In: Carroll JM (ed) Designing interaction. Cambridge University Press, Cambridge

Oshike EE (2015) Harmonising sketching, drafting and CAD in architectural education in Nigerian polytechnics: case study of Yaba college of technology. Int J Sci Environ Technol 4(1):573–582

Report IICT (2009) Training in innovative designs for the persons involved in talim-writing under human resource development scheme. Indian Institute of Carpet Technology, Srinagar

Roth WM (1996) Art and artifact of children's designing: a situated cognition perspective. J Learn Sci 5(2):129–166

Roy T (2004) Traditional industry in the economy of colonial India. Cambridge University Press, UK

Sajnani M (2001) Encyclopedia of tourism resources in India, vol 1. Gyan Publishing House, India

Saraf DN (1987) Arts and crafts, Jammu and Kashmir: land, people, culture. Abhinav Publications, New Delhi

Saraf DN (1990) Carpets. In: Jaitley J (ed) Crafts of Jammu, Kashmir and Ladakh. Mapin Publishing, India

Schon DA (1983) The reflective practitioner: how professionals think in action. Basic Books, New York

Schon DA (1992) Designing as a reflective conversation with the materials of a design situation. Knowl Based Syst 5(1):3–14

Simon HA (1969) The sciences of the artificial. MIT Press, USA

Thompson J (2003) Looms, carpets and talims. In: Tapper R, Maclachlan K (eds) Technology tradition and survival: aspects of material culture in the middle east and central Asia. Frank Cass Publishers, London, pp 136–143

Varela FJ, Rosch E, Thompson E (1991) The embodied mind: cognitive science and human experience. MIT Press, Massachusetts

Williams RF (2006) Using cognitive ethnography to study instruction. In: Proceedings of the 7th international conference of the learning sciences, Mahwah, NJ, Lawrence Erlbaum Associates
Acknowledgements
I am thankful to National Institute of Advanced Studies (NIAS), Bengaluru and its Consciousness Studies Programme for supporting and funding the fieldwork in 2015. I am extremely obliged to Ms. Aamina Assad, Chief Designer, School of Designs (SoD), Mr. Gazanfar Ali, the then Director, Directorate of Handicrafts—Massive Carpets Scheme (MCS) and Mr. Zubair Ahmad, Director, Indian Institute of Carpet Technology (IICT), all in Srinagar, for facilitating my work at their respective institutions. I am thankful to Prof. Mushtak Haider, University of Kashmir, for translating the Consent Form used during 2015. I am grateful to Mohd. Ashraf Khan and Sajad Nazir for providing me samples of Alchay and Inch-square graphs, respectively, and M/s BMW Designers, Srinagar for permitting me to reproduce a talim-roll in my paper whose copyright they hold. I am thankful to Prof. Siby George, IIT Bombay and Ms. Sanam Roohi, NIAS for their feedback. Last but not the least, I am obliged to all my respondents for their invaluable time.
About this article
Cite this article
Kaur, G.D. Cognitive bearing of techno-advances in Kashmiri carpet designing. AI & Soc 32, 509–524 (2017). https://doi.org/10.1007/s00146-016-0683-2
Received:

Accepted:

Published:

Issue Date:
Keywords
Talim

Kashmiri carpet weaving

Carpet designing

Graphs

Notational system