Abstract
Current methods to capture, analyse and present the audience participation of broadcast events are increasingly carried out using social media. Uptake of such technology tools has so far been poor amongst older adults, and it has the worrying effect of excluding the demographic from participation. Our work explores whether a common desire to interact with debates can be tapped with technology with a very low barrier to entry, to both support better engagement with broadcast debates and encourage greater use of social media. This paper describes experiments where older adults interact with a BBC radio debate programme: The Moral Maze. As a result, we obtained common interaction patterns which then are used to define recommendations for software-supported interaction with debates based on theories of argumentation. Our goal is to combine research on computational models of argument and user-driven research on human-centred computing in a project with the potential for high-profile impact in addressing older adults inclusion in the digital economy.
This is a preview of subscription content, log in to check access.
Access options
Buy single article
Instant access to the full article PDF.
US$ 39.95
Price includes VAT for USA
Subscribe to journal
Immediate online access to all issues from 2019. Subscription will auto renew annually.
US$ 99
This is the net price. Taxes to be calculated in checkout.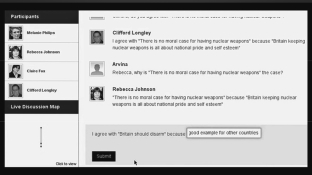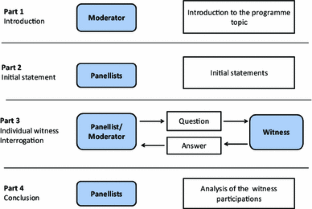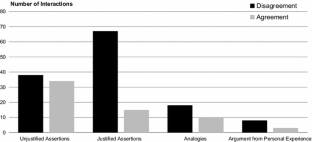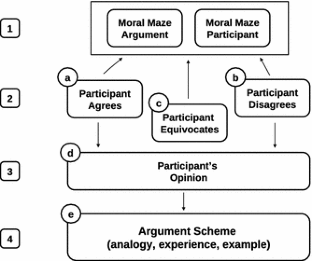 Notes
1.

We consider older adults as persons over 65 years old without distinguishing based on cognitive or physical conditions.

2.

3.

Question Time (TV, BBC1), Free Speech (TV, BBC3), The Big Questions (TV, BBC1), Sunday Morning Live (TV, BBC1), The World Debate (BBC News), Brian Taylor's Big Debate (BBC Radio Scotland), The Moral Maze (BBC Radio 4) and The Intelligence Square Debate (BBC World News).

4.

5.

6.

Sentiment Analysis (Pang and Lee 2008) is the process of analysing human expressions (in the form of text mainly) with the use of natural language and computational linguistic processes in order to extract subjective information.

7.

8.

9.

Ethics for all areas of this study were approved through a university ethics procedure.

10.

The programmes used were: Problem families originally aired July 25th 2012 for sessions 1, 2, 3 and 5 and The morality of gambling originally aired March 2nd 2013 for session 4.

11.

Currently, BBC Radio offers a generic online feedback forum for all radio programs.
References
Bolton M (2010) Older people, technology and community the potential of technology to help older people renew or develop social contacts and to actively engage in their communities, Independent Age, Research Report [online]. Available from: http://www.independentage.org/media/9425/gulbenkiannewreport.pdf. Accessed Sept 2014

Bigi B, Portès C, Steuckardt A, Tellier M (2011) Multimodalannotations and categorisation for political debates. In: InICMI workshop on multimodal corpora for machine learning (ICMI-MMC)

Cartwright D, Atkinson K, Bench-Capon T (2009) Supporting argument in e-democracy. In: Electronic government: third international electronic democracy (EDEM 2009) (Vienna, Austria), pp 151–160

Chesñevar C, Mcginnis J, Modgil S, Rahwan I, Reed C, Simari G, South M, Vreeswijk GAW, Willmott S (2006) Towards an argument interchange format. Knowl Eng Rev 21(04):293

Gatica-Perez D (2009) Automatic nonverbal analysis of social interaction in small groups: a review. Image Vis Comput 27(12):1775–1787

Gordon T, Prakken H, Walton D (2007) The Carneades model of argument and burden of proof. Artif Intell 171(10–15):875–896

Krippendorff K (1980) Content analysis: an introduction to its methodology. SAGE Publications, Beverly Hills, CA

Kumar R, Novak J, Tomkins A (2010) Structure and evolution of online social networks. In: Yu PS, Han J, Faloutsos C (eds) Link mining: models, algorithms, and applications SE-13. Springer, New York, pp 337–357

Lawrence J, Bex F, Reed C (2012) Dialogues on the Argument Web: mixed initiative argumentation with Arvina. In: Computational models of argument COMMA 2012, pp 513–514

Lawrence J, Bex F, Reed C, Snaith M (2012) AIFdb: infrastructure for the Argument Web. In: Computational models of argument COMMA 2012, pp 515–516

McBurney P, Parsons S (2001) Dialogue games in multi-agent systems. Informal Log 22(3):257–274

McKeown G, Valstar M, Cowie R, Pantic M, Schroder M (2012) The semaine database: annotated multimodal records of emotionally colored conversations between a person and a limited agent. Affect Comput IEEE Trans 3(1):5–17

Ofcom (2006) Media literacy audit: report on media literacy amongst older adults [online]. Available from: http://stakeholders.ofcom.org.uk/binaries/research/media-literacy/older.pdf. Accessed Sept 2014

Ofcom (2011) Adults' media literacy in the nations: summary report [online]. Available from: http://stakeholders.ofcom.org.uk/binaries/research/media-literacy/media-literacy-bulletin-nations/adults_nations_June11.pdf. Accessed Sept 2014

Ofcom (2012) Adults media use and attitudes report. Research document [online]. Available from: http://stakeholders.ofcom.org.uk/binaries/research/media-literacy/media-use-attitudes/adults-media-use-2012.pdf. Accessed Sept 2014

Office for National Statistics (2013) Statistical Bulletin Internet Access Quarterly Update, Q2 2013

Pak A, Paroubek P (2010) Twitter as a corpus for sentiment analysis and opinion mining. In: Tapias NCCC, Choukri K, Maegaard B, Mariani J, Odijk J, Piperidis S, Rosner M, Daniel (eds) Proceedings of the seventh international conference on language resources and evaluation (LREC'10), Valleta, Malta, 2010. European Language Resources Association (ELRA)

Pang B, Lee L (2008) Opinion mining and sentiment analysis. Found Trends Inf Retr 2(1–2):1–135

Phillipson C, Scharf T, Kingston P, Smith AE (2001) Social exclusion and older people: exploring the connections. Educ Ageing 16(3):303–320

Rahwan I, Zablith F, Reed C (2007) Laying the foundations for a world wide argument web. Artif Intell 171(10–15):897–921

Reed C (1997) Representing and applying knowledge for argumentation in a social context. AI Soc 11(1–2):138–154

Reed C, Devereux J, Wells S, Rowe G (2008) AIF+: dialogue in the argument interchange format. In: Proceedings of the 2008 conference on computational models of argument: proceedings of COMMA 2008. IOS Press, pp 311–323

Reed C, Walton D (2007) Argumentation schemes in dialogue. In: Hansen HV (ed) Dissensus and the search for common ground. OSSA, Windsor, ON, pp 1–11

Sæbø Ø, Nilsen H (2004) The support for different democracy models by the use of a web-based discussion board. In: Electronic government. Springer, Berlin, pp 23–26

Shamma DA, Kennedy L, Churchill EF (2009) Tweet the debates: understanding community annotation of uncollected sources. In: Proceedings of the first SIGMM workshop on social media, WSM '09, New York, NY, USA. ACM, pp 3–10

Snaith M, Bex F, Lawrence J, Reed C (2012) Implementing ArguBlogging. In: Computational models of argument COMMA 2012. IOS Press, pp 511–512

Tumasjan A, Sprenger TO, Sandner PG, Welpe IM (2010) Predicting elections with Twitter: what 140 characters reveal about political sentiment. In: The international AAAI conference on weblogs and social media, pp 178–185

Walton D, Reed C, Macagno F (2008) Argumentation schemes. Cambridge University Press, Cambridge, MA

Zickuhr K, Madden M (2012) Older adults and internet use. Technical report, Pew Research Center Internet and American Life Project
Acknowledgments
This research was supported by RCUK Grant EP/G066019/1 "RCUK Hub: Social Inclusion through the Digital Economy". The authors would like to thank the reviewers, the SiDE Research Group at the University of Dundee for their feedback on early versions of this paper and Christine Morgan, executive producer of the BBC's Moral Maze, for her support.
Appendix: Participants' quotes
Appendix: Participants' quotes
1.

Examples of Unjustified Assertions:

I think the government viewpoint was simplistic to be honest.

I think that person is not understanding the situation. It's almost a middle class view.

2.

Example of Argument from Analogy:

[…] It is a trick. Gambling companies trick people. (Assertion) For example, banks were mis-selling private pensions some time ago attracting people with free commissions. How is that different from these people enticing people in to gambling with a 20 pounds free start? It's a mis-selling of a product. (Justified Assertion with Argument from Analogy)

3.

Example of Argument from Position to Know:

[…] You cannot tackle the problem by raising the price of beer, the problem is how people are educated. (Assertion) I was on a train last month where four guys came on and each one had a carrier bag of beer and they started playing cards loudly with money all over the table. If you'd doubled the price of the beer, it would have made no difference for them. For some people is not about the price, it's about lack of education and consideration (Justified Assertion with Argument from Position to Know).

4.

Examples used by participants to agree (sentiment identifiers are in boldface):

[…] I agree with that , what I think is that they're come now to a more accurate definition in that these are families with five to seven deprivations […]

[…] Precisely , what she just said is the main point in this debate, it's got individuals in the messes but also got society in to messes as well […]

5.

In the following example, Female 1 agrees to an direct question raised by the Researcher:

Researcher: Do you agree that the figures are important to sustain an argument when you throw in a number like 120,000?

Female 1: To some extent, you have to accept the numbers that you're given because I don't know anything different […]

6.

Examples of disagreement used by participants:

[…] No , it would only need a few, half a minute of somebody giving their story about how they got to the state they're in with gambling. […]

[…] I think it's not just the poor family who has the moral problems. There is a general lack of - in my opinion, morals in a lot of families, forget about their income status […]

7.

Example of Justified Assertion with Disagreement:

[…] we don't want to tell people what to do (Disagreement) but if you see somebody driving badly, the police will say: you should be driving on the other side of the road. (Argument from Analogy) The trouble is the social work departments have become afraid that if they left a child with the parents, if something happened to that child there would be a big enquiry and they would then be seen as negligent (Justified Assertion). So, the default situation for a social worker is to take the child away. […]
About this article
Cite this article
Medellin-Gasque, R., Reed, C. & Hanson, V.L. Recommendations to support interaction with broadcast debates: a study on older adults' interaction with The Moral Maze . AI & Soc 31, 109–120 (2016). https://doi.org/10.1007/s00146-014-0578-z
Received:

Accepted:

Published:

Issue Date:
Keywords
Broadcast debates

Argument Web

Software recommendations