Abstract
Many open networks, distributed computing systems, and infrastructure management systems face a common problem: how to distribute a collectivised set of resources amongst a set of autonomous agents of heterogenous provenance. One approach is for the agents themselves to self-organise the allocation of resources with respect to a set of agreed conventional rules; but given an allocation scheme which maps resources to those agents and a set of rules for determining that allocation scheme, some natural questions arise—Is this allocation fair? Is the allocation method effective? Is it efficient? Are the decision makers accountable? In this paper, we argue that some answers to these questions can be found in the formal characterisation of different aspects of 'justice' and that these different aspects need a principled operationalisation as policies for system management. We present a formal model and some experimental results, concluding that the different aspects are all inter-connected and that what is required is a comprehensive research programme in computational justice.
Access options
Buy single article
Instant access to the full article PDF.
USD 39.95
Price excludes VAT (USA)
Tax calculation will be finalised during checkout.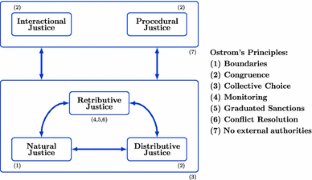 References
Ardagna D, Panicucci B, Passacantando M (2011) A game theoretic formulation of the service provisioning problem in cloud systems. In: www '11, pp 177–186

Artikis A (2012) Dynamic specification of open agent systems. J Logic Comput 22(6):1301–1334

Balke T, de Vos M, Padget J (2013) I-ABM: combining institutional frameworks and agent-based modelling for the design of enforcement policies. Artif Intell Law. doi:10.1007/s10506-013-9143-1

Bentham J (1789) An Introduction to the principles of morals and legislation. Payne, London

Bernard Y, Klejnowski L, Cakar E, Hähner J, Müller-Schloer C (2011) Efficiency and robustness using trusted communities in a trusted desktop grid. In: SASO Workshops (SASOW), pp 21–26. doi:10.1109/SASOW.2011.28

Binmore K (2005) Natural justice. Oxford University, Oxford

Birman K, Chockler G, van Renesse R (2009) Toward a cloud computing research agenda. SIGACT News 40(2):68–80

Blader A, Tyler T (2003) A four-component model of procedural justice: defining the meaning of a "fair" process. Pers Soc Psychol Bull 29(6):747–758

Bourazeri A, Pitt J, Almajano P, Rodriguez I, López-Sánchez M (2012) Meet the meter: visualising smartgrids using self-organising electronic institutions and serious games. In: SASO Workshops (SASOW), pp 145–150

Chevaleyre Y, Endriss U, Lang J, Maudet N (2007) A short introduction to computational social choice. In: Proceedings of the 33rd conference on current trends in theory and practice of computer science (SOFSEM), no. 4362 in LNCS. Springer, Berlin, pp 51–69

Choi S, Buyya R, Kim H, Byun E (2008) A taxonomy of desktop grids and its mapping to state of the art systems. Tech. rep., Grid Computing and Distributed Systems Laboratory, The University of Melbourne

Cox M, Arnold G, Villamayor Tomás S (2010) A review of design principles for community-based natural resource management. Ecol Soc 15(4):38

Ding M, Cheng X, Xue G (2003) Aggregation tree construction in sensor networks. In: IEEE vehicular technology conference, vol 4, pp 2168–2172

Elster J (1992) Local justice: how institutions allocate scarce goods and necessary burdens. Russell Sage Foundation, New York

Ferscha A, Davies N, Schmidt A, Streitz N (2011) Pervasive socio-technical fabric. Procedia Comput Sci 7:88–91

Gaechter S (2006) Conditional cooperation: behavioral regularities from the lab and the field and their policy implications. Discussion Papers 2006-03, The Centre for Decision Research and Experimental Economics, School of Economics, University of Nottingham

Giddens A (1984) The constitution of society: outline of the theory of structuration. Polity, Cambridge

Greenberg J (1993) The social side of fairness: interpersonal and informational classes of organizational justice. In: Cropanzano R (ed) Justice in the work place: approaching fairness in human resource management, Erlbaum, Hillsdale, NJ, pp 79–103

Hardin G (1968) The tragedy of the commons. Science 162(3859):1243–1248

Hewitt C (1986) Offices are open systems. ACM Trans Office Inf Syst 4:271–287

Jones A, Artikis A, Pitt J (2013) The design of intelligent socio-technical systems. Artif Intell Rev 39(1):5–20

Jones A, Sergot M (1996) A formal characterisation of institutionalised power. J IGPL 4(3):427–443

Kass N (2001) An ethics framework for public health. Am J Public Health 91(11):1776–1782

Katsh EE, Katsh ME, Rifkin J (2001) Online dispute resolution: resolving conflicts in cyberspace. Wiley, New York, NY

Konow J (2003) Which is the fairest one of all? A positive analysis of justice theories. J Econ Lit 41(4):1188–1239

Kowalski R, Sergot M (1986) A logic-based calculus of events. New Gener Comput 4:67–95

Lam WF (1998) Governing irrigation systems in nepal: institutions, infrastructure and collective action. ICS, Oakland, CA

López E (2010) The pursuit of justice: law and economics of legal institutions. Palgrave MacMillan, New York, NY

Manvi SS, Kakkasageri MS, Pitt J (2009) Multiagent based information dissemination in vehicular ad hoc networks. Mobile Inf Syst 5(4):363–389

Nozick R (1974) Anarchy, state, and utopia. Basic Books, New York, NY

Ostrom E (1990) Governing the commons. CUP, Cambridge

Ostrom E, Ahn TK (2003) Introduction. In: Ostrom E, Ahn TK (eds) Foundations of social capital, Edward Elgar, Cheltenham, pp xi–xxxix

Ostrom E, Hess C (2006) A framework for analyzing the knowledge commons. In: Hess C, Ostrom E (eds) Understanding knowledge as a commons: from theory to practice, MIT, Cambridge, MA, pp 41–82

Pitt J, Schaumeier J (2012) Provision and appropriation of common-pool resources without full disclosure. In: Principles and practice of multi-agent systems, LNCS, vol 7455, Springer, pp 199–213

Pitt J, Schaumeier J, Artikis A (2011) Coordination, conventions and the self-organisation of sustainable institutions. In: Agents in principle, agents in practice, LNCS, vol 7047, Springer, Berlin, pp 202–217

Pitt J, Schaumeier J, Artikis A (2012) Axiomatisation of socio-economic principles for self-organising institutions: concepts, experiments and challenges. ACM Trans Auton Adapt Syst 7(4):1–39. doi:10.1145/2382570.2382575

Pitt J, Schaumeier J, Busquets D, Macbeth S (2012) Self-organising common-pool resource allocation and canons of distributive justice. In: Sixth IEEE international conference on self-adaptive and self-organizing systems (SASO), pp 119–128

Rawls J (1971) A theory of justice. Harvard University, Harvard, MA

Rescher N (1966) Distributive justice. Bobbs-Merrill, New York, NY

Riveret R, Rotolo A, Sartor G (2012) Probabilistic rule-based argumentation for norm-governed learning agents. Artif Intell Law 20(4):383–420

Robert SC, Robert H, Evans WJ, Honemann DH, J BT (2000) Robert's rules of order, newly revised, 10th edn. Perseus, Cambridge, MA

Shum SB, Aberer K, Schmidt A, Bishop S, Lukowicz P, Anderson S, Charalabidis Y, Domingue J, de Freitas S, Dunwell I, Edmonds B, Grey F, Haklay M, Jelasity M, Karpistenko A, Kohlhammer J, Lewis J, Pitt J, Sumner R, Helbing D (2012) Towards a global participatory platform: democratising open data, complexity science and collective intelligence. Eur Phys J Spec Top 214:109–152

Solum L (2004) Procedural justice. South Calif Law Rev 78(181):275–289

Uphsur R (2002) Principles for the justification of public health intervention. Can J Public Health 93:101–103
Acknowledgments
We are particularly grateful for the constructive comments of the four anonymous reviewers. The second and third authors both hold Marie Curie Intra-European Fellowships.
About this article
Cite this article
Pitt, J., Busquets, D. & Riveret, R. The pursuit of computational justice in open systems. AI & Soc 30, 359–378 (2015). https://doi.org/10.1007/s00146-013-0531-6
Received:

Accepted:

Published:

Issue Date:

DOI: https://doi.org/10.1007/s00146-013-0531-6
Keywords
Multi-agent systems

Self-organisation

Resource allocation

Computational justice