Abstract
This study explores how participants in an immersive theatrical performance perceive their role in the virtual environment (VE) and the effects of this perception on how they experience the performance as a whole. Using a quasi-experimental 2 × 2 design, narrative and task-based search was manipulated to explore the effects on spatial presence, social presence, identification and enjoyment. Results show that the effect of spatial presence on enjoyment of the performance is entirely mediated by identification with the role of the self in the VE. This could have interesting consequences for the experience of more narrative VE's and suggests that the role of identification is something to explore further in future presence research.
Access options
Buy single article
Instant access to the full article PDF.
US$ 39.95
Tax calculation will be finalised during checkout.
Subscribe to journal
Immediate online access to all issues from 2019. Subscription will auto renew annually.
US$ 79
Tax calculation will be finalised during checkout.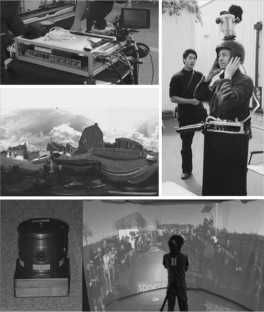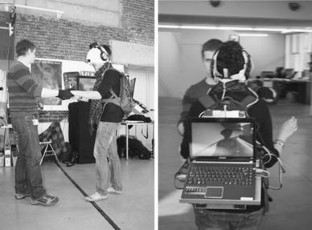 References
Arnspang J, Benyon D, Fahle M, Granum E, Madsen C, Pajdla T, Peleg S, Smyth M, Turner P, Turner S, Weinshall D (2002) An investigation into virtual representations of real places. In: Proceedings of the fifth annual international workshop presence, 2002. Porto, Portugal

Bailenson JN, Blascovich J, Beall AC, Loomis JM (2001) Equilibrium theory revisited: mutual gaze and personal space in virtual environments. Presence 10(6):583–598

Baron RM, Kenny DA (1986) The moderator–mediator variable distinction in social psychological research: conceptual, strategic, and statistical considerations. J Pers Soc Psychol 51(6):1173

Basil MD (2001) The importance of identification to a sense of presence. In: Proceedings at the 4th Annual International Workshop on Presence. Philadelphia, pp 21–23

Baumgartner T, Speck D, Wettstein D, Masnari O, Beeli G, Jäncke L (2008) Feeling present in arousing virtual reality worlds: prefrontal brain regions differentially orchestrate presence experience in adults and children. Front Hum Neurosci 2:8. doi:10.3389/neuro.09.008.2008

Biocca F, Kim J, Choi Y (2001) Visual touch in virtual environments: An exploratory study of presence, multimodal interfaces, and cross-modal sensory illusions. Presence 10(3):247–265

Biocca F, Harms C, Burgoon JK (2003) Toward a More Robust theory and measure of social presence: review and suggested criteria. Presence 12(5):456–480

Botvinick M, Cohen J (1998) Rubber hands' feel'touch that eyes see. Nature 391(6669):756

Cohen J (2001) Defining identification: a theoretical look at the identification of audiences with media characters. Mass Commun Soc 4(3):245–264

Davidson RJ (2003) Seven sins in the study of emotion: correctives from affective neuroscience. Brain Cogn 52(1):129–132

Graziano MSA (1999) Where is my arm? The relative role of vision and proprioception in the neuronal representation of limb position. Proc Natl Acad Sci 96(18):10418–10421

Haans A, Ijsselsteijn W (2006) Mediated social touch: a review of current research and future directions. Virtual Real 9(2):149–159

Hayes AF (2009) Beyond Baron and Kenny: statistical mediation analysis in the new millennium. Commun Monogr 76(4):408–420

Hefner D, Klimmt C, Vorderer P (2007) Identification with the player character as determinant of video game enjoyment. In: Ma L, Rauterberg M, Nakatsu R (eds) Entertainment computing—ICEC 2007. Springer, Berlin, pp 39–48

Ijsselsteijn W (2002) Elements of a multi-level theory of presence: phenomenology, mental processing and neural correlates. In: Proceedings of presence, 2002, pp 245–259

Ijsselsteijn WA, de Ridderb H, Freemanc J, Avonsd SE (2000) Presence: concept, determinants and measurement. In: Proceedings of the SPIE

Insko BE (2003) Measuring presence: subjective, behavioral and physiological methods. Emerg Commun 5:109–120

Klimmt C (2003) Dimensions and determinants of the enjoyment of playing digital games: a three-level model. Faculty of Arts, Utrecht University, Utrecht

Klimmt C, Hefner D, Vorderer P (2009) The video game experience as "true" identification: a theory of enjoyable alterations of players' self perception. Commun Theory 19(4):351–373

Lee KM (2004) Presence, explicated. Commun Theory 14(1):27–50

Lessiter J, Freeman J, Keogh E, Davidoff J (2001) A cross-media presence questionnaire: the ITC-sense of presence inventory. Presence 10(3):282–297

Lombard M, Ditton T (1997) At the heart of it all: the concept of presence. J Comput Mediat Commun 3(2). http://jcmc.indiana.edu/vol3/issue2/lombard.html

MacKinnon DP, Lockwood CM, Hoffman JM, West SG, Sheets V (2002) A comparison of methods to test mediation and other intervening variable effects. Psychol Methods 7(1):83

Mantovani F, Castelnuovo G (2003) Sense of presence in virtual training: enhancing skills acquisition and transfer of knowledge through learning experience in virtual environments. Emerg Commun 5:167–182

Meehan M, Insko B, Whitton M, Brooks FP (2002) Physiological measures of presence in stressful virtual environments. ACM Trans Graph 21(3):645–652

Nichols S, Haldane C, Wilson JR (2000) Measurement of presence and its consequences in virtual environments. Int J Hum Comput Stud 52(3):471–491

Park N, Min Lee K, Annie Jin SA, Kang S (2010) Effects of pre-game stories on feelings of presence and evaluation of computer games. Int J Hum Comput Stud 68(11):822–833

Preacher KJ, Hayes AF (2004) SPSS and SAS procedures for estimating indirect effects in simple mediation models. Behav Res Methods 36(4):717–731

Rand D, Kizony R, Feintuch U, Katz N, Josman N, Rizzo AS, Weiss PL (2005) Comparison of two VR platforms for rehabilitation: video capture versus HMD. Presence 14(2):147–160

Rosseel Y (2011) lavaan: latent variable analysis. R package version 0.7.5. URL http://cran.r-project.org/package=lavaan

Ryan RM, Rigby CS, Przybylski A (2006) The motivational pull of video games: a self-determination theory approach. Motiv Emot 30(4):344–360

Schneider EF (2004) Death with a story. Hum Commun Res 30(3):361–375

Shaffer JP (1995) Multiple hypothesis testing. Ann Rev Psychol 46:561–584

Skalski P, Lange R, Tamborini R (2006) Mapping the way to fun: the effect of video game interfaces on presence and enjoyment. In: 9th annual international workshop on presence, 2006. Cleveland, Ohio, USA

Skalski P, Whitbred R, Lindmark P (2009) Image vs. sound: a comparison of formal feature effects on presence, video game enjoyment, and player performance. In: 12th annual international workshop on presence, 2009. Los Angeles, California, USA

Sylaiou S, Mania K, Karoulis A, White M (2010) Exploring the relationship between presence and enjoyment in a virtual museum. Int J Hum Comput Stud 68(5):243–253

Tamborini R, Bowman ND, Eden A, Grizzard M, Organ A (2010) Defining media enjoyment as the satisfaction of intrinsic needs. J Commun 60(4):758–777

Trepte S, Reinecke L (2011) The pleasures of success: game-related efficacy experiences as a mediator between player performance and game enjoyment. Cyberpsychol Behav Soc Netw 14(9):555–557

Usoh M, Catena E, Arman S, Slater M (2000) Using presence questionnaires in reality. Presence 9(5):497–503

Van Looy J, Courtois C, De Vocht M, De Marez L (2012) Player identification in online games: validation of a scale for measuring identification in MMORPGs. Media Psychol 15(2):197–221

Vanhoutte K, et al (2010) Cinematography of surround video, assuming a passive spectator, 2020 3D Media EU FP7 IP public deliverable D2.2. http://www.20203dmedia.eu/materials/20203DMedia_D2.2_20100226.pdf

Vorderer P, Klimmt C, Ritterfeld U (2004) Enjoyment: at the heart of media entertainment. Commun Theory 14(4):388–408

Weibel D, Wissmath B, Habegger S, Steiner Y, Groner R (2008) Playing online games against computer- vs. human-controlled opponents: effects on presence, flow, and enjoyment. Comput Hum Behav 24(5):2274–2291

Welch RB (1999) How can we determine if the sense of presence affects task performance? Presence 8(5):574–577

Wied M, Zillmann D, Ordman V (1995) The role of empathic distress in the enjoyment of cinematic tragedy. Poetics 23(1–2):91–106

Wirth W, Hartmann T, Böcking S, Vorderer P, Klimmt C, Schramm H, Saari T, Laarni J, Ravaja N, Gouveia FR (2007) A process model of the formation of spatial presence experiences. Media Psychol 9(3):493–525

Witmer BG, Singer MJ (1998) Measuring presence in virtual environments: a presence questionnaire. Presence 7(3):225–240

Wynants N, Vanhoutte K, Bekaert F (2008) Being inside the image. Heightening the sense of presence in a video captured environment through artistic means: the case of CREW. In: 11th annual international workshop on presence, 2008. Padova
Acknowledgments
This study took place within the xTV project. This project is co-funded by iMinds, a research institute founded by the Flemish Government, and project support of IWT for the companies participating in it (see http://www.ibbt.be/en/projects/overview-projects/p/detail/xtv-2 for a project description and full list of partners). We would like to thank CREW, in particular Hilde Teuchies and Eric Joris for their cooperation and giving us the chance to study one of their performances. Anissa All, Lotte Vermeulen and Frederik Van Den Bosch for helping with the collection of data. Joke Durnez for her help with the mediation analysis and Jo Pierson of iMinds-SMIT for feedback and comments on this paper.
About this article
Cite this article
Decock, J., Van Looy, J., Bleumers, L. et al. The pleasure of being (there?): an explorative study into the effects of presence and identification on the enjoyment of an interactive theatrical performance using omnidirectional video. AI & Soc 29, 449–459 (2014). https://doi.org/10.1007/s00146-013-0487-6
Received:

Accepted:

Published:

Issue Date:
Keywords
Performance

Virtual environment

Presence

Mediation

Identification

Enjoyment

Haptic feedback