Abstract
Communication on the Internet is often described as "anonymous", yet the usage of the term is often confusing, even in academia. Three levels of anonymity, visual anonymity, dissociation of real and online identities, and lack of identifiability, are thought to have different effects on various components of interpersonal motivation. Specifically, we propose that cross-cultural differences in interpersonal motivation (autonomy vs. affiliation) are illustrated by choices individuals make when deciding whether or not to remain anonymous while communicating online. Autonomy is often valued in Western societies, whereas Eastern societies tend to emphasize affiliation, suggesting that individuals in Western societies will gravitate toward online communities that allow lower levels of anonymity, while individuals in Eastern societies will be more likely to seek out online communities that promote higher levels of anonymity. The research presented in this article supports this notion, suggesting that we need to consider cultural differences when designing online communication systems and other communications technologies.
This is a preview of subscription content, log in to check access.
Access options
Buy single article
Instant access to the full article PDF.
US$ 39.95
Price includes VAT for USA
Subscribe to journal
Immediate online access to all issues from 2019. Subscription will auto renew annually.
US$ 99
This is the net price. Taxes to be calculated in checkout.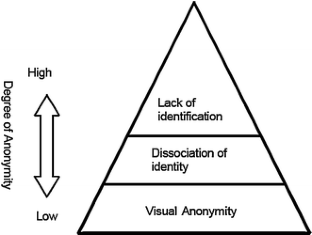 References
Asch SE (1951) Effects of group pressure upon the modification and distortion of judgments. In: Guetzknow H (Ed) Groups, leadership, and men. Carnegie Press, Oxford

Azechi S (2005) Information humidity model: explanation of dual modes of community for social intelligence design. AI Soc 19:110–122

Culnan MJ, Markus ML (1987) Information technologies. In: Jablin FM, Putnam LL, Roberts KH, Porter LW (Eds) Handbook of organizational communication: an interdisciplinary perspective. Sage, Newbury Park, pp 420–443

Douglas K, McGarty C (2001) Identifiability and self-presentation: computer-mediated communication and intergroup interaction. Br J Soc Psychol 40:399–416

Fujihara N (2001) How to evaluate social intelligence design. In: Terano T, Nishida T, Namatame A, Tsumoto S, Ohsawa Y, Washio T (eds) New frontiers in artificial intelligence––Joint JSAI 2001 workshop post-proceedings, lecture notes in artificial intelligence 2253. Springer, Berlin

Hofstede G (1980) Culture's consequences. Sage, Beverly Hills

Joinson AN (2003) Understanding the psychology of internet behavior: virtual worlds, real lives. Palgrave, Basingstoke

Kiesler S, Siegel J, McGuire T (1984) Social psychological aspects of computer-mediated communication. Am Psychol 39:1123–1134

Lea M, Spears R, de Groot D (2001) Knowing me, knowing you: anonymity effects on social identity processes within groups. Pers Soc Psychol Bull 27:526–357

Markus H, Kitayama S (1991) Culture and the self: Implications for cognition, emotion, and motivation. Psychol Rev 98:224–253

Matsumura N, Miura A, Shibanai Y, Ohsawa Y, Nishida T (2005) The dynamism of 2channel. AI Soc 19:84–92

Morio H, Latané B, Richardson D (2004) Interpersonal attraction from electronic self-disclosure: cumulative effect of CMC. Proceedings of the 3rd workshop on social intelligence design, 101–109

Nisbett RE (2003) The geography of thought. Free Press, New York

Nowak A, Vallacher RR (2002) Emergence of personality: personality stability through interpersonal synchronization. In: Cervone D, Mischell W (Eds) Advances in personality science. Guilford, New York

Oyserman D, Coon HM, Kemmelmeiser M (2002) Rethinking individualism and collectivism: evaluation of theoretical assumptions and meta-analysis. Psychol Bull 128:3–72

Postmes T, Spears R, Lea M (1998) Breaching or building social boundaries? SIDE effects of computer-mediated communication. Communic Res 25:689–715

Takano Y, Osaka E (1999) An unsupported common view: comparing Japan and the US on individualism/collectivism. Asian J Soc Psychol 2:311–341

Turkle S (1995) Life on the screen: identity in the age of the internet. Simon & Schuster, New York
About this article
Cite this article
Morio, H., Buchholz, C. How anonymous are you online? Examining online social behaviors from a cross-cultural perspective. AI & Soc 23, 297–307 (2009). https://doi.org/10.1007/s00146-007-0143-0
Received:

Accepted:

Published:

Issue Date:
Keywords
Western Culture

Online Community

Autonomy Motivation

Social Motivation

Chat Room