Abstract
Problem
There is a need for joint-preserving techniques, such as knee joint distraction (KJD), to treat knee osteoarthritis (OA) in relatively young patients. Because of the increased risk for revision surgery and the lower clinical efficacy in this patient category, it is important to avoid knee arthroplasty in patients younger than 65 years of age.
Methods
With the use of an external distraction device (KneeReviver, ArthroSave, Culemborg, The Netherlands), contact stresses between both cartilage surfaces from the femur and the tibia are strongly reduced over a temporary, 6‑week treatment period. The built-in springs used in this device cause intermittent pressure changes during loading, which stimulates cartilage regeneration.
Results
At the 1‑year follow-up, a significant decrease of pain and increase of knee function were documented, comparable with total knee arthroplasty (TKA) and high tibial osteotomy. Structural parameters showed intrinsic cartilage repair on weight-bearing X‑rays and magnetic resonance imaging (MRI). A treatment strategy starting with KJD for knee OA has a large potential for being a cost-effective intervention.
Conclusion
Knee joint distraction is a clinically proven, effective joint-preserving treatment. Clinical and structural results last for approximately 5–10 years, hereby postponing the need for a primary TKA to a later (st)age and reducing the risk for TKA revision surgery later in life.
Zusammenfassung
Problem
Es besteht ein Bedarf an gelenkerhaltenden Techniken wie der Kniegelenkdistraktion (KJD) zur Behandlung der Gonarthrose bei relativ jungen Patienten. Wegen des erhöhten Risikos für Revisionsoperationen und der geringeren klinischen Wirksamkeit bei dieser Patientengruppe ist es wichtig, eine Knieendoprothese bei Patienten unter 65 Jahren zu vermeiden.
Methoden
Mit Hilfe eines externen Distraktionsdevice (KneeReviver, ArthroSave, Culemborg, Niederlande) werden die Kontaktbelastungen zwischen den beiden Knorpeloberflächen von Femur und Tibia über einen temporären 6‑wöchigen Behandlungszeitraum stark reduziert. Die in diesem Device verwendeten eingebauten Federn verursachen während der Belastung intermittierende Druckänderungen, was die Knorpelregeneration stimuliert.
Ergebnisse
Bei der 1‑Jahres-Nachbeobachtung wurde eine signifikante Abnahme der Schmerzen und eine Zunahme der Kniefunktion dokumentiert, vergleichbar mit der totalen Knieendoprothese (TKA) und der hohen Tibiaosteotomie. Strukturelle Parameter zeigten eine intrinsische Knorpelreparatur auf den belastenden Röntgenaufnahmen und in der Magnetresonanztomographie (MRT). Eine Behandlungsstrategie, die mit der KJD bei Gonarthrose beginnt, besitzt ein großes Potenzial für eine kosteneffektive Intervention.
Schlussfolgerung
Die Kniegelenkdistraktion ist eine klinisch erprobte, wirksame gelenkerhaltende Behandlung. Die klinischen und strukturellen Ergebnisse halten etwa 5 bis 10 Jahre an, wodurch die Notwendigkeit einer primären TKA auf ein späteres Alter bzw. Stadium verschoben und das Risiko einer TKA-Revisionsoperation im späteren Leben reduziert wird.
This is a preview of subscription content, log in to check access.
Access options
Buy single article
Instant access to the full article PDF.
US$ 39.95
Price includes VAT for USA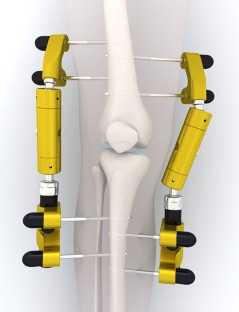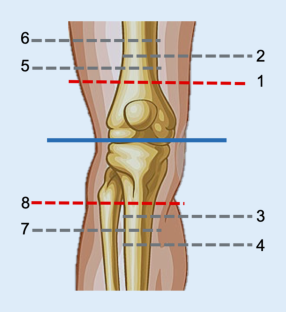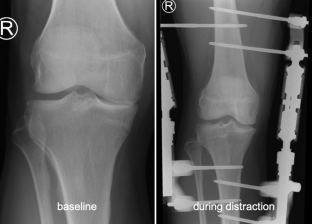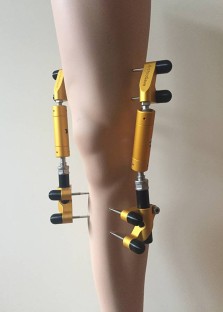 References
1.

Bayliss LE, Culliford D, Monk AP et al (2017) The effect of patient age at intervention on risk of implant revision after total replacement of the hip or knee: a population-based cohort study. Lancet 389(10077):1424–1430. https://doi.org/10.1016/S0140-6736(17)30059-4

2.

Gibon E, Goodman MJ, Goodman SB (2017) Patient satisfaction after total knee arthroplasty: a realistic or imaginary goal? Orthop Clin North Am 48(4):421–431. https://doi.org/10.1016/j.ocl.2017.06.001

3.

Scott CEH, Turnbull GS, MacDonald D, Breusch SJ (2017) Activity levels and return to work following total knee arthroplasty in patients under 65 years of age. Bone Joint J 99B(8):1037–1046. https://doi.org/10.1302/0301-620X.99B8.BJJ-2016-1364.R1

4.

Hunter DJ, Bierma-Zeinstra S (2019) Osteoarthritis. https://doi.org/10.1016/S0140-6736(19)30417-9

5.

Lafeber F, Veldhuijzen JP, Vanroy JL, Huber-Bruning O, Bijlsma JW (1992) Intermittent hydrostatic compressive force stimulates exclusively the proteoglycan synthesis of osteoarthritic human cartilage. Br J Rheumatol 31(7):437–442

6.

Intema F, Van Roermund PM, Marijnissen AC et al (2011) Tissue structure modification in knee osteoarthritis by use of joint distraction: an open 1‑year pilot study. Ann Rheum Dis 70(8):1441–1446. https://doi.org/10.1136/ard.2010.142364

7.

Kellgren JH, Lawrence JS (1957) Radiological assessment of osteo-arthrosis. Ann Rheum Dis 16(4):494–502. https://doi.org/10.1136/ard.16.4.494

8.

Jansen AMP, Van Egmond N, Kester EC, Custers RJH (2020) Lodosorbzalf Ter Preventie van Pengatinfecties Bij Kniedistractie. Presented at the Annual meeting of Netherlands Orthopaedic Society

9.

Jansen MP, Besselink NJ, van Heerwaarden RJ et al (2019) Knee joint distraction compared with high tibial osteotomy and total knee arthroplasty: two-year clinical, radiographic, and biochemical marker outcomes of two randomized controlled trials. Cartilage. https://doi.org/10.1177/1947603519828432

10.

Jansen MP, Van der Weiden GS, Custers RJ, Mastbergen SC, Lafeber FP (2018) Long-term benefit and survival of knee joint distraction as treatment of severe knee osteoarthritis. Osteoarthr Cartil 26:S282–S283. https://doi.org/10.1016/j.joca .2018.02.571

11.

van der Woude JAD, Wiegant K, van Heerwaarden RJ et al (2017) Knee joint distraction compared with total knee arthroplasty: a randomised controlled trial. bone Joint J 99-B(1):51–58. https://doi.org/10.1302/0301-620X.99B1.BJJ-2016-0099.R3

12.

Besselink NJ, Vincken KL, Bartels LW et al (2020) Cartilage quality (dGEMRIC index) following knee joint distraction or high tibial osteotomy. Cartilage 11(1):19–31. https://doi.org/10.1177/1947603518777578

13.

Wiegant K, Intema F, van Roermund PM et al (2015) Evidence of cartilage repair by joint distraction in a canine model of osteoarthritis. arthritis Rheumatol 67(2):465–474. https://doi.org/10.1002/art.38906

14.

van der Woude JAD, Nair SC, Custers RJH et al (2016) Knee joint distraction compared to total knee arthroplasty for treatment of end stage osteoarthritis: simulating long-term outcomes and cost-effectiveness. PLoS ONE 11(5):e155524. https://doi.org/10.1371/journal.pone.0155524
Ethics declarations
Conflict of interest
R.J. van Heerwaarden and W. Verra declare that they have no competing interests.
For this article no studies with human participants or animals were performed by any of the authors. All studies performed were in accordance with the ethical standards indicated in each case.
About this article
Cite this article
van Heerwaarden, R.J., Verra, W. Knee joint distraction in the treatment of severe osteoarthritis. Arthroskopie (2020). https://doi.org/10.1007/s00142-020-00382-2
Keywords
Arthralgia

Joint diseases

Joint preservation

Total knee arthroplasty

Cartilage
Schlüsselwörter
Arthralgie

Gelenkerkrankungen

Gelenkerhaltung

Knietotalendoprothese

Knorpel