Zusammenfassung
Die Osteonekrose und Osteochondrosis dissecans des Ellbogengelenks sind ähnliche Erkrankungsbilder idiopathischer Genese. Während beim Morbus Panner (Osteonekrose) vorwiegend Knaben im Alter von 6–10 Jahren erkranken, stellt die Osteochondrosis dissecans eine Erkrankung des adoleszenten Jugendlichen dar. Besonders prädisponiert scheinen Sportler mit Ausübung von Wurfsportarten aber auch Gynmnastiksport zu sein. Klinisch imponiert die Erkrankung in uncharakteristischen, meist lateral betonten Ellbogenschmerzen und einer sich entwickelnden Bewegungseinschränkung. Die frühe Diagnosestellung hat sich für den therapeutischen Erfolg als entscheidend erwiesen. Röntgenbilder in a.p.-Projektion bei 45° gebeugtem Ellbogengelenk stellen in der Frühphase eine Abflachung des lateralen Anteils des Capitulum humeri dar. Fortgeschrittenere Stadien sind an dem typischen Aufhellungssaum unter dem Knochenkern zu diagnostizieren. Das MRT hat in der Frühphase der Erkrankung mit einem hypointensen Signal in der T1-Wichtung einen wegweisenden Stellenwert. In weiter fortgeschrittenen Fällen zeigt sich auf T2-gewichteten Bildern eine hohe Signalintensität. In den Frühstadien der Erkrankung sollte eine konservative Therapie von 6 Monaten ausreichen. Operative Therapieverfahren bestehen in der Entfernung freier Gelenkkörper, Anbohrung oder Kürettage des Mausbetts, Spongiosatransplantation, Refixierung der OD sowie in der autologen osteochondralen Zylindertransplantation. Auch Osteotomien im lateralen Epikondylusbereich haben zur Kompressionsreduktion ihren Stellenwert.
Abstract
Osteonecrosis and osteochondritis dissecans are similar diseases of the elbow joint of unknown origin. The osteonecrosis of the elbow joint is also called Morbus Panner and mostly young men with the age of 6–10 years suffer from it. The osteochondritis dissecans is a disease of the adolescent. Overhead throwing activities and gymnastics are the most often related sports of the patients. Clinically patients suffer from a not very characteristic lateral elbow pain and a loss of range of motion. The early diagnosis is very important for the therapeutic success. X-rays of the elbow joint in 45° of flexion show especially in the early phase a marked flattening of the lateral part of the capitulum humeri. Later one can see a radiolucent line around the osseus nucleus of the osteochondritis dissecans. The MRI shows at the beginning a hypointense signal in T1-weighting, later a hyperintensity in T2-weighting. Conservative treatment is the way of choice in the first 6 months. The operative treatment is on the one hand the removal of loose bodies, drilling and currettage of the defect, microfracturing or bone transplantation, on the other hand refixation of the OD and the autologous osteochondral cylinder transplantation. Even osteotomies are relevant.
This is a preview of subscription content, log in to check access.
Access options
Buy single article
Instant access to the full article PDF.
US$ 39.95
Price includes VAT for USA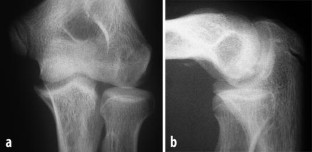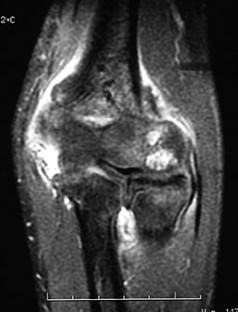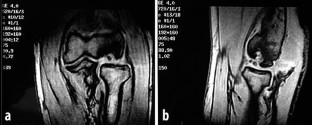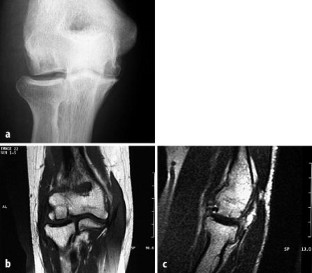 Literatur
1.

Adams JE (1965) Injury to the throwing arm. A study of traumatic changes in the elbow joints of boy baseball players. Calif Med 102:127–132

2.

Angermann P, Rigels-Nielsen P, Pedersen H (1998) Osteochondritis dissecans of the femoral condyle treated with periosteal transplantation: poor outcome in 14 patients followed for 6–9 years. Acta Orthop Scand 69:595–597

3.

Barnes DA, Tullos HS (1978) An analysis of 100 symptomatic baseball players. Am J Sports Med 6:62–67

4.

Barrie HJ (1980) Hypertrophy and laminar calcification of cartilage in loose bodies as probable evidence of an ossification abnormality. J Pathol 132:161–168

5.

Bauer M, Jonsson K, Josefsson PO, Linden B (1992) Osteochondritis dissecans of the elbow. A long-term follow-up study. Clin Orthop 284:156–160

6.

Baumgarten TE, Andrews JR, Satterwhite YE (1998) The arthroscopic classification and treatment of osteochondritis dissecans of the capitellum. AJSM 26:520–523

7.

Bobic V (1996) Arthroscopic osteochondral autograft transplantation in anterior cruciate ligament reconstruction: a preliminary clinical study. Knee Surg Sports Traumatol Arthrosc 3:262–264

8.

Bradley JP, Petrie RS (2001) Osteochondritis dissecans of the humeral capitellum. Diagnosis and treatment. Clin Sports Med 20(3):565–590

9.

Brown R, Blazina ME, Kerlan RK et al. (1974) Osteochondritis dissecans of the capitellum. J Sports Med 2:27–46

10.

Campbell CJ, Ranawat CS (1966) Osteochondritis dissecans: the question of etiology. J Trauma 6:201–221

11.

Clanton TO, DeLee JC (1982) Osteochondritis dissecans. History, pathophysiology and current treatment concepts. Clin Orthop 167:50–64

12.

Eichenauer M, Wodlinger R (1988) Aseptic necroses and osteochondrosis dissecans of the elbow joint. Orthopade 17(4):374–381

13.

Field LD, Savoie FH (1998) Common elbow injuries in sport. Sports Med 26(3):193–205

14.

Ghazavi MT, Priztker KP, Davis AM, Gross AE (1997) Fresh osteochondral allografts for post-traumatic osteochondral defects of the knee. J Bone Joint Surg 79-B:1008–1013

15.

Hangody L, Karpati Z, Szigeti I, Sükösd L (1996) Clinical experience with the mosaic technique. Rev Osteol 4:32–36

16.

Hangody L, Kish G, Karpati Z et al. (1997) Treatment of osteochondritis dissecans of the talus: use of the mosaicplasty technique, a preliminary report. Foot Ankle Int 18:628–634

17.

Harada M, Ogino T, Takahara M, Ishigaki D, Kashiwa H, Kanauchi Y (2002) Fragment fixation with a bone graft and dynamic staples for osteochondritis dissecans of the humeral capitellum. J Shoulder Elbow Surg 11(4):368–372

18.

Haraldsson S (1959) On osteochondrosis deformans juvenilis capituli humeri including investigation of intra-osseous vasculature in distal humerus. Acta Orthop Scand 38 [suppl]:1–232

19.

Holland P, Davies AM, Cassar-Pullicino VN (1994) Computed tomographic arthrography in the assessment of osteochondritis dissecans of the elbow. Clin Radiol 49(4):231–235

20.

Homminga GN, Bulstra SK, Bouwmeester PSM, Van der Linden AJ (1990) Perichondrial grafting for cartilage lesions of the knee. J Bone Joint Surg 72B:1003–1007

21.

Imhoff A, Öttl G, Burkart A, Traub S (1999) Osteochondrale autologe Transplantation an verschiedenen Gelenken. Orthopäde 28:33–45

22.

Imhoff AB, Oettl GM (1999) Arthroscopic and open techniques for transplantation of osteochondral autografts and allografts in various joints. Surg Technol Internat 7:249–252

23.

Imhoff A, Oettl GM, Schoettle P, Agneskirchner J, Burkart A (2000) Arthroscopic and open techniques for transplantation of osteochondral autografts and allografts in different joints. In: Grifka J, Ogilvie-Harris J (eds) Osteoarthritis. Springer, Berlin Heidelberg New York, pp 103–111

24.

Indelicato PA, Jobe FW, Kerlan RK et al. (1979) Correctable elbow lesions in professional baseball players: a review of 25 cases. Am J Sports Med 7:72–75

25.

Jackson DW, Silvino N, Reiman P (1989) Osteochondritis in the female gymnast's elbow. Arthroscopy 5(2):129–136

26.

Janarv PM, Hesser U, Hirsch G (1997) Osteochondral lesions in the radiocapitellar joint in the skeletally immature: radiographic, MRI, and arthroscopic findings in 13 consecutive cases. J Pediatr Orthop 17(3):311–314

27.

Jawish R, Rigault P, Padovani JP, Touzet P, Finidori G, Chaumien JP (1993) Osteochondritis dissecans of the humeral capitellum in children. Eur J Pediatr Surg 3(2):97–100

28.

Jobe FW, Nuber G (1986) Throwing injuries of the elbow. Clin Sports Med 5:621–636

29.

Kiyoshige Y, Takagi M, Yuasa K, Hamasaki M (2000) Closed-wedge osteotomy for osteochondritis dissecans of the capitellum. A 7- to 12-year follow-up. Am J Sports Med 28(4):534–537

30.

Kuwahata Y, Inoue G (1998) Osteochondritis dissecans of the elbow managed by Herbert screw fixation. Orthopedics 21:449–451

31.

Langer F, Percy EC (1971) Osteochondritis dissecans and anomalous centres of ossification: a review of 80 lesions in 61 patients. Can J Surg 14:208–215

32.

Linden BM Telhag H (1977) Osteochondritis dissecans. A histologic and autoradiographic study in man. Acta Orthop Scand 48:682–686

33.

Lindholm TS, Sterman K, Vankka E (1980) Osteochondritis dissecans of elbow, ankle and hip. A comparison survey. Clin Orthop 148:245–253

34.

Matsusue Y, Yamamuro T, Hama H (1993) Arthroscopic multiple osteochondral transplantation to the chondral defect in the knee associated with anterior cruciate ligament disruption. Arthroscopy 9:318–321

35.

Menche DS, Vangsness CT jr, Pitman M et al. (1998) The treatment of isolated articular cartilage lesions in the yound individual. Instr Course Lect 47:505–515

36.

Mitsunaga MM, Adishian DA, Bianco AJ jr (1982) Osteochondritis dissecans of the capitellum. J Trauma 22:53–55

37.

O'Driscoll SW, Keeley FW, Salter RB (1986) The chondrogenic potential of free autogenous periosteal autografts for biological resurfacing of major full thickness defects in joint surfaces under the influence of continous passive motion. An experimental investigation in the rabbit. J Bone Joint Surg 68-A:1017–1035

38.

O'Driscoll SW, Salter RB (1986) The repair of major osteochondral defects in joint surfaces by neochondrogenesis with autogenous osteoperiosteal grafts stimulated by continous passive motion. An experimental investigation in the rabbit. Clin Orthop 208:131–140

39.

O'Driscoll SW, Keeley FW, Salter RB et al. (1988) Durability of regenerated articular cartilage produced by free autogenous periosteal grafts in major full thickness defects in joint surfaces under the influence of continous passive motion. J Bone Joint Surg 70-A:595–606

40.

Ohta K, Fukuda H (1999) Bone-peg grafting for osteochondritis dissecans of the elbow. Int Orthop 23(1):53–57

41.

Oka Y, Ikeda M (2001) Treatment of severe osteochondritis dissecans of the elbow using osteochondral grafts from a rib. J Bone Joint Surg [Br] 83(5):738–739

42.

Nakagawa Y, Matsusue Y, Ikeda N, Asada Y, Nakamura T (2001) Osteochondral grafting and arthroplasty for end-stage osteochondritis dissecans of the capitellum. A case report and review of the literature. Am J Sports Med 29(5):650–655

43.

Panner HJ (1929) A peculiar affection of the capitellum humeri, resembling Calve-Perthes disease of the hip. Acta Radiol 10:234–242

44.

Pappas AM, Zawacki RM, Sullivan TJ (1985) Biomechanics of baseball pitching. A preliminary report. Am J Sports Med 13:216–222

45.

Patel N, Weiner SD (2002) Osteochondritis dissecans involving the trochlea: report of two patients (three elbows) and review of the literature. J Pediatr Orthop 22(1):48–51

46.

Peterson RK, Savoie FH 3rd, Field LD (1999) Osteochondritis dissecans of the elbow. Instr Course Lect 48:393–398

47.

Petrie PWR (1977) Aetiology of osteochondritis dissecans. Failure to establish a familiar background. J Bone Joint Surg 59-B:366–367

48.

Pintore E, Maffulli N (1991) Osteochondritis dissecans of the lateral humeral condyle in a table tennis player. Med Sci Sports Exerc 23(8):889–891

49.

Poehling GG (1997) Osteochondritis dissecans of the elbow. In: Oku (ed) Shoulder and elbow, chapter 39. Norris, AAOS, pp 363–367

50.

Ritsilä VA, Santavirta S, Alhopuro S et al. (1994) Periosteal and perichondrial grafting in reconstructive surgery. Clin Orthop 302:259–265

51.

Ruch DS, Cory JW, Poehling GG (1998) The arthroscopic management of osteochondritis dissecans of the adolescent elbow. Arthroscopy 14(8):797–803

52.

Schenck RC jr, Athanasiou KA, Constantinides G, Gomez E (1994) A biomechanical analysis of articular cartilage of the human elbow and a potential relationship to osteochondritis dissecans. Clin Orthop 299:305–312

53.

Schenck RC, Goodnight JM (1996) Current concepts review. Osteochondritis dissecans. JBJS 78-A:439–456

54.

Shaugnessy WJ, Bianco AJ (1993) Osteochondritis dissecans. In: Morrey BF (ed) The elbow and Its disorders, 2nd ed. Saunders, Philadelphia, pp 282–287

55.

Singer KM, Roy SP (1984) Osteochondrosis of the humeral capitellum. Am J Sports Med 12(5):351–360

56.

Slawski DP (1997) High tibial osteotomy in the treatment of adult osteochondritis dissecans. Clin Orthop 341:155–161

57.

Stubbs MJ, Field LD, Savoie FH 3rd (2001) Osteochondritis dissecans of the elbow. Clin Sports Med 20(1):1–9

58.

Takahara M, Shundo M, Kondo M, Suzuki K, Nambu T, Ogino T (1998) Early detection of osteochonditis dissecans of the capitellum in young baseball players. Report of three cases. JBJS 80A:892–897

59.

Takahara M, Ogino T, Fukushima S, Tsuchida H, Kaneda K (1999) Nonoperative treatment of osteochondritis dissecans of the humeral capitellum. Am J Sports Med 27(6):728–732

60.

Takahara M, Ogino T, Sasaki I et al. (1999) Long-term outcome of osteochondritis dissecans of the humeral capitellum. Clin Orthop 363:108–115

61.

Tullos HS, King JW (1973) Throwing mechanism in sports. Orthop Clin North Am 4:709–720

62.

Wirth CJ (1992) Ellbogengelenk. In: Jaeger M, Wirth CJ (Hrsg) Praxis der Orthopädie, 2. Aufl. S 797–808

63.

Yoshizu T (1997) Surgical treatment of the osteochondritis dissecans in the capitellum (In Japanese). MB Orthop 10:83–95

64.

Yoshizu T (1998) Closed wedge osteotomy for osteochondritis dissecans of humeral capitellum (In Japanese). Monthly Book Orthop 11:29–41
About this article
Cite this article
Burkart, A. Osteonekrose und Ostechondrosis dissecans am Ellbogengelenk. Arthroskopie 16, 104–109 (2003). https://doi.org/10.1007/s00142-003-0216-0
Schlüsselwörter
Morbus Panner

Osteochondrosis dissecans

Avaskuläre Nekrose

OATS
Keywords
Osteonecrosis

Morbus Panner

OATS

Osteochondritis dissecans