Access options
Buy single article
Instant access to the full article PDF.
USD 39.95
Price includes VAT (USA)
Tax calculation will be finalised during checkout.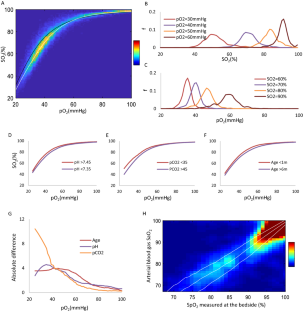 Abbreviations
ODC:

Oxygen dissociation curve

SpO2 :

Peripheral oxygen saturation derived from the pulse oximeter

SO2 :

Blood hemoglobin oxygen saturation

pO2 :

Partial pressure of oxygen in the blood

pCO2 :

Partial pressure of carbon dioxide in the blood
References
1.

Hill AV (1913) The combinations of haemoglobin with oxygen and with carbon monoxide. I. Biochem J 7:471–480

2.

Severinghaus JW (1979) Simple, accurate equations for human blood O2 dissociation computations. J Appl Physiol Respir Environ Exerc Physiol 46:599–602

3.

Collins JA, Rudenski A, Gibson J, Howard L, O'Driscoll R (2015) Relating oxygen partial pressure, saturation and content: the haemoglobin-oxygen dissociation curve. Breathe (Sheff) 11:194–201

4.

Kim EH, Lee JH, Song IK, Kim HS, Jang YE, Yoo S, Kim JT (2019) Accuracy of pulse oximeters at low oxygen saturations in children with congenital cyanotic heart disease: an observational study. Paediatr Anaesth 29(6):597–603

5.

Griksaitis MJ, Scrimgeour GE, Pappachan JV, Baldock AJ (2016) Accuracy of the Masimo SET(R) LNCS neo peripheral pulse oximeter in cyanotic congenital heart disease. Cardiol Young 26:1183–1186
Ethics declarations
Conflicts of interest
Peter Laussen—lead developer T3 software platform, and unpaid medical consultant Etiometry LLC, Boston, Massachusetts. None of the other authors have any conflict of interest.
Additional information
Publisher's Note
Springer Nature remains neutral with regard to jurisdictional claims in published maps and institutional affiliations.
Electronic supplementary material
Below is the link to the electronic supplementary material.
About this article
Cite this article
Eytan, D., Mazwi, M.L., Goodwin, A.J. et al. Revisiting oxygen dissociation curves and bedside measured arterial saturation in critically ill children. Intensive Care Med 45, 1832–1834 (2019). https://doi.org/10.1007/s00134-019-05792-x
Accepted:

Published:

Issue Date: