Abstract
Purpose
The majority of terrorist acts are carried out by explosion or shooting. The objective of this study was first, to describe the management implemented to treat a large number of casualties and their flow together with the injuries observed, and second, to compare these resources according to the mechanism of trauma.
Methods
This retrospective cohort study collected medical data from all casualties of the attacks on November 13th 2015 in Paris, France, with physical injuries, who arrived alive at any hospital within the first 24 h after the events. Casualties were divided into two groups: explosion injuries and gunshot wounds.
Results
337 casualties were admitted to hospital, 286 (85%) from gunshot wounds and 51 (15%) from explosions. Gunshot casualties had more severe injuries and required more in-hospital resources than explosion casualties. Emergency surgery was required in 181 (54%) casualties and was more frequent for gunshot wounds than explosion injuries (57% vs. 35%, p < 0·01). The types of main surgery needed and their delay following hospital admission were as follows: orthopedic [n = 107 (57%); median 744 min]; general [n = 27 (15%); 90 min]; vascular [n = 19 (10%); median 53 min]; thoracic [n = 19 (10%); 646 min]; and neurosurgery [n = 4 (2%); 198 min].
Conclusion
The resources required to deal with a terrorist attack vary according to the mechanism of trauma. Our study provides a template to estimate the proportion of various types of surgical resources needed overall, as well as their time frame in a terrorist multisite and multitype attack.
Funding
Assistance Publique–Hôpitaux de Paris.
Access options
Buy single article
Instant access to the full article PDF.
USD 39.95
Price excludes VAT (USA)
Tax calculation will be finalised during checkout.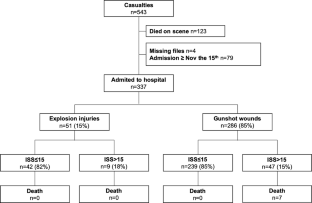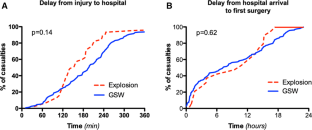 References
Carles M, Levraut J, Gonzalez JF, Valli F, Bornard L et al (2016) Mass casualty events and health organization: terrorist attack in Nice. Lancet 388:2349–2350

Carli P, Pons F, Levraut J, Millet B, Tourtier JP, Ludes B, Lafont A, Riou B (2017) The French emergency medical services after the Paris and nice terrorist attacks: what have we learnt? Lancet 390:2735–2738

Peleg K, Aharonson-Daniel L, Stein M, Michaelson M, Kluger Y, Simon D, Noji EK (2004) Gunshot and explosion injuries: characteristics, outcome and implications for care of terror-related injuries in Israel. Ann Surg 239:311–318

Einav S, Aharonson-Daniel L, Weissman C, Freund HR, Peleg K (2006) In-hospital resource utilization during multiple casualty incidents. Ann Surg 243:533–540

Turner CDA, Lockey DJ, Rehn M (2016) Pre-hospital management of mass casualty civilian shootings: a systematic literature review. Crit Care 20:362

Klassen AB, Marshall M, DaiM Mann NC, Sztajnkrycer MD (2019) Emergency medical services response to mass shooting and active shooter incidents, United States, 2014-2015. Prehosp Emerg Care 23:159–166

Timbie JW, Ringel JS, Fox DS, Pillemer F, Waxman DA, Moore M, Hansen CK, Knebel AR, Ricciardi R, Kellerman AL (2013) Systematic review of strategies to manage and allocate scarce resources during mass casualty events. Ann Emerg Med 61:677–689

Hirsch M, Carli P, Nizard R, Riou B, Baroudjian B, Baubet T, Chhor V, Chollet-Xemard C, Dantchev N, Fleury N, Fontaine JP, Yordanov Y, Raphael M, Paugam Burtz C, Lafont A (2015) The medical response to multisite terrorist attacks in Paris. Lancet 386:2535–2538

von Elm E, Altman DG, Egger M, Pocock SJ, Gøtzsche PC, Vandenbroucke JP (2007) The strengthening the reporting of observational studies in epidemiology (STROBE) statement: guidelines for reporting observational studies. PLoS Med 4:1623–1627

Gregory TM, Bihel T, Guigui P, Pierrart J, Bouyer B, Magrino B, Delgrande D, Lafosse T, Al Khaili J, Baldacci A, Lonjon G, Moreau S, Lantieri L, Alsac JM, Dufourcq JB, Mantz J, Juvin P, Halimi P, Douard R, Mir O, Masmejean E (2016) Terrorist attacks in Paris: surgical trauma experience in a referral center. Injury 47:2122–2126

Tresson P, Touma J, Gaudric J, Pellenc Q, Le Roux M, Pierret C, Kobeiter H, Julia P, Goeau-Brissonniere O, Desgranges P, Koskas F, Castier Y (2017) Management of vascular trauma during the Paris terrorist attack of November 13, 2015. Ann Vasc Surg 40:44–49

Femy F, Follin A, Juvin P, Feral-Pierssens AL (2019) Terrorist attacks in Paris: managing mass casualties in a remote trauma center. Eur J Emerg Med 26:289–294

Service Médical du RAID (Recherche, Assistance, Intervention, Dissuasion) (2016) Tactical emergency medicine: lessons from Paris marauding terrorist attack. Crit Care 20:37

Adnet F, Lapostolle F (2004) International EMS systems: france. Resuscitation 63:7–9

Borel M, Rousseau R, Le Saché F, Pariente D, Castro S, Delay M, Hausfater P, Raux M, Menegaux F (2017) Organization in response to massive afflux of war victims in civilian practice. Experimental feedback from the November 2015 Paris terrorist attacks. J Visc Surg 153:S3–S7

David JS, Bouzat P, Raux M (2019) Evolution and organization of trauma systems. Anaesth Crit Care Pain Med 38:161–167

Sockeel P, De LaVilleon B, Goudard Y, Goin G, Monchal T, Pauleau G (2017) Medical and surgical triage. J Visc Surg 154(Suppl 1):S13–S17

Carli P, Telion C, Baker D (2003) Terrorism in France. Prehospital Disaster Med 18:92–99

Baker SP, O'Neill B, Haddon W, Long WB (1974) The injury severity score: a method for describing patients with multiple injuries and evaluating emergency care. J Trauma 14:187–196

Boyd CR, Tolson MA, Copes WS (1987) Evaluating trauma care: the TRISS method. Trauma score and the injury severity score. J Trauma 27:370–378

Riou B, Landais P, Vivien B, Stell P, Labbene I, Carli P (2001) The distribution of the probability of survival is a strategic issue in randomized trial in trauma. Anesthesiology 95:56–63

Gutierrez de Ceballos JP, Fuentes FTG, Diaz DP, Sanchez MS, Llorente CM, Guerrero Sanz JE (2005) Casualties treated at the closest hospital in the Madrid, March 11, terrorist bombings. Crit Care Med 33:S107–S112

Gaarder C, Jorgensen J, Kolstadbraaten KM, Saksen KS, Skattum J, Rimstad R, Gundem T, Holtan A, Walloe A, Pillgram-Larsen J, Naess PA (2012) The twin terrorist attacks in Norway on July 22, 2011: the trauma center response. J Trauma Acute Care Surg 73:269–275

Turégano-Fuentes F, Pérez-Díaz D, Sanz-Sánchez M, Ortiz Alonso J (2008) Overall asessment of the response to terrorist bombings in trains, Madrid, 11 March 2004. Eur J Trauma Emerg Surg 34:433–441

Aylwin CJ, Konig TC, Brennan NW, Shirley PJ, Davies G, Walsh MS, Brohi K (2006) Reduction in critical mortality in urban mass casualty incidents: analysis of triage, surge, and resource use after the London bombings on July 7, 2005. Lancet 368:2219–2225

Tourtier JP, Palmier B, Tazarourte K, Raux M, Meaudre E, Ausset S, Sailliol A, Vivien B, Domanski L, Carli P (2013) The concept of damage control: extending the paradigm in the prehospital setting. Ann Fr Anesth Reanim 32:520–526

Gauss T, Balandraud P, Frandon J, Abba J, Ageron FX, Albaladejo P, Arvieux C, Barbois S, Bijok B, Bobbia X, Charbit J, Cook F, David JS, Maurice GS, Duranteau J, Garrigue D, Gay E, Geeraerts T, Ghelfi J, Hamada S, Harrois A, Kobeiter H, Leone M, Levrat A, Mirek S, Nadji A, Paugam-Burtz C, Payen JF, Perbet S, Pirracchio R, Plenier I, Pottecher J, Rigal S, Riou B, Savary D, Secheresse T, Tazarourte K, Thony F, Tonetti J, Tresallet C, Wey PF, Picard J, Bouzat P (2019) Strategic proposal for a national trauma system in France. Anaesth Crit Care Pain Med 38:121–130

Sollid SJ, Rimstad R, Rehn M, Nakstad AR, Tomlinson AE, Strand T, Hemdal HJ, Nilsen JE, Sandberg M (2012) Oslo government district bombing and Utøya island shooting July 22, 2011: the immediate prehospital emergency medical service response. Scand J Trauma Resusc Emerg Med 20:3

Klassen AB, Marshall M, Dai M, Mann NC, Sztajnkrycer MD (2018) Emergency medical services response to mass shooting and active shooter incidents, United States, 2014–2015. Prehospital Emerg Care 34:1–8

Shapira SC, Adatto-Levi R, Avitzour M, Rivkind AI, Gertsenshtein I, Mintz Y (2006) Mortality in terrorist attacks: a unique modal of temporal death distribution. World J Surg 30:2071–2077

Gates JD, Arabian S, Biddinger P, Blansfield J, Burke P, Chung S, Fischer J, Friedman F, Gervasini A, Goralnick E, Gupta A, Larentzakis A, McMahon M, Mella J, Michaud Y, Mooney D, Rabinovici R, SweetD Ulrich A, Velmahos G, Weber C, Yaffe MB (2014) The initial response to the Boston marathon bombing: lessons learned to prepare for the next disaster. Ann Surg 260:960–966

Leibovici D, Gofrit ON, Heruti RJ, Shapira SC, Shemer J, Stein M (1997) Inter hospital patient transfer: a quality improvement indicator for prehospital triage in mass casualties. Am J Emerg Med 15:341–344

Yeguiayan J-M, Yap A, Freysz M, Garrigue D, Jacquot C, Martin C, Binquet C, Riou B, Bonithon-Kopp C (2012) Impact of whole-body computed tomography on mortality and surgical management of severe blunt trauma. Crit Care 16:R101

Brook OR, Eran A, Engel A (2012) CT multiplanar reconstructions (MPR) for shrapnel injury trajectory. Emerg Radiol 19:43–51

Watchorn J, Miles R, Moore N (2013) The role of CT angiography in military trauma. Clin Radiol 68:39–46

Shamir MY, Weiss YG, Willner D, Mintz Y, Bloom AI, Weiss Y, Sprung CL, Weissman C (2004) Multiple casualty terror events: the anesthesiologist's perspective. Anesth Analg 98:1746–1752

Hick JL, Einav S, Hanfling D, Kissoon N, Dichter JR, Devereaux AV, Christian MD (2014) Surge capacity principles: care of the critically ill and injured during pandemics and disasters: CHEST consensus statement. Chest 146:e1S–e16S

Bradt DA, Aitken P (2010) Disaster medicine reporting: the need for new guidelines and the CONFIDE statement. Emerg Med Austral 22:483–487
Acknowledgements
We thank Dr. David Baker DM, FRCA (Emeritus consultant anesthesiologist, Department of Anaesthesiology and Critical Care, Hôpital Necker-Enfants Malades, Paris) for reviewing the manuscript.
Other investigators: Christophe Leroy, MD (Direction de l'organisation médicale et des relations avec les universités, APHP, Paris); Prof Thomas Lescot, MD, PhD (Sorbonne Université, Hôpital Saint Antoine, APHP, Paris France); Arnaud Folin, MD, Florent Femy, MD (Hôpital Européen Georges Pompidou, APHP, Paris); Kevin Kearns, MD (Hôpital d'instruction des armées Begin, Saint Mandé); Prof Matthieu Legrand, MD (Hôpital Saint Louis, APHP, Paris); Jennifer Truchot, MD (Hôpital Lariboisière, APHP, Paris); Prof Philippe Montravers, MD, Prof Enrique Casalino, MD (Hôpital Bichat-Claude Bernard, APHP, Paris); Prof Christophe Baillard, MD, Emmanuel Bloch-Laine, MD (Hôpital Cochin, APHP, Paris); Philippe Laitselart, MD, Elodie Schaeffer, MD (Hôpital d'instruction des armées Percy, Clamart); Fabrice Cook, MD, Adrien Zakine, MD (Hôpital Henri Mondor, APHP, Créteil); Marie Clément Kouka, MD, Brigitte Hennequin, MD (Centre Hospitalier Saint Denis, Saint Denis); Fatima Djamouri, MD, Christophe Quesnel MD (Hôpital Tenon, APHP, Paris); Romain Dufau, MD, Prof Frédéric Adnet (Hôpital Avicenne, APHP, Bobigny); Laurence Martineau, MD, Claire Raquillet, MD (Centre Hospitalier Intercommunal Robert Ballanger, Aulnay sous bois); Christophe Vincent-Cassy, MD, Sophie Hamada (Hôpital Kremlin Bicêtre, APHP, Kremlin Bicêtre); Sébastien Beaune, MD (Hôpital Ambroise Paré, APHP,Boulogne Billancourt); Leila Lavagna, MD (Centre Hospitalier André Grégoire, Montreuil); Paer-Selim Abback, MD (Hôpital Beaujon, APHP, Clichy); Djamal Arkoub, MD (Groupe Hospitalier Intercommunal Raincy Montfermeil, Montfermeil); Catherine Le Gall, MD (Centre Hospitalier d'Argenteuil, Argenteuil); Catherine Philipoteau, MD (Centre Hospitalier Intercommunal de Créteil, Créteil); Olivier Ganansia, MD (Hôpital Saint Joseph, Paris); Marc Andronikof, MD (Hôpital Antoine Béclère, APHP, Clamart); Patrick Deschamps, MD, (Centre Hospitalier René Dubos, Pontoise); Cécile Garot, MD (Clinique Floréal, Bagnolet); Julien Aguilar, MD (Hôpital Privé de l'ouest Parisien, Trappes); all in France.
Funding
Assistance Publique–Hôpitaux de Paris provided a grant to pay for data collection. The TraumaBase group was supported only by institutions. Assistance Publique–Hôpitaux de Paris was not involved in analysis, interpretation of the data nor writing the report or decision to submit the paper for publication.
Ethics declarations
Conflicts of interest
On behalf of all authors, the corresponding author states that there is no conflict of interest.
Additional information
Publisher's Note
Springer Nature remains neutral with regard to jurisdictional claims in published maps and institutional affiliations.
The members of the TRAUMABASE Group are listed in the Acknowledgements and in the electronic supplementary material.
Electronic supplementary material
Below is the link to the electronic supplementary material.
About this article
Cite this article
Raux, M., Carli, P., Lapostolle, F. et al. Analysis of the medical response to November 2015 Paris terrorist attacks: resource utilization according to the cause of injury. Intensive Care Med 45, 1231–1240 (2019). https://doi.org/10.1007/s00134-019-05724-9
Received:

Accepted:

Published:

Issue Date:

DOI: https://doi.org/10.1007/s00134-019-05724-9
Keywords
Terrorism

Disaster medicine

Mass casualty

Bombing

Gunshot wound

Emergency Surgery