Access options
Buy single article
Instant access to the full article PDF.
USD 39.95
Price excludes VAT (USA)
Tax calculation will be finalised during checkout.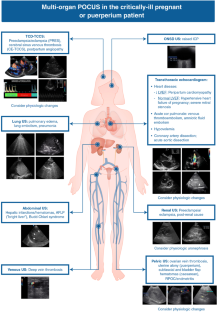 References
Pollock W, Rose L, Dennis CL (2010) Pregnant and postpartum admissions to the intensive care unit: a systematic review. Intensive Care Med 36(9):1465–1474

Rios FG, Risso-Vázquez A, Alvarez J, Vinzio M, Falbo P, Rondinelli N, Bienzobas DH (2012) Clinical characteristics and outcomes of obstetric patients admitted to the intensive care unit. Int J Gynaecol Obstet 119(2):136–140

Vieillard-Baron A, Millington SJ, Sanfilippo F, Chew M, Diaz-Gomez J, McLean A, Pinsky MR, Pulido J, Mayo P, Fletcher N (2019) A decade of progress in critical care echocardiography: a narrative review. Intensive Care Med. https://doi.org/10.1007/s00134-019-05604-2

Volpicelli G, Elbarbary M, Blaivas M, Lichtenstein DA, Mathis G, Kirkpatrick AW, Melniker L, Gargani L, Noble VE, Via G, Dean A, Tsung JW, Soldati G, Copetti R, Bouhemad B, Reissig A, Agricola E, Rouby JJ, Arbelot C, Liteplo A, Sargsyan A, Silva F, Hoppmann R, Breitkreutz R, Seibel A, Neri L, Storti E, Petrovic T, International Liaison Committee on Lung Ultrasound (ILC-LUS) for International Consensus Conference on Lung Ultrasound (ICC-LUS) (2012) International evidence-based recommendations for point-of-care lung ultrasound. Intensive Care Med 38(4):577–591

Liu S, Elkayam U, Naqvi TZ (2016) Echocardiography in pregnancy: part 1. Curr Cardiol Rep 18(9):92

Plowman RS, Javidan-Nejad C, Raptis CA, Katz DS, Mellnick VM, Bhalla S, Cornejo P, Menias CO (2017) Imaging of pregnancy-related vascular complications. Radiographics 37(4):1270–1289

Acker LC, Jones RC, Rasouli MR, Bronshteyn YS (2019) Focused cardiac ultrasound during amniotic fluid embolism. Anesthesiology 130(6):1032–1033

Maack KH, Munk K, Dahl K, Jørgensen HH, Christiansen A, Helmig RB (2018) Right heart masses demonstrated by echocardiography in a patient with amniotic fluid embolism during labour. Acta Anaesthesiol Scand 62(1):134–137

Steinkeler J, Coldwell BJ, Warner MA (2012) Ultrasound of the postpartum uterus. Ultrasound Q 28(2):97–103

Zhang YP, Kong WQ, Zhou SP, Gong YH, Zhou R (2016) Acute fatty liver of pregnancy: a retrospective analysis of 56 cases. Chin Med J (Engl) 129(10):1208–1214

Perronne L, Dohan A, Bazeries P, Guerrache Y, Fohlen A, Rousset P, Aubé C, Laurent V, Morel O, Boudiaf M, Hoeffel C, Soyer P (2015) Hepatic involvement in HELLP syndrome: an update with emphasis on imaging features. Abdom Imaging 40(7):2839–2849

Kronthal AJ, Fishman EK, Kuhlman JE, Bohlman ME (1990) Hepatic infarction in preeclampsia. Radiology 177(3):726–728

Nunes JO, Turner MA, Fulcher AS (2005) Abdominal imaging features of HELLP syndrome: a 10-year retrospective review. AJR Am J Roentgenol 185(5):1205–1210

De Gottardi A, Berzigotti A, Buscarini E, García Criado A (2018) Ultrasonography in liver vascular disease. Ultraschall Med 39(4):382–405

Schutz K, Siffring PA, Forrest TS, Hill WC, Frick MP (1990) Serial renal sonographic changes in preeclampsia. J Ultrasound Med 9(7):415–418

Costa A, Filipe JP, Santos R, Ferreira C, Abreu P, Azevedo E (2015) The role of transcranial Doppler ultrasonography in posterior reversible encephalopathy syndrome. Cerebrovasc Dis 39(suppl 1):1–52

Chen SP, Fuh JL, Chang FC, Lirng JF, Shia BC, Wang SJ (2008) Transcranial color doppler study for reversible cerebral vasoconstriction syndromes. Ann Neurol 63(6):751–757

Stolz EP (2008) Role of ultrasound in diagnosis and management of cerebral vein and sinus thrombosis. Front Neurol Neurosci 23:112–121

Robba C, Goffi A, Geeraerts T, Cardim D, Via G, Czosnyka M, Park S, Sarwal A, Padayachy L, Rasulo F, Citerio G (2019) Brain ultrasonography: methodology, basic and advanced principles and clinical applications. A narrative review. Intensive Care Med. https://doi.org/10.1007/s00134-019-05610-4
Funding
The authors do not receive any funding.
Ethics declarations
Conflicts of interest
Authors have no conflicts of interest related to this submission.
Ethical approval
All procedures performed in studies involving human participants were in accordance with the ethical standards of the institutional and/or national research committee and with the 1964 Helsinki declaration and its later amendments or comparable ethical standards.
Additional information
Publisher's Note
Springer Nature remains neutral with regard to jurisdictional claims in published maps and institutional affiliations.
Electronic supplementary material
Below is the link to the electronic supplementary material.
Table. Multi-organ point-of-care ultrasound (POCUS) in the pregnant or puerperium patient. The most important pathologies of this period that should be considered are summarized. To avoid incorrect interpretations, intensivists should know physiologic changes and their POCUS correlations well. (DOCX 46 kb)
ESM 2. Peripartum cardiomyopathy in the immediate puerperium of a young woman presenting with signs of congestive heart failure. Transthoracic echocardiogram (TTE) shows a dilated left ventricle (LV) with severely impaired systolic function; LV filling pressure is elevated as well. An intracardiac thrombus and a left-sided pleural effusion are also observed. (WMV 11654 kb)
ESM 3. Severe mitral valve stenosis in a patient presenting late in pregnancy with signs of congestive heart failure. TTE shows a normal LVEF, a dilated left atrium, a clearly reduced opening of the mitral valve (MV) leaflets, and a highly elevated mean MV gradient on continuous wave Doppler; pulmonary hypertension (not shown) was demonstrated as well. (WMV 2708 kb)
Venous thromboembolic disease and pelvic septic thrombophlebitis in the puerperium (caesarean section) of a patient presenting with pelvic pain and dyspnea. a. Dilation of the right ventricle (D-shaped left ventricle). Impaired systolic function of the right ventricle (e.g., low tricuspid annular plane systolic excursion, not shown) was also evident. RV: right ventricle; LV: left ventricle; b. Lung ultrasound shows a subpleural consolidation in the right lung (arrows), a finding which may indicate a pulmonary infarction; c. Deep vein thrombosis, as demonstrated by a thrombus (T) in the right common femoral vein; d. Thrombus (T) extending to the infra-renal inferior vena cava (IVC) and thrombotic material alongside the IVC (arrows), corresponding to a thrombosed right ovarian vein (ovarian vein thrombophlebitis). aa: abdominal aorta; vb: vertebral body. (TIFF 8519 kb)
ESM 5. Hypovolemic shock in a patient with severe blood loss secondary to uterine atony. TTE shows depleted cardiac chambers, a tiny inferior vena cava and hyperdynamic ventricles. (WMV 5637 kb)
Subfascial hematoma (arrows), observed as a heterogenous mass located in the prevesical space in a patient with fever, abdominal pain, and progressive diminishing of the hematocrit; b. Liver infarction as demonstrated by a hypoechoic liver pattern in the subcapsular region (arrows) in a patient with HELLP syndrome and right upper quadrant abdominal pain; c. Grossly enlarged kidney with increased parenchymal echogenicity, in a patient with pre-eclampsia and increased serum creatinine. (TIFF 4979 kb)
Transcranial Doppler (TCD) in a patient with severe pre-eclampsia and signs of posterior reversible encephalopathy in computed tomography scan. a. Criteria of vasospasm as demonstrated by the grossly elevated velocities in the middle cerebral artery; b. Loss of cerebral autoregulation demonstrated by the transient hyperemic response test, in which there is absence of increase of velocities after releasing compression of the common carotid artery (CCA) at the base of the neck. (TIFF 6900 kb)
About this article
Cite this article
Blanco, P., Abdo-Cuza, A. Point-of-care ultrasound in the critically ill pregnant or postpartum patient: what every intensivist should know. Intensive Care Med 45, 1123–1126 (2019). https://doi.org/10.1007/s00134-019-05682-2
Received:

Accepted:

Published:

Issue Date:

DOI: https://doi.org/10.1007/s00134-019-05682-2