Abstract
Purpose
One potential way to protect patients from the physiological demands that are a consequence of fever is to aim to prevent fever and to treat it assiduously when it occurs. Our primary hypothesis was that more active fever management would increase survival among patient subgroups with limited physiological reserves such as older patients, patients with higher illness acuity, and those requiring organ support.
Methods
We conducted an individual-level patient data meta-analysis of randomised controlled trials to compare the outcomes of ICU patients who received more active fever management with the outcomes of patients who received less active fever management. The primary outcome variable of interest was the unadjusted time to death after randomisation.
Results
Of 1413 trial participants, 707 were assigned to more active fever management and 706 were assigned to less active fever management. There was no statistically significant heterogeneity in the effect of more active compared with less active fever management on survival in any of the pre-specified subgroups that were chosen to identify patients with limited physiological reserves. Overall, more active fever management did not result in a statistically significant difference in survival time compared with less active fever management [hazard ratio 0.91; (95% CI 0.75–1.10), P = 0.32].
Conclusions
Our findings do not support the hypothesis that more active fever management increases survival compared with less active fever management overall or in patients with limited physiological reserves.
Access options
Buy single article
Instant access to the full article PDF.
USD 39.95
Price excludes VAT (USA)
Tax calculation will be finalised during checkout.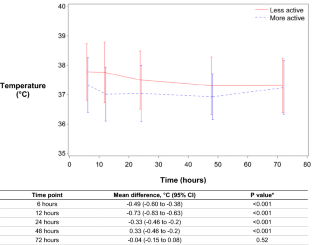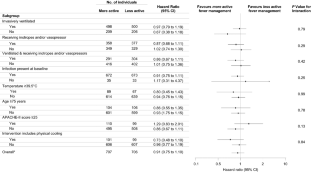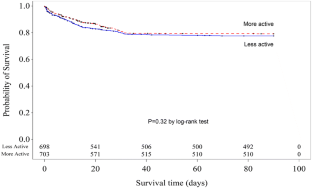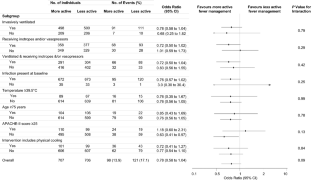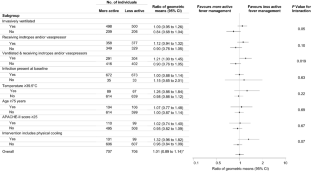 References
Golding R, Taylor D, Gardner H, Wilkinson JN (2016) Targeted temperature management in intensive care—do we let nature take its course? JICS 17:154–159

Manthous CA, Hall JB, Olson D, Singh M, Chatila W, Pohlman A, Kushner R, Schmidt GA, Wood LD (1995) Effect of cooling on oxygen consumption in febrile critically ill patients. Am J Respir Crit Care Med 151:10–14

Laupland KB, Shahpori R, Kirkpatrick AW, Ross T, Gregson DB, Stelfox HT (2008) Occurrence and outcome of fever in critically ill adults. Crit Care Med 36:1531–1535

Laupland KB, Zahar JR, Adrie C, Schwebel C, Goldgran-Toledano D, Azoulay E, Garrouste-Orgeas M, Cohen Y, Jamali S, Souweine B, Darmon M, Timsit JF (2012) Determinants of temperature abnormalities and influence on outcome of critical illness. Crit Care Med 40:145–151

Niven DJ, Stelfox HT, Shahpori R, Laupland KB (2013) Fever in adult ICUs: an interrupted time series analysis. Crit Care Med 41:1863–1869

Young P, Saxena M, Bellomo R, Freebairn R, Hammond N, van Haren F, Holliday M, Henderson S, Mackle D, McArthur C, McGuinness S, Myburgh J, Weatherall M, Webb S, Beasley R (2015) Acetaminophen for fever in critically ill patients with suspected infection. N Engl J Med 373:2215–2224

Bernard GR, Wheeler AP, Russell JA, Schein R, Summer WR, Steinberg KP, Fulkerson WJ, Wright PE, Christman BW, Dupont WD, Higgins SB, Swindell BB (1997) The effects of ibuprofen on the physiology and survival of patients with sepsis. The Ibuprofen in Sepsis Study Group. N Engl J Med 336:912–918

Schortgen F, Clabault K, Katsahian S, Devaquet J, Mercat A, Deye N, Dellamonica J, Bouadma L, Cook F, Beji O, Brun-Buisson C, Lemaire F, Brochard L (2012) Fever control using external cooling in septic shock: a randomized controlled trial. Am J Respir Crit Care Med 185:1088–1095

Dallimore J, Ebmeier S, Thayabaran D, Bellomo R, Bernard G, Schortgen F, Saxena M, Beasley R, Weatherall M, Young P (2018) Effect of active temperature management on mortality in intensive care unit patients. Crit Care Resusc 20:150–163

Young PJ, Nielsen N, Saxena M (2017) Fever control. Intensive Care Med 44:227–230

Young PJ, Saxena M (2014) Fever management in intensive care patients with infections. Crit Care 18:206

Knaus WA, Draper EA, Wagner DP, Zimmerman JE (1985) APACHE II: a severity of disease classification system. Crit Care Med 13:818–829

Metnitz PG, Moreno RP, Almeida E, Jordan B, Bauer P, Campos RA, Iapichino G, Edbrooke D, Capuzzo M, Le Gall JR (2005) SAPS 3—from evaluation of the patient to evaluation of the intensive care unit. Part 1: Objectives, methods and cohort description. Intensive Care Med 31:1336–1344

Niven DJ, Stelfox HT, Leger C, Kubes P, Laupland KB (2013) Assessment of the safety and feasibility of administering antipyretic therapy in critically ill adults: a pilot randomized clinical trial. J Crit Care 28:296–302

Saxena MK, Taylor C, Billot L, Bompoint S, Gowardman J, Roberts JA, Lipman J, Myburgh J (2015) The effect of paracetamol on core body temperature in acute traumatic brain injury: a randomised, controlled clinical trial. PLoS One 10:e0144740

Drewry AM, Ablordeppey EA, Murray ET, Stoll CRT, Izadi SR, Dalton CM, Hardi AC, Fowler SA, Fuller BM, Colditz GA (2017) Antipyretic therapy in critically ill septic patients: a systematic review and meta-analysis. Crit Care Med 45:806–813

Young PJ, Saxena M, Beasley R, Bellomo R, Bailey M, Pilcher D, Finfer S, Harrison D, Myburgh J, Rowan K (2012) Early peak temperature and mortality in critically ill patients with or without infection. Intensive Care Med 38:437–444
Acknowledgements
This research was conducted during the tenure of a Clinical Practitioner Research Fellowship from the Health Research Council of New Zealand held by PY. The Medical Research Institute of New Zealand is supported by independent research organisation funding from the Health Research Council of New Zealand.
Ethics declarations
Conflicts of interest
Dr. Paul Young and Dr. Manoj Saxena report receiving speaker's fees from Bard Medical Pty. Dr. Gordon Bernard reports having an equity stake and is on the Board of Directors for Cumberland Pharmaceuticals, Nashville, TN, makers of intravenous ibuprofen (Caldolor).
Ethical approval
An approval by an ethics committee was not applicable.
Additional information
Publisher's Note
Springer Nature remains neutral with regard to jurisdictional claims in published maps and institutional affiliations.
Electronic supplementary material
Below is the link to the electronic supplementary material.
About this article
Cite this article
Young, P.J., Bellomo, R., Bernard, G.R. et al. Fever control in critically ill adults. An individual patient data meta-analysis of randomised controlled trials. Intensive Care Med 45, 468–476 (2019). https://doi.org/10.1007/s00134-019-05553-w
Received:

Accepted:

Published:

Issue Date:

DOI: https://doi.org/10.1007/s00134-019-05553-w
Keywords
Sepsis

Fever

Septic shock

Paracetamol

Non-steroidal anti-inflammatory drugs

Physical cooling