Abstract
Purpose
Clinical research is widely sponsored by drug and device companies. We investigated whether industry sponsored drug and device studies have more favorable outcomes and differ in risk of bias, compared with studies having other sources of sponsorship. This review is an update of a previous Cochrane review.
Methods
In this update we searched MEDLINE and Embase (2010 to February 2015), Cochrane Methodology Register (2015, Issue 2) and Web of Science (June 2015). We included empirical studies that quantitatively compared primary research studies of drugs or medical devices sponsored by industry with studies with other sources of sponsorship. Two assessors included papers, extracted data and assessed risk of bias. Outcomes included favorable results, favorable conclusions, effect size, risk of bias and whether conclusions agreed with results.
Results
We included 27 additional papers in this update (review now includes 75 papers). Industry sponsored studies more often had favorable efficacy results, RR: 1.27 (95% CI 1.17–1.37), no difference in harms results RR: 1.37 (95% CI 0.64–2.93) and more often favorable conclusions RR: 1.34 (95% CI 1.19–1.51) compared with non-industry sponsored studies. Nineteen papers reported on sponsorship and efficacy effect size, but could not be pooled due to differences in reporting of data and heterogeneity of results. Comparing industry and non-industry sponsored studies, we did not find a difference in risk of bias from sequence generation, allocation concealment, follow-up and selective outcome reporting. However, industry sponsored studies more often had low risk of bias from blinding, RR: 1.25 (95% CI 1.05–1.50), compared with non-industry sponsored studies.
Conclusions
Drug and device studies sponsored by manufacturing companies have more favorable efficacy results and conclusions than studies sponsored by other sources.
This is a preview of subscription content, log in to check access.
Access options
Buy single article
Instant access to the full article PDF.
US$ 39.95
Price includes VAT for USA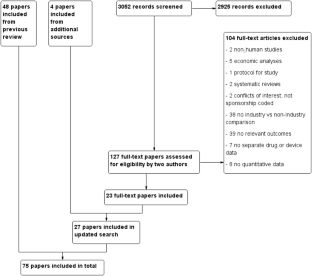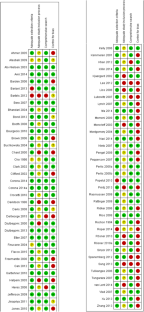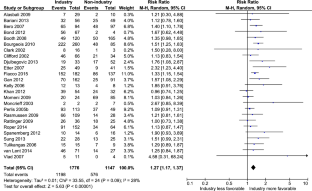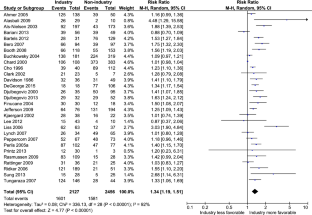 References
1.

Wyatt J (1991) Use and sources of medical knowledge. Lancet 338:1368–1373

2.

PhRMA. Pharmaceutical marketing in perspective: its value and role as one of many factors informing prescribing. http://phrma-docs.phrma.org/sites/default/files/pdf/phrma_marketing_brochure_influences_on_prescribing_final.pdf. Accessed 26 April 2018

3.

Moses H 3rd, Matheson DH, Cairns-Smith S, George BP, Palisch C, Dorsey ER (2015) The anatomy of medical research: US and international comparisons. JAMA 313:174–189

4.

Bekelman JE, Li Y, Gross CP (2003) Scope and impact of financial conflicts of interest in biomedical research: a systematic review. JAMA 289:454–465

5.

Lexchin J, Bero L, Djulbegovic B, Clark O (2003) Pharmaceutical industry sponsorship and research outcome and quality: a systematic review. BMJ 326:1167–1170

6.

Sismondo S (2008) Pharmaceutical company funding and its consequences: a qualitative systematic review. Contemp Clin Trials 29:109–113

7.

Schott G, Pachl H, Limbach U, Gundert-Remy U, Ludwig WD, Lieb K (2010) The financing of drug trials by pharmaceutical companies and its consequences. Part 1: a qualitative, systematic review of the literature on possible influences on the findings, protocols, and quality of drug trials. Dtsch Arztebl Int 107:279–285

8.

Bero LA, Rennie D (1996) Influences on the quality of published drug studies. Int J Technol Assess Health Care 12:209–237

9.

Lexchin J (2012) Those who have the gold make the evidence: how the pharmaceutical industry biases the outcomes of clinical trials of medications. Sci Eng Ethics 18:247–261

10.

Sismondo S (2008) How pharmaceutical industry funding affects trial outcomes: causal structures and responses. Soc Sci Med 66:1909–1914

11.

Rosefsky JB (2003) Results of clinical trials sponsored by for-profit vs nonprofit entities. JAMA 290:3070–3071

12.

Higgins JPT, Green S (2011) cochrane handbook for systematic reviews of interventions version 5.1.0. The Cochrane collaboration. http://www.cochrane-handbook.org. Accessed 26 April 2018

13.

Lundh A, Lexchin J, Mintzes B, Schroll JB, Bero L (2017) Industry sponsorship and research outcome. Cochrane Database Syst Rev 2:MR000033

14.

Lundh A, Lexchin J, Sismondo S, Busuioc OA, Bero L (2011) Industry sponsorship and research outcome. Cochrane Database Syst Rev 9:MR000033

15.

Lundh A, Sismondo S, Lexchin J, Busuioc OA, Bero L (2012) Industry sponsorship and research outcome. Cochrane Database Syst Rev 12:MR000033

16.

Moher D, Liberati A, Tetzlaff J, Altman DG (2009) Preferred reporting items for systematic reviews and meta-analyses: the PRISMA statement. BMJ 339:b2535

17.

Guyatt GH, Oxman AD, Vist GE, Kunz R, Falck-Ytter Y, Alonso-Coello P, Schünemann HJ (2008) GRADE: an emerging consensus on rating quality of evidence and strength of recommendations. BMJ 336:924–926

18.

The Cochrane Collaboration (2014) Review Manager (RevMan), version 5.3.5.: The Nordic Cochrane Centre, Copenhagen

19.

Als-Nielsen B, Chen W, Gluud C, Kjaergard LL (2003) Association of funding and conclusions in randomized drug trials: a reflection of treatment effect or adverse events? JAMA 290:921–928

20.

Sinyor M, Schaffer A, Smart KA, Levitt AJ, Lanctôt KL, Grysman NH (2012) Sponsorship, antidepressant dose, and outcome in major depressive disorder: meta-analysis of randomized controlled trials. J Clin Psychiatry 73:e277–e287

21.

Alasbali T, Smith M, Geffen N, Trope GE, Flanagan JG, Jin Y et al (2009) Discrepancy between results and abstract conclusions in industry- vs nonindustry-funded studies comparing topical prostaglandins. Am J Ophthalmol 147:33–38

22.

Hart B, Lundh A, Bero L (2012) Effect of reporting bias on meta-analyses of drug trials: reanalysis of meta-analyses. BMJ 344:d7202

23.

Bero L, Oostvogel F, Bacchetti P, Lee K (2007) Factors associated with findings of published trials of drug-drug comparisons: why some statins appear more efficacious than others. PLoS Med 4:e184

24.

Booth CM, Cescon DW, Wang L, Tannock IF, Krzyzanowska MK (2008) Evolution of the randomized controlled trial in oncology over three decades. J Clin Oncol 26:5458–5464

25.

Bourgeois FT, Murthy S, Mandl KD (2010) Outcome reporting among drug trials registered in ClinicalTrials.gov. Ann Intern Med 153:158–166

26.

Djulbegovic B, Kumar A, Miladinovic B, Reljic T, Galeb S, Mhaskar A et al (2013) Treatment success in cancer: industry compared to publicly sponsored randomized controlled trials. PLoS ONE 8:e58711

27.

Etter JF, Burri M, Stapleton J (2007) The impact of pharmaceutical company funding on results of randomized trials of nicotine replacement therapy for smoking cessation: a meta-analysis. Addiction 102:815–822

28.

Flacco ME, Manzoli L, Boccia S, Capasso L, Aleksovska K, Rosso A et al (2015) Head-to-head randomized trials are mostly industry sponsored and almost always favor the industry sponsor. J Clin Epidemiol 68:811–820

29.

Perlis CS, Harwood M, Perlis RH (2005) Extent and impact of industry sponsorship conflicts of interest in dermatology research. J Am Acad Dermatol 52:967–971

30.

Djulbegovic B, Lacevic M, Cantor A, Fields KK, Bennett CL, Adams JR et al (2000) The uncertainty principle and industry-sponsored research. Lancet 356:635–638

31.

Dunn AG, Mandl KD, Coiera E, Bourgeois FT (2013) The effects of industry sponsorship on comparator selection in trial registrations for neuropsychiatric conditions in children. PLoS ONE 8:e84951

32.

Estellat C, Ravaud P (2012) Lack of head-to-head trials and fair control arms: randomized controlled trials of biologic treatment for rheumatoid arthritis. Arch Int Med 172:237–244

33.

Katz KA, Karlawish JH, Chiang DS, Bognet RA, Propert KJ, Margolis DJ (2006) Prevalence and factors associated with use of placebo control groups in randomized controlled trials in psoriasis: a cross-sectional study. J Am Acad Dermatol 55:814–822

34.

Lathyris DN, Patsopoulos NA, Salanti G, Ioannidis JP (2010) Industry sponsorship and selection of comparators in randomized clinical trials. Eur J Clin Invest 40:172–182

35.

Rochon PA, Gurwitz JH, Simms RW, Fortin PR, Felson DT, Minaker KL et al (1994) A study of manufacturer-supported trials of nonsteroidal anti-inflammatory drugs in the treatment of arthritis. Arch Int Med 154:157–163

36.

Safer DJ (2002) Design and reporting modifications in industry-sponsored comparative psychopharmacology trials. J Nerv Ment Dis 190:583–592

37.

Mann H, Djulbegovic B (2013) Comparator bias: why comparisons must address genuine uncertainties. J R Soc Med 106:30–33

38.

Johansen HK, Gøtzsche PC (1999) Problems in the design and reporting of trials of antifungal agents encountered during meta-analysis. JAMA 282:1752–1759

39.

Furukawa TA (2004) All clinical trials must be reported in detail and made publicly available. BMJ 329:626

40.

Psaty BM, Kronmal RA (2008) Reporting mortality findings in trials of rofecoxib for Alzheimer disease or cognitive impairment: a case study based on documents from rofecoxib litigation. JAMA 299:1813–1817

41.

Psaty BM, Prentice RL (2010) Minimizing bias in randomized trials: the importance of blinding. JAMA 304:793–794

42.

Chan AW, Hróbjartsson A, Haahr MT, Gøtzsche PC, Altman DG (2004) Empirical evidence for selective reporting of outcomes in randomized trials: comparison of protocols to published articles. JAMA 291:2457–2465

43.

Dwan K, Altman DG, Arnaiz JA, Bloom J, Chan AW, Cronin E et al (2008) Systematic review of the empirical evidence of study publication bias and outcome reporting bias. PLoS ONE 3:e3081

44.

Gøtzsche PC (2011) Why we need easy access to all data from all clinical trials and how to accomplish it. Trials 12:249

45.

McGauran N, Wieseler B, Kreis J, Schuler YB, Kolsch H, Kaiser T (2010) Reporting bias in medical research - a narrative review. Trials 11:37

46.

Melander H, Ahlqvist-Rastad J, Meijer G, Beermann B (2003) Evidence b(i)ased medicine-selective reporting from studies sponsored by pharmaceutical industry: review of studies in new drug applications. BMJ 326:1171–1173

47.

Rising K, Bacchetti P P, Bero L (2003) Reporting bias in drug trials submitted to the Food and Drug Administration: review of publication and presentation. PLoS Med 5:e217

48.

Vedula SS, Bero L, Scherer RW, Dickersin K (2009) Outcome reporting in industry-sponsored trials of gabapentin for off-label use. N Engl J Med 361:1963–1971

49.

Killin LO, Russ TC, Starr JM, Abrahams S, Della Sala S (2014) The effect of funding sources on donepezil randomized controlled trial outcome: a meta-analysis. BMJ Open 4:e004083

50.

Naci H, Dias S, Ades AE (2014) Industry sponsorship bias in research findings: a network meta-analysis of LDL cholesterol reduction in randomised trials of statins. BMJ 349:g5741

51.

Boutron I, Dutton S, Ravaud P, Altman DG (2010) Reporting and interpretation of randomized controlled trials with statistically nonsignificant results for primary outcomes. JAMA 303:2058–2064

52.

Oxman AD, Guyatt GH, Singer J, Goldsmith CH, Hutchison BG, Milner RA et al (1991) Agreement among reviewers of review articles. J Clin Epidemiol 44:91–98

53.

Shea BJ, Grimshaw JM, Wells GA, Boers M, Andersson N, Hamel C et al (2007) Development of AMSTAR: a measurement tool to assess the methodological quality of systematic reviews. BMC Med Res Methodol 7:10

54.

Corona G, Maseroli E, Rastrelli G, Isidori AM, Sforza A, Mannucci E et al (2014) Cardiovascular risk associated with testosterone-boosting medications: a systematic review and meta-analysis. Expert Opin Drug Saf 13:1327–1351

55.

Xu L, Freeman G, Cowling BJ, Schooling CM (2013) Testosterone therapy and cardiovascular events among men: a systematic review and meta-analysis of placebo-controlled randomized trials. BMC Med 11:108

56.

Golder S, Loke YK (2008) Is there evidence for biased reporting of published adverse effects data in pharmaceutical industry-funded studies? Br J Clin Pharmacol 66:767–773

57.

Doshi P, Jones M, Jefferson T (2012) Rethinking credible evidence synthesis. BMJ 344:d7898

58.

Godlee F (2009) We want raw data, now. BMJ 339:b5405

59.

Krleza-Jeric K, Chan AW, Dickersin K, Sim I, Grimshaw J, Gluud C (2005) Principles for international registration of protocol information and results from human trials of health related interventions: Ottawa statement (part 1). BMJ 330:956–958

60.

DeAngelis CD, Fontanarosa PB (2010) The importance of independent academic statistical analysis. Biostatistics 11:383–384
Acknowledgements
We thank Jeremy Cullis (clinical librarian) at Macquarie University for developing the search strategy and running the database searches of this update. We thank the authors of the included papers for sharing their raw data. We thank Sergio Sismondo and Octavian A. Busuioc who co-authored the previous review. The authors were personally salaried by their institution during the period of the review. The study received no external funding.
Ethics declarations
Conflicts of interest
All review authors are authors of the some of the previous reviews and included studies. In 2015–2018, Joel Lexchin was a paid consultant on three projects: one looking at indication-based prescribing (United States Agency for Healthcare Research and Quality), a second to develop principles for conservative diagnosis (Gordon and Betty Moore Foundation) and a third deciding what drugs should be provided free of charge by general practitioners (Government of Canada, Ontario Supporting Patient Oriented Research Support Unit and the St Michael's Hospital Foundation). He also received payment for being on a panel that discussed a pharmacare plan for Canada (Canadian Institute, a for-profit organization). He is currently a member of research groups that are receiving money from the Canadian Institutes of Health Research and the Australian National Health and Medical Research Council. He is member of the Foundation Board of Health Action International and the Board of Canadian Doctors for Medicare. In 2015 and 2016, Barbara Mintzes was retained as an expert witness by the law firm representing the plaintiffs in an application for a Canadian class action on cardiovascular risks of testosterone supplements. She was a member of the Health Action International—Europe Association Board from 2012 to 2015. The review authors have no other relevant interests.
Additional information
Republished in Intensive Care Medicine with permission of © The Cochrane Collaboration. This review is an abridged version of a Cochrane Review previously published in the Cochrane Database of Systematic Reviews: Lundh A, Lexchin J, Mintzes B, Schroll JB, Bero L. Industry sponsorship and research outcome. Cochrane Database of Systematic Reviews 2017, Issue 2. Art. No.: MR000033. https://doi.org/10.1002/14651858.mr000033.pub3 (see http://www.cochranelibrary.com for information). Cochrane Reviews are regularly updated as new evidence emerges and in response to feedback, and Cochrane Database of Systematic Reviews should be consulted for the most recent version of the review.
Electronic supplementary material
Below is the link to the electronic supplementary material.
About this article
Cite this article
Lundh, A., Lexchin, J., Mintzes, B. et al. Industry sponsorship and research outcome: systematic review with meta-analysis. Intensive Care Med 44, 1603–1612 (2018). https://doi.org/10.1007/s00134-018-5293-7
Received:

Accepted:

Published:

Issue Date:
Keywords
Industry sponsorship

Conflicts of interest

Clinical trials

Outcomes

Methodological quality

Bias