The airway occlusion pressure (P0.1) to monitor respiratory drive during mechanical ventilation: increasing awareness of a not-so-new problem
What's New in Intensive Care
Importance of monitoring respiratory drive during mechanical ventilation
An inadequate respiratory drive under mechanical ventilation, either too high or too low, has recently been incriminated as a risk factor for both lung [
1
] and diaphragmatic injury [
2
]. Monitoring and controlling the drive to breathe might, therefore, be important for clinical practice. However, respiratory drive assessment has mostly been limited to research purposes, with few techniques available at the bedside [
3
]. A simple non-invasive measure, the airway occlusion pressure (
P
0.1
), i.e. the pressure developed in the occluded airway 100 ms after the onset of inspiration (Fig.
1
), was first described 40 years ago. Currently, nearly all modern ventilators provide a means of measuring
P
0.1
. Despite having a better understanding of the importance of the respiratory drive during mechanical ventilation, no recommendations exist about its use.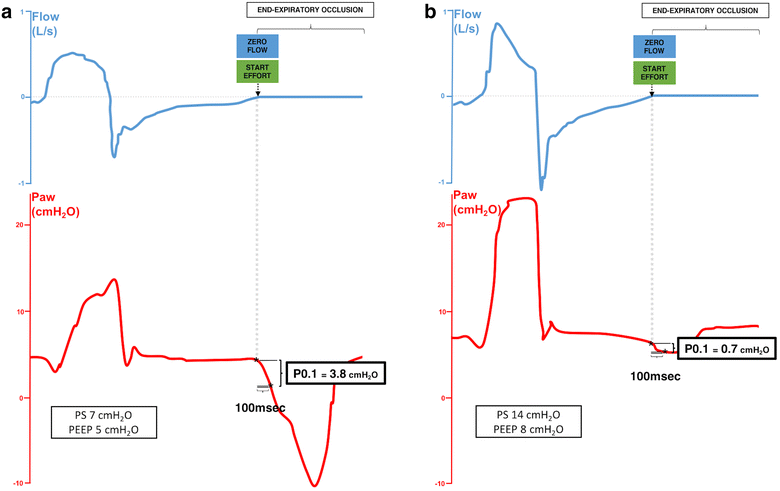 Notes
Acknowledgements
Funding was provided by Keenan Chair in Critical Care and Acute Respiratory Failure.
Compliance with ethical standards
Conflicts of interest
IT received consulting fees from MBMed SA. LB's research laboratory received research grants and/or equipment from Covidien, General Electric, Fisher Paykel, Maquet, Air Liquide, and Philips.
Copyright information
© Springer-Verlag GmbH Germany, part of Springer Nature and ESICM 2018