Access options
Buy single article
Instant access to the full article PDF.
US$ 39.95
Tax calculation will be finalised during checkout.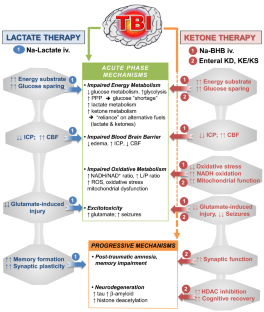 References
1.

Glenn TC, Martin NA, Horning MA, McArthur DL, Hovda DA, Vespa P, Brooks GA (2015) Lactate: brain fuel in human traumatic brain injury: a comparison with normal healthy control subjects. J Neurotrauma 32:820–832

2.

Magistretti PJ, Allaman I (2018) Lactate in the brain: from metabolic end-product to signalling molecule. Nat Rev Neurosci 19:235–249

3.

Prins ML, Matsumoto JH (2014) The collective therapeutic potential of cerebral ketone metabolism in traumatic brain injury. J Lipid Res 55:2450–2457

4.

Jalloh I, Helmy A, Howe DJ, Shannon RJ, Grice P, Mason A, Gallagher CN, Murphy MP, Pickard JD, Menon DK et al (2018) A comparison of oxidative lactate metabolism in traumatically injured brain and control brain. J Neurotrauma 35:2025–2035

5.

Wolahan SM, Mao HC, Real C, Vespa PM, Glenn TC (2018) Lactate supplementation in severe traumatic brain injured adults by primed constant infusion of sodium l-lactate. J Neurosci Res 96:688–695

6.

Carteron L, Solari D, Patet C, Quintard H, Miroz JP, Bloch J, Daniel RT, Hirt L, Eckert P, Magistretti PJ et al (2018) Hypertonic lactate to improve cerebral perfusion and glucose availability after acute brain injury. Crit Care Med 46:1649–1655

7.

Ichai C, Payen JF, Orban JC, Quintard H, Roth H, Legrand R, Francony G, Leverve XM (2013) Half-molar sodium lactate infusion to prevent intracranial hypertensive episodes in severe traumatic brain injured patients: a randomized controlled trial. Intensive Care Med 39:1413–1422

8.

Augustin K, Khabbush A, Williams S, Eaton S, Orford M, Cross JH, Heales SJR, Walker MC, Williams RSB (2018) Mechanisms of action for the medium-chain triglyceride ketogenic diet in neurological and metabolic disorders. Lancet Neurol 17:84–93

9.

Stubbs BJ, Cox PJ, Evans RD, Santer P, Miller JJ, Faull OK, Magor-Elliott S, Hiyama S, Stirling M, Clarke K (2017) On the metabolism of exogenous ketones in humans. Front Physiol 8:848

10.

Xin L, Ipek Ö, Beaumont M, Shevlyakova M, Christinat N, Masoodi M, Greenberg N, Gruetter R, Cuenoud B (2018) Nutritional ketosis increases NAD+/NAD+ ratio in healthy human brain: an in vivo study by 31P-MRS. Front Nutr 5:62

11.

Hashim SA, VanItallie TB (2014) Ketone body therapy: from the ketogenic diet to the oral administration of ketone ester. J Lipid Res 55:1818–1826

12.

White H, Venkatesh B (2011) Clinical review: ketones and brain injury. Crit Care 15:219

13.

Bernini A, Masoodi M, Solari D, Miroz JP, Carteron L, Christinat N, Morelli P, Beaumont M, Abed-Maillard S, Hartweg M et al (2018) Modulation of cerebral ketone metabolism following traumatic brain injury in humans. J Cereb Blood Flow Metab 24:271678X18808947. https://doi.org/10.1177/0271678X18808947

14.

Cox PJ, Kirk T, Ashmore T, Willerton K, Evans R, Smith A, Murray AJ, Stubbs B, West J, McLure SW et al (2016) Nutritional ketosis alters fuel preference and thereby endurance performance in athletes. Cell Metab 24:256–268

15.

Svart M, Gormsen LC, Hansen J, Zeidler D, Gejl M, Vang K, Aanerud J, Moeller N (2018) Regional cerebral effects of ketone body infusion with 3-hydroxybutyrate in humans: reduced glucose uptake, unchanged oxygen consumption and increased blood flow by positron emission tomography. A randomized, controlled trial. PLoS One 13:e0190556
Acknowledgements
Mauro Oddo is supported by research grants from the Swiss National Science Foundation.
Ethics declarations
Conflicts of interest
The authors have no conflict of interest to declare.
Additional information
Publisher's Note
Springer Nature remains neutral with regard to jurisdictional claims in published maps and institutional affiliations.
About this article
Cite this article
Oddo, M., Vespa, P. & Menon, D.K. Boosting the injured brain with supplemental energy fuels. Intensive Care Med 45, 872–875 (2019). https://doi.org/10.1007/s00134-018-05517-6
Received:

Accepted:

Published:

Issue Date: