Abstract
Purpose
Guidelines for shock recommend mean arterial pressure (MAP) targets for vasopressor therapy of at least 65 mmHg and, until recently, suggested that patients with underlying chronic hypertension and atherosclerosis may benefit from higher targets. We conducted an individual patient-data meta-analysis of recent trials to determine if patient variables modify the effect of different MAP targets.
Methods
We searched the MEDLINE, EMBASE, and Cochrane Central Register of Controlled Trials for randomized controlled trials of higher versus lower blood pressure targets for vasopressor therapy in adult patients in shock (until November 2017). After obtaining individual patient data from both eligible trials, we used a modified version of the Cochrane Collaboration's instrument to assess the risk of bias of included trials. The primary outcome was 28-day mortality.
Results
Included trials enrolled 894 patients. Controlling for trial and site, the OR for 28-day mortality for the higher versus lower MAP targets was 1.15 (95% CI 0.87–1.52). Treatment effect varied by duration of vasopressors before randomization (interaction p = 0.017), but not by chronic hypertension, congestive heart failure or age. Risk of death increased in higher MAP groups among patients on vasopressors > 6 h before randomization (OR 3.00, 95% CI 1.33–6.74).
Conclusions
Targeting higher blood pressure targets may increase mortality in patients who have been treated with vasopressors for more than 6 h. Lower blood pressure targets were not associated with patient-important adverse events in any subgroup, including chronically hypertensive patients.
This is a preview of subscription content, log in to check access.
Access options
Buy single article
Instant unlimited access to the full article PDF.
US$ 39.95
Price includes VAT for USA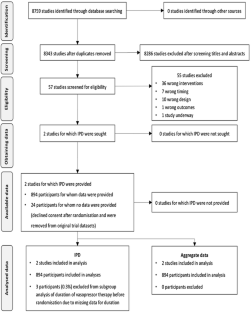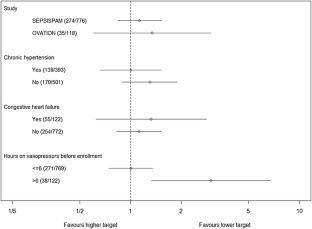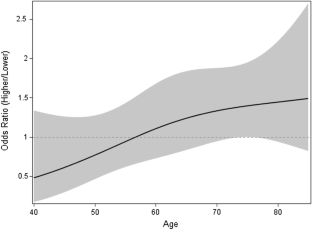 References
1.

Dellinger RP, Levy MM, Rhodes A, Annane D, Gerlach H, Opal SM, Sevransky JE, Sprung CL, Douglas IS, Jaeschke R, Osborn TM, Nunnally ME, Townsend SR, Reinhart K, Kleinpell RM, Angus DC, Deutschman CS, Machado FR, Rubenfeld GD, Webb SA, Beale RJ, Vincent JL, Moreno R, Surviving Sepsis Campaign Guidelines Committee including the Pediatric S (2013) Surviving sepsis campaign: international guidelines for management of severe sepsis and septic shock: 2012. Crit Care Med 41:580–637

2.

Cecconi M, De Backer D, Antonelli M, Beale R, Bakker J, Hofer C, Jaeschke R, Mebazaa A, Pinsky MR, Teboul JL, Vincent JL, Rhodes A (2014) Consensus on circulatory shock and hemodynamic monitoring. Task force of the European Society of Intensive Care Medicine. Intensive Care Med 40:1795–1815

3.

Lamontagne F, Cohen D, Herridge M (2017) Understanding patient-centredness: contrasting expert versus patient perspectives on vasopressor therapy for shock. Intensive Care Med 43:1052–1054

4.

Andreis DT, Singer M (2016) Catecholamines for inflammatory shock: a Jekyll-and-Hyde conundrum. Intensive Care Med 42:1387–1397

5.

Asfar P, Meziani F, Hamel JF, Grelon F, Megarbane B, Anguel N, Mira JP, Dequin PF, Gergaud S, Weiss N, Legay F, Le Tulzo Y, Conrad M, Robert R, Gonzalez F, Guitton C, Tamion F, Tonnelier JM, Guezennec P, Van Der Linden T, Vieillard-Baron A, Mariotte E, Pradel G, Lesieur O, Ricard JD, Herve F, du Cheyron D, Guerin C, Mercat A, Teboul JL, Radermacher P, Investigators S (2014) High versus low blood-pressure target in patients with septic shock. N Engl J Med 370:1583–1593

6.

Lamontagne F, Meade MO, Hebert PC, Asfar P, Lauzier F, Seely AJE, Day AG, Mehta S, Muscedere J, Bagshaw SM, Ferguson ND, Cook DJ, Kanji S, Turgeon AF, Herridge MS, Subramanian S, Lacroix J, Adhikari NKJ, Scales DC, Fox-Robichaud A, Skrobik Y, Whitlock RP, Green RS, Koo KKY, Tanguay T, Magder S, Heyland DK, Canadian Critical Care Trials G (2016) Higher versus lower blood pressure targets for vasopressor therapy in shock: a multicentre pilot randomized controlled trial. Intensive Care Med 42:542–550

7.

Hylands M, Moller MH, Asfar P, Toma A, Frenette AJ, Beaudoin N, Belley-Cote E, D'Aragon F, Laake JH, Siemieniuk RA, Charbonney E, Lauzier F, Kwong J, Rochwerg B, Vandvik PO, Guyatt G, Lamontagne F (2017) A systematic review of vasopressor blood pressure targets in critically ill adults with hypotension. Can J Anaesth 64:703–715

8.

Brown SM, Lanspa MJ, Jones JP, Kuttler KG, Li Y, Carlson R, Miller RR 3rd, Hirshberg EL, Grissom CK, Morris AH (2013) Survival after shock requiring high-dose vasopressor therapy. Chest 143:664–671

9.

Briel M, Meade M, Mercat A, Brower RG, Talmor D, Walter SD, Slutsky AS, Pullenayegum E, Zhou Q, Cook D, Brochard L, Richard JC, Lamontagne F, Bhatnagar N, Stewart TE, Guyatt G (2010) Higher vs lower positive end-expiratory pressure in patients with acute lung injury and acute respiratory distress syndrome: systematic review and meta-analysis. JAMA 303:865–873

10.

Heyland DK, Muscedere J, Drover J, Jiang X, Day AG, Canadian Critical Care Trials G (2011) Persistent organ dysfunction plus death: a novel, composite outcome measure for critical care trials. Crit Care 15:R98

11.

Guyatt GH, Busse JW (2016) Modification of cochrane tool to assess risk of bias in randomized trials. http://distillercer.com/resources/

12.

Bassler D, Briel M, Montori VM, Lane M, Glasziou P, Zhou Q, Heels-Ansdell D, Walter SD, Guyatt GH, Group S-S, Flynn DN, Elamin MB, Murad MH, Abu Elnour NO, Lampropulos JF, Sood A, Mullan RJ, Erwin PJ, Bankhead CR, Perera R, Ruiz Culebro C, You JJ, Mulla SM, Kaur J, Nerenberg KA, Schunemann H, Cook DJ, Lutz K, Ribic CM, Vale N, Malaga G, Akl EA, Ferreira-Gonzalez I, Alonso-Coello P, Urrutia G, Kunz R, Bucher HC, Nordmann AJ, Raatz H, da Silva SA, Tuche F, Strahm B, Djulbegovic B, Adhikari NK, Mills EJ, Gwadry-Sridhar F, Kirpalani H, Soares HP, Karanicolas PJ, Burns KE, Vandvik PO, Coto-Yglesias F, Chrispim PP, Ramsay T (2010) Stopping randomized trials early for benefit and estimation of treatment effects: systematic review and meta-regression analysis. JAMA 303:1180–1187

13.

Harrell FE (2001) Regression modeling strategies: with application to linear models, logistic regression and survival analysis. Springer, New York

14.

van Buuren S (2007) Multiple imputation of discrete and continuous data by fully conditional specification. Stat Methods Med Res 16:219–242

15.

Sun X, Ioannidis JP, Agoritsas T, Alba AC, Guyatt G (2014) How to use a subgroup analysis: users' guide to the medical literature. JAMA 311:405–411

16.

Walsh M, Srinathan SK, McAuley DF, Mrkobrada M, Levine O, Ribic C, Molnar AO, Dattani ND, Burke A, Guyatt G, Thabane L, Walter SD, Pogue J, Devereaux PJ (2014) The statistical significance of randomized controlled trial results is frequently fragile: a case for a Fragility Index. J Clin Epidemiol 67:622–628
Acknowledgements
We would like to thank Qi Zhou for additional input on the statistical analysis plan as well as nurses and physicians who contributed to both trials included in this analysis. We thank the Unité de Recherche Clinique et Épidémiologique (URCE) of the Centre de recherche du CHU de Sherbrooke for their support in coordinating the preparation and revisions of this manuscript.
Ethics declarations
Funding
This analysis was funded by a grant from the Fonds de Recherche du Québec - Santé. The funder had no role in the design and conduct of the study; collection, management, analysis, and interpretation of the data; preparation, review, or approval of the manuscript; and decision to submit the manuscript for publication.
Conflicts of interest
The authors declare that they have no conflict of interest. Drs. Lamontagne and Asfar are the Principal Investigators of both trials included in this analysis.
Electronic supplementary material
Below is the link to the electronic supplementary material.
About this article
Cite this article
Lamontagne, F., Day, A.G., Meade, M.O. et al. Pooled analysis of higher versus lower blood pressure targets for vasopressor therapy septic and vasodilatory shock. Intensive Care Med 44, 12–21 (2018) doi:10.1007/s00134-017-5016-5
Received:

Accepted:

Published:

Issue Date:
Keywords
Vasopressors

Hypotension

Critical care

Mean arterial blood pressure

Individual patient data meta-analysis