This is a preview of subscription content, log in to check access.
Access options
Buy single article
Instant access to the full article PDF.
US$ 39.95
Price includes VAT for USA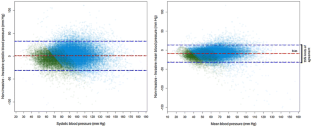 References
1.

Brierley J, Carcillo JA, Choong K et al (2009) Clinical practice parameters for hemodynamic support of pediatric and neonatal septic shock: 2007 update from the American College of Critical Care Medicine. Crit Care Med 37:666–688

2.

Joffe R, Duff J, Garcia Guerra G et al (2016) The accuracy of blood pressure measured by arterial line and non-invasive cuff in critically ill children. Crit Care 20(1):177

3.

Holt TR, Withington DE, Mitchell E (2011) Which pressure to believe? A comparison of direct arterial with indirect blood pressure measurement techniques in the pediatric intensive care unit. Pediatr Crit Care Med 12(6):e391–e394

4.

Clark JA, Lieh-Lai MW, Sarnaik A et al (2002) Discrepancies between direct and indirect blood pressure measurements using various recommendations for arm cuff selection. Pediatrics 110(5):920–923

5.

Meyer S, Sander J, Gräber S et al (2010) Agreement of invasive versus non-invasive blood pressure in preterm neonates is not dependent on birth weight or gestational age. J Paediatr Child Health 46(5):249–254
Funding information
No direct funding was received for this study. Part of this work was undertaken at UCL GOS Institute of Child Health, which received a proportion of funding from the Department of Health's NIHR Biomedical Research Centre's funding scheme.
Author's contributions
SR, MJP, SN and DPI conceived and designed the study; SR, LR, RD and DPN collected and verified the data; SR and LR analysed the data; SR, MJP and DPI drafted the manuscript, and all authors contributed to and approved the final version of the manuscript.
Ethics declarations
Ethical approval and consent to participate
Ethical approval was not sought as we used routinely collected clinical data retrospectively. Consent to participate was not sought as this is a retrospective observational study and no patient-identifiable data are presented.
Consent to publish
Consent was not sought as no patient-identifiable data are reported.
Availability of data and materials
The datasets used and/or analysed during the current study are available from the corresponding author on reasonable request.
Conflicts of interest
The authors declare that they have no conflict of interest.
Electronic supplementary material
Below is the link to the electronic supplementary material.
About this article
Cite this article
Ray, S., Rogers, L., Noren, D.P. et al. Risk of over-diagnosis of hypotension in children: a comparative analysis of over 50,000 blood pressure measurements. Intensive Care Med 43, 1540–1541 (2017). https://doi.org/10.1007/s00134-017-4843-8
Accepted:

Published:

Issue Date:
Keywords
Systolic Blood Pressure

Diastolic Blood Pressure

Linear Regression Model

Paediatric Intensive Care Unit

Electronic Health Record