Abstract
Background
The relationship between tiredness and the risk of medical errors is now commonly accepted. The main objective of this study was to assess the impact of an intensive care unit (ICU) night shift on the cognitive performance of a group of intensivists. The influence of professional experience and the amount of sleep on cognitive performance was also investigated.
Methods
A total of 51 intensivists from three ICUs (24 seniors and 27 residents) were included. The study participants were evaluated after a night of rest and after a night shift according to a randomized order. Four cognitive skills were tested according to the Wechsler Adult Intelligence Scale and the Wisconsin Card Sorting Test.
Results
All cognitive abilities worsened after a night shift: working memory capacity (11.3 ± 0.3 vs. 9.4 ± 0.3; p < 0.001), speed of processing information (13.5 ± 0.4 vs. 10.9 ± 0.3; p < 0.001), perceptual reasoning (10.6 ± 0.3 vs. 9.3 ± 0.3; p < 0.002), and cognitive flexibility (41.2 ± 1.2 vs. 44.2 ± 1.3; p = 0.063). There was no significant difference in terms of level of cognitive impairment between the residents and ICU physicians. Only cognitive flexibility appeared to be restored after 2 h of sleep. The other three cognitive skills were altered, regardless of the amount of sleep during the night shift.
Conclusions
The cognitive abilities of intensivists were significantly altered following a night shift in the ICU, regardless of either the amount of professional experience or the duration of sleep during the shift. The consequences for patients' safety and physicians' health should be further evaluated.
Access options
Buy single article
Instant access to the full article PDF.
USD 39.95
Price excludes VAT (USA)
Tax calculation will be finalised during checkout.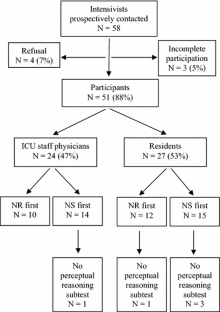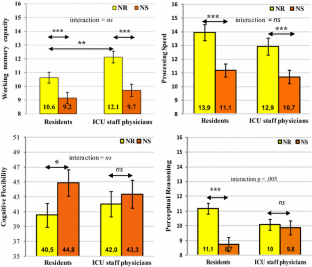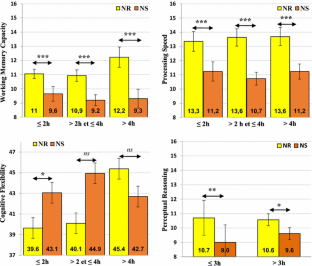 References
Embriaco N, Papazian L, Kentish-Barnes N, Pochard F, Azoulay E (2007) Burnout syndrome among critical care healthcare workers. Curr Opin Crit Care 13:482–488

Raggio B, Malacarne P (2007) Burnout in intensive care unit. Minerva Anestesiol 73:195–200

Garrouste-Orgeas M, Perrin M, Soufir L, Vesin A, Blot F, Maxime V, Beuret P, Troche G, Klouche K, Argaud L, Azoulay E, Timsit JF (2015) The Iatroref study: medical errors are associated with symptoms of depression in ICU staff but not burnout or safety culture. Intensive Care Med 41:273–284

Parshuram CS, Amaral AC, Ferguson ND, Baker GR, Etchells EE, Flintoft V, Granton J, Lingard L, Kirpalani H, Mehta S, Moldofsky H, Scales DC, Stewart TE, Willan AR, Friedrich JO, Canadian Critical Care Trials G (2015) Patient safety, resident well-being and continuity of care with different resident duty schedules in the intensive care unit: a randomized trial. CMAJ 187:321–329

Asch DA, Parker RM (1988) The Libby Zion case. One step forward or two steps backward? N Engl J Med 318:771–775

Nasca TJ, Day SH, Amis ES Jr, Force ADHT (2010) The new recommendations on duty hours from the ACGME task force. N Engl J Med 363:e3

Landrigan CP, Rothschild JM, Cronin JW, Kaushal R, Burdick E, Katz JT, Lilly CM, Stone PH, Lockley SW, Bates DW, Czeisler CA (2004) Effect of reducing interns' work hours on serious medical errors in intensive care units. N Engl J Med 351:1838–1848

Majekodunmi A, Landrigan CP (2012) The effect of physician sleep deprivation on patient safety in perinatal-neonatal medicine. Am J Perinatol 29:43–48

Montgomery VL (2007) Effect of fatigue, workload, and environment on patient safety in the pediatric intensive care unit. Pediatr Crit Care Med 8:S11–S16

Sharpe R, Koval V, Ronco JJ, Qayumi K, Dodek P, Wong H, Shepherd J, Fitzgerald JM, Ayas NT (2010) The impact of prolonged continuous wakefulness on resident clinical performance in the intensive care unit: a patient simulator study. Crit Care Med 38:766–770

Friedman RC, Bigger JT, Kornfeld DS (1971) The intern and sleep loss. N Engl J Med 285:201–203

Smith-Coggins R, Rosekind MR, Buccino KR, Dinges DF, Moser RP (1997) Rotating shiftwork schedules: can we enhance physician adaptation to night shifts? Acad Emerg Med 4:951–961

Reid K, Dawson D (2001) Comparing performance on a simulated 12 h shift rotation in young and older subjects. Occup Environ Med 58:58–62

Luyster FS, Strollo PJ, Jr., Zee PC, Walsh JK, Boards of Directors of the American Academy of Sleep M, the Sleep Research S (2012) Sleep: a health imperative. Sleep 35:727–734

Esquirol Y, Bongard V, Mabile L, Jonnier B, Soulat JM, Perret B (2009) Shift work and metabolic syndrome: respective impacts of job strain, physical activity, and dietary rhythms. Chronobiol Int 26:544–559

Kuhn G (2001) Circadian rhythm, shift work, and emergency medicine. Ann Emerg Med 37:88–98

Embriaco N, Hraiech S, Azoulay E, Baumstarck-Barrau K, Forel JM, Kentish-Barnes N, Pochard F, Loundou A, Roch A, Papazian L (2012) Symptoms of depression in ICU physicians. Ann Intensive Care 2:34

Firth-Cozens J (2003) Doctors, their wellbeing, and their stress. BMJ 326:670–671

Killgore WD (2010) Effects of sleep deprivation on cognition. Prog Brain Res 185:105–129

Dula DJ, Dula NL, Hamrick C, Wood GC (2001) The effect of working serial night shifts on the cognitive functioning of emergency physicians. Ann Emerg Med 38:152–155

Smith-Coggins R, Rosekind MR, Hurd S, Buccino KR (1994) Relationship of day versus night sleep to physician performance and mood. Ann Emerg Med 24:928–934

Mansukhani MP, Kolla BP, Surani S, Varon J, Ramar K (2012) Sleep deprivation in resident physicians, work hour limitations, and related outcomes: a systematic review of the literature. Postgrad Med 124:241–249

Philibert I (2005) Sleep loss and performance in residents and nonphysicians: a meta-analytic examination. Sleep 28:1392–1402

Anderson C, Sullivan JP, Flynn-Evans EE, Cade BE, Czeisler CA, Lockley SW (2012) Deterioration of neurobehavioral performance in resident physicians during repeated exposure to extended duration work shifts. Sleep 35:1137–1146

Wechsler D (2008) Wechsler adult intelligence scale–Fourth Edition (WAIS–IV). NCS Pearson, San Antonio

Heaton RK, Chelune GJ, Talley JL, Kay GG, Curtiss G (1993) Wisconsin Card Sorting Test Manual: revised and expanded. Psychological Assessment Resources, Odessa

Lingenfelser T, Kaschel R, Weber A, Zaiser-Kaschel H, Jakober B, Kuper J (1994) Young hospital doctors after night duty: their task-specific cognitive status and emotional condition. Med Educ 28:566–572

Denisco RA, Drummond JN, Gravenstein JS (1987) The effect of fatigue on the performance of a simulated anesthetic monitoring task. J Clin Monit 3:22–24

Hartman DE (2009) Wechsler Adult Intelligence Scale IV (WAIS IV): return of the gold standard. Appl Neuropsychol 16:85–87

Killgore WD, Killgore DB, Grugle NL, Balkin TJ (2010) Odor identification ability predicts executive function deficits following sleep deprivation. Int J Neurosci 120:328–334

Edwards BA, O'Driscoll DM, Ali A, Jordan AS, Trinder J, Malhotra A (2010) Aging and sleep: physiology and pathophysiology. Semin Respir Crit Care Med 31:618–633

Ardiale E, Lemaire P (2012) Within-item strategy switching: an age comparative study in adults. Psychol Aging 27:1138–1151

Sinha A, Singh A, Tewari A (2013) The fatigued anesthesiologist: a threat to patient safety? J Anaesthesiol Clin Pharmacol 29:151–159

Fletcher KE, Davis SQ, Underwood W, Mangrulkar RS, McMahon LF Jr, Saint S (2004) Systematic review: effects of resident work hours on patient safety. Ann Intern Med 141:851–857

Landrigan CP, Fahrenkopf AM, Lewin D, Sharek PJ, Barger LK, Eisner M, Edwards S, Chiang VW, Wiedermann BL, Sectish TC (2008) Effects of the accreditation council for graduate medical education duty hour limits on sleep, work hours, and safety. Pediatrics 122:250–258

Pontone S, Brouard N (2010) Despite corrective measures, will there still be a lack of anaesthetists and intensive care physicians in France by 2020? Ann Fr Anesth Reanim 29:862–867

Argent AC, Benbenishty J, Flaatten H (2015) Chronotypes, night shifts and intensive care. Intensive Care Med 41:698–700
Ethics declarations
Conflicts of interest
On behalf of all authors, the corresponding author states that there is no conflict of interest.
Additional information
This work was performed at the Réanimation des Détresses Respiratoires et des Infections Sévères Intensive Care Unit, the Surgical Intensive Care Unit and the Paediatric Intensive Care Unit of the Hôpital Nord, Assistance Publique, Hôpitaux de Marseille (Marseille, France).
Take-home message: Residents and staff physicians from three ICUs were studied after a night of rest and after a night shift. Four key areas of cognitive ability were decreased after a night shift.
Electronic supplementary material
Below is the link to the electronic supplementary material.
About this article
Cite this article
Maltese, F., Adda, M., Bablon, A. et al. Night shift decreases cognitive performance of ICU physicians. Intensive Care Med 42, 393–400 (2016). https://doi.org/10.1007/s00134-015-4115-4
Received:

Accepted:

Published:

Issue Date:

DOI: https://doi.org/10.1007/s00134-015-4115-4
Keywords