Abstract
Purpose
We compared hemodynamic and biological effects of the Cascade system, which uses very high volume hemofiltration (HVHF) (120 mL kg−1 h−1), with those of usual care in patients with septic shock.
Methods
Multicenter, prospective, randomized, open-label trial in three intensive care units (ICU). Adults with septic shock with administration of epinephrine/norepinephrine were eligible. Patients were randomized to usual care plus HVHF (Cascade group), or usual care alone (control group). Primary end point was the number of catecholamine-free days up to 28 days after randomization. Secondary end points were number of days free of mechanical ventilation, renal replacement therapy (RRT) or ICU up to 90 days, and 7-, 28-, and 90-day mortality.
Results
We included 60 patients (29 Cascade, 31 usual care). Baseline characteristics were comparable. Median number of catecholamine-free days was 22 [IQR 11–23] vs 20 [0–25] for Cascade vs control; there was no significant difference even after adjustment. There was no significant difference in number of mechanical ventilation-free days or ICU requirement. Median number of RRT-free days was 85 [46–90] vs 74 [0–90] for Cascade vs control groups, p = 0.42. By multivariate analysis, the number of RRT-free days was significantly higher in the Cascade group (up to 25 days higher after adjustment). There was no difference in mortality at 7, 28, or 90 days.
Conclusion
Very HVHF using the Cascade system can safely be used in patients presenting with septic shock, but it was not associated with a reduction in the need for catecholamines during the first 28 days.
Access options
Buy single article
Instant access to the full article PDF.
US$ 39.95
Tax calculation will be finalised during checkout.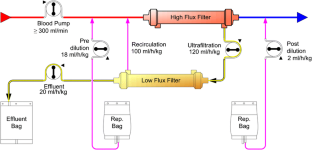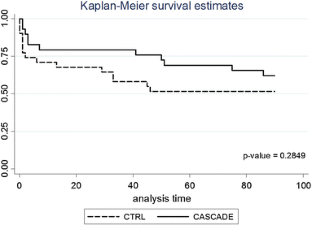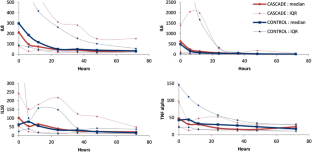 References
1.

Adrie C, Alberti C, Chaix-Couturier C, Azoulay E, De Lassence A, Cohen Y, Meshaka P, Cheval C, Thuong M, Troche G, Garrouste-Orgeas M, Timsit JF (2005) Epidemiology and economic evaluation of severe sepsis in France: age, severity, infection site, and place of acquisition (community, hospital, or intensive care unit) as determinants of workload and cost. J Crit Care 20:46–58

2.

Annane D, Bellissant E, Cavaillon JM (2005) Septic shock. Lancet 365:63–78

3.

Quenot JP, Binquet C, Kara F, Martinet O, Ganster F, Navellou JC, Castelain V, Barraud D, Cousson J, Louis G, Perez P, Kuteifan K, Noirot A, Badie J, Mezher C, Lessire H, Pavon A (2013) The epidemiology of septic shock in French intensive care units: the prospective multicenter cohort EPISS study. Crit Care 17:R65

4.

Russell JA (2006) Management of sepsis. N Engl J Med 355:1699–1713

5.

Tolwani A (2012) Continuous renal-replacement therapy for acute kidney injury. N Engl J Med 367:2505–2514

6.

Payen D, Mateo J, Cavaillon JM, Fraisse F, Floriot C, Vicaut E (2009) Impact of continuous venovenous hemofiltration on organ failure during the early phase of severe sepsis: a randomized controlled trial. Crit Care Med 37:803–810

7.

Honore PM, Jacobs R, Boer W, Joannes-Boyau O, De Regt J, De Waele E, Van Gorp V, Collin V, Spapen HD (2012) New insights regarding rationale, therapeutic target and dose of hemofiltration and hybrid therapies in septic acute kidney injury. Blood Purif 33:44–51

8.

Journois D, Israel-Biet D, Pouard P, Rolland B, Silvester W, Vouhe P, Safran D (1996) High-volume, zero-balanced hemofiltration to reduce delayed inflammatory response to cardiopulmonary bypass in children. Anesthesiology 85:965–976

9.

Laurent I, Adrie C, Vinsonneau C, Cariou A, Chiche JD, Ohanessian A, Spaulding C, Carli P, Dhainaut JF, Monchi M (2005) High-volume hemofiltration after out-of-hospital cardiac arrest: a randomized study. J Am Coll Cardiol 46:432–437

10.

Grootendorst AF, van Bommel EF, van der Hoven B, van Leengoed LA, van Osta AL (1992) High volume hemofiltration improves right ventricular function in endotoxin-induced shock in the pig. Intensive Care Med 18:235–240

11.

Honore PM, Joannes-Boyau O, Boer W, Collin V (2009) High-volume hemofiltration in sepsis and SIRS: current concepts and future prospects. Blood Purif 28:1–11

12.

Rimmele T, Wey PF, Bernard N, Monchi M, Semenzato N, Benatir F, Boselli E, Etienne J, Goudable J, Chassard D, Bricca G, Allaouchiche B (2009) Hemofiltration with the Cascade system in an experimental porcine model of septic shock. Ther Apher Dial 13:63–70

13.

(1992) American College of Chest Physicians/Society of Critical Care Medicine Consensus Conference: definitions for sepsis and organ failure and guidelines for the use of innovative therapies in sepsis. Crit Care Med 20:864874

14.

Brochard L, Abroug F, Brenner M, Broccard AF, Danner RL, Ferrer M, Laghi F, Magder S, Papazian L, Pelosi P, Polderman KH (2010) An official ATS/ERS/ESICM/SCCM/SRLF statement: prevention and management of acute renal failure in the ICU patient: an international consensus conference in intensive care medicine. Am J Respir Crit Care Med 181:1128–1155

15.

Dellinger RP, Levy MM, Carlet JM, Bion J, Parker MM, Jaeschke R, Reinhart K, Angus DC, Brun-Buisson C, Beale R, Calandra T, Dhainaut JF, Gerlach H, Harvey M, Marini JJ, Marshall J, Ranieri M, Ramsay G, Sevransky J, Thompson BT, Townsend S, Vender JS, Zimmerman JL, Vincent JL (2008) Surviving Sepsis Campaign: international guidelines for management of severe sepsis and septic shock: 2008. Crit Care Med 36:296–327

16.

Moreno RP, Metnitz PG, Almeida E, Jordan B, Bauer P, Campos RA, Iapichino G, Edbrooke D, Capuzzo M, Le Gall JR (2005) SAPS 3—from evaluation of the patient to evaluation of the intensive care unit. Part 2: development of a prognostic model for hospital mortality at ICU admission. Intensive Care Med 31:1345–1355

17.

Vincent JL, de Mendonca A, Cantraine F, Moreno R, Takala J, Suter PM, Sprung CL, Colardyn F, Blecher S (1998) Use of the SOFA score to assess the incidence of organ dysfunction/failure in intensive care units: results of a multicenter, prospective study. Working group on "sepsis-related problems" of the European Society of Intensive Care Medicine. Crit Care Med 26:1793–1800

18.

Clark E, Molnar AO, Joannes-Boyau O, Honore PM, Sikora L, Bagshaw SM (2014) High-volume hemofiltration for septic acute kidney injury: a systematic review and meta-analysis. Crit Care 18:R7

19.

Zhang P, Yang Y, Lv R, Zhang Y, Xie W, Chen J (2012) Effect of the intensity of continuous renal replacement therapy in patients with sepsis and acute kidney injury: a single-center randomized clinical trial. Nephrol Dial Transplant 27:967–973

20.

Joannes-Boyau O, Honore PM, Perez P, Bagshaw SM, Grand H, Canivet JL, Dewitte A, Flamens C, Pujol W, Grandoulier AS, Fleureau C, Jacobs R, Broux C, Floch H, Branchard O, Franck S, Roze H, Collin V, Boer W, Calderon J, Gauche B, Spapen HD, Janvier G, Ouattara A (2013) High-volume versus standard-volume haemofiltration for septic shock patients with acute kidney injury (IVOIRE study): a multicentre randomized controlled trial. Intensive Care Med 39:1535–1546

21.

Boussekey N, Chiche A, Faure K, Devos P, Guery B, d'Escrivan T, Georges H, Leroy O (2008) A pilot randomized study comparing high and low volume hemofiltration on vasopressor use in septic shock. Intensive Care Med 34:1646–1653

22.

Yekebas EF, Eisenberger CF, Ohnesorge H, Saalmuller A, Elsner HA, Engelhardt M, Gillesen A, Meins J, The M, Strate T, Busch C, Knoefel WT, Bloechle C, Izbicki JR (2001) Attenuation of sepsis-related immunoparalysis by continuous veno-venous hemofiltration in experimental porcine pancreatitis. Crit Care Med 29:1423–1430

23.

Bellomo R, Kellum JA, Gandhi CR, Pinsky MR, Ondulik B (2000) The effect of intensive plasma water exchange by hemofiltration on hemodynamics and soluble mediators in canine endotoxemia. Am J Respir Crit Care Med 161:1429–1436

24.

Wang H, Zhang ZH, Yan XW, Li WQ, Ji DX, Quan ZF, Gong DH, Li N, Li JS (2005) Amelioration of hemodynamics and oxygen metabolism by continuous venovenous hemofiltration in experimental porcine pancreatitis. World J Gastroenterol 11:127–131

25.

Rogiers P, Zhang H, Pauwels D, Vincent JL (2003) Comparison of polyacrylonitrile (AN69) and polysulphone membrane during hemofiltration in canine endotoxic shock. Crit Care Med 31:1219–1225

26.

Cole L, Bellomo R, Hart G, Journois D, Davenport P, Tipping P, Ronco C (2002) A phase II randomized, controlled trial of continuous hemofiltration in sepsis. Crit Care Med 30:100–106

27.

Bellomo R, Tipping P, Boyce N (1991) Tumor necrosis factor clearances during veno-venous hemodiafiltration in the critically ill. ASAIO Trans 37:M322–M323

28.

Bellomo R, Tipping P, Boyce N (1993) Continuous veno-venous hemofiltration with dialysis removes cytokines from the circulation of septic patients. Crit Care Med 21:522–526

29.

Honoré PM, Joannes-Boyau O, Gressens B (2007) Blood and plasma treatments: the rationale of high-volume hemofiltration. Contrib Nephrol 156:387–395

30.

Klouche K, Cavadore P, Portales P, Clot J, Canaud B, Beraud JJ (2002) Continuous veno-venous hemofiltration improves hemodynamics in septic shock with acute renal failure without modifying TNFalpha and IL6 plasma concentrations. J Nephrol 15:150–157

31.

Ronco C, Tetta C, Mariano F, Wratten ML, Bonello M, Bordoni V, Cardona X, Inguaggiato P, Pilotto L, d'Intini V, Bellomo R (2003) Interpreting the mechanisms of continuous renal replacement therapy in sepsis: the peak concentration hypothesis. Artif Organ 27:792–801

32.

Hotchkiss RS, Karl IE (2003) The pathophysiology and treatment of sepsis. N Engl J Med 348:138–150

33.

Cornejo R, Downey P, Castro R, Romero C, Regueira T, Vega J, Castillo L, Andresen M, Dougnac A, Bugedo G, Hernandez G (2006) High-volume hemofiltration as salvage therapy in severe hyperdynamic septic shock. Intensive Care Med 32:713–722

34.

Honore PM, Jamez J, Wauthier M, Lee PA, Dugernier T, Pirenne B, Hanique G, Matson JR (2000) Prospective evaluation of short-term, high-volume isovolemic hemofiltration on the hemodynamic course and outcome in patients with intractable circulatory failure resulting from septic shock. Crit Care Med 28:3581–3587

35.

Joannes-Boyau O, Rapaport S, Bazin R, Fleureau C, Janvier G (2004) Impact of high volume hemofiltration on hemodynamic disturbance and outcome during septic shock. ASAIO J 50:102–109

36.

Oudemans-van Straaten HM, Bosman RJ, van der Spoel JI, Zandstra DF (1999) Outcome of critically ill patients treated with intermittent high-volume haemofiltration: a prospective cohort analysis. Intensive Care Med 25:814–821

37.

Piccinni P, Dan M, Barbacini S, Carraro R, Lieta E, Marafon S, Zamperetti N, Brendolan A, D'Intini V, Tetta C, Bellomo R, Ronco C (2006) Early isovolaemic haemofiltration in oliguric patients with septic shock. Intensive Care Med 32:80–86

38.

Ratanarat R, Brendolan A, Piccinni P, Dan M, Salvatori G, Ricci Z, Ronco C (2005) Pulse high-volume haemofiltration for treatment of severe sepsis: effects on hemodynamics and survival. Crit Care 9:R294–R302

39.

Palevsky PM, Zhang JH, O'Connor TZ, Chertow GM, Crowley ST, Choudhury D, Finkel K, Kellum JA, Paganini E, Schein RM, Smith MW, Swanson KM, Thompson BT, Vijayan A, Watnick S, Star RA, Peduzzi P (2008) Intensity of renal support in critically ill patients with acute kidney injury. N Engl J Med 359:7–20
Acknowledgments
We thank all the following contributors to the study: Dijon University Hospital (Elisabeth Cornot and Thérèse Devaux as well as the nursing team); Clermont-Ferrand University Hospital (Mireille Adda and the nursing team); Melun Hospital (Cécile Lormail and the nursing team); and the Gambro study team (Nicolas Semenzato, Nathalie Loughraieb and Hiram Rada). The authors also thank Fiona Ecarnot (EA3920, University Hospital Besancon, France) for translation and editorial assistance.
Ethics declarations
Conflicts of interest
The authors of this paper have no conflicts of interest to report.
Funding
This study was sponsored by Gambro Industries, Meyzieu, France.
Additional information
For the Cascade study group.
Take-home message: Very high volume hemofiltration using the Cascade system can safely be used in patients presenting with septic shock, but it is not associated with a reduction in the need for catecholamines during the first 28 days.
Electronic supplementary material
Below is the link to the electronic supplementary material.
About this article
Cite this article
Quenot, JP., Binquet, C., Vinsonneau, C. et al. Very high volume hemofiltration with the Cascade system in septic shock patients. Intensive Care Med 41, 2111–2120 (2015). https://doi.org/10.1007/s00134-015-4056-y
Received:

Accepted:

Published:

Issue Date:
Keywords
Septic shock

Hemofiltration

Cytokines

Amino acids