Abstract
Purpose
To determine whether early goal-directed therapy (EGDT) reduces mortality compared with other resuscitation strategies for patients presenting to the emergency department (ED) with septic shock.
Methods
Using a search strategy of PubMed, EmBase and CENTRAL, we selected all relevant randomised clinical trials published from January 2000 to January 2015. We translated non-English papers and contacted authors as necessary. Our primary analysis generated a pooled odds ratio (OR) from a fixed-effect model. Sensitivity analyses explored the effect of including non-ED studies, adjusting for study quality, and conducting a random-effects model. Secondary outcomes included organ support and hospital and ICU length of stay.
Results
From 2395 initially eligible abstracts, five randomised clinical trials (n = 4735 patients) met all criteria and generally scored high for quality except for lack of blinding. There was no effect on the primary mortality outcome (EGDT: 23.2 % [495/2134] versus control: 22.4 % [582/2601]; pooled OR 1.01 [95 % CI 0.88–1.16], P = 0.9, with heterogeneity [I 2 = 57 %; P = 0.055]). The pooled estimate of 90-day mortality from the three recent multicentre studies (n = 4063) also showed no difference [pooled OR 0.99 (95 % CI 0.86–1.15), P = 0.93] with no heterogeneity (I 2 = 0.0 %; P = 0.97). EGDT increased vasopressor use (OR 1.25 [95 % CI 1.10–1.41]; P < 0.001) and ICU admission [OR 2.19 (95 % CI 1.82–2.65); P < 0.001]. Including six non-ED randomised trials increased heterogeneity (I 2 = 71 %; P < 0.001) but did not change overall results [pooled OR 0.94 (95 % CI 0.82 to 1.07); P = 0.33].
Conclusion
EGDT is not superior to usual care for ED patients with septic shock but is associated with increased utilisation of ICU resources.
Access options
Buy single article
Instant access to the full article PDF.
US$ 39.95
Tax calculation will be finalised during checkout.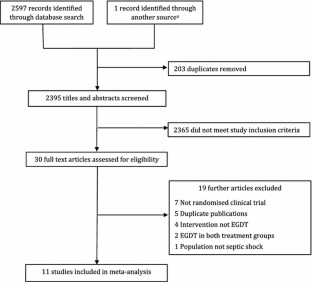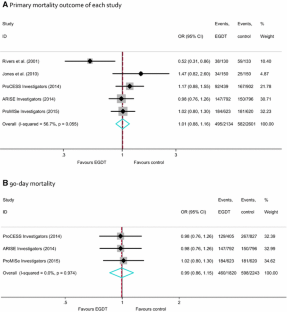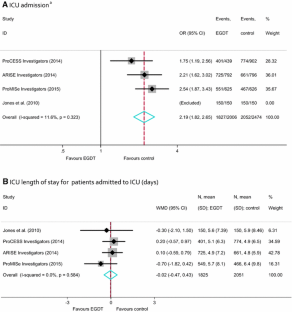 References
1.

Rivers E, Nguyen B, Havstad S, Ressler J, Muzzin A, Knoblich B, Peterson E, Tomlanovich M, Early Goal-Directed Therapy Collaborative Group (2001) Early goal-directed therapy in the treatment of severe sepsis and septic shock. N Engl J Med 345:1368–1377

2.

Kortgen A, Niederprum P, Bauer M (2006) Implementation of an evidence-based standard operating procedure and outcome in septic shock. Crit Care Med 34:943–949

3.

Jones E, Focht A, Horton JM, Kline JA (2007) Prospective eternal validation of the clinical effectiveness of an emergency department-based early goal-directed therapy protocol for severe sepsis and septic shock. Chest 132:425–432

4.

Levy MM, Rhodes A, Phillips GS, Townsend SR, Schorr CA, Beale R, Osborn T, Lemeshow S, Chiche JD, Artigas A, Dellinger RP (2014) Surviving sepsis campaign: association between performance metrics and outcomes in a 7.5 years study. Intensive Care Med 40:1623–1661

5.

Dellinger RP, Levy MM, Rhodes A et al (2013) Surviving Sepsis Campaign: guidelines for management of severe sepsis and septic shock. Intensive Care Med 39:165–228

6.

Peake S, Bailey M, Bellomo R, Cameron P, Cross A, Delaney A, Finfer S, Higgins A, Jones D, Myburgh J, Syres G, Webb S, the ARISE Investigators for the ANZICS CTG (2009) A multicentre, prospective, inception cohort study. Resuscitation 80:811–818

7.

Pike F, Yealy DM, Kellum JA, Huang DT, Barnato AE, Eaton TL, Angus DC, Weissfeld LA, I behalf of theProCESS Investigators (2013) Protocolized Care for Early Septic Shock (ProCESS) statistical analysis plan. Crit Care Resusc 15:301–310

8.

The ProCESS Investigators (2014) A randomised trial of protocol-based care for early septic shock. N Engl J Med 370:1683–1693

9.

Delaney AP, Peake SL, Bellomo R, Cameron P, Holdgate A, Howe B, Higgins A, Presneill J, Webb D, For the ARISE Investigators (2013) The Australasian Resuscitation In Sepsis Evaluation (ARISE) trial statistical analysis plan. Crit Care Resusc 15:162–171

10.

The ARISE Investigators and the ANZICS Clinical Trials Group (2014) Goal-directed resuscitation for patients with early septic shock. N Engl J Med 371:1496–1506

11.

Power GS, Harrison DA, Mouncey PR, Osborn TM, Harvey SE, Rowan KM (2013) The Protocolised Management in Sepsis (ProMISe) trial statistical analysis plan. Crit Care Resusc 15:311–317

12.

Mouncey PR, Osborn TM, Power GS, Harrison DA, Sadique MZ, Grieve RG, Jahan R, Harvey SE, Bell D, Bion JF, Coats TJ, Singer M, Young JD, Rowan KM, ProMISe Trial Investigators (2015) Trial of early, goal-directed resuscitation for septic shock. N Engl J Med 372(14):1301–1311. doi:10.1056/NEJMoa1500896

13.

Higgins JPT, Green S (eds) (2011) Cochrane hand book for systematic reviews of interventions. The Cochrane Collaboration Version 5.1.0 [updated March 2011] http://handbook.cochrane.org. Accessed 29 Mar 2015

14.

Moher D, Liberati A, Tetzlaff J, Altman DG, The PRISMA Group (2009) Preferred reporting items for systematic reviews and meta-analyses: the PRISMA statement. BMJ 339:b2535. doi:10.1136/bmj.b2535

15.

Gu W-J, Bakker J, Liu J-C (2014) The effect of goal-directed therapy on mortality in patients with sepsis—earlier is better: a meta-analysis of randomised controlled trials. Crit Care 18:570

16.

Wira CR, Dodge K, Sather J, Dziura J (2014) Meta-analysis of protocolised goal-directed haemodynamic optimisation for the management of severe sepsis and septic shock in the emergency department. West J Emerg Med 15:51–59

17.

Barochia AV, Cui X, Vitberg D, Suffredini AF, O'Grady NP, Banks SM, Minneci P, Kern SJ, Danner RL, Natanson C, Eichacker PG (2010) Bundled care for septic shock: analysis of clinical trials. Crit Care Med 38:668–678

18.

Higgins JPT, Altman DG, Gotzche PC, Juni P, Moher D, Oxman AD, Savovic J Schulz KF, Weeks L, Sterne JAC, Cochrane Bias Methods Group, Cochrane Statistical Methods Group (2011) The Cochrane Collaboration's tool for assessing risk of bias in randomised trials. BMJ 343:d5928. doi:10.1136/bmj.d5928

19.

Jones AE, Shapiro NI, Trzeciak S, Arnold RC, Claremont HA, Kline JA, Emergency Medicine Shock Research Network (EMShockNet) Investigators (2010) Lactateclearance vs central venous oxygen saturation as goals of early sepsis therapy: a randomised clinical trial. JAMA 303:739–746

20.

de Oliveira CF, de Oliveira DS, Gottschald AF, Moura JD, Costa GA, Ventura AC, Fernandes JC, Vaz FA, Carcillo JA, Rivers EP, Troster EJ (2008) ACCM/PALS haemodynamic support guidelines for paediatric septic shock: an outcomes comparison with and without monitoring central venous oxygen saturation. Intensive Care Med 34:1065–1075

21.

Wang X, Lu CJ, Gao FQ, Li XH, Yan WF, Ning FY (2006) Efficacy of goal-directed therapy in the treatment of septic shock. Zhongguo Wei Zhong Bing Ji Jiu Yi Xue 18:661–664

22.

Early Goal-Directed Therapy Collaborative Group of Zhejiang Province (2010) The effect of early goal-directed therapy on treatment of critical patients with severe sepsis/septic shock: a multi-centre, prospective, randomised, controlled study. Zhongguo Wei Zhong Bing Ji Jiu Yi Xue 22:331–334

23.

Tian HH, Han SS, Lv CJ, Wang T, Li Z, Hao D, Shang QM, Wang XZ (2012) The effect of early goal lactate clearance rate on the outcome of septic shock patients with severe pneumonia. Zhongguo Wei Zhong Bing Ji Jiu Yi Xue 24:42–45

24.

Yu B, Tian HY, Hu ZJ, Zhao C, Liu LX, Zhang Y, Zhu GJ, Wang LT, Wu XH, Li J (2013) Comparison of the effect of fluid resuscitation as guided either by lactate clearance rate or by central venous oxygen saturation in patients with sepsis. Zhonghua Wei Zhong Bing Ji Jiu Yi Xue 25:578–583

25.

Lu N, Zheng R, Lin H, Shao J, Yu J (2014) Clinical studies of surviving sepsis bundles according to PiCCO on septic shock patients. Zhonghua Wei Zhong Bing Ji Jiu Yi Xue 26:23–27

26.

Guyatt GH, Oxman AD, Kunz R, Vist GE, Falck-Ytter Y, Schuneman HJ, For the GRADE Working Group (2008) GRADE: what is quality of evidence and why is it important to clinicians? BMJ 336:995–998

27.

Wunsch H, Angus DC, Harrison DA, Collange O, Fowler R, Hoste EA, de Keizer NF, Kersten A, Linde-Zwirble WT, Sandiumenge A, Rowan KM (2008) Variation in critical care services across North America and Western Europe. Crit Care Med 36:2787–2793
Conflicts of interest
The authors declare no conflict of interest.
Additional information
For the ARISE, ProCESS, ProMISe and PRISM Investigators.
Take-home message: EGDT for patients presenting to the ED with early septic shock does not decrease mortality but does increase ICU resource utilisation.
Electronic supplementary material
Below is the link to the electronic supplementary material.
About this article
Cite this article
Angus, D.C., Barnato, A.E., Bell, D. et al. A systematic review and meta-analysis of early goal-directed therapy for septic shock: the ARISE, ProCESS and ProMISe Investigators. Intensive Care Med 41, 1549–1560 (2015). https://doi.org/10.1007/s00134-015-3822-1
Received:

Accepted:

Published:

Issue Date:
Keywords
Early goal-directed therapy or EGDT

Resuscitation

Septic shock

Central venous oxygen saturation

Meta-analysis

Systematic review

Randomised clinical trials