Abstract
Background
In the intensive care unit (ICU), the outcomes of patients with acute mesenteric ischemia (AMI) are poorly documented. This study aimed to determine the risk factors for death in ICU patients with AMI.
Methods
A retrospective, observational, non-interventional, multicenter study was conducted in 43 ICUs of 38 public institutions in France. From January 2008 to December 2013, all adult patients with a diagnosis of AMI during their hospitalization in ICU were included in a database. The diagnosis was confirmed by at least one of three procedures (computed tomography scan, gastrointestinal endoscopy, or upon surgery). To determine factors associated with ICU death, we established a logistic regression model. Recursive partitioning analysis was applied to construct a decision tree regarding risk factors and their interactions most critical to determining outcomes.
Results
The death rate of the 780 included patients was 58 %. Being older, having a higher sequential organ failure assessment (SOFA) severity score at diagnosis, and a plasma lactate concentration over 2.7 mmol/l at diagnosis were independent risk factors of ICU mortality. In contrast, having a prior history of peripheral vascular disease or an initial surgical treatment were independent protective factors against ICU mortality. Using age and SOFA severity score, we established an ICU mortality score at diagnosis based on the cutoffs provided by recursive partitioning analysis. Probability of survival was statistically different (p < 0.001) between patients with a score from 0 to 2 and those with a score of 3 and 4.
Conclusion
Acute mesenteric ischemia in ICU patients was associated with a 58 % ICU death rate. Age and SOFA severity score at diagnosis were risk factors for mortality. Plasma lactate concentration over 2.7 mmol/l was also an independent risk factor, but values in the normal range did not exclude the diagnosis of AMI.
Access options
Buy single article
Instant access to the full article PDF.
USD 39.95
Price excludes VAT (USA)
Tax calculation will be finalised during checkout.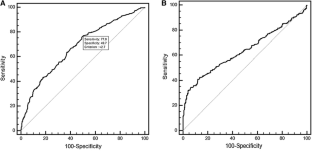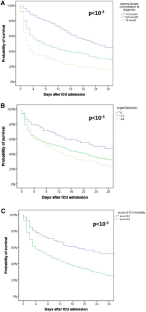 References
Oldenburg WA, Lau LL, Rodenberg TJ, Edmonds HJ, Burger CD (2004) Acute mesenteric ischemia: a clinical review. Arch Intern Med 164:1054–1062

Cudnik MT, Darbha S, Jones J, Macedo J, Stockton SW, Hiestand BC (2013) The diagnosis of acute mesenteric ischemia: a systematic review and meta-analysis. Acad Emerg Med 20:1087–1100

Gupta PK, Natarajan B, Gupta H, Fang X, Fitzgibbons RJ Jr (2011) Morbidity and mortality after bowel resection for acute mesenteric ischemia. Surgery 150:779–787

Vincent JL (2006) Organ dysfunction in patients with severe sepsis. Surg Infect (Larchmt) 7(Suppl 2):S69–S72

Therneau TM, Atkinson EJ (2000) An introduction to recursive partitioning using the RPART routines. Technical report 61. Mayo Clinic, Rochester

Roch A, Hraiech S, Masson E, Grisoli D, Forel JM, Boucekine M, Morera P, Guervilly C, Adda M, Dizier S, Toesca R, Collart F, Papazian L (2014) Outcome of acute respiratory distress syndrome patients treated with extracorporeal membrane oxygenation and brought to a referral center. Intensiv Care Med 40:74–83

Haga Y, Odo M, Homma M, Komiya K, Takeda K, Koike S, Takahashi T, Hiraka K, Yamashita H, Tanakaya K (2009) New prediction rule for mortality in acute mesenteric ischemia. Digestion 80:104–111

Aliosmanoglu I, Gul M, Kapan M, Arikanoglu Z, Taskesen F, Basol O, Aldemir M (2013) Risk factors effecting mortality in acute mesenteric ischemia and mortality rates: a single center experience. Int Surg 98:76–81

Acosta-Merida MA, Marchena-Gomez J, Hemmersbach-Miller M, Roque-Castellano C, Hernandez-Romero JM (2006) Identification of risk factors for perioperative mortality in acute mesenteric ischemia. World J Surg 30:1579–1585

Vincent JL, de Mendonça A, Cantraine F, Moreno R, Takala J, Suter PM, Sprung CL, Colardyn F, Blecher S (1998) Use of the SOFA score to assess the incidence of organ dysfunction/failure in intensive care units: results of a multicenter, prospective study. Working group on "sepsis-related problems" of the European Society of Intensive Care Medicine. Crit Care Med 26:1793–1800

Demir IE, Ceyhan GO, Friess H (2012) Beyond lactate: is there a role for serum lactate measurement in diagnosing acute mesenteric ischemia? Dig Surg 29:226–235

Reinhart K, Kuhn HJ, Hartog C, Bredle DL (2004) Continuous central venous and pulmonary artery oxygen saturation monitoring in the critically ill. Intensive Care Med 30:1572–1578

Casaer MP, Van den Berghe G (2014) Nutrition in the acute phase of critical illness. N Engl J Med 370:1227–1236

Berland T, Oldenburg WA (2008) Acute mesenteric ischemia. Curr Gastroenterol Rep 10:341–346

Lee SS, Park SH (2013) Computed tomography evaluation of gastrointestinal bleeding and acute mesenteric ischemia. Radiol Clin N Am 51:29–43

Acosta S, Björck M (2014) Modern treatment of acute mesenteric ischaemia. Br J Surg 101:e100–e108
Conflicts of interest
The authors have no conflict of interest to disclose related to this topic.
Additional information
Take-home message: Acute mesenteric ischemia was associated with a 58 % death rate in ICU patients. Age and severity score at diagnosis were risk factors for mortality; plasma lactate concentration above 2.7 mmol/l was also an independent risk factor.
For the AtlanRea and AzuRea Collaborative Network Investigators; members are listed in the "Appendix".
Electronic supplementary material
Below is the link to the electronic supplementary material.
Appendix: List of investigators
Appendix: List of investigators
Pierre Asfar, Johan Auchabie (Hôpital Universitaire d'Angers), Gaston Grossmith (Centre Hospitalier Edmond Garcin, Aubagne), Pierre Courant (Centre Hospitalier d'Avignon), Jean-Luc Fellahi (Centre Hospitalo-Universitaire de Caen), Mélanie Tari, Bertrand Souweine (Centre Hospitalier de Clermont Ferrand), Pierre Visintini (Centre Hospitalier Interrégional des Alpes du Sud, Gap), Tarek Sharshar (Hôpital Raymond Poincaré, Montigny le Bretonneux), Vincent Piriou (Hospices Civils de Lyon), Djamel Mokart (Institut Paoli-Calmettes, Marseille), Sandrine Wiramus, Jacques Albanèse (Hôpital la Conception, Marseille), Alexandre Marillier, Nicolas Bruder (Hôpital la Timone, Marseille), Sami Hraiech, Laurent Papazian (Réanimation DRIS, Hôpital Nord, Marseille), Claire Contargyris (Hôpital Laveran, Marseille), Xavier Capdevila (Hôpital Lapeyronie, Montpellier), Julien Darmian (CHU Nancy Hôpital Central), Loubna Elotmani (Hôpital Carremeau, Nîmes), Thierry Boulain (Hôpital de la Source, Orléans), Philippe Montravers (Hôpital Bichat, Paris), Jean-Paul Mira, Frédéric Pene (Hôpital Cochin, Paris), Olivier Langeron (Hôpital la Pitié Salpétrière, Paris), Matthieu Legrand (Hôpital Saint Louis, Paris), Dorothé Balayn, Sabrina Seguin (CHU de Poitiers), Ali Mofredj (Centre Hospitalier de Salon), Marie-Charlotte Vogler, Serge Molliex (CHU Saint Etienne), Olivier Fourcade, Thomas Geeraerts (CHU Toulouse).
About this article
Cite this article
Leone, M., Bechis, C., Baumstarck, K. et al. Outcome of acute mesenteric ischemia in the intensive care unit: a retrospective, multicenter study of 780 cases. Intensive Care Med 41, 667–676 (2015). https://doi.org/10.1007/s00134-015-3690-8
Received:

Accepted:

Published:

Issue Date:

DOI: https://doi.org/10.1007/s00134-015-3690-8
Keywords
Ischemia

Mesenteric

Occlusion

Lactate

Surgery