Access options
Buy single article
Instant access to the full article PDF.
USD 39.95
Price excludes VAT (USA)
Tax calculation will be finalised during checkout.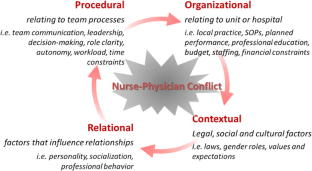 References
Brilli RJ, Spevetz A, Branson RD, Campbell GM, Cohen H, Dasta JF, Harvey MA, Kelley MA, Kelly KM, Rudis MI, St Andre AC, Stone JR, Teres D, Weled BJ, American College of Critical Care Medicine Task Force on Models of Critical Care Delivery. The American College of Critical Care Medicine Guidelines for the Definition of an Intensivist and the Practice of Critical Care Medicine (2001) Critical care delivery in the intensive care unit: defining clinical roles and the best practice model. Crit Care Med 29:2007–2019

Reader TW, Flin R, Cuthbertson BH (2011) Team leadership in the intensive care unit: the perspective of specialists. Crit Care Med 39:1683–1691

Baggs JG, Schmitt MH, Mushlin AI, Mitchell PH, Eldredge DH, Oakes D, Hutson AD (1999) Association between nurse–physician collaboration and patient outcomes in three intensive care units. Crit Care Med 27:1991–1998

Hamric AB, Blackhall LJ (2007) Nurse–physician perspectives on the care of dying patients in intensive care units: collaboration, moral distress, and ethical climate. Crit Care Med 35:422–429

Weinger MB, Pantiskas C, Wiklund ME, Carstensen P (1998) Incorporating human factors into the design of medical devices. JAMA 280:1484

Fassier T, Azoulay E (2010) Conflicts and communication gaps in the intensive care unit. Curr Opin Crit Care 16:654–665

Danjoux Meth N, Lawless B, Hawryluck L (2009) Conflicts in the ICU: perspectives of administrators and clinicians. Intensive Care Med 35:2068–2077

Azoulay E, Timsit JF, Sprung CL, Soares M, Rusinova K, Lafabrie A, Abizanda R, Svantesson M, Rubulotta F, Ricou B, Benoit D, Heyland D, Joynt G, Francais A, Azeivedo-Maia P, Owczuk R, Benbenishty J, de Vita M, Valentin A, Ksomos A, Cohen S, Kompan L, Ho K, Abroug F, Kaarlola A, Gerlach H, Kyprianou T, Michalsen A, Chevret S, Schlemmer B (2009) Prevalence and factors of intensive care unit conflicts: the conflicus study. Am J Respir Crit Care Med 180:853–860

Paul Olson TJ, Brasel KJ, Redmann AJ, Alexander GC, Schwarze ML (2013) Surgeon-reported conflict with intensivists about postoperative goals of care. JAMA Surg 148:29–35

Puntillo KA, McAdam JL (2006) Communication between physicians and nurses as a target for improving end-of-life care in the intensive care unit: challenges and opportunities for moving forward. Crit Care Med 34:S332–S340

Sexton JB, Thomas EJ, Helmreich RL (2000) Error, stress, and teamwork in medicine and aviation: cross sectional surveys. BMJ 320:745–749

Thomas EJ, Sexton JB, Helmreich RL (2003) Discrepant attitudes about teamwork among critical care nurses and physicians. Crit Care Med 31:956–959

Zwarenstein M, Goldman J, Reeves S (2009) Interprofessional collaboration: effects of practice-based interventions on professional practice and healthcare outcomes. Cochrane database of systematic reviews: CD000072

Baggs JG (2007) Nurse–physician collaboration in intensive care units. Crit Care Med 35:641–642

Rose L (2011) Interprofessional collaboration in the ICU: how to define? Nurs Crit Care 16:5–10
Acknowledgments
No external funding.
Conflicts of interest
The authors declare that no conflict of interest exists.
About this article
Cite this article
Hartog, C.S., Benbenishty, J. Understanding nurse–physician conflicts in the ICU. Intensive Care Med 41, 331–333 (2015). https://doi.org/10.1007/s00134-014-3517-z
Received:

Accepted:

Published:

Issue Date:

DOI: https://doi.org/10.1007/s00134-014-3517-z
Keywords