Abstract
Purpose
Intensive care clinicians play a central role in the co-ordination and treatment of patients that develop life-threatening emergencies. This review evaluates the effect of debriefing after life-threatening emergencies and considers the implications for intensive care training and practice.
Methods
Studies were identified by searching electronic databases, citation tracking, and contact with subject specialists. Studies evaluating the effect of debriefing after life-threatening emergencies on clinician performance (process) and/or patient outcomes were eligible for inclusion. Study quality was assessed and summarised using the GRADE system.
Results
The search identified 2,720 studies. After detailed review, 27 studies were included of which 20 supported the use of debriefing. Debriefing was viewed positively (n = 3), improved learning (n = 1), enhanced non-technical performance (n = 4) and technical performance (n = 16), and improved patient outcomes (n = 2). Four cardiac arrest studies were suitable for meta-analysis. This found evidence of improved resuscitation process outcomes [compression fraction (mean difference 6.80, 95 % CI 4.19–9.40, p < 0.001)] and short-term patient outcome [return of spontaneous circulation (OR 1.46, 95 % CI 1.01–2.13, p = 0.05)]. There was no effect on survival to hospital discharge (OR 0.80, 95 % CI 0.38–1.67, p = 0.55).
Conclusions
This review supports the use of structured debriefing as an educational strategy to improve clinician knowledge and skill acquisition and implementation of those skills in practice. However, the effect of debriefing on long-term patient outcomes is uncertain. There remains a need for further high-quality research, which seeks to identify the optimal method for debriefing delivery and effect on patient outcomes.
Access options
Buy single article
Instant access to the full article PDF.
US$ 39.95
Tax calculation will be finalised during checkout.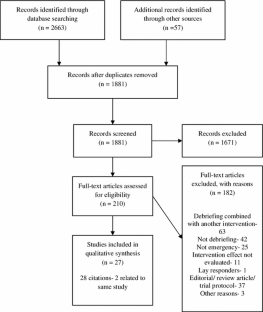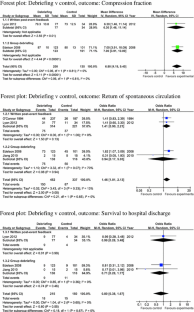 References
1.

Hunziker S, Laschinger L, Portmann-Schwarz S, Semmer NK, Tschan F, Marsch S (2011) Perceived stress and team performance during a simulated resuscitation. Intensive Care Med 37:1473–1479

2.

Dellinger RP, Levy MM, Rhodes A, Annane D, Gerlach H, Opal SM, Sevransky JE, Sprung CL, Douglas IS, Jaeschke R, Osborn TM, Nunnally ME, Townsend SR, Reinhart K, Kleinpell RM, Angus DC, Deutschman CS, Machado FR, Rubenfeld GD, Webb S, Beale RJ, Vincent JL, Moreno R, Surviving Sepsis Campaign Guidelines Committee including The Pediatric Subgroup (2013) Surviving sepsis campaign: international guidelines for management of severe sepsis and septic shock, 2012. Intensive Care Med 39:165–228

3.

Antonelli M, Bonten M, Chastre J, Citerio G, Conti G, Curtis JR, De Backer D, Hedenstierna G, Joannidis M, Macrae D, Mancebo J, Maggiore SM, Mebazaa A, Preiser JC, Rocco P, Timsit JF, Wernerman J, Zhang H (2012) Year in review in intensive care medicine 2011. II. Cardiovascular, infections, pneumonia and sepsis, critical care organization and outcome, education, ultrasonography, metabolism and coagulation. Intensive Care Med 38:345–358

4.

CoBaTrICE Collaboration, Bion JF, Barrett H (2006) Development of core competencies for an international training programme in intensive care medicine. Intensive Care Med 32:1371–1383

5.

Smith CM, Perkins GD, Bullock I, Bion JF (2007) Undergraduate training in the care of the acutely ill patient: a literature review. Intensive Care Med 33:901–907

6.

Benger J, Hopkinson S (2011) Rapid sequence induction of anaesthesia in UK emergency departments: a national census. Emerg Med J 28:217–220

7.

Konrad D, Jäderling G, Bell M, Granath F, Ekbom A, Martling C-R (2010) Reducing in-hospital cardiac arrests and hospital mortality by introducing a medical emergency team. Intensive Care Med 36:100–106

8.

Jaderling G, Calzavacca P, Bell M, Martling CR, Jones D, Bellomo R, Konrad D (2011) The deteriorating ward patient: a Swedish-Australian comparison. Intensive Care Med 37:1000–1005

9.

Hyde P, Mackenzie R, Ng G, Reid C, Pearson G (2012) Availability and utilisation of physician-based pre-hospital critical care support to the NHS ambulance service in England, Wales and Northern Ireland. Emerg Med J 29:177–181

10.

Morrison JE, Meliza LL (1999) Foundations of the after action review process. United States Army Research Institute for the Behavioral and Social Sciences, Fort Belvoir, Virginia

11.

Dismukes RK, Gaba DM, Howard SK (2006) So many roads: facilitated debriefing in healthcare. Simul Healthc 1:23–25

12.

American College of Obstetricians Gynecologists Committee on Patient Safety Quality Improvement (2011) ACOG Committee Opinion No. 487: preparing for clinical emergencies in obstetrics and gynecology. Obstet Gynecol 117:1032–1034

13.

American College of Obstetricians Gynecologists Committee on Patient Safety Quality Improvement (2006) ACOG Committee Opinion No. 353: medical emergency preparedness. Obstet Gynecol 108:1597–1599

14.

Soar J, Mancini ME, Bhanji F, Billi JE, Dennett J, Finn J, Ma MH, Perkins GD, Rodgers DL, Hazinski MF, Jacobs I, Morley PT, Education Implementation Teams Chapter Collaborators (2010) Part 12: education, implementation, and teams: 2010 International consensus on cardiopulmonary resuscitation and emergency cardiovascular care science with treatment recommendations. Resuscitation 81(Suppl 1):e288–e330

15.

Couper K, Perkins GD (2013) Debriefing after resuscitation. Curr Opin Crit Care. doi:10.1097/MCC.0b013e32835f58aa

16.

Clay AS, Que L, Petrusa ER, Sebastian M, Govert J (2007) Debriefing in the intensive care unit: a feedback tool to facilitate bedside teaching. Critical Care Med 35:738–754

17.

Ivers N, Jamtvedt G, Flottorp S, Young JM, Odgaard-Jensen J, French SD, O'Brien MA, Johansen M, Grimshaw J, Oxman AD (2012) Audit and feedback: effects on professional practice and healthcare outcomes. Cochrane Database Syst Rev, doi:10.1002/14651858.CD000259.pub3

18.

Moher D, Liberati A, Tetzlaff J, Altman DG, Group P (2009) Preferred reporting items for systematic reviews and meta-analyses: the PRISMA statement. Ann Int Med 151:264–269

19.

Kirkpatrick DL, Kirkpatrick JD (2006) Evaluating training programs: the four levels. Berrett-Koehler, San Francisco

20.

Morley PT, Atkins DL, Billi JE, Bossaert L, Callaway CW, de Caen AR, Deakin CD, Eigel B, Hazinski MF, Hickey RW, Jacobs I, Kleinman ME, Koster RW, Mancini ME, Montgomery WH, Morrison LJ, Nadkarni VM, Nolan JP, O'Connor RE, Perlman JM, Sayre MR, Semenko TI, Shuster M, Soar J, Wyllie J, Zideman D (2010) Part 3: evidence evaluation process: 2010 international consensus on cardiopulmonary resuscitation and emergency cardiovascular care science with treatment recommendations. Resuscitation 81:e32–e40

21.

Guyatt G, Oxman AD, Akl EA, Kunz R, Vist G, Brozek J, Norris S, Falck-Ytter Y, Glasziou P, DeBeer H, Jaeschke R, Rind D, Meerpohl J, Dahm P, Schunemann HJ (2011) GRADE guidelines: 1. Introduction-GRADE evidence profiles and summary of findings tables. J Clin Epidemiol 64:383–394

22.

Cochrane Effective Practice and Organisation of Care Group (2012) Data abstraction form. Available via http://epoc.cochrane.org/sites/epoc.cochrane.org/files/uploads/Data%20Abstraction%20Form%20-%20EPOC%20-%202012-Feb-23.doc. Accessed 10 April 2013

23.

Higgins JPT, Thompson SG, Deeks JJ, Altman DG (2003) Measuring inconsistency in meta-analyses. BMJ 327:557–560

24.

Savoldelli GL, Naik VN, Park J, Joo HS, Chow R, Hamstra SJ (2006) Value of debriefing during simulated crisis management: oral versus video-assisted oral feedback. Anesthesiology 105:279–285

25.

Welke TM, LeBlanc VR, Savoldelli GL, Joo HS, Chandra DB, Crabtree NA, Naik VN (2009) Personalized oral debriefing versus standardized multimedia instruction after patient crisis simulation. Anesth Analg 109:183–189

26.

Boet S, Bould MD, Bruppacher HR, Desjardins F, Chandra DB, Naik VN (2011) Looking in the mirror: self-debriefing versus instructor debriefing for simulated crises. Crit Care Med 39:1377–1381

27.

Morgan PJ, Tarshis J, LeBlanc V, Cleave-Hogg D, DeSousa S, Haley MF, Herold-McIlroy J, Law JA (2009) Efficacy of high-fidelity simulation debriefing on the performance of practicing anaesthetists in simulated scenarios. Br J Anaesth 103:531–537

28.

Morgan PJ, Kurrek MM, Bertram S, LeBlanc V, Przybyszewski T (2011) Nontechnical skills assessment after simulation-based continuing medical education. Simul Healthc 6:255–259

29.

Goffman D, Heo H, Pardanani S, Merkatz IR, Bernstein PS (2008) Improving shoulder dystocia management among resident and attending physicians using simulations. Am J Obstet Gynecol 199(294):e291–e295

30.

Mikrogianakis A, Osmond MH, Nuth JE, Shephard A, Gaboury I, Jabbour M (2008) Evaluation of a multidisciplinary pediatric mock trauma code educational initiative: a pilot study. J Trauma 64:761–767

31.

Dine CJ, Gersh RE, Leary M, Riegel BJ, Bellini LM, Abella BS (2008) Improving cardiopulmonary resuscitation quality and resuscitation training by combining audiovisual feedback and debriefing. Crit Care Med 36:2817–2822

32.

Edelson DP, Litzinger B, Arora V, Walsh D, Kim S, Lauderdale DS, Vanden Hoek TL, Becker LB, Abella BS (2008) Improving in-hospital cardiac arrest process and outcomes with performance debriefing. Arch Int Med 168:1063–1069

33.

Hoyt DB, Shackford SR, Fridland PH, Mackersie RC, Hansbrough JF, Wachtel TL, Fortune JB (1988) Video recording trauma resuscitations: an effective teaching technique. J Trauma 28:435–440

34.

Santora TA, Trooskin SZ, Blank CA, Clarke JR, Schinco MA (1996) Video assessment of trauma response: adherence to ATLS protocols. Am J Emerg Med 14:564–569

35.

Scherer LA, Chang MC, Meredith JW, Battistella FD (2003) Videotape review leads to rapid and sustained learning. Am J Surg 185:516–520

36.

Anderson JM, Murphy AA, Boyle KB, Yaeger KA, Halamek LP (2006) Simulating extracorporeal membrane oxygenation emergencies to improve human performance. Part II: assessment of technical and behavioral skills. Simul Healthc 1:228–232

37.

Lyon RM, Clarke S, Milligan D, Clegg GR (2012) Resuscitation feedback and targeted education improves quality of pre-hospital resuscitation in Scotland. Resuscitation 83:70–75

38.

Jiang C, Zhao Y, Chen Z, Chen S, Yang X (2010) Improving cardiopulmonary resuscitation in the emergency department by real-time video recording and regular feedback learning. Resuscitation 81:1664–1669

39.

Percarpio KB, Harris FS, Hatfield BA, Dunlap B, Diekroger WE, Nichols PD, Mazzia LM, Mills PD, Neily JB (2010) Code debriefing from the Department of Veterans Affairs (VA) medical team training program improves the cardiopulmonary resuscitation code process. Jt Comm J Qual Patient Saf 36(424–429):385

40.

Bradley EH, Herrin J, Wang Y, Barton BA, Webster TR, Mattera JA, Roumanis SA, Curtis JP, Nallamothu BK, Magid DJ, McNamara RL, Parkosewich J, Loeb JM, Krumholz HM (2006) Strategies for reducing the door-to-balloon time in acute myocardial infarction. N Engl J Med 355:2308–2320

41.

Lai CL, Fan CM, Liao PC, Tsai KC, Yang CY, Chu SH, Chien KL (2009) Impact of an audit program and other factors on door-to-balloon times in acute ST-elevation myocardial infarction patients destined for primary coronary intervention. Acad Emerg Med 16:333–342

42.

Lin JF, Hsu SY, Wu S, Liau CS, Chang HC, Liu CJ, Huang HL, Ho YT, Weng SL, Ko YL (2011) Data feedback reduces door-to-balloon time in patients with ST-elevation myocardial infarction undergoing primary percutaneous coronary intervention. Heart Vessels 26:25–30

43.

Scholz KH, Hilgers R, Ahlersmann D, Duwald H, Nitsche R, von Knobelsdorff G, Volger B, Moller K, Keating FK (2008) Contact-to-balloon time and door-to-balloon time after initiation of a formalized data feedback in patients with acute st-elevation myocardial infarction. Am J Cardiol 101:46–52

44.

Rawles J, Sinclair C, Jennings K, Ritchie L, Waugh N (1998) Audit of prehospital thrombolysis by general practitioners in peripheral practices in Grampian. Heart 80:231–234

45.

O'Connor RE, Megargel RE (1994) The effect of a quality improvement feedback loop on paramedic skills, charting, and behavior. Prehospital Disaster Med 9:35–38 discussion 38–39

46.

van Wijngaarden JD, Dirks M, Huijsman R, Niessen LW, Fabbricotti IN, Dippel DW (2009) Hospital rates of thrombolysis for acute ischemic stroke: the influence of organizational culture. Stroke 40:3390–3392

47.

Schramm GE, Kashyap R, Mullon JJ, Gajic O, Afessa B (2011) Septic shock: a multidisciplinary response team and weekly feedback to clinicians improve the process of care and mortality. Crit Care Med 39:252–258

48.

Carbine DN, Finer NN, Knodel E, Rich W (2000) Video recording as a means of evaluating neonatal resuscitation performance. Pediatrics 106:654–658

49.

Zebuhr C, Sutton RM, Morrison W, Niles D, Boyle L, Nishisaki A, Meaney P, Leffelman J, Berg RA, Nadkarni VM (2012) Evaluation of quantitative debriefing after pediatric cardiac arrest. Resuscitation 83:1124–1128

50.

Nadler I, Sanderson PM, Van Dyken CR, Davis PG, Liley HG (2011) Presenting video recordings of newborn resuscitations in debriefings for teamwork training. BMJ Qual Saf 20:163–169

51.

Townsend RN, Clark R, Ramenofsky ML, Diamond DL (1993) ATLS-based videotape trauma resuscitation review: education and outcome. J Trauma 34:133–138

52.

Fletcher G, Flin R, McGeorge P, Glavin R, Maran N, Patey R (2003) Anaesthetists' non-technical skills (ANTS): evaluation of a behavioural marker system. Br J Anaesth 90:580–588

53.

Perkins GD, Barrett H, Bullock I, Gabbott DA, Nolan JP, Mitchell S, Short A, Smith CM, Smith GB, Todd S, Bion JF (2005) The acute care undergraduate teaching (ACUTE) initiative: consensus development of core competencies in acute care for undergraduates in the United Kingdom. Intensive Care Med 31:1627–1633

54.

CoBaTrICE Collaboration (2007) The views of patients and relatives of what makes a good intensivist: a European survey. Intensive Care Med 33:1913–1920

55.

Sunde K, Pytte M, Jacobsen D, Mangschau A, Jensen LP, Smedsrud C, Draegni T, Steen PA (2007) Implementation of a standardised treatment protocol for post resuscitation care after out-of-hospital cardiac arrest. Resuscitation 73:29–39

56.

Meaney PA, Nadkarni VM, Kern KB, Indik JH, Halperin HR, Berg RA (2010) Rhythms and outcomes of adult in-hospital cardiac arrest. Crit Care Med 38:101–108

57.

Larkin GL, Copes WS, Nathanson BH, Kaye W (2010) Pre-resuscitation factors associated with mortality in 49,130 cases of in-hospital cardiac arrest: a report from the National Registry for Cardiopulmonary Resuscitation. Resuscitation 81:302–311

58.

Nolan JP (2013) What's new in the management of cardiac arrest? Intensive Care Med. doi:10.1007/s00134-013-2917-9

59.

Tannenbaum SI, Cerasoli CP (2012) Do team and individual debriefs enhance performance? A meta-analysis. Human factors. J Human Factors Ergon Soc. doi:10.1177/0018720812448394

60.

Peets AD, Stelfox HT (2012) Changes in residents' opportunities for experiential learning over time. Med Educ 46:1189–1193

61.

Kolb DA (1984) Experiential learning: experience as the source of learning and development. Prentice-Hall, Upper Saddle River

62.

Quenot JP, Rigaud JP, Prin S, Barbar S, Pavon A, Hamet M, Jacquiot N, Blettery B, Herve C, Charles PE, Moutel G (2012) Suffering among carers working in critical care can be reduced by an intensive communication strategy on end-of-life practices. Intensive Care Med 38:55–61

63.

Mitchell JT (1983) When disaster strikes…the critical incident stress debriefing process. J Emerg Med Serv 8:36–39

64.

Theophilos T, Magyar J, Babl FE, Paediatric Research in Emergency Departments International Collaborative (2009) Debriefing critical incidents in the paediatric emergency department: current practice and perceived needs in Australia and New Zealand. Emerg Med Australas 21:479–483

65.

Ireland S, Gilchrist J, Maconochie I (2008) Debriefing after failed paediatric resuscitation: a survey of current UK practice. Emerg Med J 25:328–330

66.

Rose SC, Bisson J, Churchill R, Wessely S (2002) Psychological debriefing for preventing post traumatic stress disorder (PTSD). Cochrane Database Syst Rev. doi:10.1002/14651858.CD000560

67.

Raemer D, Anderson M, Cheng A, Fanning R, Nadkarni V, Savoldelli G (2011) Research regarding debriefing as part of the learning process. Simul Healthc 6(Suppl):S52–S57

68.

Auerbach AD, Landefeld CS, Shojania KG (2007) The tension between needing to improve care and knowing how to do it. N Engl J Med 357:608–613
Acknowledgments
We gratefully acknowledge Professor Simon Gates for reviewing the statistical methods in this paper and Chharitha Veerapaneni for assistance with the data abstraction process. Neither Professor Gates nor Miss Veerapaneni received any compensation. K.C. is supported by a Resuscitation Council (UK) Research Fellowship. G.D.P. is supported by the Intensive Care Foundation.
Conflicts of interest
K.C.: European Resuscitation Council (travel/accommodation). J.S.: ILCOR Advanced Life Support Task Force Co-Chair (voluntary), Editor of the journal Resuscitation (paid), European Resuscitation Council and American Heart Association (travel/accommodation). J.F.: ILCOR Education, Implementation and Teams Task Force Co-Chair (voluntary), American Heart Association (travel/accommodation); and Director of the Australian Resuscitation Outcomes Consortium (Aus-ROC) for which she receives partial salary support. G.D.P.: ILCOR Advanced Life Support Task Force Co-Chair (voluntary), NIHR Research for Patient Benefit Programme (Grant part funds salary). Editor of the journal Resuscitation (paid), European Resuscitation Council, American Heart Association and Resuscitation Council (UK) (travel and accommodation). B.S. has no conflicts of interest. K.C. had full access to all of the data in the study and takes full responsibility for the integrity of the data and accuracy of the data analysis.
Electronic supplementary material
Below is the link to the electronic supplementary material.
About this article
Cite this article
Couper, K., Salman, B., Soar, J. et al. Debriefing to improve outcomes from critical illness: a systematic review and meta-analysis. Intensive Care Med 39, 1513–1523 (2013). https://doi.org/10.1007/s00134-013-2951-7
Received:

Accepted:

Published:

Issue Date:
Keywords
Emergency

Intensive care

Cardiopulmonary resuscitation

Healthcare quality assessment

Debriefing

Feedback