Abstract
Purpose
Detailed extracorporeal membrane oxygenation (ECMO) weaning strategies and specific predictors of ECMO weaning success are lacking. This study evaluated a weaning strategy following support for refractory cardiogenic shock to identify clinical, hemodynamic, and Doppler echocardiography parameters associated with successful ECMO removal.
Methods
Hemodynamically stable patients underwent ECMO flow reduction trials to <1.5 L/min under clinical and Doppler echocardiography monitoring. When a patient had partially or fully recovered from severe cardiac dysfunction, tolerated the weaning trial, and had left ventricular ejection fraction (LVEF) >20–25% and aortic time–velocity integral (VTI) >10 cm under minimal ECMO support, device removal was considered.
Results
Among the 51 patients (34 males, aged 54 ± 14 years) who received ECMO for medical (n = 27), postcardiotomy (n = 11), or posttransplantation (n = 5) cardiogenic shock, 38 tolerated at least one ECMO flow reduction trial and 20 were ultimately weaned. Compared with the 13 patients who tolerated the trial but were not deemed weanable, those successfully weaned had, at each ECMO flow level, higher arterial systolic and pulse pressures, VTI, LVEF, and lateral mitral annulus peak systolic velocity (TDSa). All weaned patients had aortic VTI ≥10 cm, LVEF >20–25%, and TDSa ≥6 cm/s at minimal ECMO flow support. These Doppler echocardiography parameters better separated weaned and nonweaned patients than any other parameters tested.
Conclusions
Patients who tolerated a full ECMO weaning trial and had aortic VTI ≥10 cm, LVEF >20–25%, and TDSa ≥6 cm/s at minimal ECMO flow were all successfully weaned. However, further studies are needed to validate these simple and easy-to-acquire Doppler echocardiography parameters as predictors of subsequent ECMO weaning success in patients recovering from severe cardiogenic shock.
Access options
Buy single article
Instant access to the full article PDF.
US$ 39.95
Tax calculation will be finalised during checkout.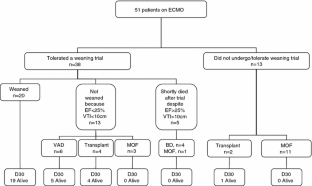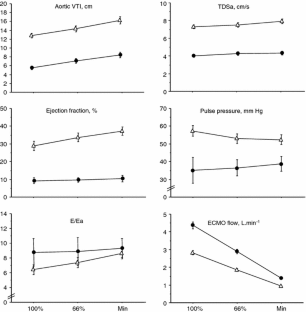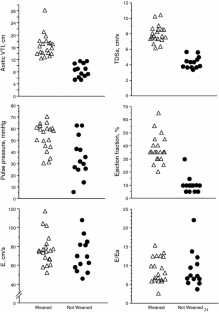 References
1.

Chen YS, Chao A, Yu HY, Ko WJ, Wu IH, Chen RJ, Huang SC, Lin FY, Wang SS (2003) Analysis and results of prolonged resuscitation in cardiac arrest patients rescued by extracorporeal membrane oxygenation. J Am Coll Cardiol 41:197–203

2.

Chen YS, Lin JW, Yu HY, Ko WJ, Jerng JS, Chang WT, Chen WJ, Huang SC, Chi NH, Wang CH, Chen LC, Tsai PR, Wang SS, Hwang JJ, Lin FY (2008) Cardiopulmonary resuscitation with assisted extracorporeal life-support versus conventional cardiopulmonary resuscitation in adults with in-hospital cardiac arrest: an observational study and propensity analysis. Lancet 372:554–561

3.

Bakhtiary F, Keller H, Dogan S, Dzemali O, Oezaslan F, Meininger D, Ackermann H, Zwissler B, Kleine P, Moritz A (2008) Venoarterial extracorporeal membrane oxygenation for treatment of cardiogenic shock: clinical experiences in 45 adult patients. J Thorac Cardiovasc Surg 135:382–388

4.

Smedira NG, Moazami N, Golding CM, McCarthy PM, Apperson-Hansen C, Blackstone EH, Cosgrove DM 3rd (2001) Clinical experience with 202 adults receiving extracorporeal membrane oxygenation for cardiac failure: survival at five years. J Thorac Cardiovasc Surg 122:92–102

5.

Magovern GJ Jr, Simpson KA (1999) Extracorporeal membrane oxygenation for adult cardiac support: the Allegheny experience. Ann Thorac Surg 68:655–661

6.

Pagani FD, Lynch W, Swaniker F, Dyke DB, Bartlett R, Koelling T, Moscucci M, Deeb GM, Bolling S, Monaghan H, Aaronson KD (1999) Extracorporeal life support to left ventricular assist device bridge to heart transplant: a strategy to optimize survival and resource utilization. Circulation 100(19 Suppl):206–210

7.

Combes A, Leprince P, Luyt CE, Bonnet N, Trouillet JL, Leger P, Pavie A, Chastre J (2008) Outcomes and long-term quality-of-life of patients supported by extracorporeal membrane oxygenation for refractory cardiogenic shock. Crit Care Med 36:1404–1411

8.

Doll N, Kiaii B, Borger M, Bucerius J, Kramer K, Schmitt DV, Walther T, Mohr FW (2004) Five-year results of 219 consecutive patients treated with extracorporeal membrane oxygenation for refractory postoperative cardiogenic shock. Ann Thorac Surg 77:151–157 discussion 157

9.

Schwarz B, Mair P, Margreiter J, Pomaroli A, Hoermann C, Bonatti J, Lindner KH (2003) Experience with percutaneous venoarterial cardiopulmonary bypass for emergency circulatory support. Crit Care Med 31:758–764

10.

Megarbane B, Leprince P, Deye N, Resiere D, Guerrier G, Rettab S, Theodore J, Karyo S, Gandjbakhch I, Baud FJ (2007) Emergency feasibility in medical intensive care unit of extracorporeal life support for refractory cardiac arrest. Intensive Care Med 33:758–764

11.

Chen JS, Ko WJ, Yu HY, Lai LP, Huang SC, Chi NH, Tsai CH, Wang SS, Lin FY, Chen YS (2006) Analysis of the outcome for patients experiencing myocardial infarction and cardiopulmonary resuscitation refractory to conventional therapies necessitating extracorporeal life support rescue. Crit Care Med 34:950–957

12.

Pages ON, Aubert S, Combes A, Luyt CE, Pavie A, Leger P, Gandjbakhch I, Leprince P (2009) Paracorporeal pulsatile biventricular assist device versus extracorporal membrane oxygenation-extracorporal life support in adult fulminant myocarditis. J Thorac Cardiovasc Surg 137:194–197

13.

Asaumi Y, Yasuda S, Morii I, Kakuchi H, Otsuka Y, Kawamura A, Sasako Y, Nakatani T, Nonogi H, Miyazaki S (2005) Favourable clinical outcome in patients with cardiogenic shock due to fulminant myocarditis supported by percutaneous extracorporeal membrane oxygenation. Eur Heart J 26:2185–2192

14.

Jan SL, Lin SJ, Fu YC, Chi CS, Wang CC, Wei HJ, Chang Y, Hwang B, Chen PY, Huang FL, Lin MC (2010) Extracorporeal life support for treatment of children with enterovirus 71 infection-related cardiopulmonary failure. Intensive Care Med 36:520–527

15.

Muehrcke DD, McCarthy PM, Stewart RW, Foster RC, Ogella DA, Borsh JA, Cosgrove DM 3rd (1996) Extracorporeal membrane oxygenation for postcardiotomy cardiogenic shock. Ann Thorac Surg 61:684–691

16.

Minev PA, El-Banayosy A, Minami K, Kortke H, Kizner L, Korfer R (2001) Differential indication for mechanical circulatory support following heart transplantation. Intensive Care Med 27:1321–1327

17.

Fiser SM, Tribble CG, Kaza AK, Long SM, Zacour RK, Kern JA, Kron IL (2001) When to discontinue extracorporeal membrane oxygenation for postcardiotomy support. Ann Thorac Surg 71:210–214

18.

Chen YS, Ko WJ, Chi NH, Wu IH, Huang SC, Chen RJ, Chou NK, Hsu RB, Lin FY, Wang SS, Chu SH, Yu HY (2004) Risk factor screening scale to optimize treatment for potential heart transplant candidates under extracorporeal membrane oxygenation. Am J Transplant 4:1818–1825

19.

Le Gall JR, Lemeshow S, Saulnier F (1993) A new Simplified Acute Physiology Score (SAPS II) based on a European/North American multicenter study. JAMA 270:2957–2963

20.

Vincent JL, Moreno R, Takala J, Willatts S, De Mendonca A, Bruining H, Reinhart CK, Suter PM, Thijs LG (1996) The SOFA (Sepsis-related Organ Failure Assessment) score to describe organ dysfunction/failure. On behalf of the Working Group on Sepsis-Related Problems of the European Society of Intensive Care Medicine. Intensive Care Med 22:707–710

21.

Vieillard-Baron A, Slama M, Cholley B, Janvier G, Vignon P (2008) Echocardiography in the intensive care unit: from evolution to revolution? Intensive Care Med 34:243–249

22.

Nagueh SF, Middleton KJ, Kopelen HA, Zoghbi WA, Quinones MA (1997) Doppler tissue imaging: a noninvasive technique for evaluation of left ventricular relaxation and estimation of filling pressures. J Am Coll Cardiol 30:1527–1533

23.

Combes A, Arnoult F, Trouillet JL (2004) Tissue Doppler imaging estimation of pulmonary artery occlusion pressure in ICU patients. Intensive Care Med 30:75–81

24.

Park YS, Park JH, Ahn KT, Jang WI, Park HS, Kim JH, Lee JH, Choi SW, Jeong JO, Seong IW (2010) Usefulness of mitral annular systolic velocity in the detection of left ventricular systolic dysfunction: comparison with three dimensional echocardiographic data. J Cardiovasc Ultrasound 18:1–5
Electronic supplementary material
Below is the link to the electronic supplementary material.
About this article
Cite this article
Aissaoui, N., Luyt, CE., Leprince, P. et al. Predictors of successful extracorporeal membrane oxygenation (ECMO) weaning after assistance for refractory cardiogenic shock. Intensive Care Med 37, 1738 (2011). https://doi.org/10.1007/s00134-011-2358-2
Received:

Accepted:

Published:
Keywords
Extracorporeal membrane oxygenation

Salvage therapy

Cardiogenic shock

Outcome predictors

Doppler echocardiography