Abstract
Arterial catheterization is the second most common invasive procedure performed in the intensive care unit. Despite the ubiquity of the procedure, complications including failure to place the catheter occur. While many clinicians are familiar with the use of ultrasound (US) guidance to decrease complication rates of central venous catheter insertion, fewer are familiar with the use of ultrasound to guide arterial catheterization. This manuscript reviews the evidence for the utility of ultrasound for this indication. Technical aspects of the procedure and limitations of the existing evidence are reviewed. A description of the procedure is provided, along with an online supplemental video. Most studies indicate that first-pass success will be improved with US-guided (USG) arterial catheterization. The technique is easy to learn, particularly if one is already familiar with USG for central venous catheter placement. More research, including formal analyses of cost effectiveness, is needed.
This is a preview of subscription content,
to check access.
Access this article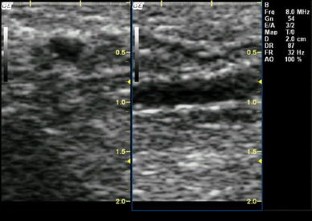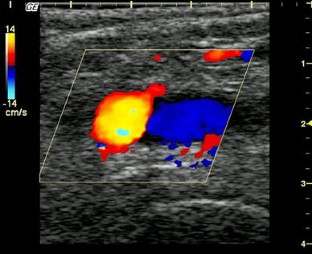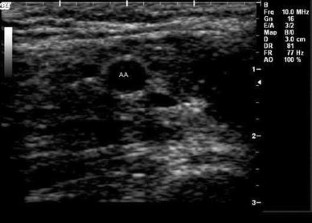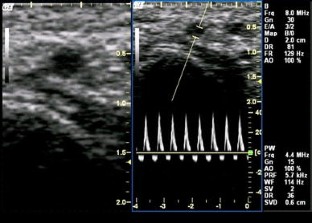 Similar content being viewed by others
References
Seneff M (2003) Arterial line placement and care in intensive care medicine. In: Irwin RS, Rippe JM (eds) Intensive care medicine, 5th edn. Lippincott Williams and Wilkins, Philadelphia, pp 36–45

Scheer BV, Perel A, Pfeiffer UJ (2002) Clinical review: complications and risk factors of peripheral arterial catheters for haemodynamic monitoring in anaesthesia and intensive care medicine. Crit Care 6:198–204. doi:10.1186/cc1489

McGee DC, Gould MK (2003) Preventing complications of central venous catheterization. N Engl J Med 348:1123–1133. doi:10.1056/NEJMra011883

Milling TJ Jr, Rose J, Briggs WM, Birkhahn R, Gaeta TJ, Bove JJ, Melniker LA (2005) Randomized, controlled clinical trial of point-of-care limited ultrasonography assistance of central venous cannulation: The Third Sonography Outcomes Assessment Program (SOAP-3) trial. Crit Care Med 33:1764–1769. doi:10.1097/01.CCM.0000171533.92856.E5

Cook D, Randolph A, Kernerman P, Cupido C, King DB, Soukup C, Brun-Buisson C (1997) Central venous catheter replacement strategies: a systematic review of the literature. Crit Care Med 25:1417–1424. doi:10.1097/00003246-199708000-00033

Hind D, Calvert N, McWilliams R, Davidson A, Paisley S, Beverley C, Thomas S (2003) Ultrasonic locating devices for central venous cannulation: meta-analysis. BMJ 327:361–364. doi:10.1136/bmj.327.7411.361

(2001) Ultrasound guidance of central vein catheterization. In: Rothschild JM (ed) Evidence Report/Technology Assessment, No. 43. Making health care safer: a critical analysis of patient safety practices. Agency for Healthcare Research and Quality, Rockville, MD, Publication No. 01–E058, pp 245–253

Levin PD, Sheinin O, Gozal Y (2003) Use of ultrasound guidance in the insertion of radial artery catheters. Crit Care Med 31:481–484. doi:10.1097/01.CCM.0000050452.17304.2F

Shiver S, Blaivas M, Lyon M (2006) A prospective comparison of ultrasound-guided and blindly placed radial arterial catheters. Acad Emerg Med 13:1257–1279. doi:10.1111/j.1553-2712.2006.tb00289.x

Schwemmer U, Arzet HA, Traunter H, Rauch S, Roewer N, Greim CA (2006) Ultrasound-guided arterial cannulation in infants improves success rate. Eur J Anaesthesiol 23:476–480. doi:10.1017/S0265021506000275

Ganesh AG, Kaye R, Cahill AM, Stern W, Pachikara R, Gallagher PR, Watcha M (2009) Evaluation of ultrasound-guided radial artery cannulation in children. Pediatr Crit Care Med 10:45–48. doi:10.1097/PCC.0b013e31819368ca

Tada T, Amagasa S, Horikawa H (2003) Absence of efficacy of ultrasonic two-way Doppler flow detector in routine percutaneous arterial cannulation. J Anesth 17:206–207

Tada T, Amagasa S, Horikawa H (2003) Usefulness of ultrasonic two-way Doppler flow detector in percutaneous arterial puncture in patients with hemorrhagic shock. J Anesth 17:70–71. doi:10.1007/s005400300016

Dudeck O, Teichgraeber U, Podrabsky P, Haenninen EL, Soerensen R, Ricke J (2004) A randomized trial assessing the value of ultrasound-guided puncture of the femoral artery for interventional investigations. Int J Cardiovasc Imaging 20:363–368. doi:10.1023/B:CAIM.0000041949.59255.3f

Nagabhushan S, Colella JJ, Wagner R (1976) Use of Doppler ultrasound in performing percutaneous cannulation of the radial artery. Crit Care Med 4:327. doi:10.1097/00003246-197611000-00011

McLeskey CH, Mims GR (1982) Doppler-assisted radial artery cannulation. Anesthesiology 57:A25. doi:10.1097/00000542-198209001-00025

Morray JP, Brandford HG, Barnes LF, Oh SM, Furman EB (1984) Doppler-assisted radial artery cannulation in infants and children. Anesth Analg 63:346–348. doi:10.1213/00000539-198403000-00012

Lui KW, Yeow KM, Wan YL, Cheung YC, Ng KK, Tseng JH (2001) Ultrasound guided puncture of the brachial artery for haemodialysis fistula angiography. Nephrol Dial Transplant 16:98–101

Yeow KM, Toh CH, Wu CH, Lee RY, Hsieh HC, Liau CT, Li HJ (2002) Sonographically guided antegrade common femoral artery access. J Ultrasound Med 21:1413–1416

Marcus AJ, Lotzof K, Howard A (2007) Access to the superficial femoral artery in the presence of a "hostile groin": a prospective study. Cardiovasc Intervent Radiol 30:351–354. doi:10.1007/s00270-005-0347-y

Gabriel M, Pawlaczyk K, Waliszewski K, Krasinsky Z, Majewski W (2007) Location of femoral artery puncture site and the risk of postcatheterization pseudoaneurysm formation. Int J Cardiol 120:167–171. doi:10.1016/j.ijcard.2006.09.018

Kannan S (2005) Another use for ultrasound in the ICU. Anaesthesia 60:944. doi:10.1111/j.1365-2044.2005.04357.x

Sandhu NS (2004) The use of ultrasound for axillary catheterization through pectoral muscles: a new anterior approach. Anesth Analg 99:562–565. doi:10.1213/01.ANE.0000130396.31225.E4

Sandhu NS (2006) Use of ultrasonography as a rescue technique for failed radial artery cannulation. J Clin Anesth 18:138–141. doi:10.1016/j.jclinane.2005.06.011

Eisen LA, Minami T, Berger JS, Sekiguchi H, Mayo PH, Narasimhan M (2007) Gender disparity in failure rate for arterial catheter attempts. J Intensive Care Med 22:166–172. doi:10.1177/0885066607299508

Minami T, Eisen LA, Sekiguchi H, Mayo PH, Narasimhan M (2007) Gender disparity in radial and femoral arterial size: an ultrasound study. Intensive Care Med 33:552–553. doi:10.1007/s00134-006-0503-0

Denys BG, Uretsky BF (1991) Anatomical variations of the internal jugular vein location: impact on central venous access. Crit Care Med 19:1516–1519. doi:10.1097/00132586-199212000-00010

Lechner G, Jantsch H, Waneck R, Kretschmer G (1988) The relationship between the common fermoral artery, the inguinal crease, and the inguinal ligament: a guide to accurate angiographic puncture. Cardiovasc Intervent Radiol 11:165–169. doi:10.1007/BF02577111

Baum PA, Matsumoto AH, Teitelbaum GP, Zuurbier RA, Barth KH (1989) Anatomic relationship between the common femoral artery and vein: CT evaluation and clinical significance. Radiology 173:775–777. doi:10.1097/00004424-198912000-00113

Warkentine FH, Pierce MC, Lorenz D, Kim IK (2008) The anatomic relationship of femoral vein to femoral artery in euvolemic pediatric patients by ultrasonography: implications for pediatric femoral central venous access. Acad Emerg Med 15:426–430. doi:10.1111/j.1553-2712.2008.00087.x

Feller-Kopman D (2007) Ultrasound-guided internal jugular access: a proposed standardized approach and implications for training and practice. Chest 132:302–309. doi:10.1378/chest.06-2711

Schummer W, Tuppatsch H, Schummer C, Fuchs J, Bloos F, Hüttemann E (2006) Ultrasound-guided central venous cannulation: is there a difference between Doppler and B-mode ultrasound? J Clin Anesth 18:167–172. doi:10.1016/j.jclinane.2005.12.010

Jarvis MA, Jarvis CL, Jones PRM, Spyt TJ (2000) Reliability of the Allen's test in selection of patients for radial artery harvest. Ann Thorac Surg 70:1362–1365. doi:10.1016/S0003-4975(00)01551-4

Mansfield PF, Hohn DC, Fornage BD, Gregurich MA, Ota D (1994) Complications and failures of subclavian-vein catheterizaion. N Engl J Med 331:1735–1738. doi:10.1056/NEJM199412293312602

Hosakawa K, Shime N, Kato Y, Hashimoto S (2007) A randomized trial of ultrasound image-based skin surface marking versus real time ultrasound-guided internal jugular vein catheterization in infants. Anesthesiology 107:720–724. doi:10.1097/01.anes.0000287024.19704.96

Sandhu NS (2007) Ultrasound imaging in anesthesia: an overview of vascular access and peripheral nerve blocks. Semin Anesth 26:197–209. doi:10.1053/j.sane.2007.10.003

Mizukoshi K, Shibasaki M, Amaya F, Hirayama T, Shimizu F, Hosokawa K, Hashimoto S, Tanaka Y (2009) Ultrasound evidence of the optimal wrist position for radial artery cannulation. Can J Anesth 56:427–431. doi:10.1007/s12630-009-9093-y

Moody C, Bhimarasetty C, Deshmukh S (2009) Ultrasound guided location and removal of retained arterial cannula fragment. Anaesthesia 64:338–339. doi:10.1111/j.1365-2044.2009.05885.x

Kreuger K, Zaehringer M, Strohe D, Stuetzker H, Boecker J, Lackner K (2005) Postcatheterization pseudoaneurysm: results of US-guided percutaneous thrombin injection in 240 patients. Radiology 236:1104–1110. doi:10.1148/radiol.2363040736

Martin C, Saux P, Papazain L, Goulin F (2001) Long-term arterial cannulation in ICU patients using the radial artery or dorsalis pedis artery. Chest 119:901–906. doi:10.1378/chest.119.3.901

Calvert N, McWilliams R, Davidson A, Beverley CA, Thomas SM (2004) Ultrasound for central venous cannulation: economic evaluation of cost-effectiveness. Anaesthesia 56:1116–1120. doi:10.1111/j.1365-2044.2004.03906.x

Koh DBC, Gowardman JR, Rickard CM, Robertson IK, Brown A (2008) Prospective study of peripheral arterial catheter infection and comparison with concurrently sited venous catheters. Crit Care Med 36:397–402. doi:10.1097/CCM.0b013e318161f74b

Karakitsos D, Labropoulos N, De Groot E, Patrianakos AP, Kouraklis G, Poularas J, Samonis G, Tsoutsos DA, Konstadoulaki MM, Karabini A (2006) Real-time ultrasound-guided catheterization of the internal jugular vein: a prospective comparison with the landmark technique in critical care patients. Crit Care 10:R162

Lichtenstein DA (2004) General ultrasound in the critically ill, 1st edn. Springer, New York
Acknowledgments
The authors would like to acknowledge Dr. Richard Savel for providing the narration used in the supplemental video.
Electronic supplementary material
Below is the link to the electronic supplementary material.
Supplementary material 1 (AVI 37498 kb)
About this article
Cite this article
Shiloh, A.L., Eisen, L.A. Ultrasound-guided arterial catheterization: a narrative review. Intensive Care Med 36, 214–221 (2010). https://doi.org/10.1007/s00134-009-1699-6
Received:

Accepted:

Published:

Issue Date:

DOI: https://doi.org/10.1007/s00134-009-1699-6
Keywords