Abstract
Objectives
Traumatic brain injury (TBI) is still a major cause of mortality and morbidity. Recent trials have failed to demonstrate a beneficial outcome from therapeutic treatments such as corticosteroids, hypothermia and hypertonic saline. We investigated the effect of a new hyperosmolar solution based on sodium lactate in controlling raised intracranial pressure (ICP).
Design and setting
Prospective open randomized study in an adult ICU.
Patients
Thirty-four patients with isolated severe TBI (Glasgow Coma Scale ≤ 8) and intracranial hypertension were allocated to receive equally hyperosmolar and isovolumic therapy, consisting of either mannitol or sodium lactate. Rescue therapy by crossover to the alternative treatment was indicated when ICP could not be controlled. The primary endpoint was efficacy in lowering ICP after 4 h, with a secondary endpoint of the percentage of successfully treated episodes of intracranial hypertension. The analysis was performed with both intention-to-treat and actual treatments provided.
Measurements and results
Compared to mannitol, the effect of the lactate solution on ICP was significantly more pronounced (7 vs. 4 mmHg, P = 0.016), more prolonged (fourth-hour-ICP decrease: −5.9 ± 1 vs. −3.2 ± 0.9 mmHg, P = 0.009) and more frequently successful (90.4 vs. 70.4%, P = 0.053).
Conclusion
Acute infusion of a sodium lactate-based hyperosmolar solution is effective in treating intracranial hypertension following traumatic brain injury. This effect is significantly more pronounced than that of an equivalent osmotic load of mannitol. Additionally, in this specific group of patients, long-term outcome was better in terms of GOS in those receiving as compared to mannitol. Larger trials are warranted to confirm our findings.
Access options
Buy single article
Instant access to the full article PDF.
USD 39.95
Price excludes VAT (USA)
Tax calculation will be finalised during checkout.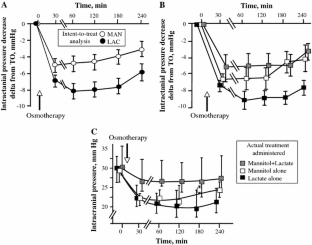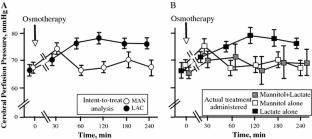 References
Bulger EM, Nathens AB, Rivara FP, Moore M, MacKenzie EJ, Jurkovich GJ (2002) Management of severe head injury: institutional variations in care and effect on outcome. Crit Care Med 30:1870–1876

Jiang JY, Gao GY, Li WP, Yu MK, Zhu C (2002) Early indicators of prognosis in 846 cases of severe traumatic brain injury. J Neurotrauma 19:869–874

Stocchetti N, Penny KI, Dearden M, Braakman R, Cohadon F, Iannotti F, Lapierre F, Karimi A, Maas A Jr, Murray GD, Ohman J, Persson L, Servadei F, Teasdale GM, Trojanowski T, Unterberg A (2001) Intensive care management of head-injured patients in Europe: a survey from the European brain injury consortium. Intensive Care Med 27:400–406

Stocchetti N, Rossi S, Buzzi F, Mattioli C, Paparella A, Colombo A (1999) Intracranial hypertension in head injury: management and results. Intensive Care Med 25:371–376

Cooper DJ, Myles PS, McDermott FT, Murray LJ, Laidlaw J, Cooper G, Tremayne AB, Bernard SS, Ponsford J (2004) Prehospital hypertonic saline resuscitation of patients with hypotension and severe traumatic brain injury: a randomized controlled trial. Jama 291:1350–1357

Roberts I, Yates D, Sandercock P, Farrell B, Wasserberg J, Lomas G, Cottingham R, Svoboda P, Brayley N, Mazairac G, Laloe V, Munoz-Sanchez A, Arango M, Hartzenberg B, Khamis H, Yutthakasemsunt S, Komolafe E, Olldashi F, Yadav Y, Murillo-Cabezas F, Shakur H, Edwards P (2004) Effect of intravenous corticosteroids on death within 14 days in 10008 adults with clinically significant head injury (MRC CRASH trial): randomised placebo-controlled trial. Lancet 364:1321–1328

Clifton GL, Miller ER, Choi SC, Levin HS, McCauley S, Smith KR Jr, Muizelaar JP, Wagner FC Jr, Marion DW, Luerssen TG, Chesnut RM, Schwartz M (2001) Lack of effect of induction of hypothermia after acute brain injury. N Engl J Med 344:556–563

Polderman KH, Tjong Tjin Joe R, Peerdeman SM, Vandertop WP, Girbes AR (2002) Effects of therapeutic hypothermia on intracranial pressure and outcome in patients with severe head injury. Intensive Care Med 28:1563–1573

Qiu W, Zhang Y, Sheng H, Zhang J, Wang W, Liu W, Chen K, Zhou J, Xu Z (2007) Effects of therapeutic mild hypothermia on patients with severe traumatic brain injury after craniotomy. J Crit Care 22:229–235

Schierhout G, Roberts I (2000) Mannitol for acute traumatic brain injury. Cochrane Database Syst Rev CD001049

Marik PE, Varon J, Trask T (2002) Management of head trauma. Chest 122:699–711

Francony G, Fauvage B, Falcon D, Canet C, Dilou H, Lavagne P, Jacquot C, Payen JF (2008) Equimolar doses of mannitol and hypertonic saline in the treatment of increased intracranial pressure. Crit Care Med 36(3):795–800

Schwartz ML, Tator CH, Rowed DW, Reid SR, Meguro K, Andrews DF (1984) The University of Toronto head injury treatment study: a prospective, randomized comparison of pentobarbital and mannitol. Can J Neurol Sci 11:434–440

Sorani MD, Manley GT (2008) Dose-response relationship of mannitol and intracranial pressure: a metaanalysis. J Neurosurg 108:80–87

McManus ML, Soriano SG (1998) Rebound swelling of astroglial cells exposed to hypertonic mannitol. Anesthesiology 88:1586–1591

Mendelow AD, Teasdale GM, Russell T, Flood J, Patterson J, Murray GD (1985) Effect of mannitol on cerebral blood flow and cerebral perfusion pressure in human head injury. J Neurosurg 63:43–48

Paczynski RP (1997) Osmotherapy. Basic concepts and controversies. Crit Care Clin 13:105–129

Berger S, Schurer L, Hartl R, Deisbock T, Dautermann C, Murr R, Messmer K, Baethmann A (1994) 7.2% NaCl/10% dextran 60 versus 20% mannitol for treatment of intracranial hypertension. Acta Neurochir Suppl (Wien) 60:494–498

Doyle JA, Davis DP, Hoyt DB (2001) The use of hypertonic saline in the treatment of traumatic brain injury. J Trauma 50:367–383

Qureshi AI, Suarez JI, Bhardwaj A, Mirski M, Schnitzer MS, Hanley DF, Ulatowski JA (1998) Use of hypertonic (3%) saline/acetate infusion in the treatment of cerebral edema: Effect on intracranial pressure and lateral displacement of the brain. Crit Care Med 26:440–446

Battison C, Andrews PJ, Graham C, Petty T (2005) Randomized, controlled trial on the effect of a 20% mannitol solution and a 7.5% saline/6% dextran solution on increased intracranial pressure after brain injury. Crit Care Med 33:196–202 (discussion 257–198)

Schurr A (2002) Lactate, glucose and energy metabolism in the ischemic brain (Review). Int J Mol Med 10:131–136

Schurr A, Payne RS, Miller JJ, Rigor BM (1997) Brain lactate is an obligatory aerobic energy substrate for functional recovery after hypoxia: further in vitro validation. J Neurochem 69:423–426

Maran A, Cranston I, Lomas J, Macdonald I, Amiel SA (1994) Protection by lactate of cerebral function during hypoglycaemia. Lancet 343:16–20

King P, Kong MF, Parkin H, MacDonald IA, Barber C, Tattersall RB (1998) Intravenous lactate prevents cerebral dysfunction during hypoglycaemia in insulin-dependent diabetes mellitus. Clin Sci (Lond) 94:157–163

Schurr A, Payne RS, Miller JJ, Tseng MT (2001) Preischemic hyperglycemia-aggravated damage: evidence that lactate utilization is beneficial and glucose-induced corticosterone release is detrimental. J Neurosci Res 66:782–789

Rice AC, Zsoldos R, Chen T, Wilson MS, Alessandri B, Hamm RJ, Bullock MR (2002) Lactate administration attenuates cognitive deficits following traumatic brain injury. Brain Res 928:156–159

Holloway R, Zhou Z, Harvey HB, Levasseur JE, Rice AC, Sun D, Hamm RJ, Bullock MR (2007) Effect of lactate therapy upon cognitive deficits after traumatic brain injury in the rat. Acta Neurochir (Wien) 149:919–927 (discussion 927)

Shackford SR, Schmoker JD, Zhuang J (1994) The effect of hypertonic resuscitation on pial arteriolar tone after brain injury and shock. J Trauma 37:899–908

Shackford SR, Zhuang J, Schmoker J (1992) Intravenous fluid tonicity: effect on intracranial pressure, cerebral blood flow, and cerebral oxygen delivery in focal brain injury. J Neurosurg 76:91–98

Jennett B, Bond M (1975) Assessment of outcome after severe brain damage. Lancet 1:480–484

Marshall LF, Marshall SB, Klauber MR, Van Berkum Clark M, Eisenberg H, Jane JA, Luerssen TG, Marmarou A, Foulkes MA (1992) The diagnosis of head injury requires a classification based on computed axial tomography. J Neurotrauma 9 Suppl 1:S287–S292

Marmarou A (1994) Traumatic brain edema: an overview. Acta Neurochir Suppl (Wien) 60:421–424

Stocchetti N (2001) Risk prevention, avoidable deaths and mortality-morbidity reduction in head injury. Eur J Emerg Med 8:215–219

Van den Berghe G, Schoonheydt K, Becx P, Bruyninckx F, Wouters PJ (2005) Insulin therapy protects the central and peripheral nervous system of intensive care patients. Neurology 64:1348–1353

Chiolero R, Tappy L, Gillet M, Revelly JP, Roth H, Cayeux C, Schneiter P, Leverve X (1999) Effect of major hepatectomy on glucose and lactate metabolism. Ann Surg 229:505–513

Mustafa I, Roth H, Hanafiah A, Hakim T, Anwar M, Siregar E, Leverve XM (2003) Effect of cardiopulmonary bypass on lactate metabolism. Intensive Care Med 29:1279–1285

Mustafa I, Leverve XM (2002) Metabolic and hemodynamic effects of hypertonic solutions: sodium-lactate versus sodium chloride infusion in postoperative patients. Shock 18:306–310

Stocchetti N, Maas AI, Chieregato A, van der Plas AA (2005) Hyperventilation in head injury: a review. Chest 127:1812–1827

Halestrap AP, Price NT (1999) The proton-linked monocarboxylate transporter (MCT) family: structure, function and regulation. Biochem J 343 Pt 2:281–299

Chen H, Sun D (2005) The role of Na-K-Cl co-transporter in cerebral ischemia. Neurol Res 27:280–286

Cater HL, Benham CD, Sundstrom LE (2001) Neuroprotective role of monocarboxylate transport during glucose deprivation in slice cultures of rat hippocampus. J Physiol 531:459–466

Schurr A (2006) Lactate: the ultimate cerebral oxidative energy substrate? J Cereb Blood Flow Metab 26:142–152

Pellerin L, Bergersen LH, Halestrap AP, Pierre K (2005) Cellular and subcellular distribution of monocarboxylate transporters in cultured brain cells and in the adult brain. J Neurosci Res 79:55–64
Acknowledgments
The study has been sponsored by Innogene Kalbiotech Pte. Ltd. 24 Raffles Place 27-06 Clifford Center, Singapore, 04862. The authors are most grateful to Dr. Rikrik Ilyas for a constant support, to Professor Nino Stocchetti for helpful comments and suggestions, to Professor Mervyn Singer for stimulating discussions and careful review of the manuscript and to Mr. Gareth Butt for the English corrections to this paper.
Electronic supplementary material
Below is the link to the electronic supplementary material.
About this article
Cite this article
Ichai, C., Armando, G., Orban, JC. et al. Sodium lactate versus mannitol in the treatment of intracranial hypertensive episodes in severe traumatic brain-injured patients. Intensive Care Med 35, 471–479 (2009). https://doi.org/10.1007/s00134-008-1283-5
Received:

Accepted:

Published:

Issue Date:

DOI: https://doi.org/10.1007/s00134-008-1283-5
Keywords
TBI

Osmotherapy

Cerebral edema

Plasma ions

Neurological outcome

Disability