Abstract
Objective
To examine the clinical safety of hyperinsulinaemia/euglycaemia therapy (HIET) in calcium channel blocker (CCB) poisoning.
Design
A prospective observational study examining biochemical and clinical outcomes of a HIET protocol administered under local poisons centre guidance.
Setting
Critical care settings.
Patients
Seven patients with significant CCB toxicity [systolic blood pressure (BP) < 90 mmHg] treated with HIET.
Interventions
HIET was commenced after correction of any pre-existing hypoglycaemia ([blood glucose] < 65 mg/dl) or hypokalaemia ([K+] < 3.5 mmol/l). A quantity of 50 ml of 50% intravenous dextrose was followed by a loading dose (1 unit/kg) of intravenous short-acting insulin and an insulin maintenance infusion (0.5–2.0 units/kg/h). Euglycaemia was maintained using 5–10% dextrose infusions. Potassium was maintained within low normal range (3.8–4.0 mmol/l).
Measurements and results
Six patients survived. All patients received fluids, calcium, and conventional inotropes. Three patients (who all ingested diltiazem) received an insulin-loading dose; all experienced a significant sustained rise in systolic BP (> 10 mmHg) during the first hour of HIET. Systolic BP did not increase significantly in four patients who did not receive insulin loading. Single episodes of non-clinically significant biochemical hypoglycaemia and hypokalaemia were recorded in one and two patients respectively. Hypoglycaemia was not recorded in any patient administered HIET during the 24 h following CCB ingestion.
Conclusions
HIET used to treat CCB-induced cardiovascular toxicity is a safe intervention when administered in a critical care setting. Maximal HIET efficacy may be obtained when HIET is administered in conjunction with conventional therapy relatively early in the course of severe CCB poisoning when insulin resistance is high.
Access options
Buy single article
Instant access to the full article PDF.
US$ 39.95
Tax calculation will be finalised during checkout.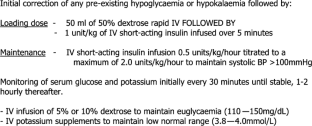 References
1.

Newton CR, Delgado JH, Gomez HF (2002) Calcium and beta receptor antagonist overdose: a review and update of pharmacological principles and management. Semin Resp Crit Care Med 23:19–25

2.

DeWitt CR, Waksman JC (2004) Pharmacology, pathophysiology and management of calcium channel blocker and beta-blocker toxicity. Toxicol Rev 23:233–238

3.

Salhanick SD, Shannon MW (2003) Management of calcium channel antagonist overdose. Drug Safety 26:65–79

4.

Lheureux PER, Zahir S, Gris M, Derrey A, Penaloza A (2006) Bench to bedside review: Hyperinsulinaemia/euglycaemia therapy in the management of overdose of calcium-channel blockers. Critical Care 10:212–217

5.

Kline JA, Tomaszewski CA, Schroeder JD, Raymond RM (1993) Insulin is a superior antidote for cardiovascular toxicity induced by verapamil in the anesthetized canine. J Pharmacol Exp Ther 267:744–750

6.

Kline JA, Leonova E, Raymond RM (1995) Beneficial myocardial metabolic effects of insulin during verapamil toxicity in the anesthetized canine. Crit Care Med 23:1251–1263

7.

Kline JA, Raymond RM, Leonova ED, Williams TC, Watts JA (1997) Insulin improves heart function and metabolism during non-ischemic cardiogenic shock in awake canines. Cardiovasc Res 34:289–298

8.

Yan TH, Kerns WP 2nd, Tomaszewski CA, Ford MD, Kline JA (1999) Insulin-glucose as an adjunctive therapy for severe calcium channel antagonist poisoning. J Toxicol Clin Toxicol 37:463–474

9.

Boyer EW, Shannon M (2001) Treatment of calcium channel blocker intoxication with insulin infusion. N Eng J Med 344:1721–1722

10.

Rasmussen L, Husted SE, Johnsen SP (2003) Severe intoxication after an intentional overdose of amlodipine. Acta Anaesthesiol Scand 47:1038–1040

11.

Marques M, Gomez E, de Oliveira J (2003) Treatment of calcium channel blocker intoxication with insulin infusion: case report and literature review. Resuscitation 57:211–213

12.

Ortiz-Munoz L, Rodriguez-Ospina LF, Figueroa-Gonzalez M (2005) Hyperinsulinemic–euglycaemic therapy for intoxication with calcium channel blockers. Bol Assoc Med P R 97:182–189

13.

Place R, Carlson A, Leikin J, Hanashiro P (2000) Hyperinsulin therapy in the treatment of verapamil overdose. J Toxicol Clin Toxicol 23:215–222

14.

Megarbane B, Karyo S, Baud FJ (2004) The role of insulin and glucose (hyperinsulinaemia/euglycaemia) therapy in acute calcium channel antagonist and β-blocker poisoning. Toxicol Rev 23:215–222

15.

Shephard G, Klein-Schwartz W (2005) High dose insulin therapy for calcium-channel blocker overdose. Ann Pharmacother 39:923–930

16.

Min L, Deshpande K (2004) Diltiazem overdose haemodynamic response to hyperinsulinaemia–euglycaemia therapy: a case report. Crit Care Resus 6:28–30

17.

Herbert J, O'Malley C, Tracey J, Dwyer R, Power M (2001) Verapamil overdosage unresponsive to insulin/dextrose therapy [abstract]. J Toxicol Clin Toxicol 39:293–294

18.

Cumpston K, Mycyk M, Pallash E, Manzanares M, Knight J, Aks S, Hryhorczuk D (2002) Failure of hyperinsulinemia/euglycaemia therapy in severe diltiazem overdose [abstract]. J Toxicol Clin Toxicol 40:618

19.

Pizon AF, LoVecchio F, Matesick LF (2005) Calcium channel blocker overdose: one center's experience. Clin Toxicol 43:679–680
Additional information
Competing interests: The authors declare that they have no competing interests.
Authors' Contributions: All authors participated in the design of the study and provided poisons centre guidance in the management of one or more of the study patients. S.G., I.G. and D.W. collected study data. S.G. drafted the first draft of the manuscript and all authors contributed to the final draft of the manuscript. All authors read and approved the final manuscript.
Funding: The authors have no funding sources to acknowledge.
About this article
Cite this article
Greene, S.L., Gawarammana, I., Wood, D.M. et al. Relative safety of hyperinsulinaemia/euglycaemia therapy in the management of calcium channel blocker overdose: a prospective observational study. Intensive Care Med 33, 2019–2024 (2007). https://doi.org/10.1007/s00134-007-0768-y
Received:

Accepted:

Published:

Issue Date:
Keywords
Poisons

Calcium channel blockers

Adverse effect

Hypoglycaemia

Hypokalaemia

Insulin