Abstract
Objective
To assess the behavior of different helmets after discontinuation of fresh gas flow by disconnection at the helmet inlet, flow generator, or gas source.
Design and setting
Randomized physiological study in a university research laboratory.
Patients
Five healthy volunteers.
Intervention
CPAP (FIO2 50%, PEEP 5 cmH2O) delivered in random sequence with three different helmets: 4Vent (Rüsch), PN500 (Harol), CaStar (StarMed) with antisuffocation valve open or locked. For each helmet all three disconnections were randomly employed up to 4 min.
Measurements and results
During flow disconnection we measured: respiratory rate and tidal volume by respitrace; inspiratory and expiratory CO2 concentration, and FIO2 from a nostril; SpO2 by pulse oxymetry. Independently of the site of disconnection we observed a fast increase in CO2 rebreathing and minute ventilation, associated with a decrease in inspired O2 concentration. In the absence of an operational safety valve, larger helmet size and lower resistance of the inlet hose resulted in slower increase in CO2 rebreathing. The presence of the safety valve limited the rebreathing of CO2, and the increase in minute ventilation but did not protect from a decrease in FIO2 and loss of PEEP.
Conclusions
While the use of a safety valve proved effective in limiting CO2 rebreathing, it did not protect from the risk of hypoxia related to decrease in FIO2 and loss of PEEP. In addition to a safety antisuffocation valve, a dedicated monitoring and alarming systems are needed to employ helmet CPAP safely.
Access options
Buy single article
Instant access to the full article PDF.
USD 39.95
Price excludes VAT (USA)
Tax calculation will be finalised during checkout.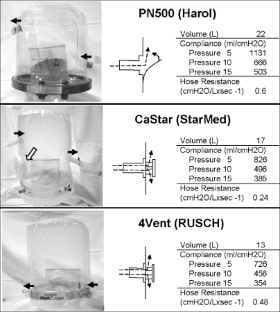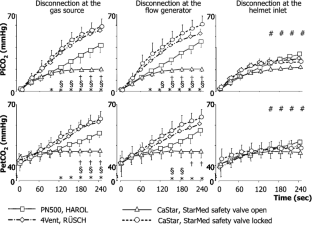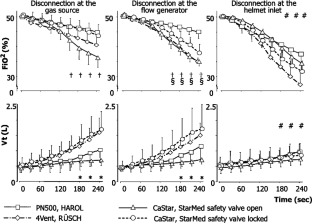 References
American Thoracic Society and European Respiratory Society (2001) International consensus conference in intensive care medicine: non-invasive positive pressure ventilation in acute respiratory failure. Am J Respir Crit Care Med 163:283–291

Metha S, Hill N (2001) Noninvasive ventilation. Am J Respir Crit Care Med 163:540–577

Antonelli M, Conti G, Moro ML, Esquinas A, Gonzales-Diaz G, Confalonieri M, Pelaia P, Principi T, Gregoretti C, Beltrame F, Pennisi MA, Arcangeli A, Proietti R, Passariello M, Meduri GU (2001) Predictors of failure of noninvasive positive pressure ventilation in patients with acute hypoxemic respiratory failure: a multi-center study. Intensive Care Med 27:1718–1728

Foti G, Cazzaniga M, Villa F, Valle E, Sabato M, Apicella F, Casartelli V, Fontana G, Rossi GP, Vesconi S, Pesenti A (1999) Out of hospital treatment of acute pulmonary edema (PE) by non invasive continuous positive airway pressure (CPAP): feasibility and efficacy. Intensive Care Med S112:A431

Principi T, Pantanetti S, Catani F, Elisei D, Gabbanelli D, Pelaia P, Leoni P (2004) Noninvasive continuous positive airway pressure delivered by helmet in haematological malignancy patients with hypoxemic acute respiratory failure. Intensive Care Med 30:147–150

Tonnelier JM, Prat G, Nowak E, Goetghebeur D, Renault A, Boles JM, L'her E (2003) Noninvasive continuous positive airway pressure ventilation using a new helmet interface: a case-control prospective pilot study. Intensive Care Med 29:2077–2080

Squadrone V, Coha M, Cerutti E, Schellino MM, Biolino P, Occella P, Belloni G, Vilianis G, Fiore G, Cavallo F, Ranieri VM; Piedmont Intensive Care UnitsNetwork (PICUN) (2005) Continuous positive airway pressure for treatment of postoperative hypoxemia: a randomized controlled trial. JAMA 293:589–595

Antonelli M, Conti G, Pelosi P, Gregoretti C, Pennisi MA, Costa R, Severgnini P, Chiaranda M, Proietti R (2002) New treatment of acute hypoxemic respiratory failure. Noninvasive pressare support ventilation delivered by helmet. A pilot controlled trial. Crit Care Med 30:602–608

Klein M, Weksler N, Bartal C, Zilberstein G, Gurman GM (2004) Helmet noninvasive ventilation for weaning from mechanical ventilation. Respir Care 49:1035–1037

Antonelli M, Pennisi MA, Conti G, Bello G, Maggiore SM, Michetti V, Cavaliere F, Proietti R (2003) Fiberoptic bronchoscopy during non-invasive positive pressure ventilation delivered by helmet. Intensive Care Med 29:126–129

Antonelli M, Pennisi MA, Pelosi P, Gregoretti C, Squadrone V, Rocco M, Cecchini L, Chiumello D, Severgnini P, proietti R, Navalesi P, Conti G (2004) Noninvasive positive pressure ventilation using a helmet in patients with acute exacerbation of chronic obstructive pulmonary disease. Anesthesiology 100:16–24

Rocco M, Dell'Utri D, Morelli A, Spadetta G, Conti G, Antonelli M, Pietropaoli P (2004) Noninvasive ventilation by helmet or face mask in immunocompromised patients. A case-control study. Chest 126:1508–1515

Patroniti N, Foti G, Manfio A, Coppo A, Bellani G, Pesenti A (2003) Head helmet versus face mask for non-invasive continuous positive airway pressure: a physiological study. Intensive Care Med 29:1680–1687

Chiumello D, Pelosi P, Carlesso E, Severgnini P, Aspesi M, Gamberoni C, Antonelli M, Conti G, Chiaranda M, Gattinoni L (2003) Noninvasive positive pressure ventilation delivered by helmet vs. standard face mask. Intensive Care Med 29:1671–1679

Foti G, Patroniti N, Pesenti A (2004) Helmet CPAP in Acute respiratory failure. In: Vincent JL (ed) Yearbook of intensive care and emergency medicine. Springer, Berlin Heidelberg New York, pp 411–418

Sackner MA, Watson H, Belsito AS, Feinerman D, Suarez M, Gonzales G, Bizousky F, Krieger B (1989) Calibration of respiratory inductive plethismograph during natural breathing. J Appl Physiol 66:410–420

Taccone P, Hess D, Caironi P, Bigatello LM (2004) Continuous positive airway pressure delivered with a "helmet": effects of carbon dioxide rebreathing. Crit Care Med 32:2090–2096
About this article
Cite this article
Patroniti, N., Saini, M., Zanella, A. et al. Danger of helmet continuous positive airway pressure during failure of fresh gas source supply. Intensive Care Med 33, 153–157 (2007). https://doi.org/10.1007/s00134-006-0446-5
Received:

Accepted:

Published:

Issue Date:

DOI: https://doi.org/10.1007/s00134-006-0446-5
Keywords
Helmet

Continuous positive airway pressure

Noninvasive ventilation

Carbon dioxide rebreathing